No doubt you've mastered the art of making a smoothie: Dump stuff in a blender, blend it, drink it. But did you know that all this time you could also have been mixing up fast, healthy chilis, soups, quiches, pancake batters, even ice cream in that same humble appliance?
To bring you up to speed, on these pages we'll show you how to create those very recipes for well-rounded, satisfying meals in minutes. Whether you're running late in the morning or need food in a flash after work, as an iconic '80s band once sang, "You must whip it!"
The Leanest Meat Proteins—Ranked >>>
(1) Swiss Chard Egg Pie
Makes: 5 Servings
INGREDIENTS
6 large eggs
2 large egg whites
1/3 cup milk
4 large Swiss chard leaves, stems trimmed
½ tsp salt
¼ tsp black pepper
1 cup grated Parmesan cheese
½ cup chopped oil-packed sun-dried tomatoes
2 shallots, chopped
2 garlic cloves, chopped
1 tbsp fresh chopped thyme
1½ cups jarred salsa
DIRECTIONS
1) Preheat oven to 400°F. Spray a round cake pan with cooking spray.
2) Place eggs, egg whites, milk, chard, salt, and pepper in a blender and blend until chard has been pulverized. Pulse in ¾ cup Parmesan, sun-dried tomatoes, shallots, garlic, and thyme.
3) Pour mixture into pan, sprinkle on remaining Parmesan, and bake for 20 minutes, or until cooked through. Let cool for a few minutes before slicing. Serve with salsa.
NUTRITION (PER SERVING)
222 calories,
18g protein,
12g carbs, 12g fat
This green chicken chili is rich in vitamin C, which can ramp up fat burning during exercise , a Nutrition & Metabolism study found.
10 Recipes That are Loadede With Protein >>>
(2) Tomato Yogurt Soup
Makes: 4 Servings
INGREDIENTS
1 (28 oz) can San Marzano tomatoes
1 cup plain 2% yogurt
1 cup canned navy beans, drained and rinsed
1 roasted red pepper
Juice of ½ lemon
1 shallot, chopped
1 garlic clove, chopped
1 tsp Italian seasoning
½ tsp salt
¼ tsp chipotle chili powder
¼ tsp black pepper
1 (5 oz) can water-packed albacore tuna, drained
¼ cup prepared pesto
11 Muscle-Building Vegan Recipes >>>
DIRECTIONS
1) Blend tomatoes—and the juices from the can—along with the rest of the ingredients (except tuna and pesto) for 1 minute.
2) Transfer mixture to a saucepan and heat on medium until warmed. If you have a powerful blender like Vitamix, you can also keep the machine running while pureeing the soup until it is steaming. Serve garnished with tuna, pesto, and black pepper. Serve with crusty bread, if you like.
NUTRITION (PER SERVING)
286 calories,
17g protein,
31g carbs, 10g fat
(3) Chocolate Ricotta Oatmeal Pancakes
Makes: 4 Servings
INGREDIENTS
1 cup light ricotta cheese
½ cup milk
1 large egg
1 cup rolled oats
¼ cup unsweetened cocoa powder
Zest of 1 orange
1 tsp cinnamon
1 tsp baking powder
½ tsp baking soda
¼ tsp salt
1 tbsp butter or oil
1½ cups strawberries
2 tbsp pure maple syrup
2 tsp fresh lemon juice
20 Muscle-Building Recipes for Guys who Love Food >>>
DIRECTIONS
1) Place all ingredients except butter, strawberries, maple syrup, and lemon juice in a blender; blend until smooth.
2) Heat a skillet over medium heat and add butter. Pour ¼ cup batter for each pancake and cook for 2 minutes. Flip and cook another minute. Keep prepared pancakes warm in a 200°F oven.
3) Blend together strawberries, maple syrup, and lemon juice until smooth. Warm in microwave and serve on top of pancakes.
NUTRITION (PER SERVING)
248 calories,
10g protein,
33g carbs, 10g fat
Organic berries are tastier than conventionally raised berries and have fewer contaminants (like pesticides).
The Pre-Spring-Cleaning Eating Plan >>>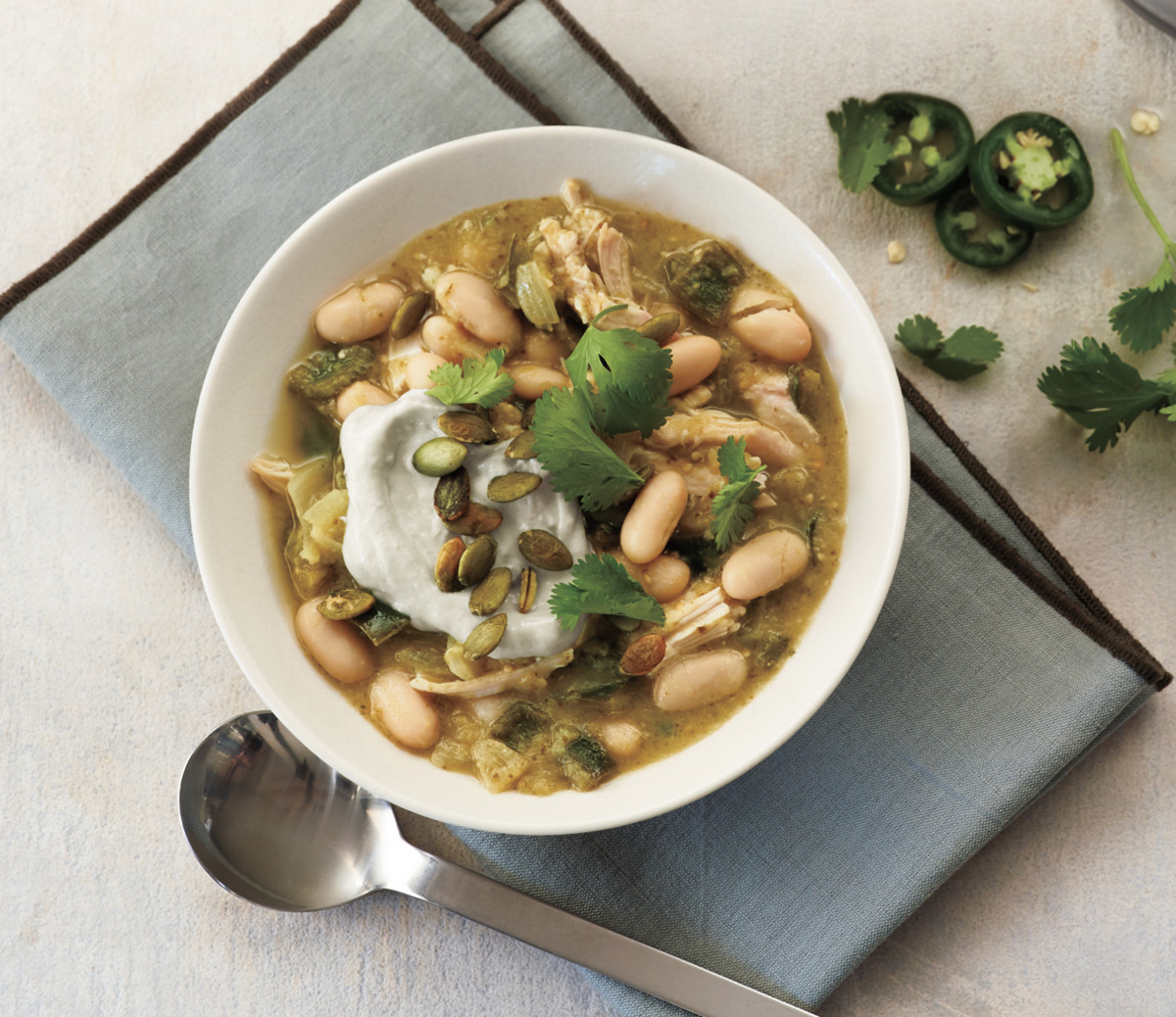 (4) Green Chicken Chili 
Makes: 5 Servings
INGREDIENTS
2 tsp olive oil
1 white onion, chopped
½ tsp salt
2 poblano peppers, diced
2 garlic cloves, minced
1 cup chicken broth
8 canned tomatillos
2 (15 oz) cans navy beans, drained and rinsed
2 jalapeño peppers, seeded
1/3 cup chopped cilantro, plus more for garnish
1 tsp cumin powder
2 cups sliced rotisserie chicken meat
½ cup sour cream or plain yogurt
½ avocado
Juice of ½ lime
¼ cup toasted pumpkin seeds (pepitas)
Top 10 Supplements for Vegans and Vegetarians >>>
DIRECTIONS
1) Heat a heavy-bottomed saucepan over medium heat and add olive oil. Add onion and salt and cook for 3 minutes. Add poblano peppers and garlic and cook for 3 more minutes.
2) Place chicken broth, tomatillos, 1 can beans, jalapeño, cilantro, and cumin in a blender and blend until nearly smooth. (It should retain some chunky consistency.) Add mixture to saucepan and simmer uncovered for 15 minutes. Stir in chicken and remaining can of beans and heat through. Add additional broth if chili is too thick.
3) Blend together sour cream, avocado, lime juice, and a pinch of salt until smooth. Serve chili topped with avocado cream, pumpkin seeds, and additional cilantro.
NUTRITION (PER SERVING)
425 calories,
34g protein,
47g carbs, 13g fat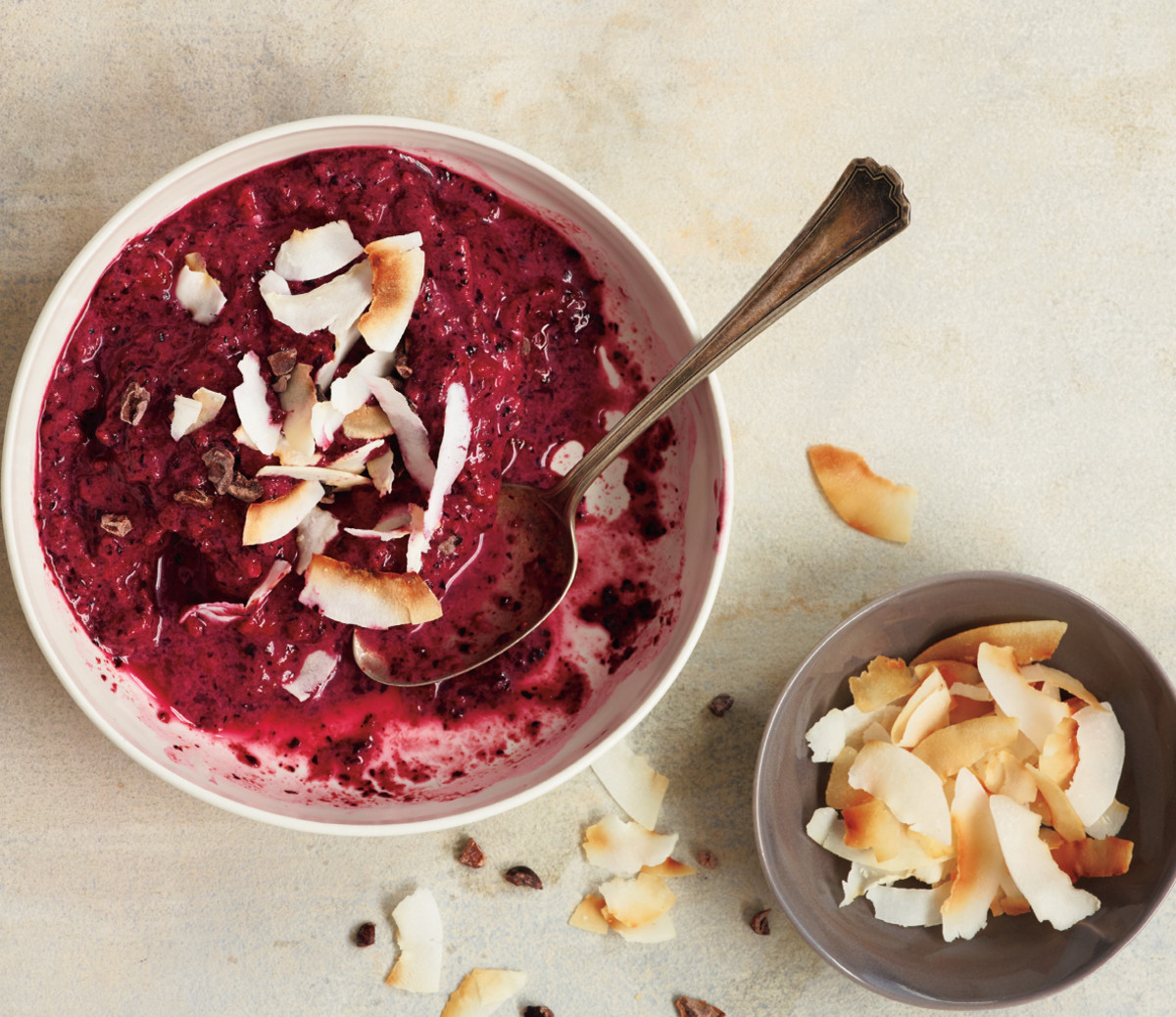 (5) Blueberry Protein Ice Cream
Makes: 1 Serving
INGREDIENTS
¼ cup light coconut milk
1 cup frozen blueberries
1 scoop plain or vanilla protein powder
1 tsp honey
1 tsp lemon zest
1/8 tsp almond extract
1 tbsp coconut flakes (optional)
1 tbsp cacao nibs (optional)
DIRECTIONS
1) Place a serving bowl in the freezer for at least 30 minutes before making ice cream—this will delay the time it takes the mixture to melt in the bowl.
2) Place coconut milk, blueberries, protein powder, honey, lemon zest, and almond extract in a blender. Begin blending on low speed and work your way up to high speed until mixture is creamy. Or use the ice cream setting if your blender has one. If needed, add a small amount of additional coconut milk to help with blending.
3) Place mixture in chilled serving bowl and top with coconut flakes and/or cacao nibs, if desired.
NUTRITION (PER SERVING)
260 calories,
28g protein,
27g carbs, 4g fat
Coconut milk contains lauric acid, a type of medium-chain triglyceride the body burns for energy.
The Best and Worst Time to Eat a Fatty Meal >>>
For access to exclusive gear videos, celebrity interviews, and more, subscribe on YouTube!