If you're looking for the ultimate muscle-building food, eggs stand alone. Their protein is complete (they have all nine essential amino acids) and digests easily in the body. Eggs also offer healthy fats that can prevent overeating, as well as a bevy of compounds associated with muscle, performance, and health. In fact, according to the Mayo Clinic, eating as many as seven eggs a week can even prevent strokes. As for price, you won't find a cheaper health food.
7 More Cheap Sources of Healthy Protein >>>
The only problem? Besides scrambling them, you don't know what to do with them. These five recipes show you how to use eggs in any meal or as a snack for a variety of tasty—and not always egg-flavored—dishes you'll flip over.
4 Recipes Made Even Better With Eggs on Top >>>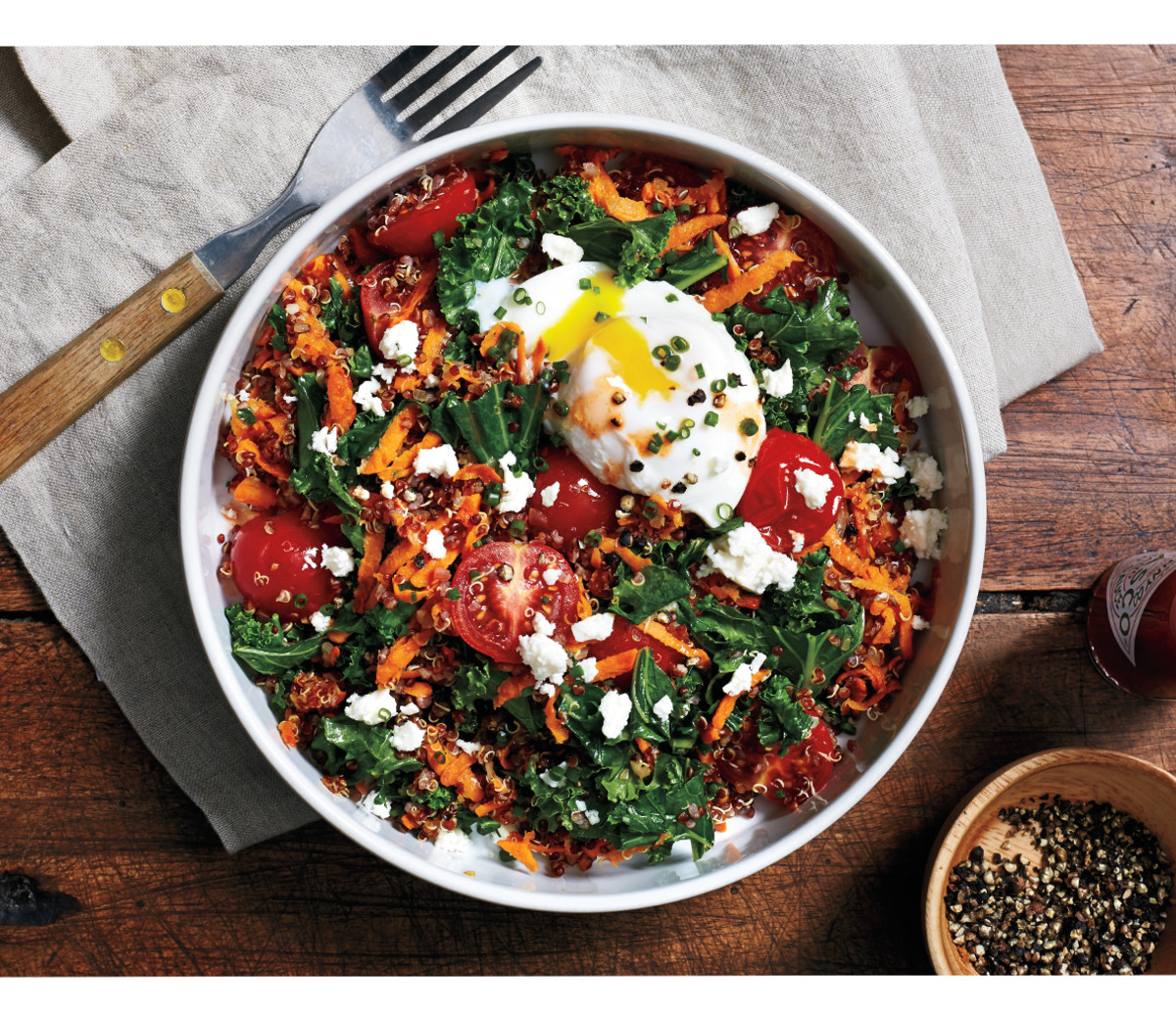 LUNCH OR DINNER: Quinoa Sweet Potato Bowl w/Poached Egg
MAKES: 4 SERVINGS
INGREDIENTS
1½ cups low-sodium vegetable broth
¾ cup quinoa
1 tbsp canola oil
1 large sweet potato, peeled and grated
2 garlic cloves, minced
2 shallots, minced
1 pint cherry tomatoes, halved
4 cups chopped kale
4 large eggs
1 tsp white vinegar, divided
2 oz diced feta cheese
2 tbsp chopped chives
¼ tsp black pepper
Hot sauce, to taste
DIRECTIONS:
1) Boil the broth in a saucepan. Add quinoa and simmer, covered, over medium-low heat until grains are tender and liquid has absorbed, about 12 minutes. Remove pan from heat and let stand covered for 5 minutes, then fluff quinoa with a fork.
2) Place a large skillet over medium heat and add the oil. Add grated sweet potato and cook 4 minutes, or until beginning to turn tender. Add garlic and shallots; cook 2 minutes. Stir in cherry tomatoes and kale; cook until greens are slightly wilted. Stir in quinoa, remove from heat, and cover skillet to keep warm.
3) To poach eggs, place ½ cup water and ¼ tsp vinegar in 4 small microwave-safe bowls. Carefully crack eggs into each bowl, cover, and microwave individually on high for 1 minute, or until whites are set and opaque but yolks are still runny. Remove eggs from bowls with a slotted spoon.
4) Divide quinoa mixture among bowls and top each with a poached egg. Garnish with feta, chives, black pepper, and a couple of squirts of hot sauce.
NUTRITION (PER SERVING)
341 calories, 16g protein, 40g carbs, 14g fat
*Quinoa is a source of complete protein—rare for a plant-based food.*
10 Ridiculously Healthy Holiday Appetizers That Any Guy Can Make >>>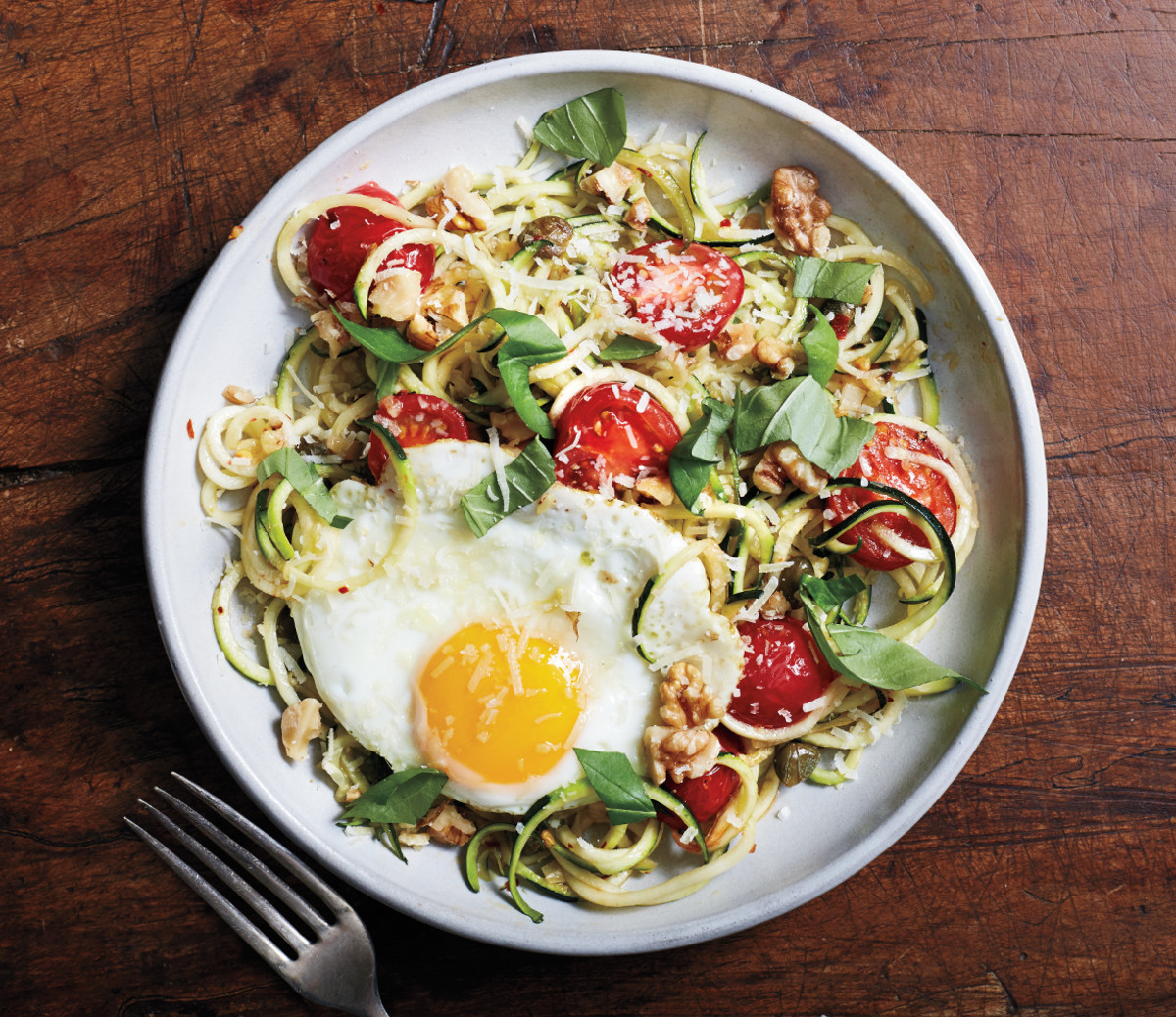 DINNER: Zucchini Pasta w/Fried Egg
MAKES: 4 SERVINGS
INGREDIENTS:
4 zucchini
2 tbsp extra-virgin olive oil, divided
1 pint cherry tomatoes, halved
2 garlic cloves, chopped
1 tbsp capers, drained
¼ tsp red pepper flakes
¼ tsp black pepper
4 large eggs
¼ cup chopped walnuts
½ cup chopped fresh basil
⅓ cup grated Parmesan cheese
DIRECTIONS:
1) Use a julienne peeler, mandoline, or sharp knife to cut zucchini into noodlelike strands.
2) Place a large skillet over medium heat and add 1 tbsp oil. Add tomatoes and garlic; heat 2 minutes, or until tomatoes have softened.
3) Add zucchini noodles, capers, red pepper flakes, and black pepper; heat until zucchini is tender, about 2 minutes.
4) Heat remaining oil in a separate skillet over medium-low heat. Carefully crack eggs into the skillet. For sunny-side up, cook
until whites are set and the outer edges start to curl up. If you prefer an over-easy egg, flip and cook an additional 30 seconds.
5) Divide zucchini noodle mixture among serving plates and top each with an egg.
6) Garnish with walnuts, basil, and Parmesan.
NUTRITION (PER SERVING)
259 calories, 14g protein, 11g carbs, 19g fat
*Hens allowed to forage outside will lay eggs with more vitamin E than barn-raised, say Penn State researchers.*
10 Easy Recipes for Lean Muscle >>>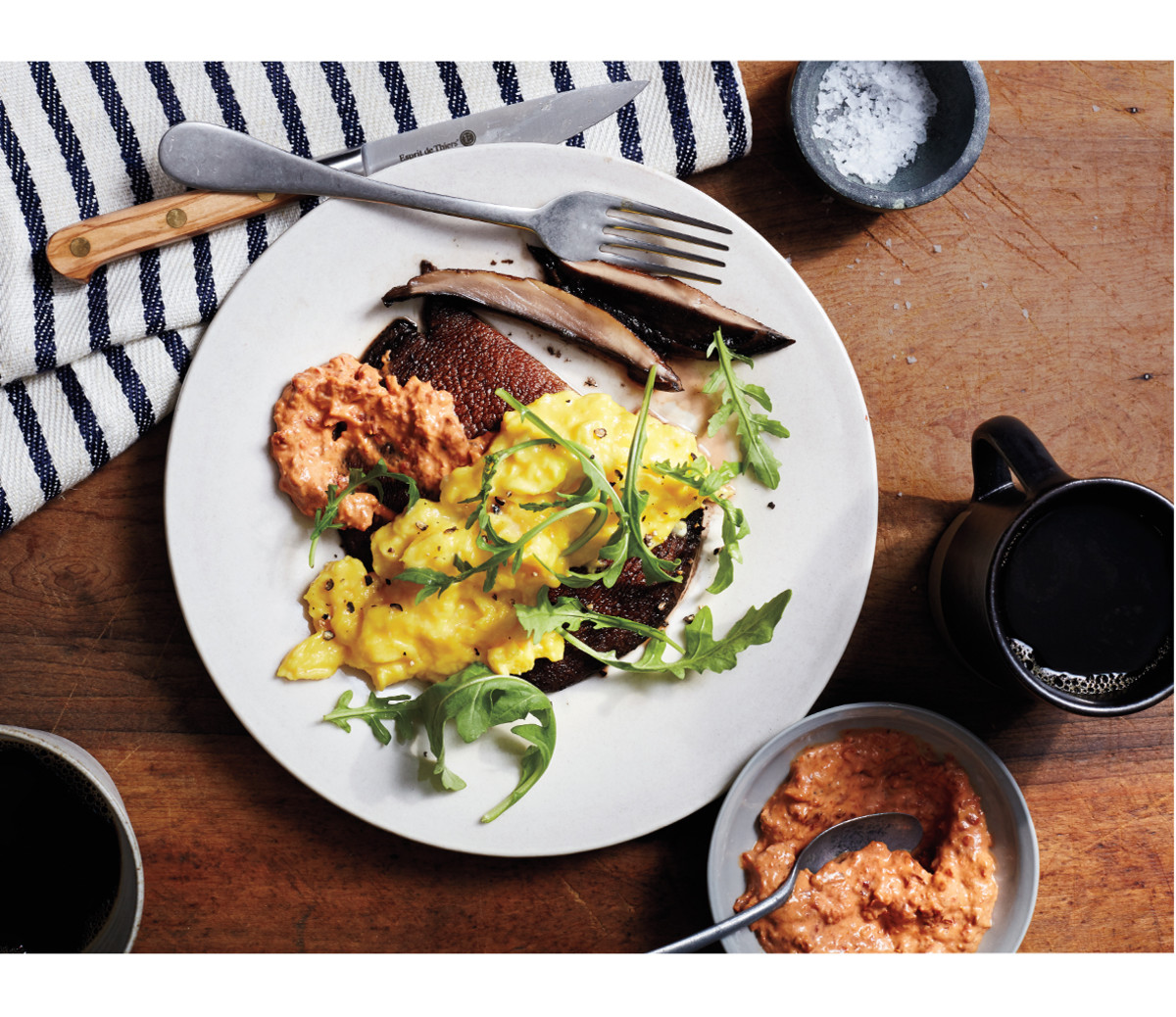 BREAKFAST: Mushroom-Stuffed Scrambled Eggs
MAKES: 2 SERVINGS
INGREDIENTS:
⅓ cup oil-packed sun-dried tomatoes
⅓ cup reduced-fat sour cream
1 tbsp olive oil
1 tsp minced chipotle chili pepper in adobo sauce
1 garlic clove, minced
2 large portobello mushroom caps
Salt and black pepper, to taste
4 large eggs
1 cup arugula
DIRECTIONS:
1) In a bowl, blend sun-dried tomatoes, sour cream, oil, chipotle, and garlic with water until slightly chunky.
2) Preheat oven broiler. Scrape dark grills from portobello caps and place stem side down on a baking sheet. Brush tops with oil and season with salt. Broil until tender, about 5 minutes.
3) In a bowl, gently whisk eggs, salt, and pepper. Pour eggs into a cold greased skillet; turn heat to medium-low. Cook, stirring frequently, until creamy curds form. Remove from heat while eggs are still slightly runny.
4) Place mushrooms cap side up on a plate and top with eggs, sauce, and arugula.
NUTRITION (PER SERVING)
319 calories, 18g protein, 12g carbs, 23g fat
10 of the Healthiest Breakfasts to Start Your Day >>>
SNACK: Pickled-Egg Avocado Toasts
MAKES: 4 SERVINGS
INGREDIENTS:
⅔ cup white vinegar
1 tbsp sugar
½ tsp salt
4 hard-boiled eggs, peeled
2 garlic cloves, smashed
1 tsp whole black peppercorns
1 avocado
Juice of ½ lemon
¼ tsp chili powder
4 slices sprouted whole-grain bread, toasted
1 tomato, sliced
¼ cup chopped cilantro
Black pepper, to taste
DIRECTIONS:
1) In a medium-size saucepan, bring vinegar, ⅔ cup water, sugar, and salt to a boil. Simmer 1 minute, then let cool. Add eggs, garlic, and peppercorns to a clean jar and pour in cooled vinegar pickling liquid. Seal shut and chill in the fridge for at least 1 day.
2) When ready to eat, mash together avocado, lemon juice, and chili powder in a bowl. Spread avocado mash on toast; top with sliced tomato.
3) Slice a pickled egg and place on top. Garnish with cilantro and freshly ground black pepper.
NUTRITION (PER SERVING)
260 calories, 12g protein, 22g carbs, 14g fat
10 Ways to Cook With 10 of the Healthiest High-Fat Foods >>>
LUNCH: Smoked-Fish Egg Cakes
MAKES: 6 SERVINGS
INGREDIENTS:
1 tbsp canola or grape-seed oil
1 onion, diced
½ lb mushrooms, chopped
1 red bell pepper, chopped
3 cups chopped spinach
1 cup reduced-fat ricotta cheese
8 large eggs
½ lb smoked mackerel, skin removed and roughly chopped
3 tbsp chopped fresh dill
3 tbsp horseradish
1 tbsp Dijon mustard
½ tsp black pepper
DIRECTIONS:
1) Heat oil in a skillet over medium heat. Add onion, mushrooms, and red pepper. Cook until softened, about 6 minutes. Stir in spinach and heat until slightly wilted.
2) Preheat oven to 375°F. In a large bowl, whisk together ricotta cheese and eggs. Stir in cooked vegetables, mackerel, dill, horseradish, mustard, and pepper.
3) Grease 12 muffin cups with cooking spray and divide mixture among them. Bake for 20 minutes, or until eggs are set. Let cool for about 5 minutes before unmolding.
NUTRITION (PER SERVING)
281 calories, 20g protein, 8g carbs, 19g fat
5 Muscle-Friendly Feasts You Can Make In a Flash >>>
For access to exclusive gear videos, celebrity interviews, and more, subscribe on YouTube!