Nutella, the hazelnut and chocolate spread born in Piedmont, Italy, is having its bacon moment. New York City's second dedicated restaurant is opening (in Brooklyn) as Nutella recipes continue to cover Pinterest and Tumblr while also starring on TV in recipes by the likes of Giada De Laurentiis, Bobby Flay, and Martha Stewart.
Thankfully, instead of Nutella fans filling the Internet with endless filtered shots of spread on toast, they're heading to their kitchens to innovate and push the limits of the sweet spread. In order to expand our understanding of this much-hailed Italian export, Men's Journal reached out to Nutella culinary experts for their favorite takes on this essential ingredient.
Nutella Whipped Cream
A menu fixture at the new Nutelleria restaurant in Brooklyn, Nutella specialist Natalie Povolotsky says the creation makes a fluffy alternative topping to your traditional waffles and crepes. The process is simple: boil two cups of heavy cream, pour into a mixer, add one cup of Nutella, and whip.
Nutella Braised Meat
You can work Nutella into any meat braise, says Dave Joachim, a recipe tester and author of The Food Substitution Bible. "Short ribs, for example, braised with dried cherries. Then you mix a little Nutella into the liquid at the end." Nutella works especially well with any game meat like goat or venison, says Joachim. "The bittersweet taste of the chocolate erases any gaminess in the meat."
Nutella on Berries
Banana is the first fruit usually associated with Nutella, but the spread's sweetness contrasts beautifully with the acidic bite of strawberries or raspberries, says Povolotsky. This is not so much a recipe, but a guideline: Wherever those little red and blue fruits go — crepes, parfaits, ice cream, shortbread — Nutella should follow.
Nutella Cocktails
Naturally, Nutella can be served in cocktail form. Food writer and Italian recipe aficionado Paula Jones offered up her after-dinner Nutella Shooters as a favorite twist for the spread. Mixing shaved ice, milk, Irish Cream, and Nutella, she finishes with Nutella around rim of the glass. While Nutella cocktails are unavoidably sweet, if Jones's shooter isn't your style, try blending a teaspoon or two into your next White Russian.
Nutella Mocha Fondue
Consider this next-level spread. Every dessert stands to improve with this fondue drizzled on top, says Joachim. Even better, it's fast and simple. Combine ¾ of a cup Nutella, half a cup of strong brewed coffee, and a cup of semisweet chocolate chips in a bowl, microwave, and then serve.
Nutella Bacon
The salt and smoke of thick-cut bacon pairs perfectly with the smooth, nutty sweetness of Nutella. Jones goes a step further, with a sweet and spicy recipe that adds chili powder and black pepper to the mix, but the essential method is easy. Bake your bacon until it's crispy, cool it down, ice with warmed Nutella, and let it harden in the refrigerator.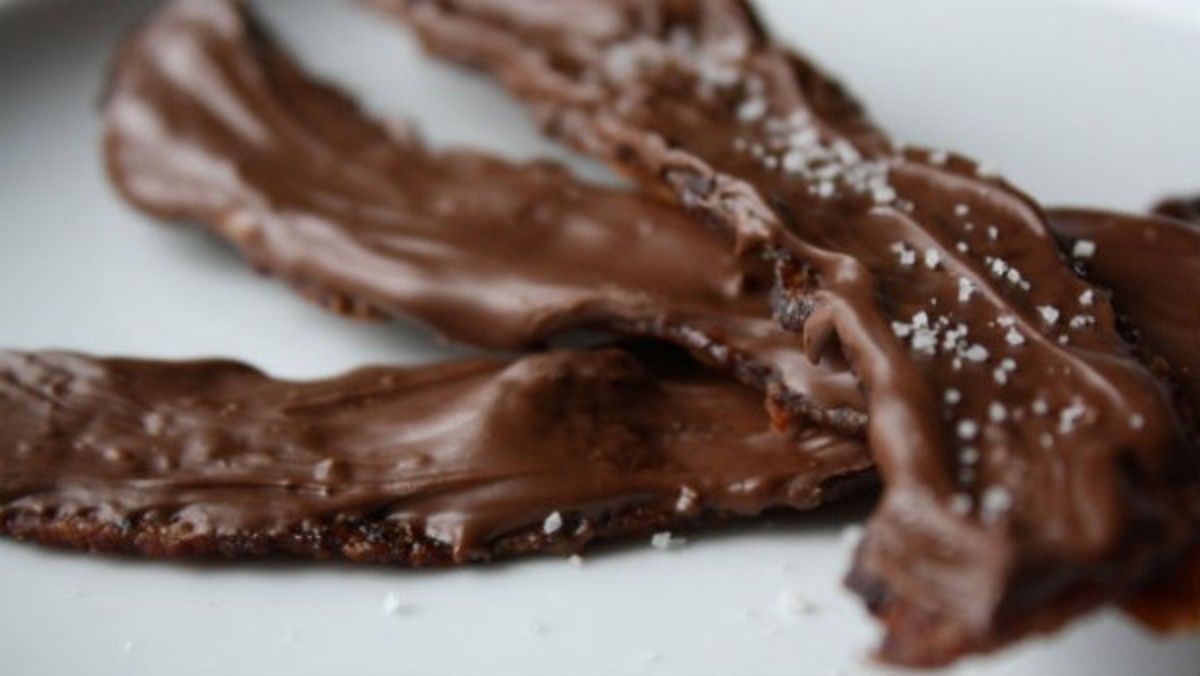 (Sweet and Spicy Nutella-Coated Bacon. Photograph by Paula Jones)