Summer has faded into fall—and that means it's time to watch out for those big Thanksgiving meals and winter eating binges.
20 of the Best Superfoods for Men >>>
As the conventional wisdom goes, summer is when you show off a six-pack and fall is when you drink a six-pack—usually while watching football—and gain 10 pounds of blubber. (Go ahead, tell yourself it'll keep you warm in the winter.)
But it doesn't have to be that way. You can preserve the current, fitter you by taking advantage of these recipes made with the season's freshest, healthiest fare, including pumpkin, squash, cinnamon, and apples, to help you stay lean and energized. Keep these on your menu and next spring you may just wind up with the same body you had last summer—no time machine necessary.
Lightened-Up Recipe: Maple Spiced Pumpkin Pie >>>
Here are five healthy meals to help you through the fall.
1. Flank Steak and Butternut Squash Bowl (pictured above)
Makes: 1 Serving
Ingredients
1/4 cup quinoa, uncooked
1/2 tbsp extra-virgin olive oil
1 cup butternut squash, diced (1-inch cubes)
1/4 onion, thinly sliced
5 oz flank steak
1/2 tsp Himalayan sea salt
Black pepper, to taste
1/2 tsp chili powder
1/2 tsp garlic powder
1/4 (1 oz) avocado, sliced
1 egg
1 tbsp goat cheese
Directions
1) Cook quinoa according to package instructions and set aside. Place a medium skillet on medium heat and add olive oil and squash. Sauté for 10 to 12 minutes, or until squash is tender and the edges are lightly browned. Add onion and stir.
2) Sprinkle the flank steak with sea salt and pepper. In a separate pan on medium-high heat, sear steak for about 5 minutes per side (for a medium-rare steak). Set aside. Slice when cooled.
3) When onions begin to caramelize, add the cooked quinoa and spices. Stir and allow the flavors to develop. Turn off the heat and set aside.
4) In a pot or pan, cook egg any style. Then, in a separate bowl, add the squash-quinoa mixture. Top with avocado slices and steak slices, then add egg. Sprinkle on goat cheese.
Nutrition (Per Serving)
544 calories, 50g protein, 41g carbs, 20g fat
2. Savory Breakfast Skillet
Makes: 1 Serving
Ingredients
1 sweet apple chicken sausage, diced
1 cup sweet potato, cut into 1/2-inch cubes
1 tsp olive oil
1/2 cup baby portobello mushrooms
1/3 cup red pepper, diced
1/3 cup sweet onion, thinly sliced
1/2 tsp smoked paprika
1/4 tsp cayenne pepper
1/2 tsp garlic powder
Sea salt, to taste
Black pepper, to taste
3 eggs
Directions
1) Place a cast-iron skillet on medium-low heat and add sausage. Sauté for about 10 minutes to allow fat to develop. Preheat the oven to 400°F.
2) Add sweet potato cubes—and 1 tsp olive oil if pan is too dry—to the skillet. Sauté and stir occasionally for another 10 minutes until sweet potatoes become tender and brown on the edges.
3) Add mushrooms, red pepper, onion, and spices. Stir to combine.
4) Make 3 holes in the sauté mixture, crack an egg into each hole, and bake the skillet in the oven for 5 to 10 minutes, depending on how runny you like your egg yolk.
Nutrition (Per Serving)
501 calories, 35g protein, 43g carbs, 21g fat
Breakfasts of Champions: 6 Classic Recipes, Redone >>>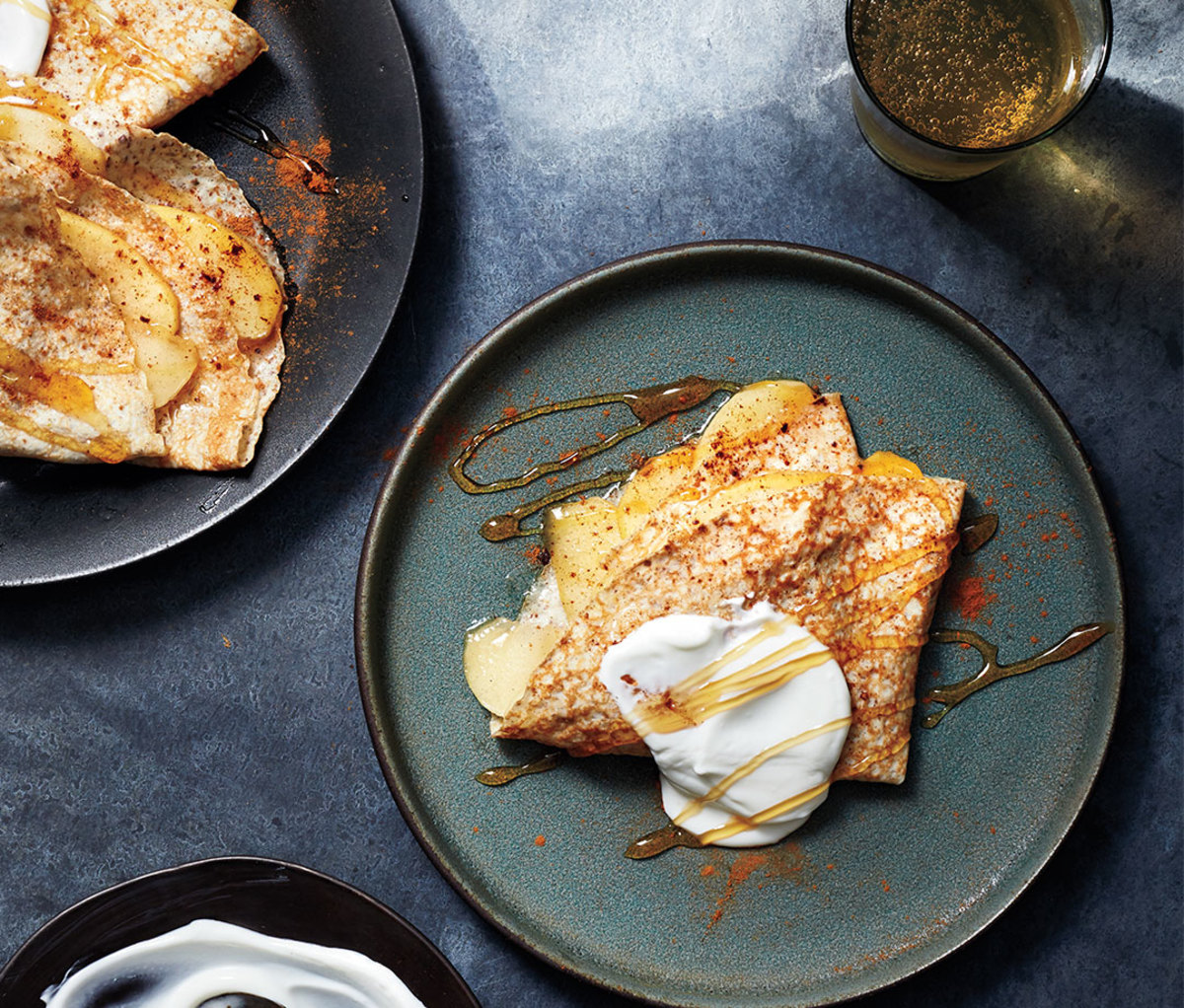 2. Apple-Cinnamon Protein Crepes
Makes: 3 Crepes
Ingredients
2 apples, peeled, thinly sliced
2 tbsp water
1 tbsp lemon juice
1/4 tsp cinnamon, plus more for garnish
3 tbsp stevia (Truvia), plus 1/2 tsp for the crepe batter
4 tsp reduced-fat grass-fed butter
1 scoop vanilla whey protein
2/3 cup egg whites
1 tbsp unsweetened vanilla almond milk
1 tbsp ground flaxseed
1 tbsp coconut flour
. cup nonfat Greek yogurt
15 drops SweetLeaf stevia drops, vanilla crème flavor
Raw honey (optional)
Directions
1) Place a sauté pan on medium heat. Add apples, water, lemon juice, cinnamon, 3 tbsp stevia, and 2 tsp butter. Stir and cook for about 10 minutes, or until apples soften. Set aside.
2) Add whey protein, egg whites, almond milk, flaxseed, coconut flour, 1/2 tsp stevia, and 1 tsp butter to a blender or food processor. Blend until a batter forms.
3) In a large sauté pan on medium heat, spread 1/3 tsp of butter to coat bottom of pan. Pour 1/3 of the batter; spread to form a thin layer by tilting pan. When the edges start to slightly fold in and are brown, carefully flip with a spatula. Cook remaining 2 crepes.
4) Spread 1/3 of the apple mixture to half of the crepe. Fold over, hot dog–style. Then fold once more, hamburger style. Repeat with the other 2 crepes.
5) In a small bowl, mix Greek yogurt and vanilla stevia drops. Top each crepe with 1/3 of the yogurt mixture. Garnish with cinnamon and drizzle honey, if desired. Serve.
Nutrition (Per Serving)
191 calories, 20g protein, 16g carbs, 5g fat
12 Great Uses for Protein Powder >>>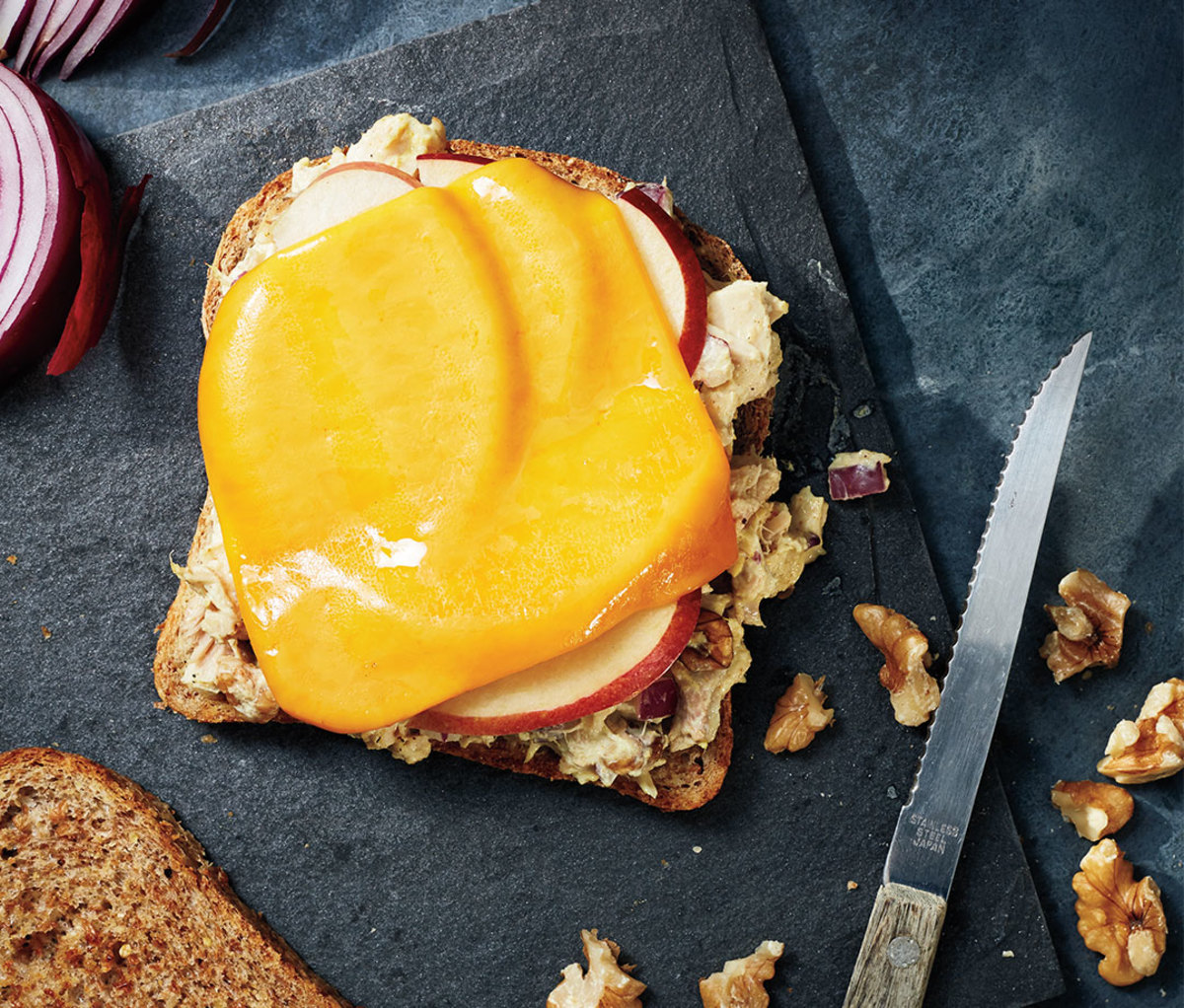 4. Apple Curry Tuna Melt
Makes: 1 Serving
Ingredients
1 5-oz can albacore tuna
2 tbsp nonfat Greek yogurt
1/2 tbsp Dijon mustard
2 tbsp walnuts
2 tbsp red onion, diced
1/2 tsp curry powder
1/2 tsp garlic powder
1/4 tsp Himalayan sea salt
Pinch of:
Black pepper
Ground ginger
Ground nutmeg
Ground coriander
Ground cinnamon
1/4 apple, thinly sliced
2 slices Ezekiel bread
1 slice cheddar cheese
Directions
1) Rinse tuna under cold water. Then transfer to a medium mixing bowl and break up the big chunks with a fork.
2) Add yogurt, mustard, walnuts, onion, and spices and combine.
3) Lay apple slices on one slice of bread. Top with the tuna mixture, then add cheese and the other slice of bread.
4) Place a pan on medium-low heat, add the sandwich, cheese side down. When cheese starts to melt (about 5 minutes), flip and cook for another 3 minutes.
Nutrition (Per Serving)
401 calories, 43g protein, 28g carbs, 13g fat
McDonalds Asks Itself, "Is McDonald's Beef Real?" >>>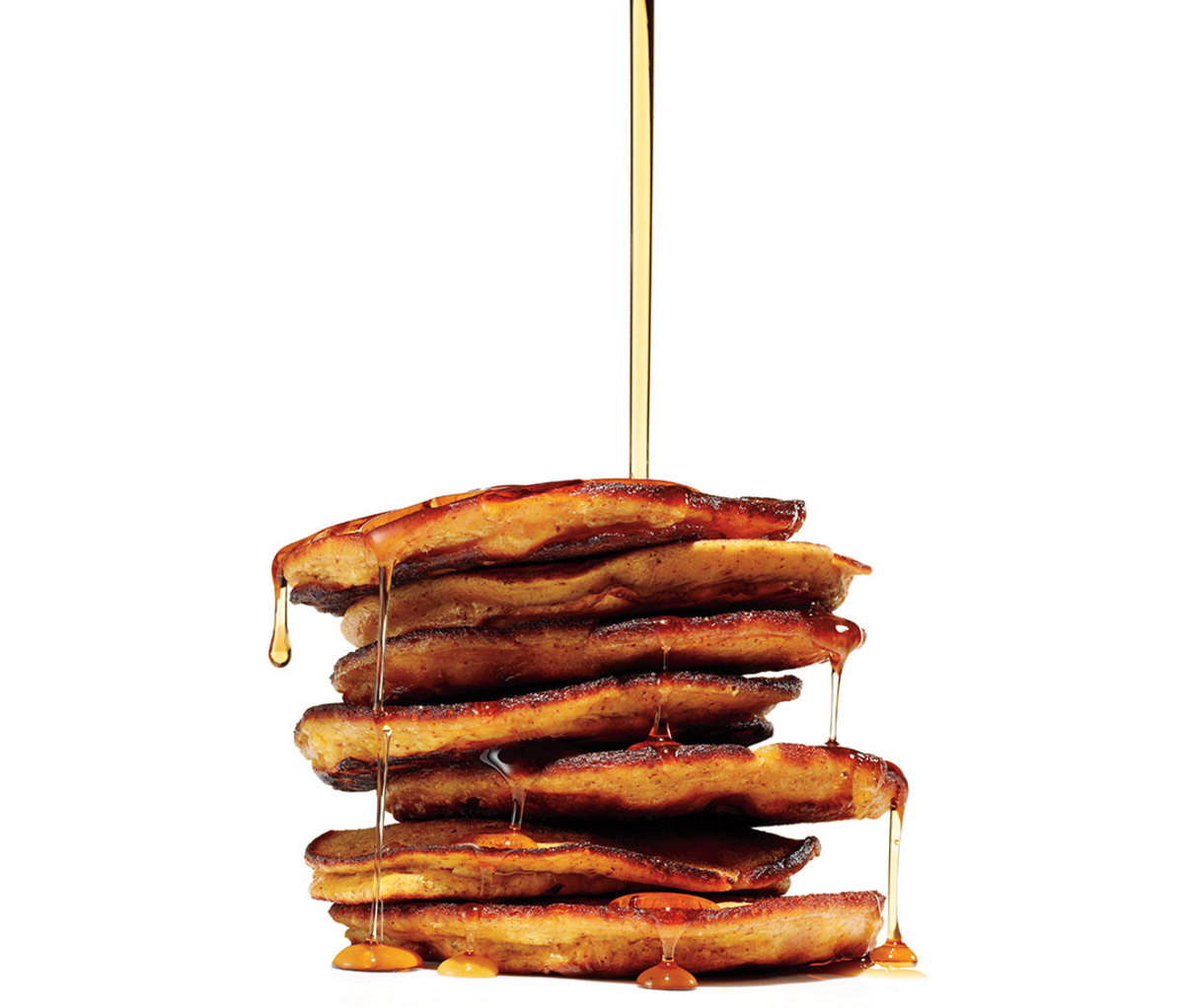 5. Pumpkin Pie Protein Pancakes
Makes: 4 pancakes
Ingredients
5 egg whites, 1 whole egg
1/3 cup canned pumpkin
2 tbsp nonfat Greek yogurt
2 tbsp unsweetened almond milk
1 tbsp chia seed
½ tsp stevia powder
½ tsp vanilla extract
½ tsp pumpkin pie spice
¼ tsp ground cinnamon
½ tsp baking powder
1/4 cup Walden Farms Pancake Syrup, plus 1 tbsp for the batter
1 tsp coconut oil
1 tsp reduced-fat grass-fed butter
Directions
1) Add the first 10 ingredients and 1 tbsp syrup to a blender. Pulse for about 1 minute, or until well blended.
2) Melt 1/4 tsp coconut oil in a small sauté pan over medium heat.
3) Pour 1/4 of the batter into the pan. When bubbles form on top, flip pancake over (about 2 minutes).
4) Repeat steps 2 and 3 for the remaining 3 pancakes. Stack the cooked pancakes on a plate.
5) Place 1/4 cup syrup and butter in a small bowl. Microwave 20 seconds. Pour over the pancake stack.
Nutrition (Per Pancake)
504 calories, 44g protein, 55g carbs, 12g fat
Healthy Recipe: Protein Quinoa Pancakes >>>
For access to exclusive gear videos, celebrity interviews, and more, subscribe on YouTube!