I'm glad my liver is hidden inside somewhere inside my torso, muffled by skin, unable to speak. If drawn like some moralistic Disney cartoon, my liver would likely spout complaints set to a montage of hazy IPAs, imperial stouts, pilsners cascading toward my stomach like an endless bubbly waterfall.
"I'm tired of hops," my cartoon liver would sigh. "What do you have against water anyway?"
Nothing, as long as it contains malt, hops, and yeast. It's my job to judge and taste, to divine the delicious from the drain pours. But let's be real. No matter how hard I squint, barrel-aged pastry stouts aren't sitting atop the food pyramid. Excess pleasure becomes the everyday, humdrum gluttony on par with devouring donuts for breakfast, lunch, and dinner.
As the years recede in a rearview mirror, I increasingly welcome temporary breaks from alcohol. Note I said "alcohol," not beer. That's because I've found plenty to love in the nonalcoholic beer aisle, a turnabout from 10 years ago.
Back then, nonalcoholic beers such as Sharp's and O'Doul's were basically booze-free facsimiles of broad-appeal lagers. They were oddly sweet and off-putting, lacking alcohol and flavor. For drinkers accustomed to the craft beer's psychedelic spectrum of taste and scent, it was like swapping streaming hi-def TV for a black-and-white set tuned to one channel. Better than nothing—barely.
'I'm tired of hops,' my cartoon liver would sigh. 'What do you have against water anyway?'
Nonalcoholic beers are no longer so lacking taste-wise. Brooklyn Brewery now sells Special Effects, a citrusy little amber lager. Heineken 0.0 is a note-for-note recreation of the alcoholic genuine article, while Surreal Brewing makes of-the-moment milkshake and hazy IPAs that taste fairly close to the real thing, save for the too-light body and lack of blooming warmth.
Drink beer, and you'll feel the ethanol kindling your stomach, warm waves washing across your body. That's tough to replicate without booze. But I might've finally found a nonalcoholic beer that ticks every box, a unicorn alchemy of low alcohol and lots of flavor.
In August, Athletic Brewing Company released Blackberry Berliner Weisse, part of the nonalcoholic brewery's Fruit Stand series. The Connecticut brewery, which recently expanded into a former Ballast Point brewery in San Diego, uses a proprietary process to create fully fermented beers with few flavorful shortcomings. To wit, Run Wild IPA matches malt richness to a pleasant bitterness, and All Out Stout is a roasty fit for fall.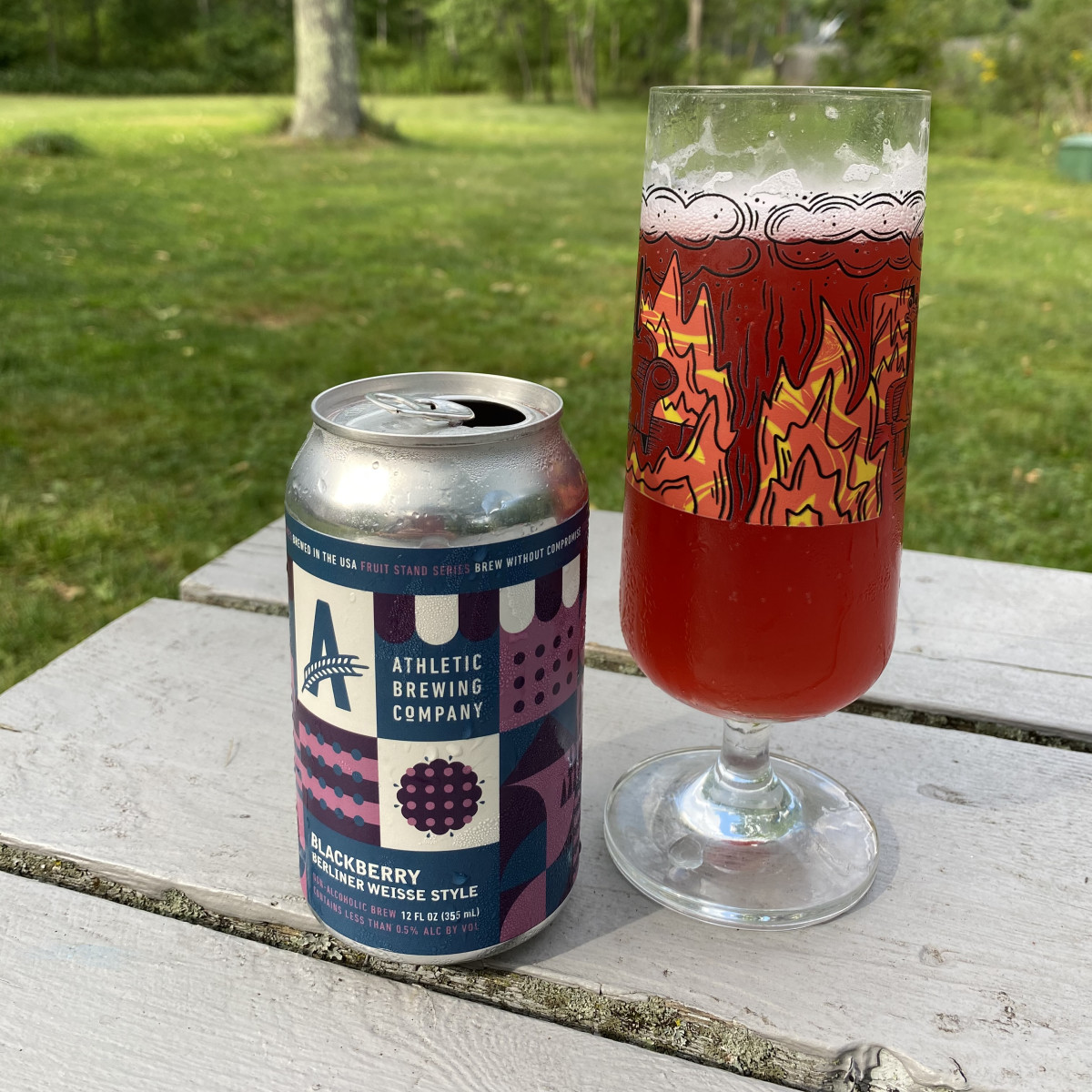 I'm hooked on Blackberry Berliner Weisse, a German-style sour wheat ale stuffed with blackberry purée. The beer pours a vivid crimson purple, its hue alone guaranteed to garner Instagram likes. The flavor gets my heart: tart and fruity, the smooth and gentle acidity reminiscent of restrained kombucha. There's scant sweetness, just cutting hydration that would contrast a freshly picked cherry pie or peach cobbler, or maybe an eggy brunch with a side of syrup-topped pancakes.
Blackberry Berliner Weisse might not be hair of the dog, but it is ideal for the dog days of summer.
LEARN MORE
For access to exclusive gear videos, celebrity interviews, and more, subscribe on YouTube!