This article was published in partnership with Astronet Media. Men's Journal is not endorsing the products featured below. 
Creatine is an organic compound found in the body. It's also found in certain foods like red meat and seafood.  Creatine monohydrate is one of the most affordable, effective supplements for increasing muscle growth, strength, and athletic performance. Each year, new and so-called improved creatine supplements hit the shelves, promising better results than the rest. But are these products actually effective?
The short answer: maybe.
All creatine supplements are not the same. While some include additional performance-enhancing ingredients, others contain additives and fillers that may be a waste of money.
When selecting a product, it's essential to do your research and carefully read the ingredient label to ensure you are getting the most bang for your buck. The good news is, in this article, we've done the heavy lifting for you.
Here, we've compiled our top picks for the best creatine on the market in 2023. We'll also explore the safety and benefits of creatine.
Editor's Choice
Made with five types of creatine

Includes electrolytes

Different flavors available

Vegan-friendly
The Best Creatine Supplements For 2022
Pros
Free shipping

Two flavor options

Suitable for vegans

60-day money-back guarantee

Made with five different types of creatine
Cons
Lacks third-party testing

Contains sucralose
Click here to get the best deal on CrazyBulk
Who Should Take CrazyBulk
Athletes who push the limits during training and want a comprehensive creatine supplement that can help replenish electrolytes while maximizing muscle creatine stores.

Those who are looking for a flavored creatine supplement. This product comes in Lemon and Lime and Orange and Mango flavors.
Who Shouldn't Take CrazyBulk
People who do not frequently perform endurance exercises or sweat a lot during workouts may not benefit from the added sodium in this product. Additionally, those following a sodium-restricted diet set by their healthcare provider should also avoid this supplement.

Those who prefer a clean, natural creatine supplement free of added ingredients. This product contains the artificial sweetener sucralose, which may

alter the gut microbiome

by reducing the amount of beneficial gut bacteria.
CrazyBulk is made with the following five different types of creatine:
Creatine monohydrate

Creatine hydrochloride (HCL)

Creatine ethyl ester

Tri-creatine malate

Creatine citrate pyruvate
Creatine HCL is a creatine molecule bound with hydrochloric acid. It is thought to be better absorbed by the body than creatine monohydrate. One 2015 study found that creatine HCL improves performance and body composition in recreational weightlifters.
Some studies suggest that, when combined with resistance training, creatine ethyl ester supplements can significantly increase body weight and strength in non-athletic underweight men. As such, we consider this to be the best creatine for men who are underweight.
Unlike many creatine supplements on the market, the company states this product does not require cycling or a loading phase.
CrazyBulk CRN-5 also includes Aquamin Mg® (a natural source of magnesium) and Aquamin AG® (Arabic gum), a source of minerals rich in calcium. Together these may help lessen inflammation, support joint health, and enhance recovery.
It also contains 1,250 milligrams of sodium, which can help improve hydration. The American College of Sports Medicine recommends that endurance athletes consume 300-600 milligrams of sodium per hour during prolonged exercise.
Because of its additional ingredients and electrolytes, we also consider this product to be one of the best pre-workout supplements.
Pros
Free of artificial colors and sweeteners

Third-party tested

Contains vitamin D

Includes HMB
Cons
Click here to get the best deal on Transparent Labs Creatine
Who Should Take Transparent Labs Creatine HMB
Those who are looking for a creatine powder that is available in several different flavors. This product comes in ten flavors and offers options such as blue raspberry, watermelon, and tropical punch. An unflavored option is also available.

Anyone looking for a supplement that contains more than just creatine. This supplement contains other ingredients to enhance absorption and improve effectiveness.
Who Shouldn't Take Transparent Labs Creatine HMB
People who want a creatine monohydrate supplement that does not contain any additional ingredients.
Transparent Labs Creatine HMB is formulated with 5,000 milligrams of creatine monohydrate, beta-hydroxy beta-methyl butyrate (HMB), and vitamin D. It also includes BioPerine to help improve the absorption rate of other ingredients inside of this product, which may enhance its effectiveness.
One older 2001 study found that, when combined, creatine monohydrate and HMB may significantly increase lean body mass and strength compared to either ingredient alone.
HMB is a substance produced by the body when the amino acid leucine is broken down. Because the body can only produce HMB in small quantities, many people choose to consume it as a dietary supplement to increase levels.
While we need more high-quality studies, some research suggests HMB can improve muscle mass and strength.
This product is free of artificial sweeteners, colors, and preservatives. It is sweetened using Stevia.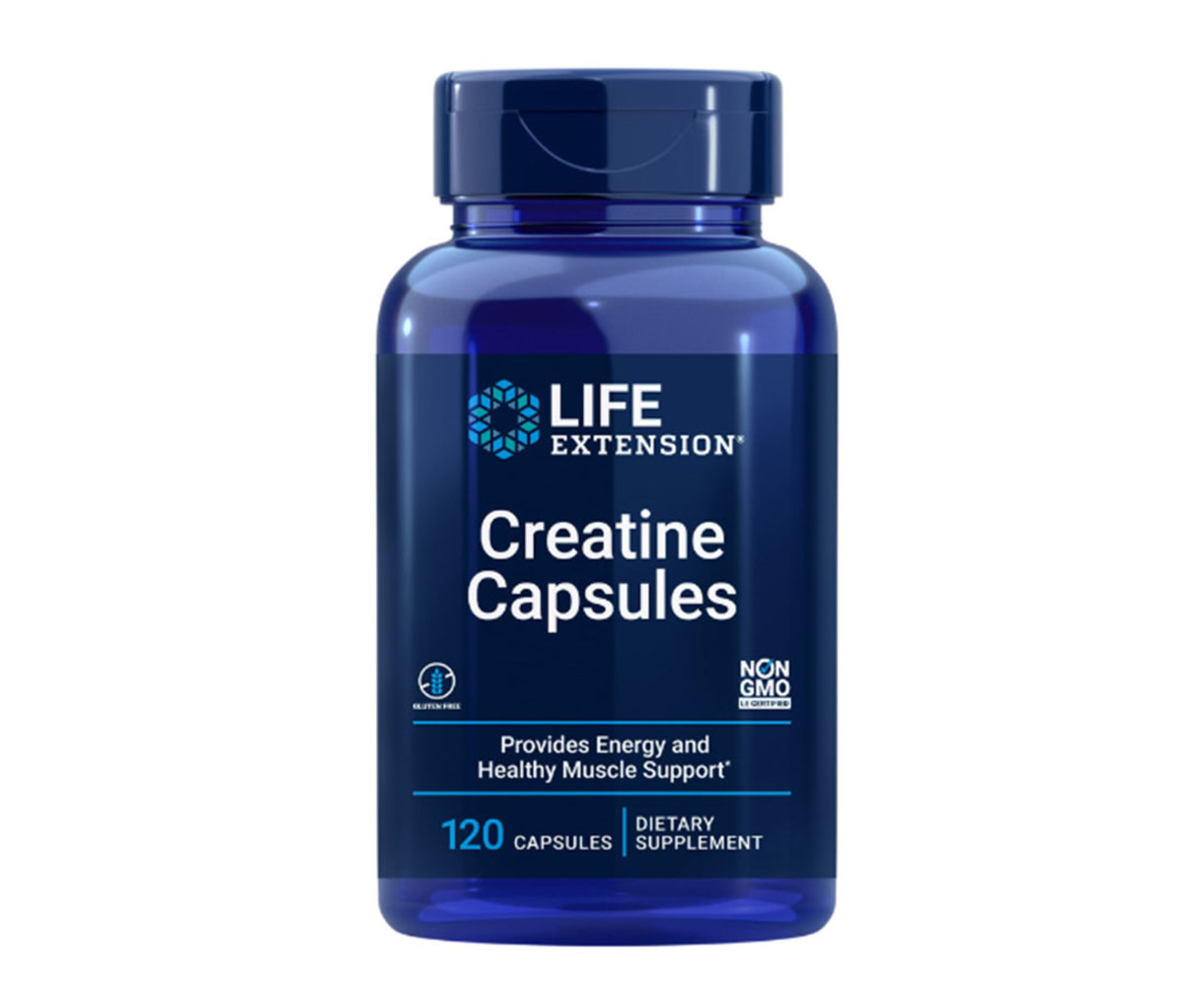 Pros
Vegetarian-friendly

Third-party tested

Includes vitamin C
Cons
Small amount of creatine per capsule
Click here to get the best deal on Life Extension Creatine
Who Should Take Life Extension Creatine Capsules
People who want to benefit from creatine by taking pills instead of a powder.
Who Shouldn't Take Life Extension Creatine Capsules
Those who prefer to mix creatine powder in their beverages.

People who do not like taking multiple pills.
Life Extension Creatine Capsules are formulated with creatine and vitamin C. Each two-capsule serving delivers 12% of the Daily Value (DV) for vitamin C.
This product only contains 1,000 milligrams of creatine monohydrate per two capsule serving, which is much lower than many other products we've discussed.
Most studies recommend consuming at least 3,000 to 5,000 milligrams of creatine daily to maintain muscle creatine stores. To meet this requirement, a person must take six capsules daily.
This product is third-party tested and comes with a Certificate of Analysis, which is a document produced by manufacturers to communicate the results of laboratory testing. Each bottle contains 120 capsules, It should be used with a fat burner supplement for the best result.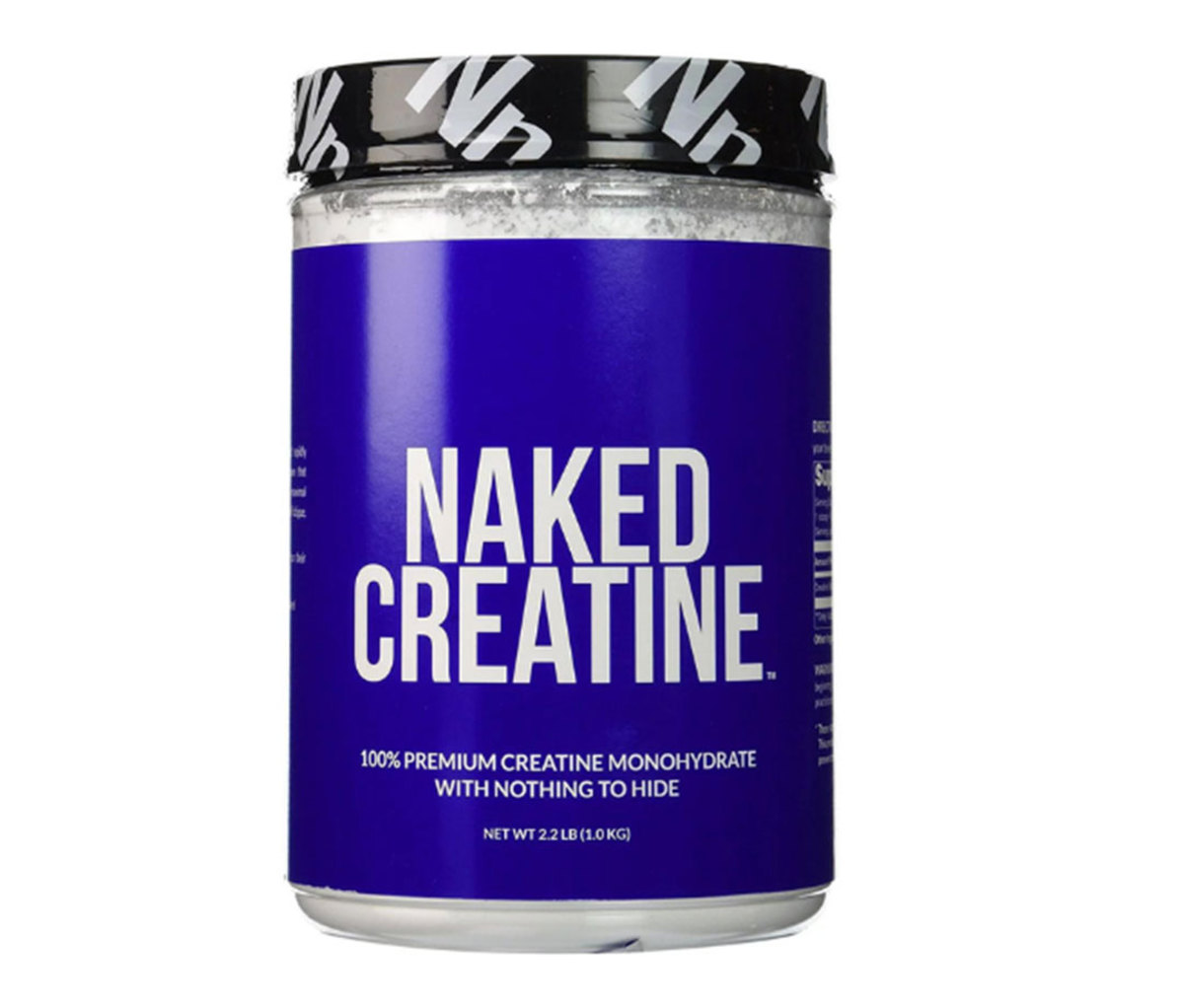 Pros
Free of artificial colors and flavors

Made with one simple ingredient

Certified vegan and gluten-free

Third-party tested
Cons
Click here to get the best deal on Naked Creatine
Who Should Take Naked Creatine
People who want a clean, flavorless creatine monohydrate supplement that mixes well into anything.

Those who only want creatine monohydrate in their supplement.
Who Shouldn't Take Naked Creatine
Those who prefer to take creatine capsules.

People who are looking for a flavored creatine supplement.

People who want a creatine supplement that contains additional performance-boosting ingredients.
This product is about as simple as it gets. Naked Creatine contains one simple yet potent ingredient — 5,000 milligrams of pure creatine monohydrate.
It is free of artificial colors, flavors, and genetically modified organisms (GMOs). It is also soy-free, dairy-free, vegan, and keto-friendly.
Naked Creatine is flavorless, which makes it highly versatile. It blends well into smoothies, juice, and protein shakes.
It is also tested by a third party to ensure it is free of heavy metals and manufactured in the United States. This product comes in a large 2.2-pound tub with 200 servings.
We consider this to be the best creatine for women and men looking for a simple, clean creatine supplement.
Pros
Informed-choice certified

One simple ingredient

Free of artificial ingredients

Affordable
Cons
Click here to get the best deal on GNC Pro Performance Creatine
Who Should Take GNC Pro Performance Creatine Monohydrate
Those looking for an affordable, flavorless pure creatine monohydrate supplement without any extra ingredients.

Athletes who are looking for a product that is 100% free of banned substances.
Who Shouldn't Take GNC Pro Performance Creatine Monohydrate
People who prefer pills, capsules, flavored, or liquid creatine supplements
GNC is best known for its high-quality dietary supplements, and Pro Performance Creatine Monohydrate is no exception. This product is made with one simple ingredient: creatine monohydrate. It is flavorless, so it mixes well with most beverages. It is also free of fillers, preservatives, major allergens, and artificial ingredients.
GNC Pro Performance Creatine Monohydrate also bears the Informed-Choice logo. Informed Choice is a well-respected third-party testing organization that tests dietary supplements for banned and unsafe supplements.
Each serving delivers 5,000 milligrams of pure creatine monohydrate. One container contains 50 servings.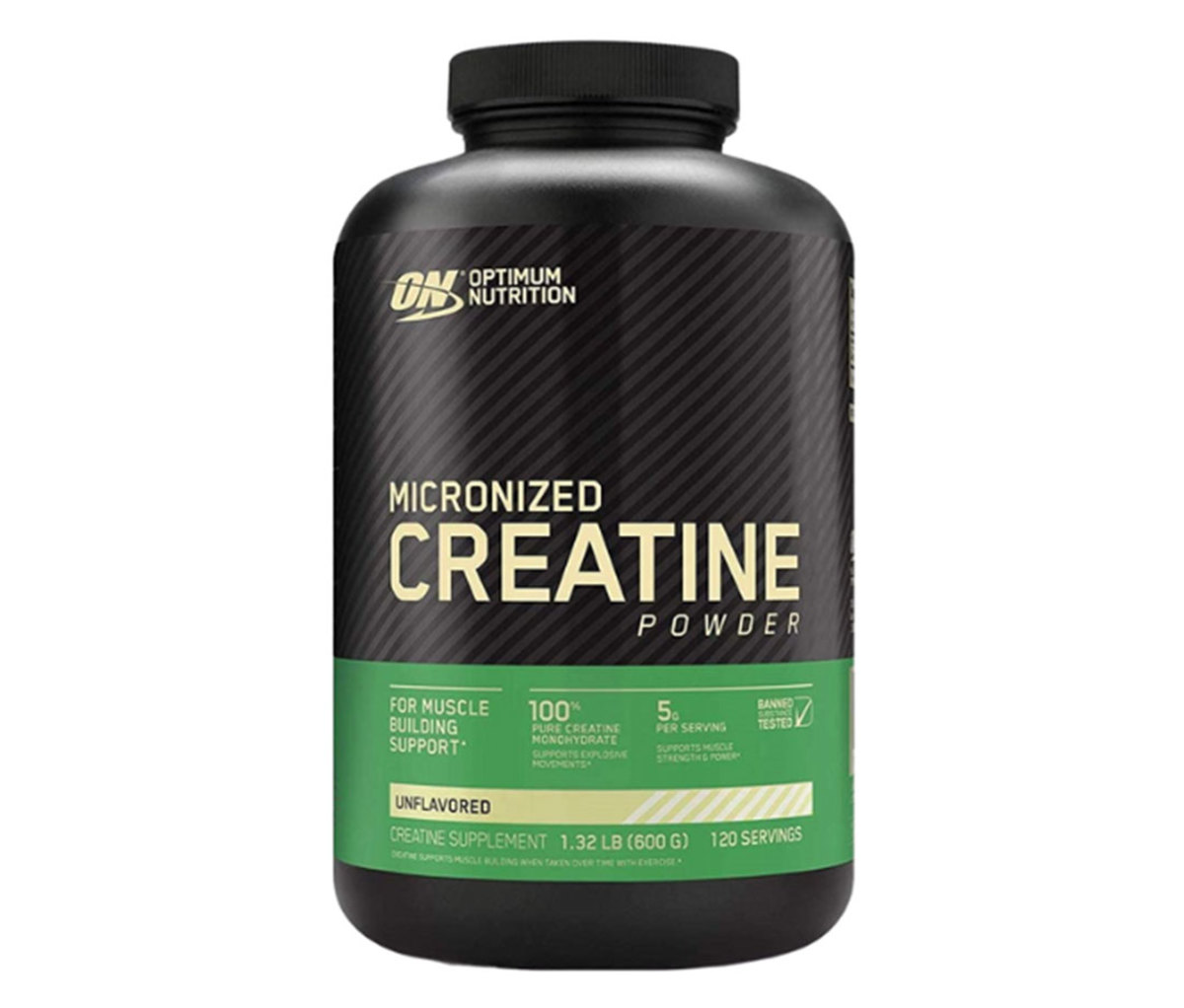 Pros
Banned substance tested

Micronized creatine monohydrate

Zero calories and carbohydrates
Cons
No flavors offered

Pricey
Click here to get the best deal on Optimum Nutrition Micronized Creatine
Who Should Take Optimum Nutrition Micronized Creatine Powder
Athletes and people who want a pure creatine supplement that is tested by a third-party to ensure it is free of banned substances.

People who want an easily dissolvable, flavorless option.
Who Shouldn't Take Optimum Nutrition Micronized Creatine Powder
People who are primarily concerned about price. This high-quality product is a bit pricier than the others we've mentioned.
Optimum Nutrition is a brand many professional athletes and fitness enthusiasts know and trust. Their pure micronized creatine monohydrate powder delivers 5,000 milligrams of micronized creatine, which has been broken down into tiny particles that easily mix into your beverage of choice.
Optimum Nutrition Micronized Creatine Monohydrate formula carries the Banned Substance Tested logo. This means it has been tested by a third party and found to be free of any banned or harmful substances. It is also free of additional ingredients, major allergens, fillers, and artificial flavors.
This product is a bit pricier than the other options we've discussed but, for many, the quality is well worth it.
Both 240-serving and 400-serving containers are available. Optimum Nutrition also sells creatine capsules for those who prefer to take pills.
How We Decided on The Best Creatine Supplements
We understand that navigating dietary supplements can be challenging. Our goal is to do the research for you and provide you with the most effective creatine supplements on the market.
Here are a few things we take into consideration when ranking dietary supplements.
Independent Third-Party Testing
While the food and drug administration (FDA) does not require supplements to be tested by a third-party, many reputable companies choose to have their products tested by an unbiased party for purity and safety. It also ensures the product contains what is listed on the label.
Some of the most well-respected third-party organizations are NSF, InformedChoice, and ConsumerLab.
Safety and Effectiveness
One of the most important things we look at when choosing the best supplements is the amount of research to support their safety and effectiveness.
Many claims made by companies are not supported by strong scientific evidence.
The International Society of Sports Nutrition states that creatine monohydrate is the most effective supplement to increase high-intensity exercise performance and lean muscle mass during training. Multiple studies have also determined creatine to be safe and well-tolerated in most healthy individuals.
Ingredients
We always strive to choose clean supplements free of GMOs, artificial ingredients, and fillers. We carefully read product labels to ensure all ingredients are safe.
What You Need To Know Before Buying Creatine
Before making a purchase, you want to familiarize yourself with creatine and the benefits it offers. Here, we will discuss what you should know before buying creatine supplements.
Benefits
One of the main benefits of creatine is its ability to help boost muscle creatine stores, allowing you to power through strenuous workouts and train longer.
Those who follow a well-balanced diet consisting of 1-2 grams of creatine have muscle creatine stores that are around 60-80% saturated.
Studies suggest that rapid creatine loading, or consuming 5 grams of creatine four times per day for 5-7 days, is the most effective way to maximize your muscle's phosphocreatine stores. Phosphocreatine helps produce adenosine triphosphate (ATP), the preferred energy source for our muscles.
Thus, by taking creatine supplements, you will be able to generate more ATP to fuel your muscles during training.
Many people worry that creatine will cause fat gain. However, any weight gain caused by supplementation is likely due to water retention. In fact, creatine can draw water into your muscles' cells, making your muscles appear larger.
In addition to enhancing athletic performance, creatine may also help boost cognitive function.
Research
One recent 2021 study found that adults over the age of 60 who consumed over 1,000 milligrams of dietary creatine per day scored 5-10% higher on a test that measured cognitive function compared to those who consumed less than 1,000 milligrams of creatine from food per day. Of note, dietary creatine supplements were not used during this study
Another 2021 article published in the Journal of the International Society of Sports Nutrition found that creatine supplements can:
Improve muscle glycogen storage when combined with carbohydrates
Reduce muscle damage
Enhance recovery from intense training sessions
Reduce inflammation and muscle soreness
Improve hydration among athletes, thus increasing tolerance to exercise in the heat
Reduce the risk of heat-related illness
Reduce the severity of spinal cord injuries and concussions
After a creatine loading phase, studies suggest performance can improve by as much as 10-20%.
Creatine Non-Responders
Creatine non-responders may not see the typical benefits of creatine supplementation. An estimated 20-30% of the population are non-responders to creatine.
One study found that, following a creatine load, the people who were non-responders achieved less than an 8% increase in total muscle creatine.
Although the exact cause is unknown, it is believed that genetics plays a large role in being a non-responder.
What to Look For in Creatine Supplements
Not all creatine supplements are created equal. Before buying creatine, there are several things you want to consider.
According to Health Canal, the form of the creatine supplement is important. For example, if you would rather take several capsules daily, you may benefit from creatine pills instead of creatine powder. If the flavor is your priority, consider choosing a supplement from a company like Transparent Labs that offers a wide flavor selection.
Another key thing to consider is additional ingredients in your creatine formula. Always speak with your healthcare provider before starting any supplement to verify it will not interact with any medications you are currently taking.
While there is good quality creatine for sale that a third party does not test, consider purchasing from supplement companies that utilize third-party testing. This will ensure a product meets company standards and is free of undisclosed ingredients.
When Is The Best Time To Take Creatine
Although there is no clear answer, several studies suggest the best time to take creatine is shortly after training.
For example, one study found that taking creatine immediately after a workout is superior to taking it before a workout to improve body composition and strength.
While the timing of creatine supplementation during rest days is less important, taking creatine on rest days is important to keep your creatine muscle stores maximized.
Conclusion
Whether your goal is to enhance performance, strength, or improve body composition, creatine supplements can help. As one of the most studied sports nutrition supplements, they have consistently proven safe and effective.
With so many products available, it's important to evaluate the pros and cons of each supplement to determine which best fits in with your lifestyle.
As always, it is a good idea to speak with your healthcare provider before taking creatine or any other dietary supplements.
Frequently Asked Questions
What are the benefits of creatine?
Creatine can help increase muscle mass, strength, power output, and overall performance. Newer studies suggest it may also improve recovery and support cognitive function.
Do I need to load creatine?
Creatine loading is not necessary. Although it is a faster way to reap the benefits of creatine supplementation, several studies suggest that taking 3 grams of creatine per day can lead to full muscle saturation after 28 days.
What are the different types of creatine supplements?
Although creatine monohydrate is the most studied form of creatine, other types of creatine are available. Examples include creatine HCL, creatine nitrate, creatine magnesium chelate, buffered creatine, and creatine anhydrous.
Are creatine supplements harmful?
>No solid scientific evidence suggests that the short- or long-term use of creatine monohydrate causes harmful effects on healthy individuals
No. Creatine is a natural substance made from the amino acids glycine, methionine, and arginine. It is produced in the kidneys, liver, and pancreas and is also found in red meat and fish.
For access to exclusive gear videos, celebrity interviews, and more, subscribe on YouTube!