Food & Drink
Up Your Frozen Cocktail Game With These Icy, Boozy Blends
We've officially reached the stretch of summer where ice melts in your rocks glass before you can rally everyone to say "cheers." Your beer? It hardly stands a chance once you pluck it from the ice bed in your Yeti. It's time to call in the blender for backup and expand your frozen cocktail repertoire beyond the standard strawberry daiquiris and the piña coladas.
There are some tricks to concocting the perfect boozy and blended drink. As the temperature of your drinks lowers, the sugar is pressed but not the acid, explains Thomas Mizuno-Moore, senior beverage manager at Mediterranean restaurant Aba in Austin, TX. So this is one of those rare occasions you might need to sweeten your drink so you don't end up with too sour of a cocktail. Also, the higher the proof in your spirits, the more liquidity you'll be working with, Mizuno-Moore says. Conversely, the lower the proof, the more frozen the drink will be. "Make sure you're selecting the right amount of a spirit to get that perfect slush consistency," he says.
If you're entertaining, you can prep by putting batches of your cocktails together the night before. Place the drinks in freezer bags and let them chill overnight. Once your mixture is frozen, chop it into little blocks and toss in the blender before serving, Mizuno-Moore advises. Need some frozen cocktail inspiration? These blended recipes from top bartenders around the country are the summertime bomb.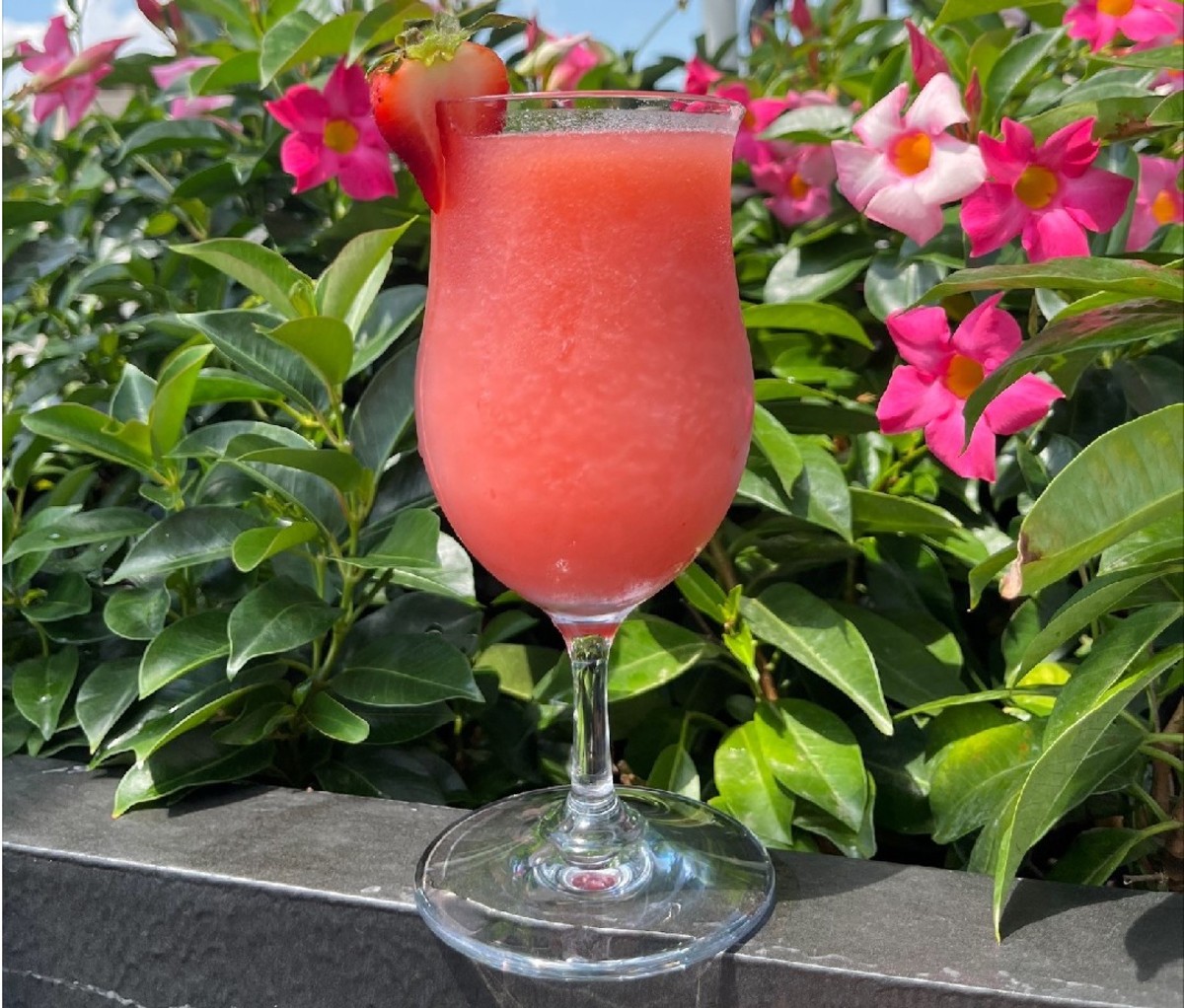 1. Frosé
This Frosé recipe is enjoyed en masse on the crescent-shaped rooftop pool deck at the Four Seasons New Orleans. The recipe from Chemin a la Mer uses a splash of Italicus Bergamot Liqueur, which adds some citrus and herbaceous notes.
Ingredients
6 oz Whispering Angel
1 oz Grey Goose
0.5 oz Italicus Bergamot Liqueur
1 oz lemon juice
3 oz simple syrup
1 oz strawberry purée
Instructions
Combine all the ingredients with 8 ounces of crushed ice and blend until smooth.
Garnish with fresh strawberries and a bouquet of mint.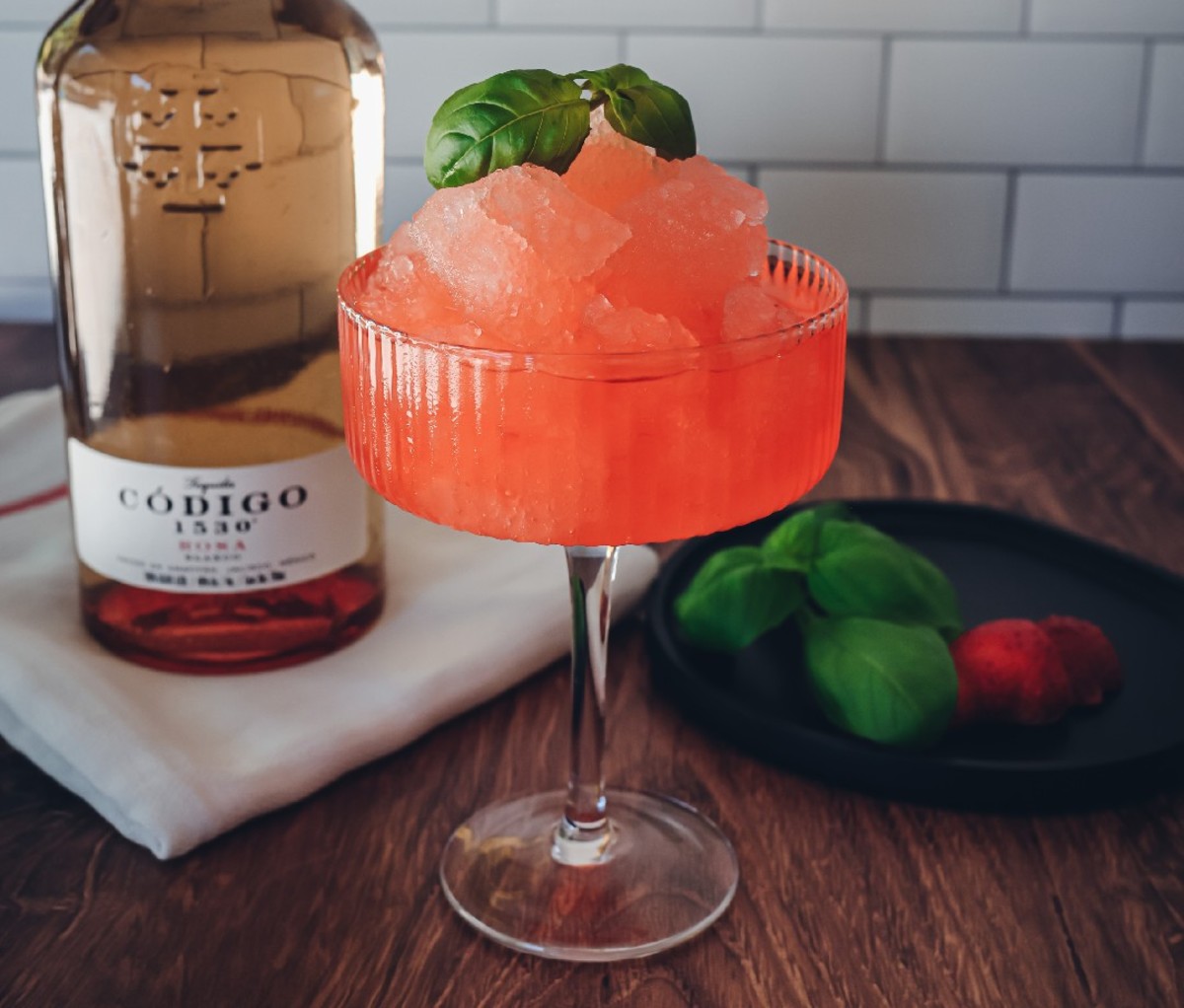 2. The Summer Friday
This strawberry-basil frozen margarita from Código 1530 is made with a smooth tequila that's been aged in French oak Napa Valley Cabernet barrels. The recipe yields two margs.
Ingredients
3 hulled strawberries
5 basil leaves
4 oz Código 1530 Rosa Blanco Reposado
2 oz lemon juice
1.5 oz agave syrup
1 oz orange liqueur
Instructions
Fill blender with all ingredients
Add ice to until your blender is 75 percent full and blend
Courtesy Image
3. Mrs. Golden
Pulverized pistachios are the surprise addition that add a nice mouthfeel in this frozen cocktail, says Christiaan Rollich, bar chef at Sanctuary Camelback Mountain, at Gurney's Resort & Spa. Rollich crafted this blended tequila drink with frozen pineapple and a sprinkle of cinnamon.
Ingredients
2 oz tequila reposado
1 oz fresh lemon juice
1 oz maple syrup
3/4 cup frozen pineapple
1/4 cup shelled unsalted pistachios. (You can use almonds, peanuts, or walnuts if you don't have pistachios)
1/8 tsp powdered cinnamon
2 cups ice
Instructions
Add all the ingredients to your blender except the ice. Once you see the nuts are pulverized (this should take 15 seconds at high speed) add the ice to the blender for another five seconds.
Pour into a coupe glass and garnish with a mint bouquet and edible flowers
Jesse Cyr
4. Total Eclipse
Slane Irish Whiskey has lots of dried and fresh fruit aromas in it, so pairing it with other ingredients of a similar nature like cassis and port makes for a cocktail packed with flavor, says Jesse Cyr, beverage director at Fairmont Olympic Hotel in Seattle. This recipe is an easy one to adjust for a larger batch.
Ingredients
2 oz Slane Irish Whiskey
0.75 oz tawny port
0.75 oz Giffard Cassis
0.5 oz lemon juice
4-5 dashes Angostura bitters
Instructions
Add all ingredients to a blender with one cup of ice
Blend on high until smooth
Pour into a Collins glass and garnish with mint sprigs
Courtesy Image
5. Kokomo Colada
Perfect a summertime rum classic with this colada recipe from The Pool Club at Virgin Hotels Nashville.
Ingredients
2 oz white rum
2 oz pineapple juice
2 oz coconut puree
0.75 oz lime juice
2 cups ice
Instructions
Add all ingredients to a blender and blend until smooth.
Pour into a glass and serve
Andrea Grujic
6. Sangre de Mezcal
Christopher Reyes—beverage director and co-owner of Aldama, a Mexican restaurant in the heart of Williamsburg, Brooklyn—created this cocktail after a trip to Guadalajara where he was introduced to a hibiscus-mezcal cocktail. "I decided to recreate it with a twist for Aldama, by adding dolin blanc vermouth and making it frozen," he says.
Ingredients
2 oz Ilegal Mezcal
1 oz lemon juice
0.5 oz Dolin Blanc Vermouth
0.5 oz water
1 oz sugar
1 oz hibiscus flowers
Instructions
Make a hibiscus simple syrup by adding the water, sugar, and hibiscus flowers to a pot and letting it boil for 15 minutes. Then reduce and cool.
Combine all ingredients into a blender with ice. Blend until smooth.
Serve in a rocks glass with a salted rim.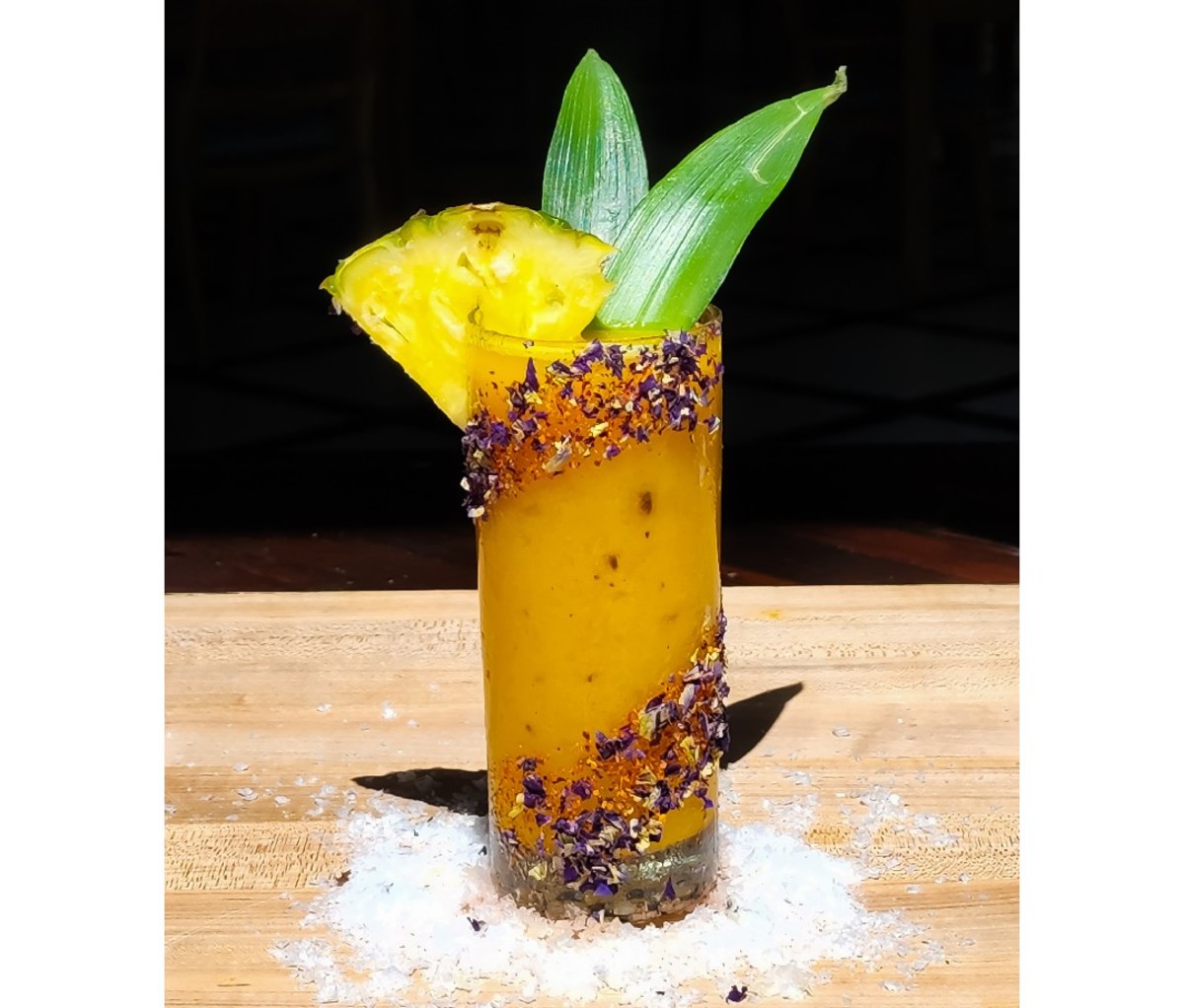 7. Smokin' Mangonada
Inspired by some of summer's best fruits, mango and pineapple, Ashley Garcia from Galley West Palm Beach in Florida makes this tropical cocktail. "Tajin dusted mangos and Chamoy gummies are two of my favorite flavor combinations, and this beverage encapsulates those concepts into one beautiful frozen treat that is sweet, fruity, smoky, and savory all in one," Garcia says.
Ingredients
1 oz Casamigos Blanco Tequila
0.5 Montelobos Mezcal
Half of a fresh mango or 1.5 oz mango purée
0.5 oz fresh lime juice
1 sliced grilled pineapple ring (1/4 inch thick)
Fresh Pineapple slice, pineapple leaves for garnish
Tajin for rim
Instructions
Grill/sauté the pineapple ring (grilling will enhance the smoke flavor) for seven minutes over medium heat. You want to allow the pineapple to lightly caramelize
Slice a fresh mango around the seed, keep 1/2 aside for your cocktail
Add all ingredients into a blender and blend until smooth.
Add a scoop of ice (about 1 cup)
Rim your glass with lime juice and Tajin.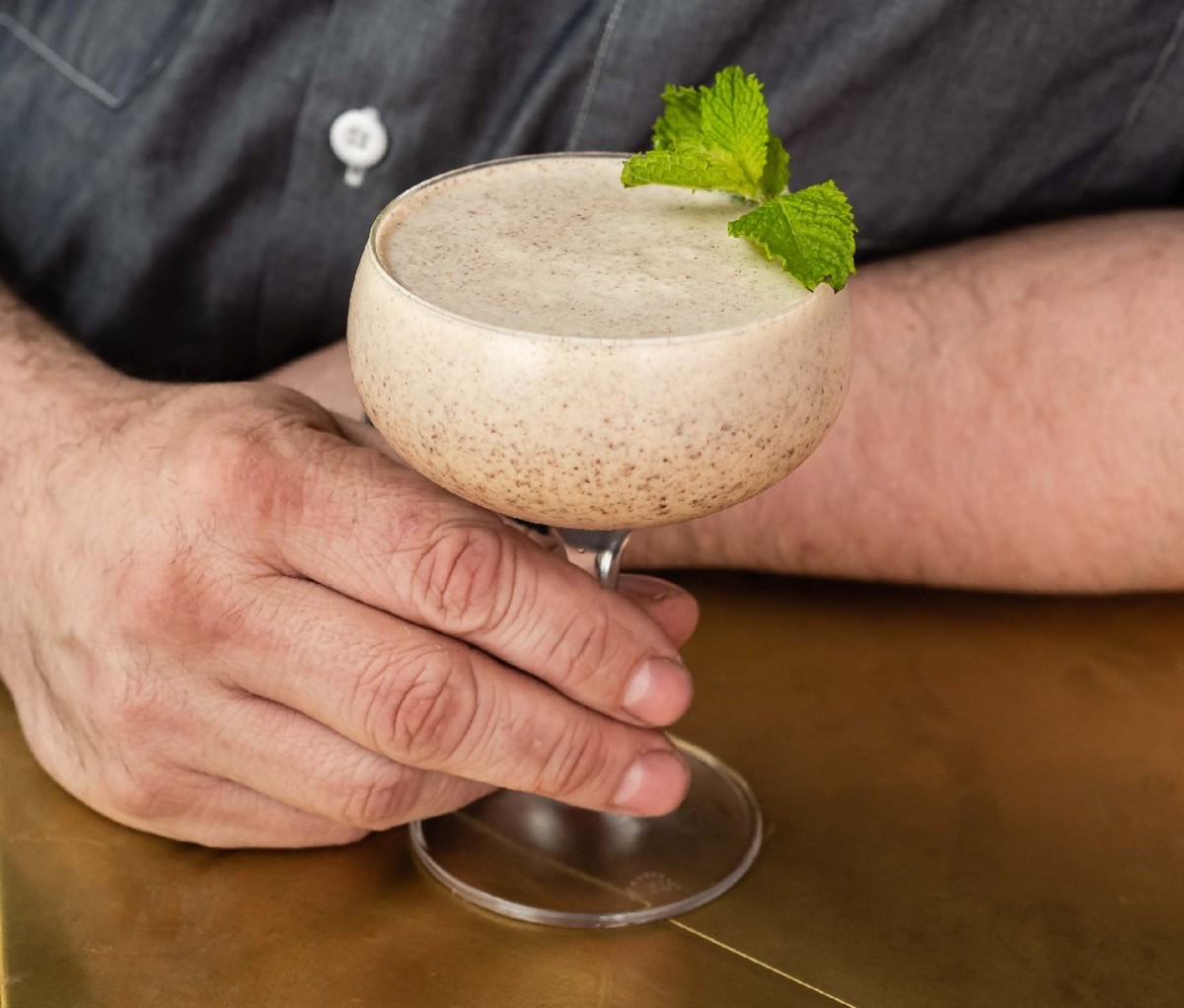 8. Not Your Grandmother's Grasshopper
The grasshopper—a retro, minty-chocolate, after-dinner drink—has hopped back into fashion. Using a higher-end creme de menthe, this is how the bar team at Birdie G's in Los Angeles has reestablished the desserty, old classic.
Ingredients
1 oz vodka
0.5 oz Tempus Fugit Creme de Menthe
0.5 oz Tempus Fugit Creme de Cacao A La Vanille
0.5 oz Fernet Branca Menta
4 large (1″ x 1″) ice cubes
1 small-medium scoop of mint chip ice cream
Mint leaf and chocolate mint cookie for garnish
Instructions
Place all ingredients in a high-powered blender and blend on high, just until you no longer hear any ice chunks.
Pour into a coupe glass and garnish with a fresh mint leaf and a chocolate mint cookie on the side.
Courtesy Image
9. French 75 Slushie
The team at The Smith Restaurant—with locations in New York, Chicago, and D.C.—came up with the idea to turn a classic champagne cocktail into a summertime slushie.
Ingredients
1 oz gin
3 oz prosecco or champagne
1 oz simple syrup
1 oz lemon juice
2 cups ice
Lemon peel for garnish
Instructions
Blend all ingredients in a blender until smooth.
Pour into a coupe glass and garnish with a lemon peel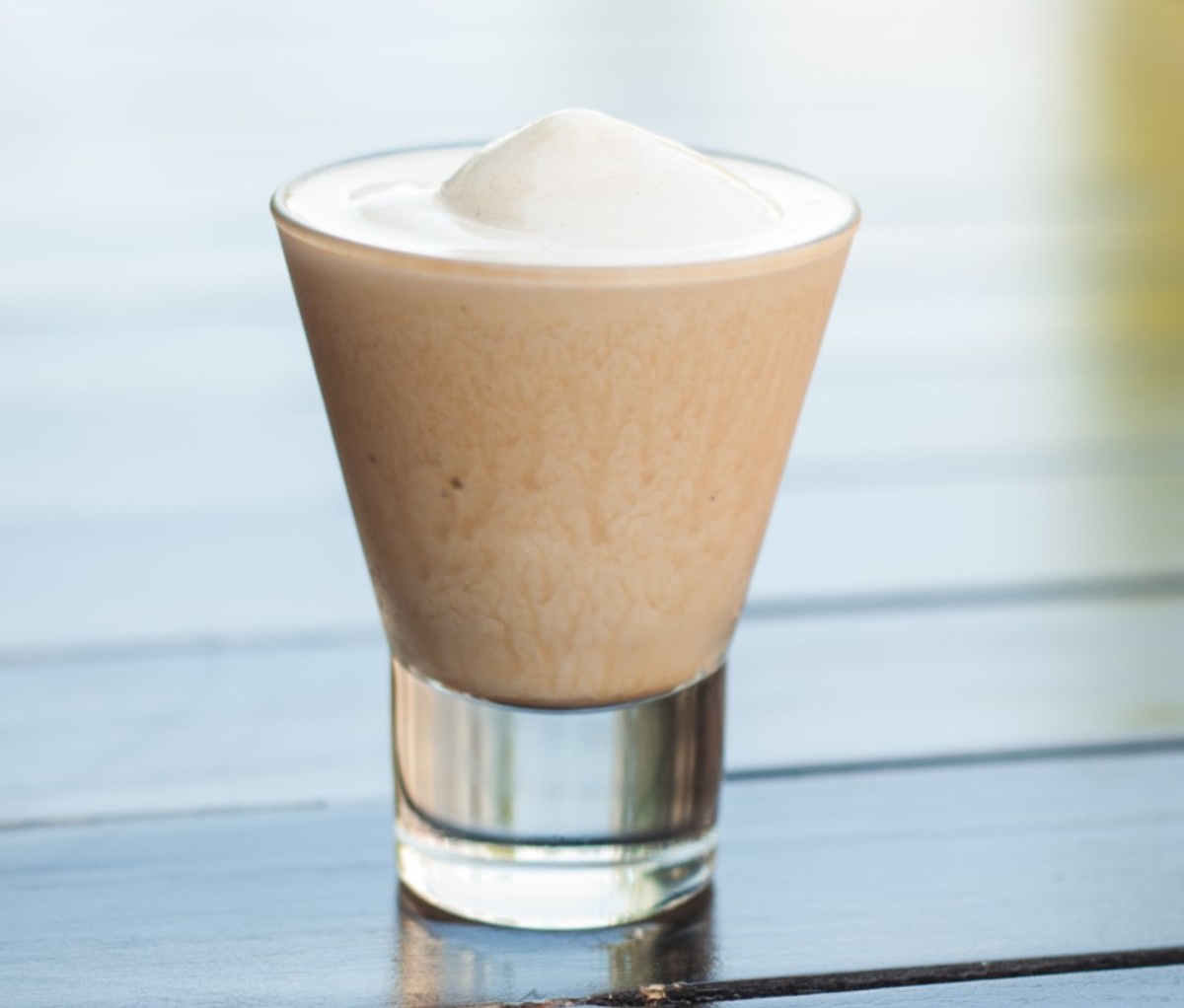 10. Frozen Espresso Martini
The espresso martini is another comeback kid on cocktail menus. Reyes, who also is the co-owner of Ponyboy in Greenpoint, Brooklyn, created this cocktail with co-owner James Dorje. "The espresso martini is having such a moment right now, and we hadn't noticed a frozen take on the drink on any menus. So we mixed one up, and were blown away."
Ingredients
2 oz Grey Goose
1 oz Cold Brew
0.5 Licor 43
0.5 oz Demerara Syrup
Instructions
Combine all ingredients into a blender with ice.
Blend until smooth and serve in a rocks glass.
For access to exclusive gear videos, celebrity interviews, and more, subscribe on YouTube!