Food & Drink
The Best Portable Hiking Snacks to Stash in Your Pack and Eat on the Go
The anatomy of the best hiking snacks is pretty simple: They must be portable, nonperishable, and easy to shove in your mouth on the go. Of course, you'll want to stop at scenic lookout points or summits to have a beer and a proper lunch, but we like hiking snacks that fuel your efforts without slowing you down.
Whether you're embarking on a quick hike, day-long trek, or full-fledged thru-hike, fueling up before, during, and after is key. Ideal hiking snacks should be a combination of healthy carbs with protein and healthy fats to provide you with sustained energy.
Once you have your hike planned, pick and choose some of these nourishing hiking snacks. After all, a well-fed hiker is a happy camper—or so the saying goes.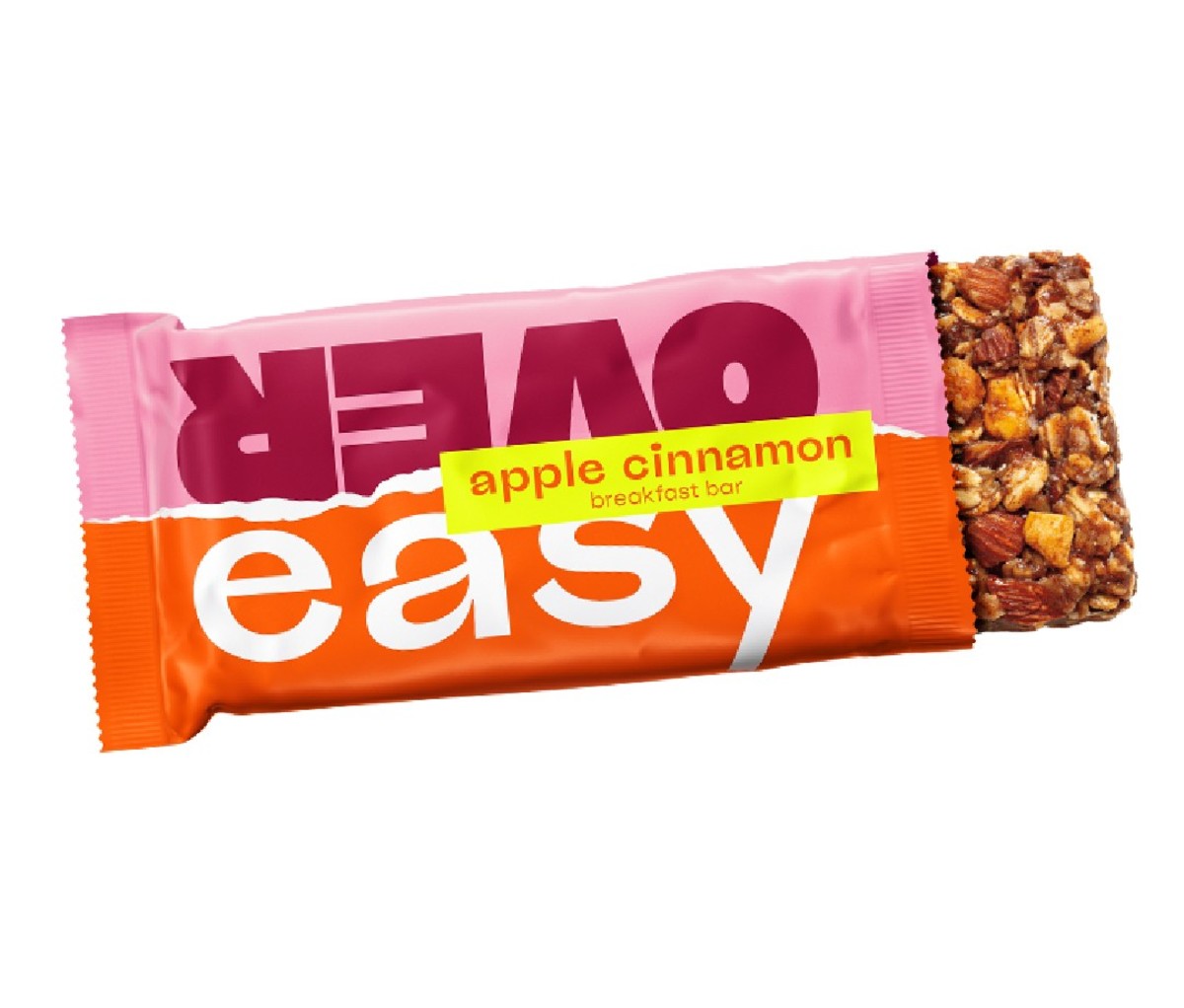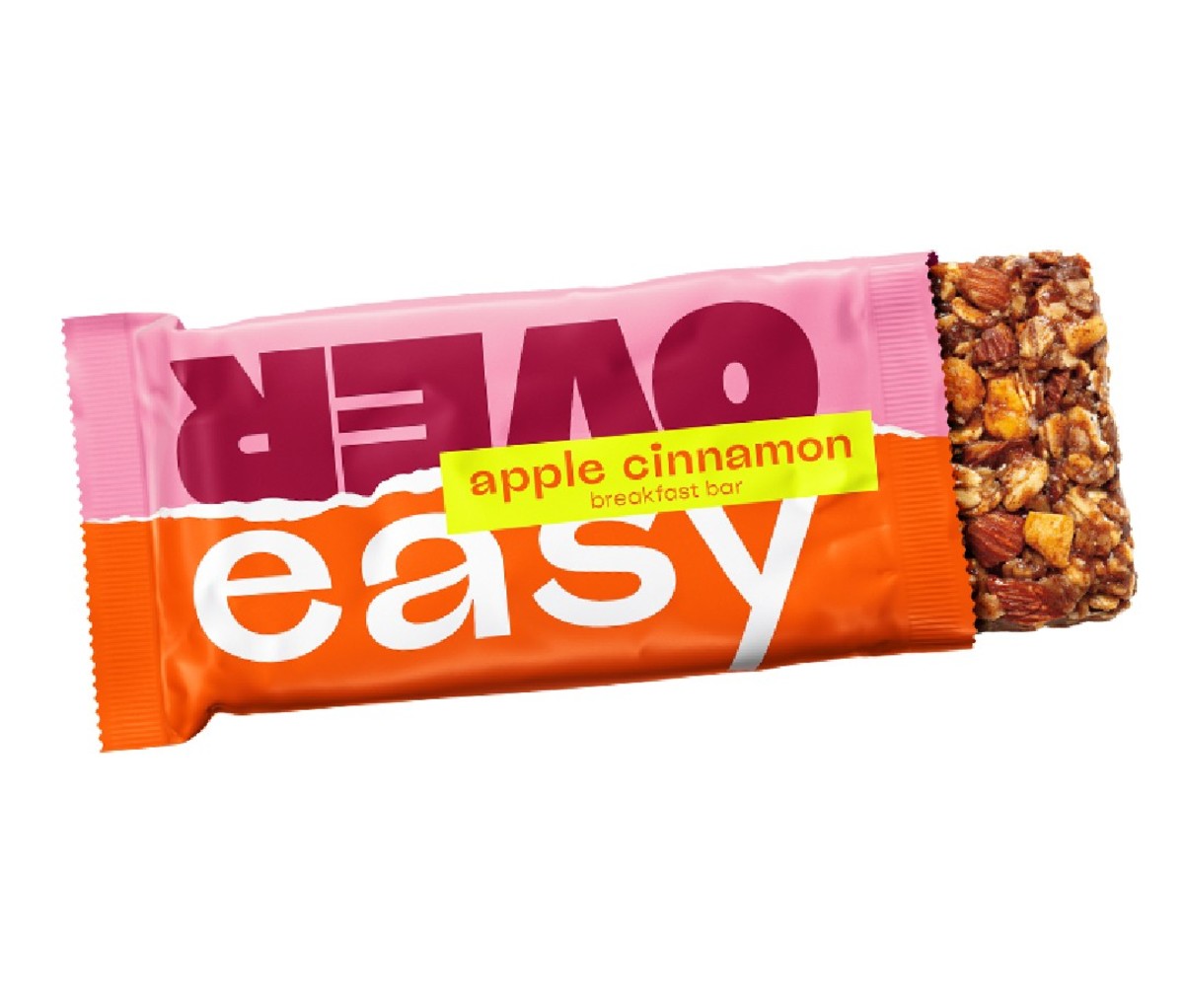 1. Over Easy Bar
While they're pegged as an easy, portable breakfast, Over Easy bars are insanely good any time of day. They're made with ingredients so simple, you could probably make them yourself—but why do that when you could spend your time trekking one of Colorado's 14ers? Flavors include Apple Cinnamon, Peanut Butter, Banana Nut, and Vanilla Matcha, and are all void of gluten, refined sugars, added flavors, preservatives, high-fructose corn syrup, dairy, soy, and wheat. Whew! Got all that? Here's the ingredient list for Apple Cinnamon: organic oats, almonds, honey, almond butter, tapioca fiber, dried apples, egg whites, cinnamon, vanilla extract, and sea salt. Buy the variety pack and thank us later. (Note: Because these contain egg whites, they're not vegan.)
Nutrition per bar: 220 calories, 9 g protein, 11 g fat, 7 g fiber, 9 g total sugar
Get it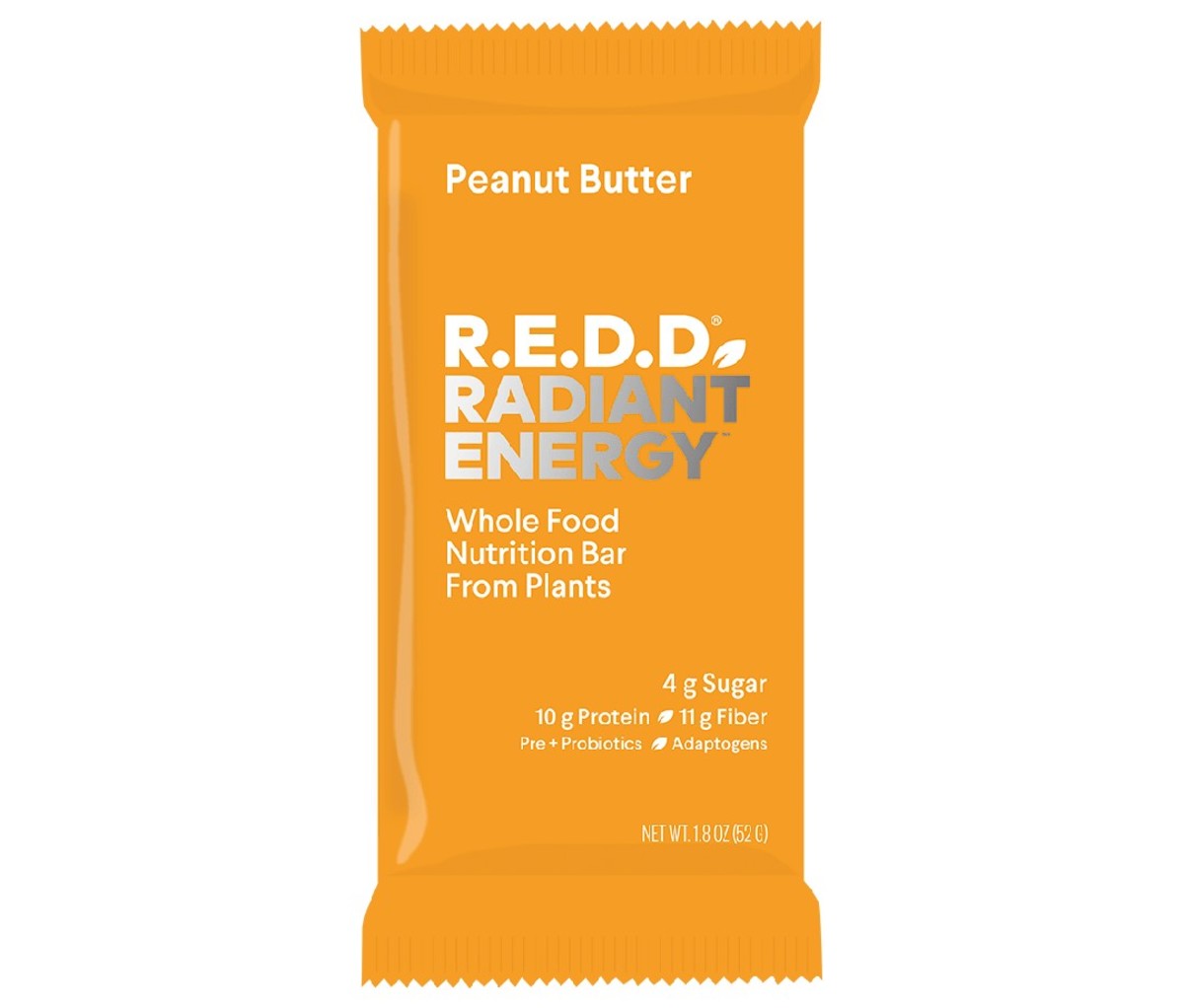 2. R.E.D.D. Bar
Pocket-size vegan hiking snacks don't get much more nutritious than this. R.E.D.D. bars are packed with protein from peas, hemp, and pumpkin seeds; fiber from prebiotic-rich cassava root (prebiotic fiber feeds probiotics, aka the good bacteria in your gut); and a bevy of superfoods thanks to R.E.D.D.'s signature blend of adaptogenic mushrooms, maca root, acai, and turmeric, which boosts digestive health and immune function. These have a satisfyingly soft, cookie dough-like texture that won't melt in high temps. Flavors include Peanut Butter, Mint Chocolate, Salted Caramel, Oatmeal, and Chocolate, with sugar ranging from 2 to 4 g per bar.
Nutrition per bar: 220 calories, 10 g protein, 10 g fat, 11 g fiber, 4 grams total sugar
Get it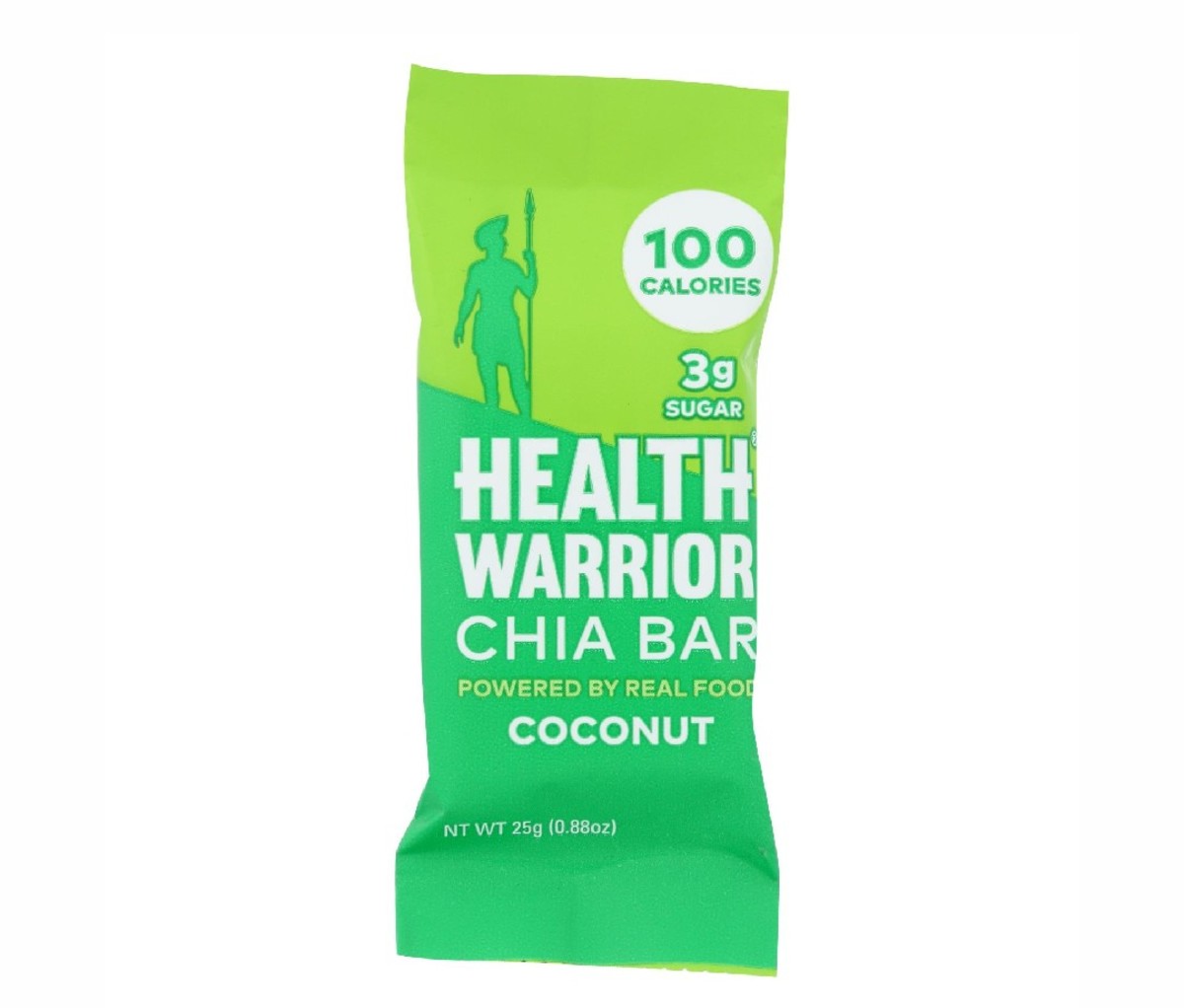 3. Health Warrior Chia Seed Bar
Health Warrior Bars come in two varieties Chia Bars and Pumpkin Seed Bars. We're partial to the former; there are 11 flavors to choose from, and all contain just 3 g sugar and 100 calories. Vegan and gluten free, ingredients are mostly derived from whole foods. Coconut comprises white chia seeds—first and foremost, as do all the Chia Seed offerings—brown rice syrup, cashew butter, unsweetened coconut, chicory root fiber, and rolled oats, among others.
Nutrition per bar: 100 calories, 3 g protein, 6 g fat, 4 g fiber, 3 g total sugar
Get it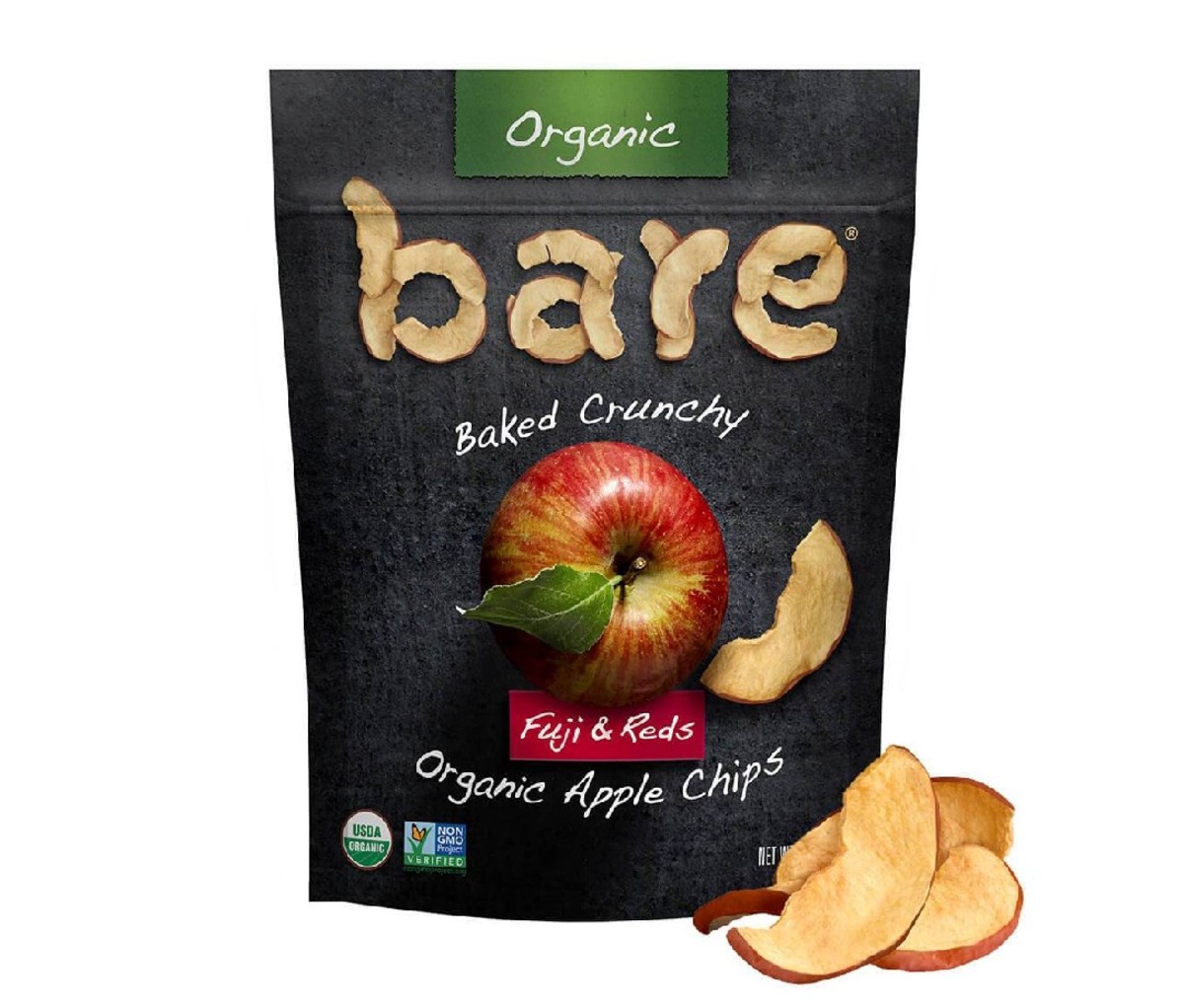 4. Bare Snacks
No oil, preservatives, or added sugar (in most cases) goes into Bare Snacks' Fruit and Veggie Chips. What you see is what you get. Simple flavors like Pineapple, Strawberry Banana, and Fuji & Reds are all baked until crisp, and contain nothing but the fruit. In the case of Sea Salt Carrot, Cinnamon Banana, and Chocolate Coconut there's the addition of  salt or spice (sea salt, cinnamon, and coconut nectar/unsweetened cocoa, respectively) to the produce.
Nutrition per serving: 110 calories, 0 g protein, 0 g fat, 4 g fiber, 21 g total sugar
Get it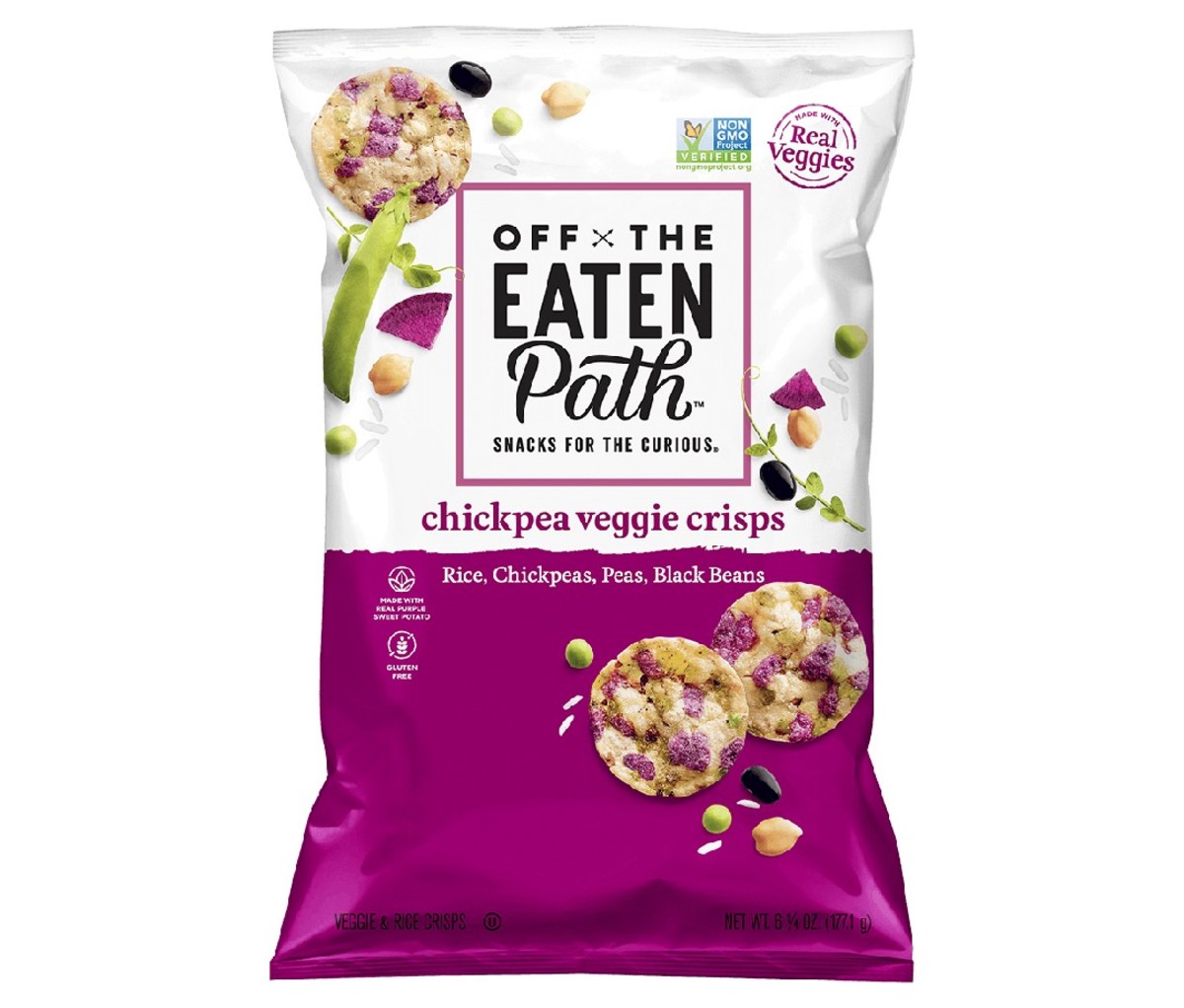 5. Off the Eaten Path Crisps and Puffs
If your guilty pleasure is crushing a bag of potato chips, try Off the Eaten Path's range of Veggie Crisps, Chickpea Veggie Crisps, Veggie Puffs, and Hummus Crisps. Addictingly crunchy and well-seasoned (flavors include Jalapeño, White Cheddar, and Rosemary & Olive Oil). The most virtuous is its Chickpea Veggie Crisps, made of chickpeas, black beans, and purple sweet potatoes.
Nutrition per serving: 130 calories, 4 g protein, 4.5 g fat, 3 g fiber, 2 g total sugar
Get it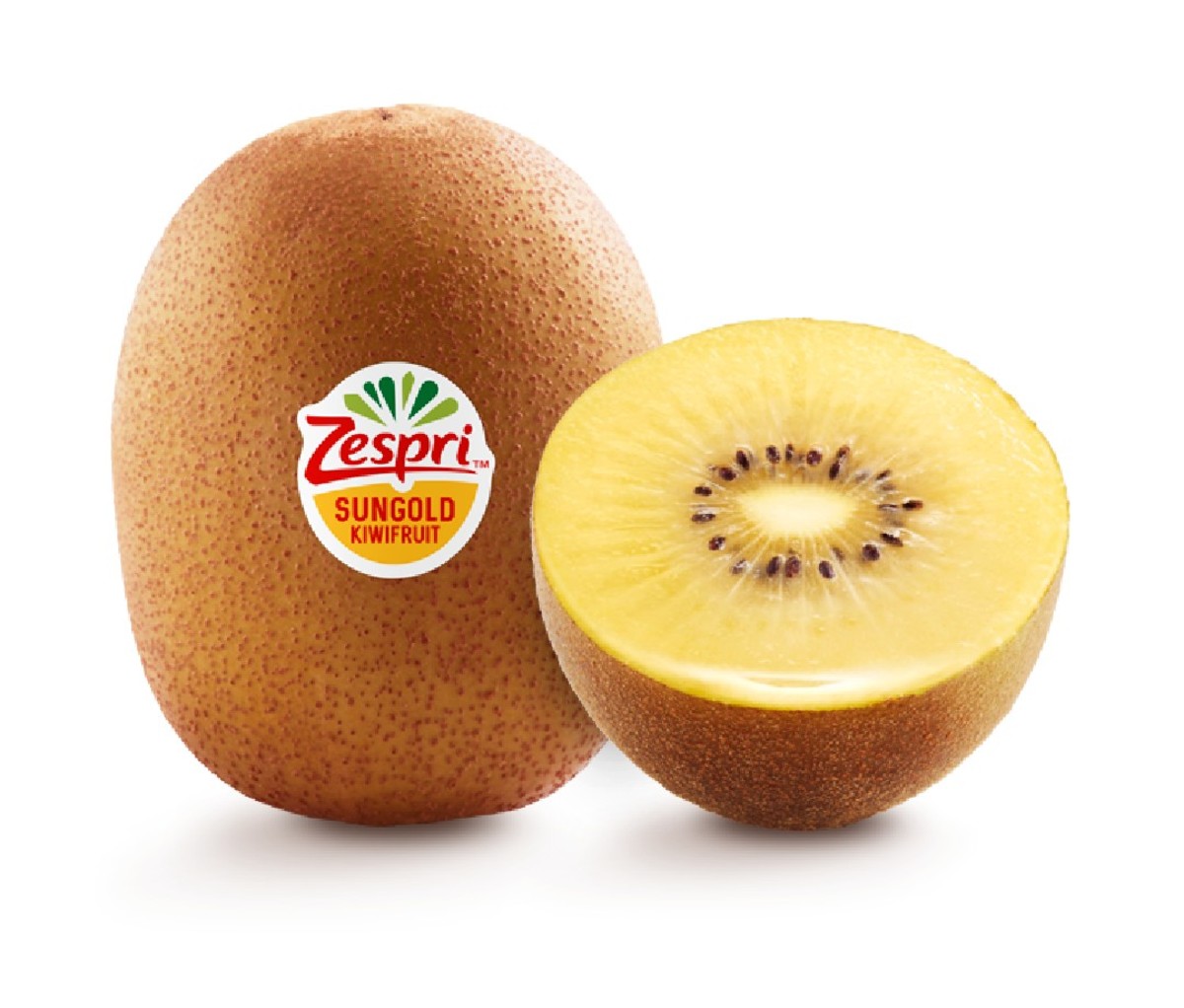 6. Zespri SunGold Kiwifruit
Here's something different to pack for your hike: Unlike their green counterparts, you can bite right into Zespri SunGold Kiwis like an apple—no peeling needed. The skin is loaded with fiber, and one serving (2 kiwis) boasts three times the vitamin C of an orange (that's 100 percent of your daily needs), and more than 20 vitamins and minerals. Just make sure to wash before stashing in your pack.
Nutrition per serving (2 kiwis): 100 calories, 0 g protein, 0 g fat, 2 g fiber, 20 g sugar
Get it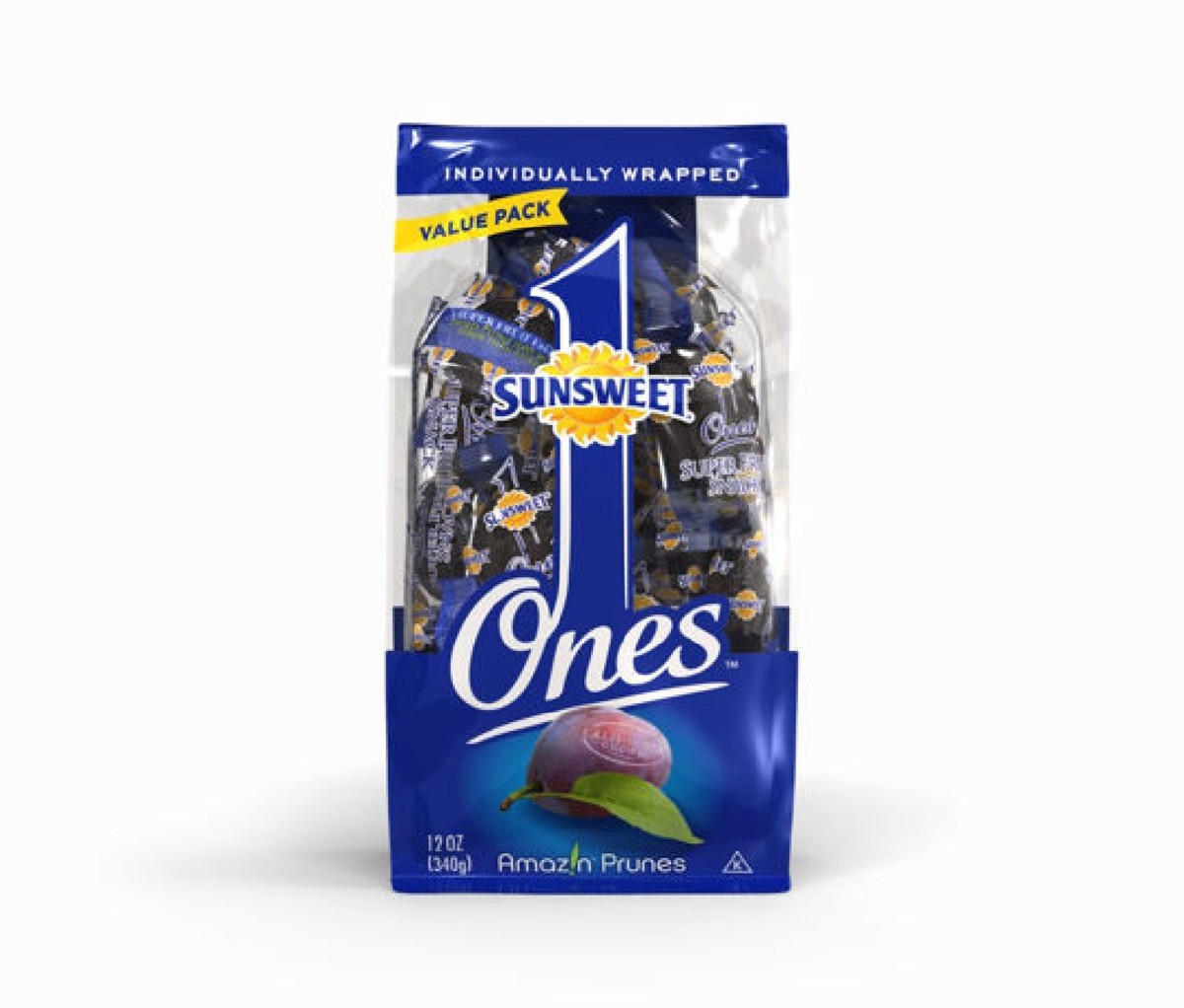 7. Sunsweet Ones
These individually-wrapped prunes are delicious, nutritious, and perfect for on-the-go snacking. Opt among Original or ones infused with Berry Essence or Cocoa Dusted. Prunes have magnesium and potassium, two ingredients that are key to supporting bone health. They also live up to their reputation for keeping you regular—helpful when traveling— with 3 g fiber per serving.
Nutrition per serving: 100 calories, 1 g protein, 0 g fat, 3 g fiber 14 g sugar
Get it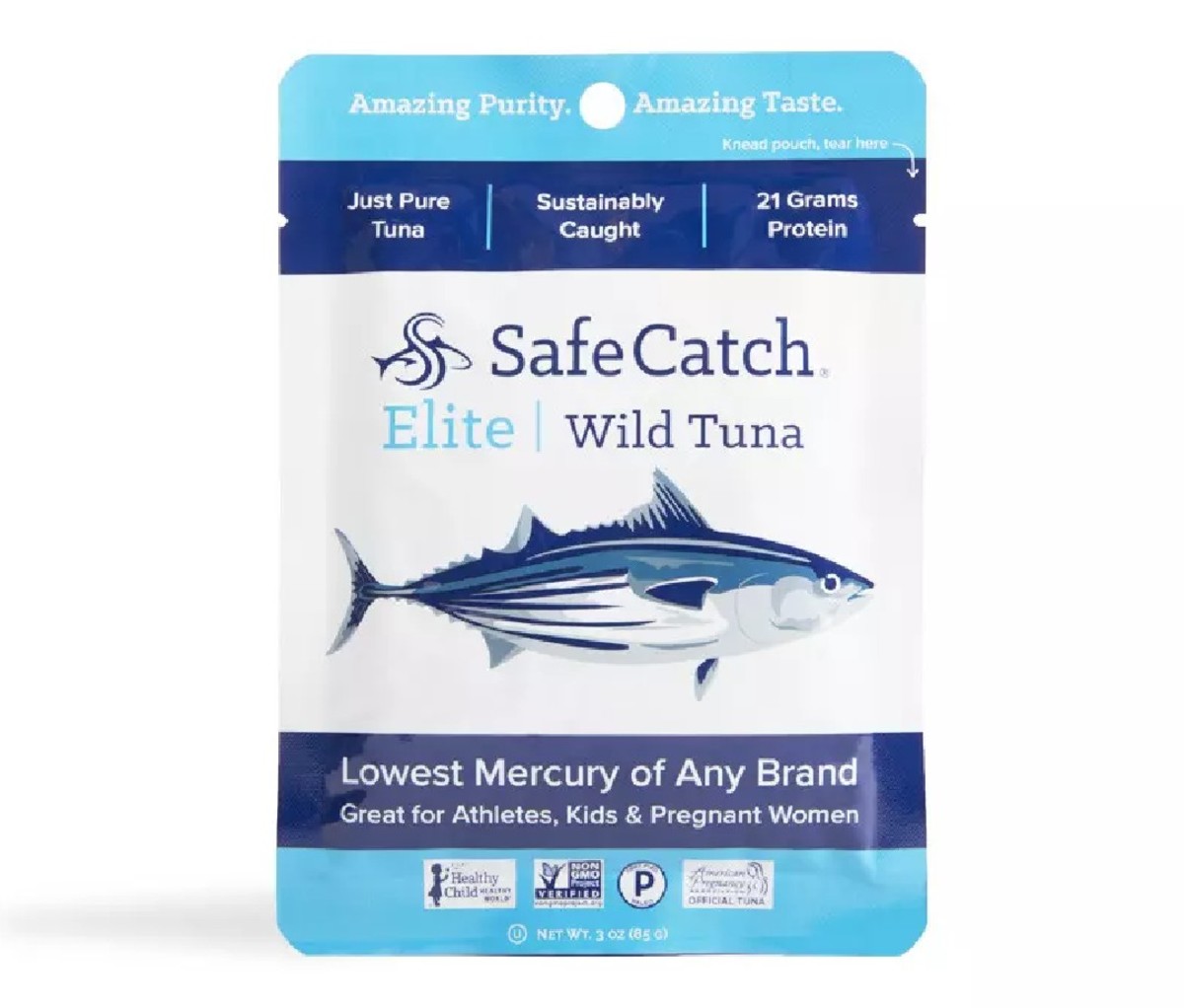 8. Safe Catch Elite Wild Tuna Pouch
Safe Catch Elite Wild Tuna pouches contain 14 g protein per serving, as well as essential vitamins and minerals to help fill you up without weighing you down. The tuna can be eaten directly out of the pouch. There's no draining water or oil; it's made from slow-cooked sashimi-grade tuna steaks that preserves the tuna's naturally occurring omega-3 oils (no fillers or additives). Safe Catch is the only seafood brand that tests all tuna and salmon used in its products for mercury levels, so you can rest assured this is a high-quality product.
Nutrition per 3 oz pouch: 60 calories. 14 g protein, 0.5 g fat, 0 fiber, 0 sugar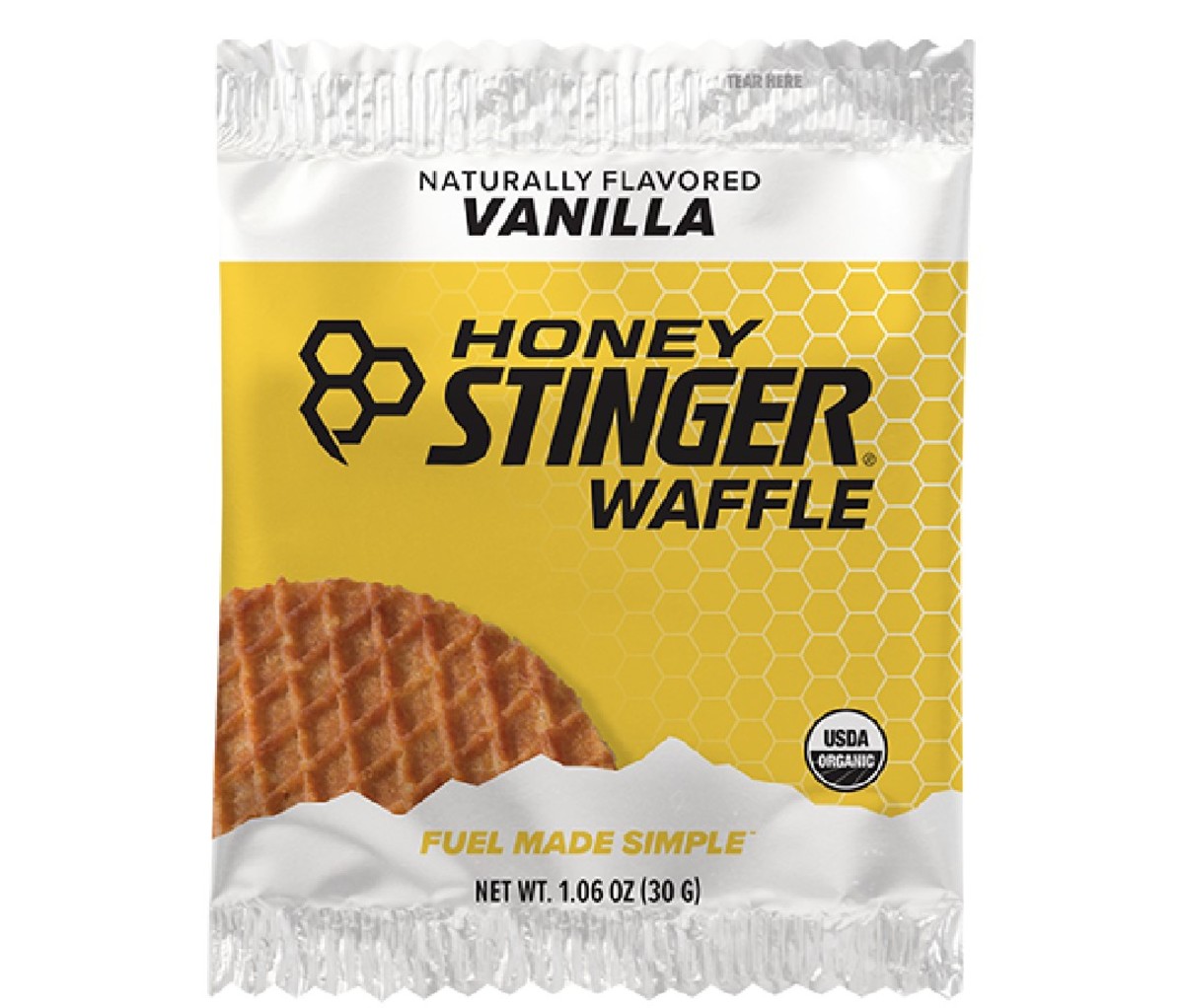 9. Honey Stinger Waffle
When it comes to hiking snacks, Honey Stinger Waffles are a stellar choice. They sandwich a thin layer of organic honey between two thin waffles, which provides energy without the crash (the sugar is released and absorbed at a steady rate). You can also choose Vanilla, Gluten-Free Salted Caramel, and Gluten-Free Cinnamon.
Nutrition per waffle: 150 calories, 1 g protein, 7 g fat, 1 g fiber 11 g sugar
Get it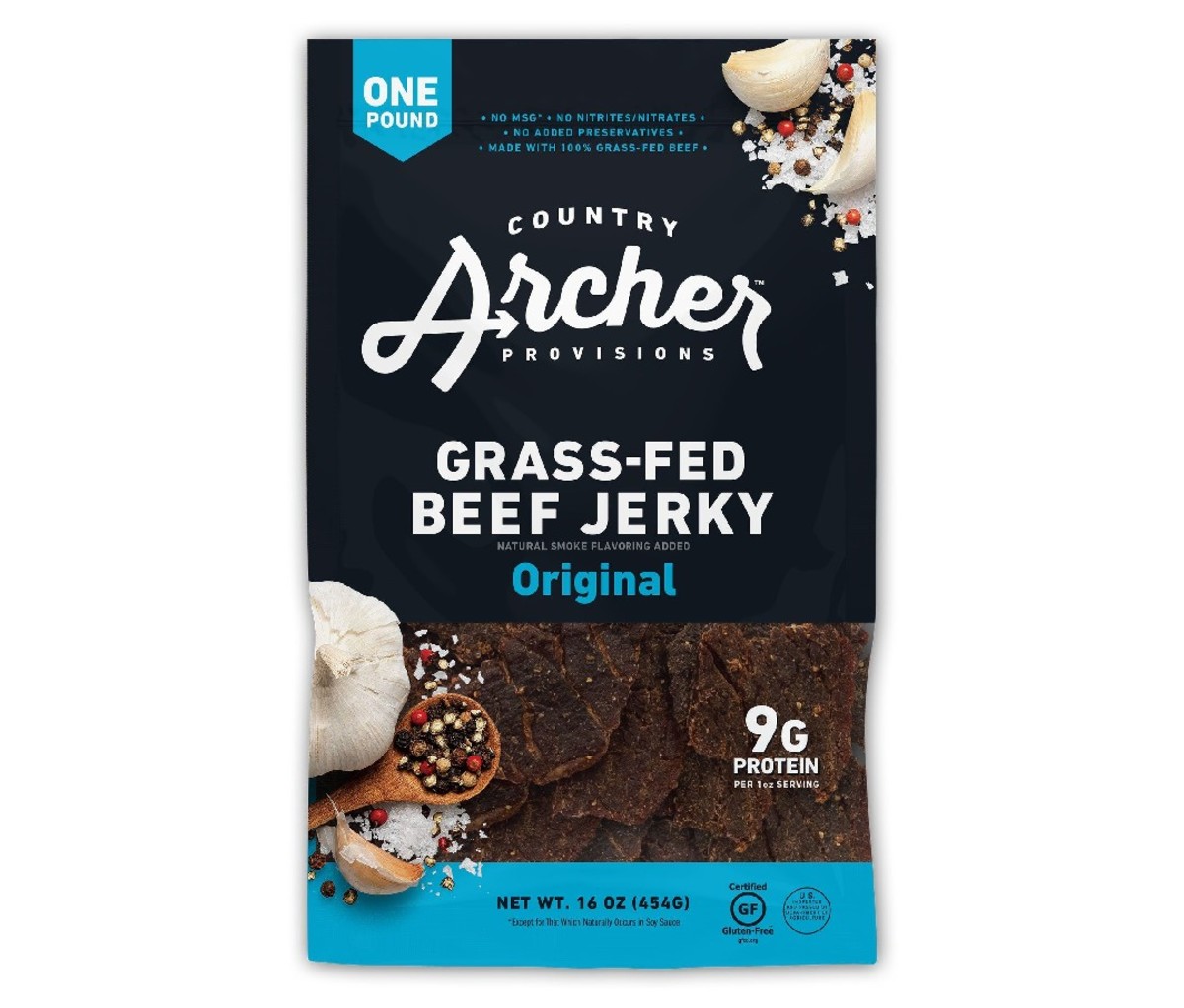 10. Country Archer Grass-Fed Beef Jerky
Country Archer commits to only using lean cuts of 100 percent grass-fed beef, antibiotic-free pork, turkey, and real food ingredients (think brown sugar, soy sauce, pineapple juice, and green chili) in its inventive jerkies. All flavors (Hatch Chile Beef, Teriyaki Beef, Mango Habanero, and Original) are slow-cooked to maintain moisture. Pouches also come in varying sizes, so you can opt for mini self-serve portions or a big pack to share.
Nutrition per 1 oz Country Archer Original Beef Jerky: 70 calories, 9 g protein, 0.5 g fat, 0 g fiber, 4 g sugar
Get it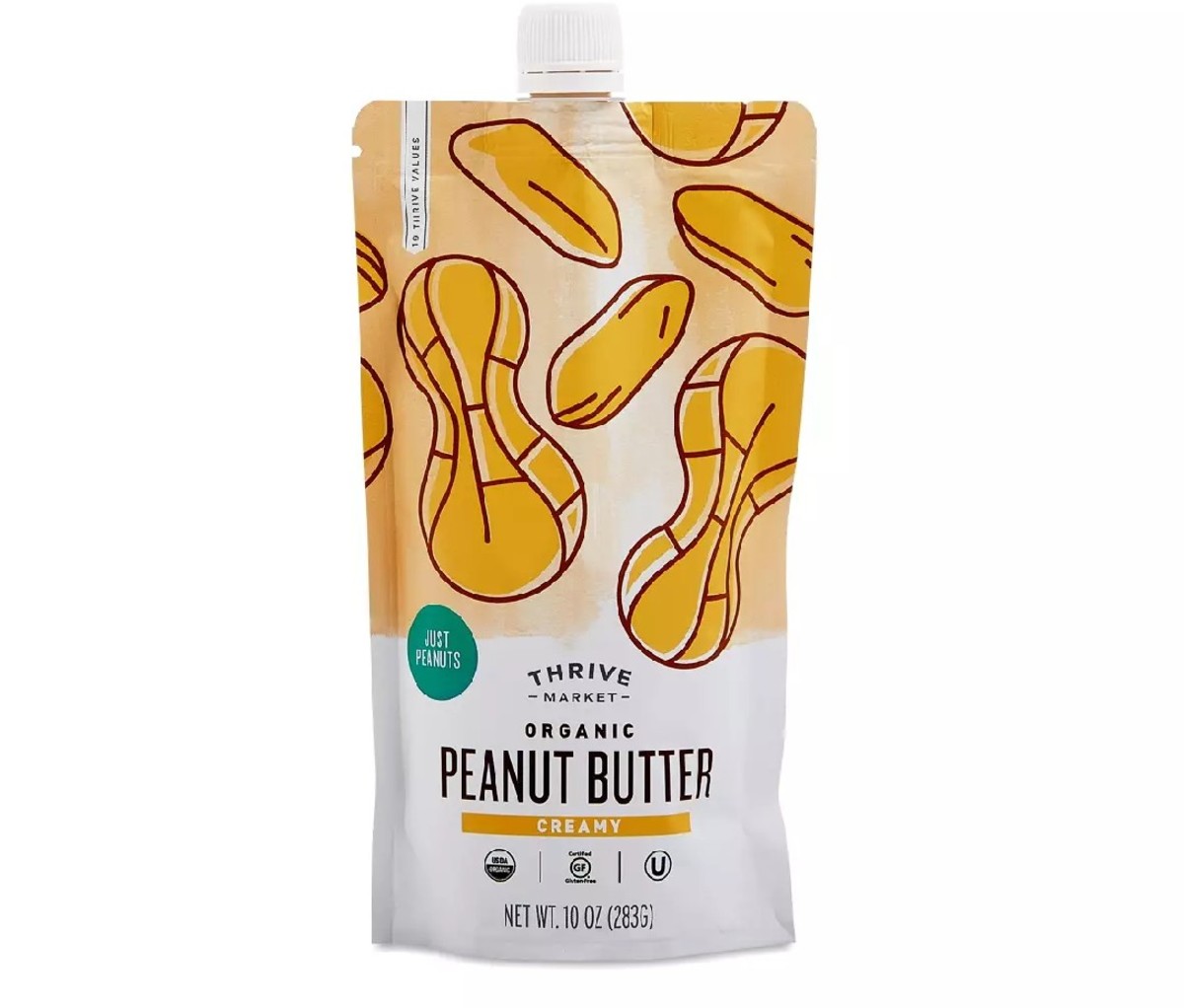 11. Thrive Market Organic Peanut Butter Pouch
Whether you go for crunchy or creamy, these Thrive Market Organic Peanut pouches are the most pack-friendly hiking snacks. Unlike crips, chips, and bars that can get a little pulverized in transit, these can take a beating. Best of all, they're resealable.  All that's inside is light-roasted organic peanuts,—nothing more. Pair with fruit, whole grain bread or crackers, celery and carrot sticks, or just squeeze directly into your mouth.
Nutrition per 2 Tbsp Thrive Market Organic Peanut Butter, Creamy: 180 calories, 8 g protein, 16 g fat, 3 g fiber, 2 g sugar
Get it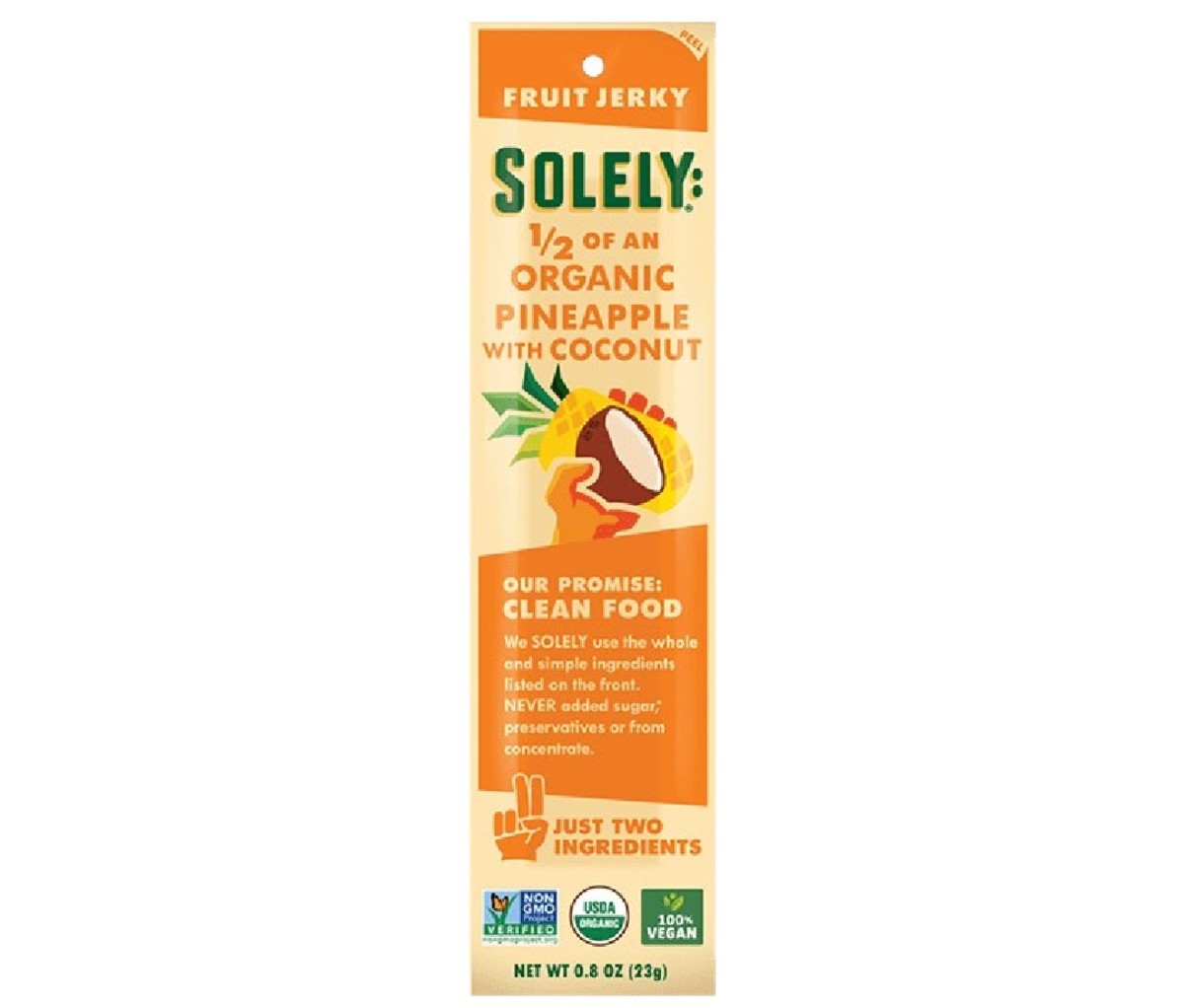 12. Solely Fruit Jerky
This is fruit jerky that really satisfies, with offerings including Just Fruit (Mango, Pineapple, and Banana), Perfectly Paired (Pineapple With Coconut, Banana With Pecans, and Banana With Cacao) Drizzled (Just Fruit flavors drizzles with 100 percent cacao), and Spicy (Mango With Chili & Salt and Spicy Pineapple With Chili & Salt). A cold-pressing process transforms organic fruit into jerky without the use of added sugar, preservatives, colors, flavors, or fillers.
Nutrition per 1 Pineapple With Coconut Fruit Jerky: 80 calories, 1 g protein, 1 g fat, 1 g fiber, 10 g sugar
Get it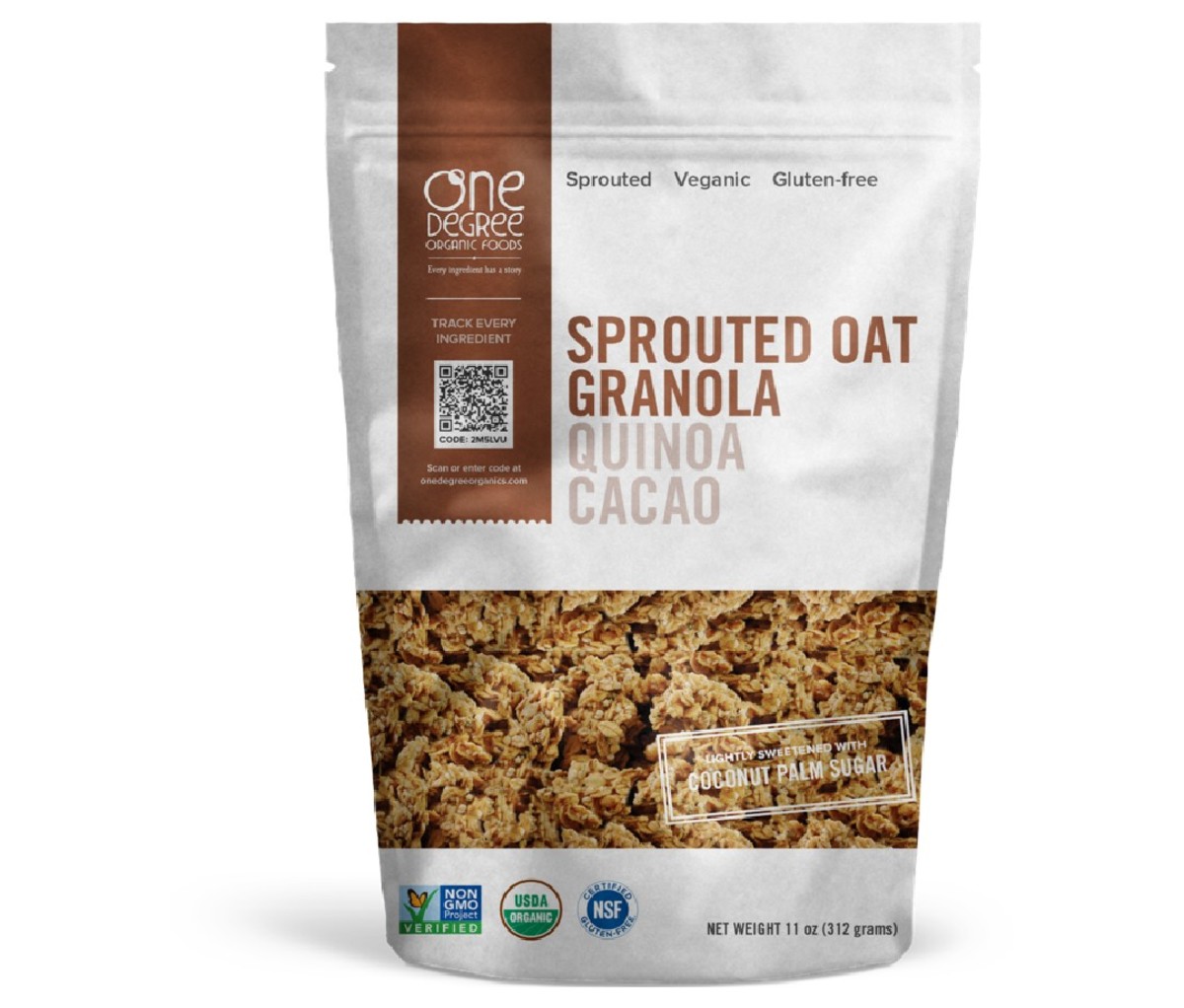 13. One Degree Organics Granola
Containing sprouted organic oats—which have increased soluble fiber and protein, making it a great source of fuel for the trails—One Degree Organics Granola is packed with superfood ingredients like ancient grains, sprouted quinoa, and pure cacao. The gluten-free sprouted oat blends come in Cinnamon Flax, Honey Hemp, Quinoa Cacao, and Oat Vanilla Chia offerings that are sweetened with coconut palm sugar. The packaging even displays a QR code so you can learn about the farmers behind the product and where every ingredient is from.
Nutrition per one serving of Sprouted Oat Quinoa Cacao Granola: 120 calories, 3 g protein, 2.5 g fat, 2 g fiber, 6 g sugar
Get it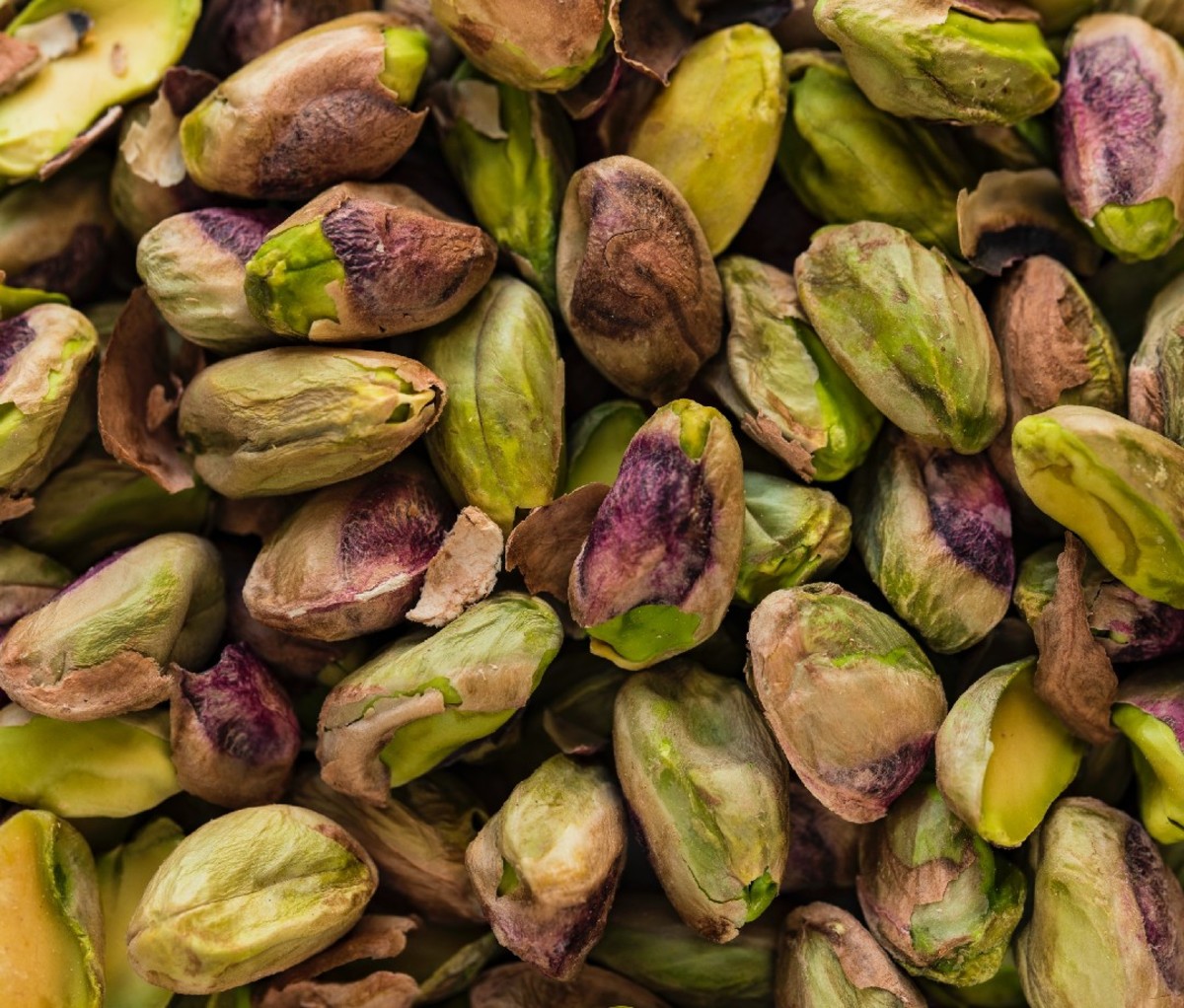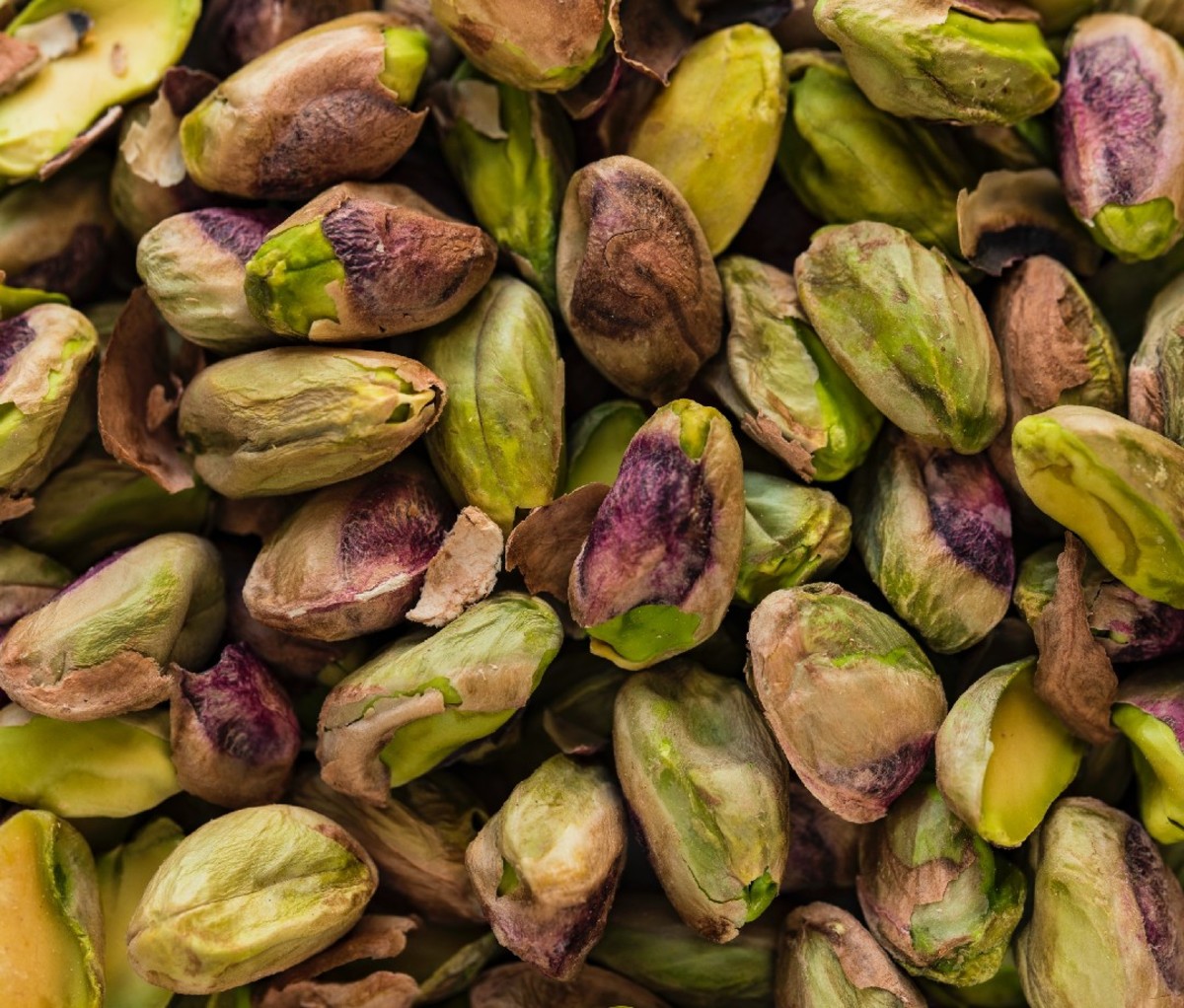 14. Pistachios
Pistachios are the king of nuts. Not only are they a great source of many essential vitamins and minerals, healthy fats, protein, and fiber, they also provide many phytochemicals that may promote overall health and well-being. The best part is one serving is 49 nuts, which is a great way to sustain fuel for whatever type of outdoor activity you're doing this summer. If that's not enough, they're a complete plant-based protein source providing all 9 essential amino acids needed to build muscle and proteins in the body. Go for shelled roasted/salted or lightly salted.
Nutrition per serving: 160 calories, 6 g protein, 13 g fat, 3 g fiber, 0 g sugar
Get it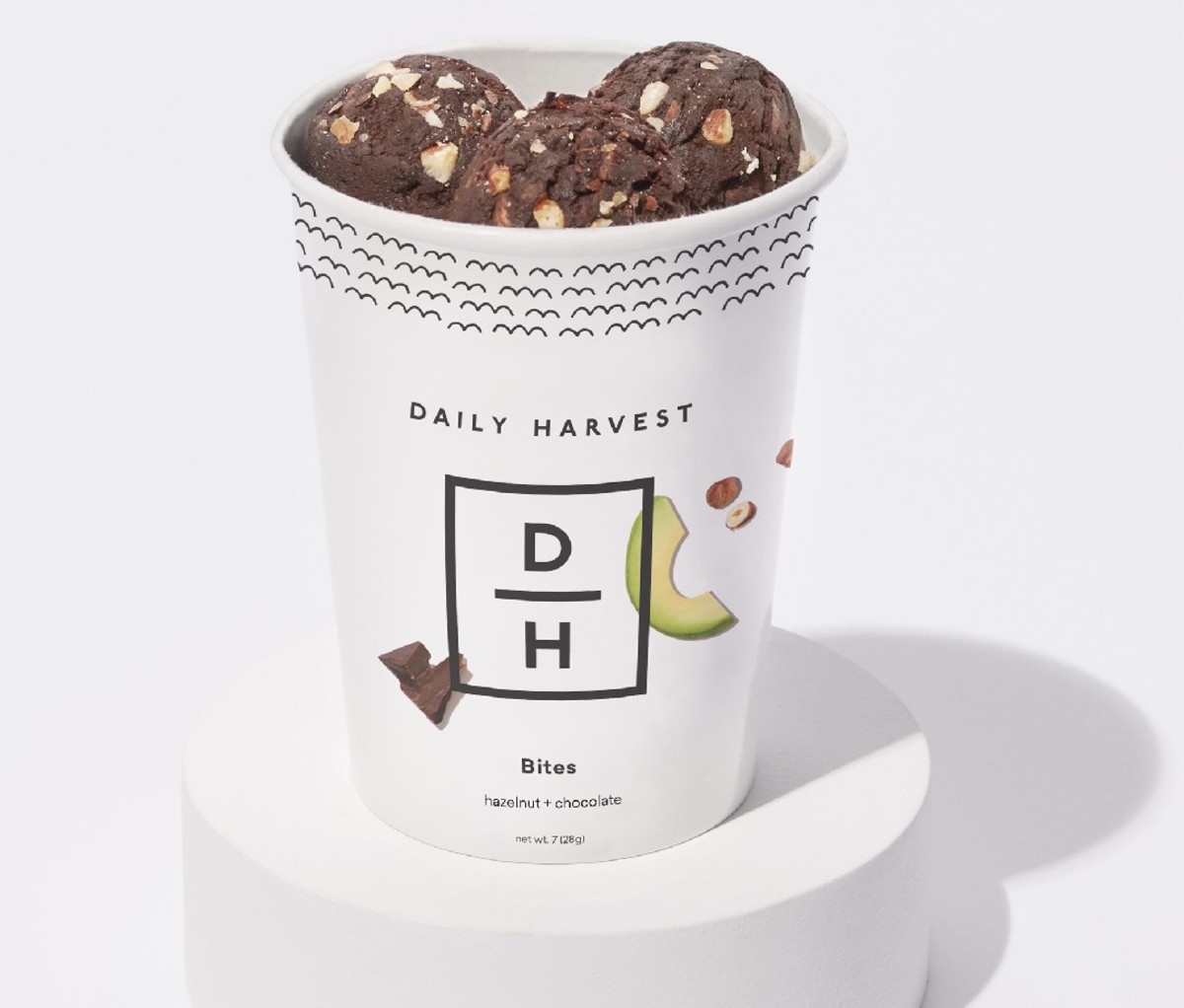 15. Daily Harvest Bites
Daily Harvest's Bites are nourishing and packed with superfoods for long-lasting energy. Flavors like Cacao Nib + Vanilla, Coconut + Lemon, and Chocolate + Hazelnut are free of gums, fillers, refined sugars, and preservatives. The latter's ingredient list includes Date paste, avocado, hazelnuts, chia seeds, reishi mushrooms, and vanilla bean powder. Because these are made of all-natural ingredients, keep them in the freezer and tote along on day trips.
Nutrition in 1 Hazelnut + Chocolate Bite: 100 calories, 2 g protein, 6 g fat, 3 g fiber, 7 g sugar
Get it
If you want to try your hand at DIY hiking snacks, try my recipe for power-packed energy bites:
DIY Energy Bites
Ingredients:
1 cup packed, chopped dates
½ cup honey
1 Tbsp chia seeds (optional)
1 Tbsp ground flaxseeds

Pinch of salt

1 ½ cup old-fashioned oats (dry)

1 cup pistachios

1/3 cup pretzels, chopped

1 cup dried cranberries
Directions:
Combine dates, honey, chia seeds, flax seeds, and salt in a food processor. Pulse until smooth and combined.
Transfer mixture to a large bowl, and stir in the oats, pistachios, dried cranberries, and pretzels until evenly combined.
Cover and refrigerate for at least 30 minutes.
Once the mixture is cool, use a spoon or cookie scoop to shape into your desired size of energy balls.
Store covered in the refrigerator for up to 2 weeks.
Jordan Mazur, MS, RD is the Director of Nutrition for the San Francisco 49ers.
For access to exclusive gear videos, celebrity interviews, and more, subscribe on YouTube!