The following is supplied content. Men's Journal is not endorsing the products noted below.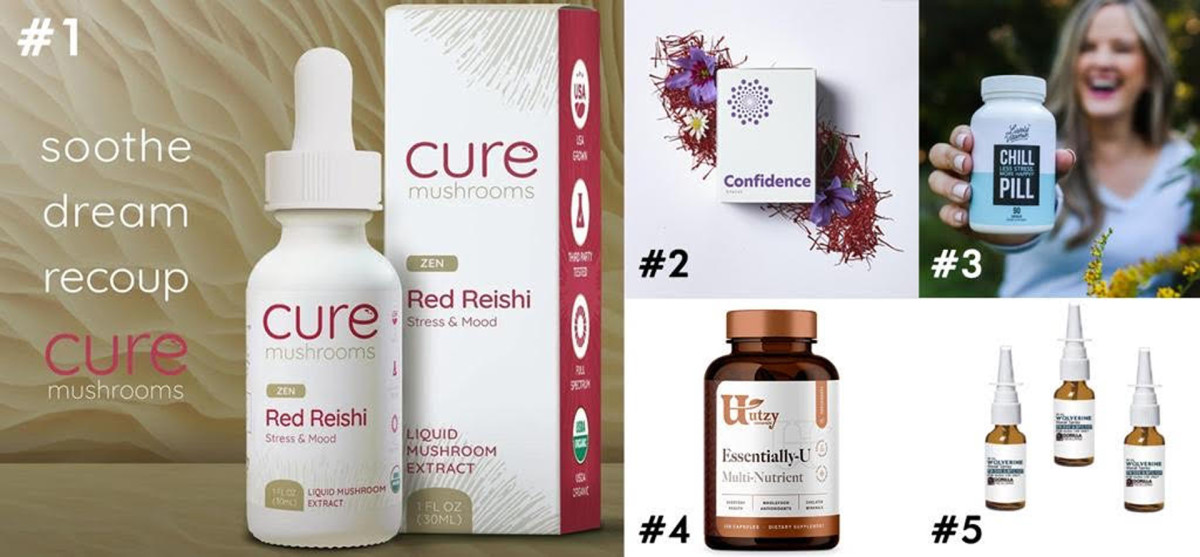 Stress is widely recognized as the #1 killer due to its direct relation to six leading causes of death and can cause sudden cardiac death (SCD). Ongoing or chronic stress increases the risk of a heart attack, hypertension, or stroke and even oxidative cell damage.
How can stress supplements help?
While stress is an inevitable part of life, you can learn to manage it better and therefore decrease your chances of lasting damage. Certain supplements are specifically designed to help your body manage its response to stress.
There are many brands offering supplements for stress, making it especially difficult to choose the correct one for you. To make this an easier process, some of the best supplement brands to help with stress have been selected and reviewed here:
Let's dive in.
1. Red Reishi
Cure Mushrooms has cemented its spot in the market and is well-known for its products' adaptogenic benefits. Adaptogens help the body "adapt" by managing its response to stress in a healthy way, while also boosting the immune system.
INGREDIENTS
The Red Reishi tincture, specifically formulated to relieve stress and anxiety, contains – you guessed it – Red Reishi mushrooms. Dubbed the "Mushroom of Immortality" in various Chinese medicinal texts, Reishi has thousands of studies to support its various benefits, which include:
Reducing mental and physical fatigue related to stress
Improving sleep hygiene
Offering antioxidant activity to reduce cellular damage
Supporting immune system
Supporting liver health
Among the ~400 beneficial compounds found in this mushroom, Reishi contains a unique adaptogenic group, Triterpenoids. This compound helps increase oxygen absorption in the blood, which leads to improved cardiovascular health and increased energy.
THE GOOD STUFF
When choosing the best stress supplement, it's important to not only like the taste, but also understand the quality, potency and source of the ingredients. Cure Mushrooms partners with a farm in the Pacific Northwest where they source their mushrooms, which are USDA certified organic and non-GMO. They use both the fruiting body and mycelium in their final products to extract the beneficial compounds from both. Unlike most companies who harvest mushrooms too quickly to let the mycelium fully colonize and the mushroom to mature, Cure harvests their mushrooms after 3-6 months!
After harvesting, they ferment its mushrooms to make the polysaccharides, terpenoids, and alkaloids more bioavailable, helping them produce high-quality, effective products that are easily absorbable by the body. The mushrooms are then put through a hot water extraction and a 90-day alcohol extraction to break down the tough shell walls.
WHAT WE LOVE
This potent blend of organic mushrooms helps ensure short-term and long-term stress management – something that not all supplements do.
We also appreciate that it's easy to take – simply add the liquid tincture to coffee, tea or your favorite smoothie. While you can also take it directly under the tongue, it can be an acquired taste!
Cure Mushrooms also checks the responsible checkmark by having its products third-party lab-tested, the results of which are easily viewable on their website.
2. Confidence
Confidence by Thesis is another effective stress relief supplement. The supplement contains ingredients that target stress and insecurities while fostering a sense of self-assurance, making it an innovative way to fight stress and anxiety at work and in your social life.
INGREDIENTS
This blend, which comes in a gel-pill form that leaves no aftertaste, contains Magnolia Bark Extract (as DHH-B), Sage Extract, Saffron (as Affron®), and Magnesium L-Threonate. These extracts are great for soothing the nerves and managing stress.
THE GOOD STUFF
The Confidence blend contains standardized premium extracts, which ensures a minimum percentage of active ingredients proven to work. This is an important point to note as supplements can often contain ingredients that are unnecessary; you want to choose a supplement that has a proper dose of active ingredients without the extra.
True to its name, the supplement also helps users feel more relaxed, self-assured, and stay in the present. Fans of the supplement attest to it too. Confidence has an average rating of 4.5 stars, with many users praising the supplement for helping them calm their nerves and feel more… well, confident!
WHAT WE LOVE
Confidence comes in individual packs which make them easy to take with you. Plus, they're also available with an easy-to-use subscription. Who wants the added stress of remembering your stress supplements, right?
Thesis is also the only company offering free access to ongoing guidance from wellness experts who educate them on topics like biochemical interactions with other supplements.
We're Confident you will love this one.
3. Chill Pill
This Lively Vitamin Co. supplement gives "take a chill pill" a more welcomed meaning. True to its name, Chill Pill is an excellent supplement to help relieve stress and keep you calm.
INGREDIENTS
Chill Pill consists of magnolia bark extract that helps manage the body's cortisol level. This is combined with chamomile, which is well-known for reducing stress and promoting relaxation. Passionflower soothes worries and encourages better sleep.
These three herbs account for Chill Pill's natural 'chill out' effect. You can typically expect to notice results within the first 30 minutes of taking the supplement.
Playing equally important support roles are:
L-Theanine is an amino acid that promotes non-drowsy relaxation
5-HTP is a precursor to serotonin – the "feel-good hormone" that boosts your mood
Eleuthero is a potent herbal adaptogen that helps you focus while mitigating your body's stress response
THE GOOD STUFF
The Chill Pill by Lively Vitamin is safe, natural, and non-addictive, making it perfect for regular use. This stress-soother encourages a sense of calm for the mind and body and reduces stress and anxiety. The supplement also helps boost natural energy levels by balancing stress hormone levels.
WHAT WE LIKE
The name, of course. The Chill Pill seems to cover all the basics of managing a stress response without making you sleepy or drowsy. It offers focus, a mood boost and adaptogenic benefits that reduce the potential damage stress can cause. Pretty chill!
4. Essentially-U
One of the things that stress often robs us of is the energy to be productive. The lack of productivity can then cause even more stress – a vicious cycle that can be harmful to your body, including causing cellular damage.
Utzy Natural's Essentially-U offers what you need for high-energy days. And it delivers.
INGREDIENTS
Essentially-U is formulated with a full complex of B vitamins, including Quatrefolic®, a methylated form of folic acid to help energize the body. Essentially-U also contains minerals and herbs, which help satisfy the body's micronutrient needs and build stress resilience at a cellular level.
Essentially-U contains inositol and green tea extract rich in L-theanine. Inositol is a special form of glucose involved in neurotransmitter signaling. It is believed to help boost brain health and support a positive mood.
THE GOOD STUFF
Essentially-U is made with clinically studied ingredients that are included at research-backed dosage levels. It is also manufactured in an NSF® audited facility and tested via in-house labs as well as by trusted third-party labs.
WHAT WE LIKE
This supplement addresses a part of stress that is often forgotten – cellular damage. By including ample antioxidants, Essentially-U gets ahead of the damage by neutralizing the free radicals that come from stress and also environmental factors like UV rays and even blue light. They also use the active form of Vitamin B12 – Methylcobalamin – which means quick absorption and who doesn't like quick results?
5. Wolverine Spray
By now, you understand the extent of damage stress can create on one's body. Wolverine is a unique nasal spray supplement that not only relieves stress but helps clean up its damage.
The spray's many benefits stem from its studied ability to intensely speed up the healing of various types of tissue, including the gut, muscles, tendons and even brain tissue.
INGREDIENTS
Wolverine nasal spray consists of a peptide chain made up of 15 amino acids. The BPC-157 is the ultra-concentrated version of the body protection compound (BPC), which is derived from a protein found in the gut where it is responsible for protecting and healing it. and it harnesses its vast protective power.
It also contains TB-500, known as Thymosin Beta 4. The predominant form of thymosin, Thymosin Beta 4, is a cell building protein. This cell-building protein is an essential component of cell structure and movement which leads to its role in tissue repair.
THE GOOD STUFF
Having served over 30,000 satisfied customers, Gorilla Healing leads the drug-free, peptide-based healing market. They take the healing of chronic injury, including stress, very seriously and it shows – they have raving reviews!
WHAT WE LIKE
Healing abilities of Wolverine? Yes, please. Besides having a unique method of supplement delivery, we are really impressed by the science. If you love science, you will love reading about the Wolverine Nasal Spray on their site. Even if science isn't your thing, you will still be easily impressed by their reviews and most importantly, their product.
Stress happens. But it doesn't have to wreak havoc on your body. Supplements can help you manage it better, along with healthy lifestyle habits.
For access to exclusive gear videos, celebrity interviews, and more, subscribe on YouTube!