As a mostly vegetarian, often I'm asked whether I miss meat. The answer is yes. (And sometimes hell yes.) Sure, there are meat substitutes, but those take a little magical thinking (and a ton of condiments) to feel satisfying. I'm not complaining—I'll admit I enjoy basking in the self-righteous glow of making food choices that help the planet.
So when Beyond Meat asked if Men's Journal wanted a preview of their newest offering, Beyond Sausage, before it hit Whole Foods stores across the country this week, we said hell yes.
You may already be familiar with Beyond Burger, which seeks to be a plant-based beef substitute without all the magical thinking. And like its meatless brethren, Beyond Sausage is plant-based, and soy- and gluten-free. Its 16 grams of protein come from peas, fava beans, and rice. The casings are derived from algae, and the sausages come in three flavors: Original Bratwurst, Hot Italian, and Sweet Italian. One of the creations we tried was similar to this German-style bratwurst recipe, created by Chef Spike Mendolsohn. (The pretzel buns are a must.)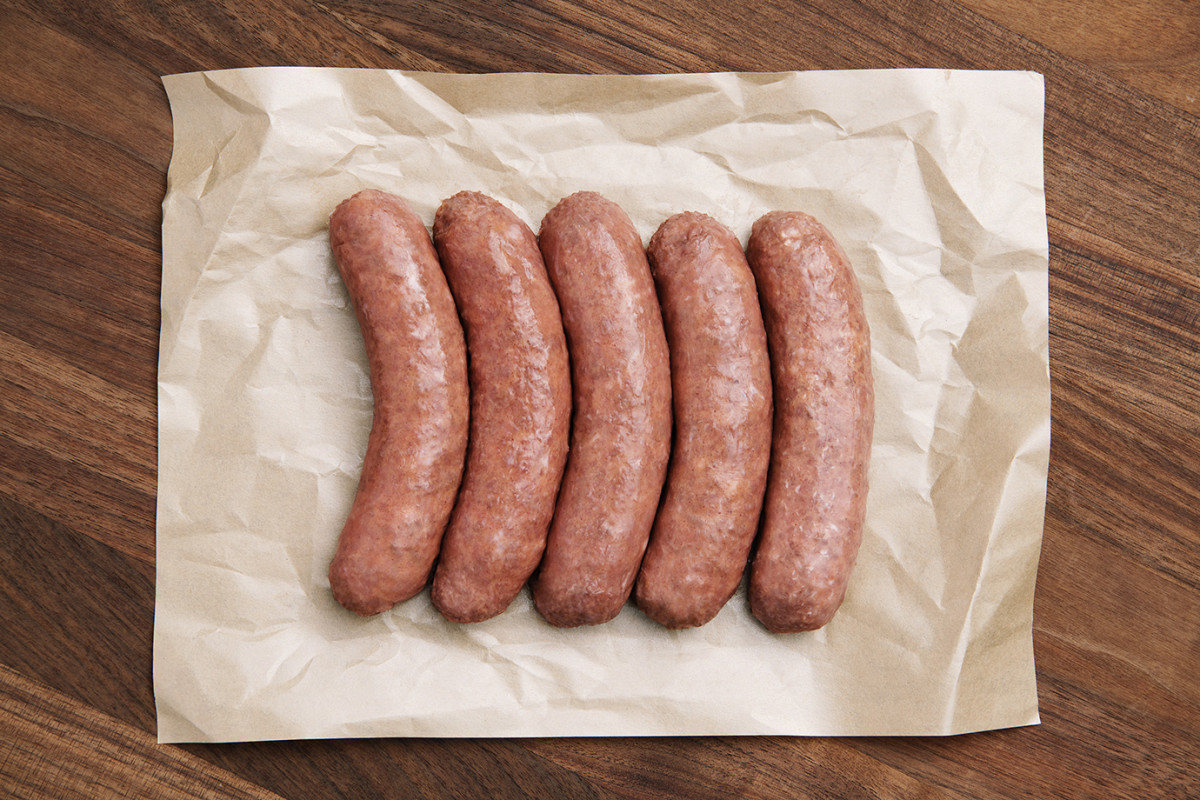 It's no surprise that a person who hasn't had a pork sausage in years (me) would be jazzed by them (I was). But what do the meat eaters at Men's Journal have to say?
"I honestly, 100 percent would not have known Beyond Sausage wasn't an actual sausage if you hadn't told me first. It was so…meaty. Consider me converted."
—Justin Fenner, deputy editor, MensJournal.com
"Having cooked vegan for years, I knew it was not from an animal, but it's amazing how technology is improving the mouthfeel and taste of fake meat. It didn't have the greasy snap of real sausage, but it was highly edible."
—Keith Bearden, research chief
"As a grilling snob, I was anticipating a less-than-ideal experience, but the sausages were good—a rich flavor that wasn't exactly meat-y, but still delicious. The only criticism, really, is that they don't have the juciness that comes from real pork or chicken or lamb in a casing. Still, I'd definitely pick these up at the store to diversify the offerings at a weekend BBQ."
—Ryan Krogh, features editor
"I had no idea it wasn't meat-based, so kudos for that. But I felt it was lacking flavor once you took away all the stuff loaded on top. And I was missing the snap you get when you bite into a meat-based sausage."
—David Schlow, creative director