There's something to be said for knowing which essentials to pack for a weekend in the outdoors. Arguably, one of the most important keys to a good time is having the right snacks. And this crunchy, cheesy and a-little-bit-spicy recipe has exactly what it takes to bring the whole crew together over one pot or skillet (whatever you have handy). Whip up these nachos in a hurry, and enjoy them while their piping hot and oh-so delicious.
Dutch Oven Nachos Recipe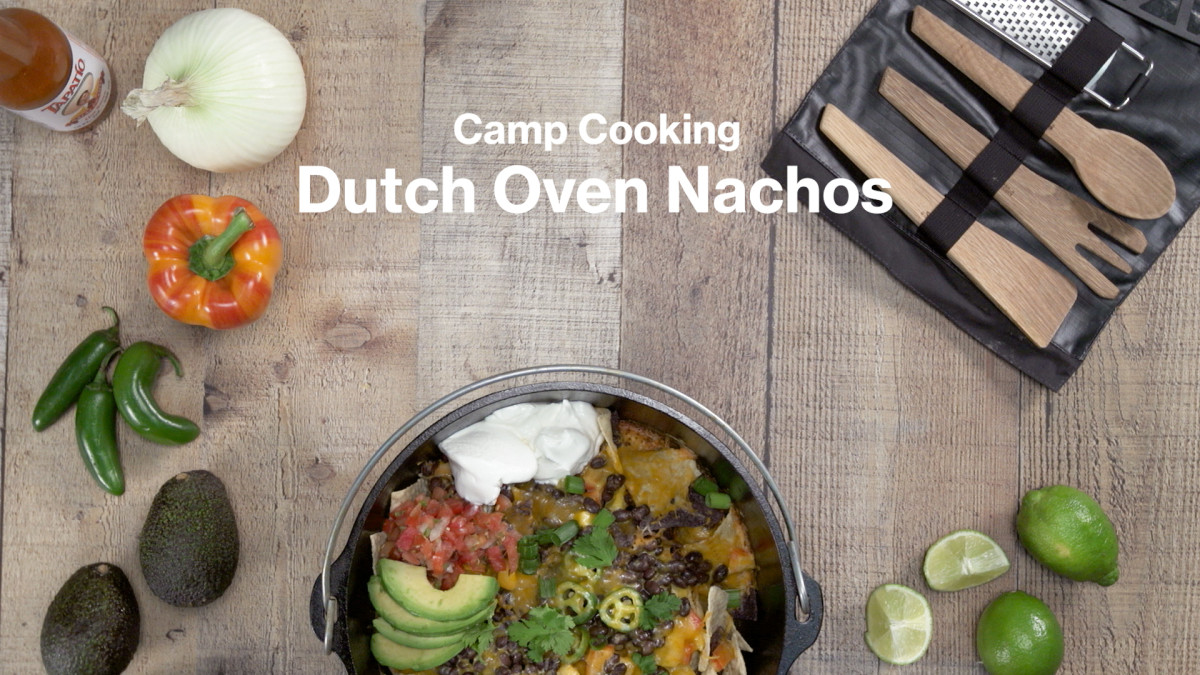 10 Ingredients
10-Minute Prep
10-Minute Cook
Gear Used in This Video
Lodge Dutch Oven – 4 qt.
Ingredients
– 1 bell pepper, diced
– 4 cups tortilla chips
– 1 can black beans, drained
– 1 jalapeño, sliced
– 1 cup shredded Mexican cheese
– Pico de gallo (to taste)
– 1 avocado, sliced
– Sour cream (to taste)
– 1 bunch cilantro, de-stemmed and chopped
– Green onion, diced
– Optional add-ons: Tapatio or hot sauce, diced black olives and onions, limes, 6-pack of Modelo, Corona or beer of choice.
Instructions
– Coat Dutch oven or skillet with thin layer of oil (best to use spray oil to avoid excess).
– Place dutch oven on stove and heat on low.
– Add layer of tortilla chips to cover bottom of Dutch oven or skillet.
– Dice veggies and herbs.
– Add black beans, sliced bell peppers, and jalapeño to top chips.
– Top all ingredients with cheese.
– Cover and cook about 10 minutes or until cheese is completely melted.
– Uncover and add pico de gallo, sliced avocado sour cream to top.
– Garnish with chopped cilantro and diced green onions.
– Serve with Tapatio and a cold beverage. Enjoy!
More Cooking Recipes from ASN
Power Plates: High Protein Banana Bread
Camp Cooking: Dutch Oven Baked Mac & Cheese
Power Plates: Superfood Overnight Oats
For access to exclusive gear videos, celebrity interviews, and more, subscribe on YouTube!