Food & Drink
Champagne's Most Unexpected Pairing Is…Rice?
Wine pairings can be complex, and often go far beyond the classic white wine with poultry and red wine with steak. If there's an interesting combination that can enhance the eating experience and also bring a wine's complexity to life, then why not try it? Prosecco and French fries, ice wine and bleu cheese, sparkling rosé and pad thai—oenophiles and gastronomists love to push their categories further and further. The same goes for unexpected Champagne pairings.
But what about going back to basics? Lately, chefs from coast to coast are re-examining what can happen when we mix the highest of highs with the humblest of ingredients. Suddenly, the pairing of Champagne with none other than rice feels fresh—and proves that the most intriguing pairings are often hiding right under our nose.
The conversation began earlier this year with the 2022 launch of Krug's annual "Single Ingredient" program, a marketing campaign meant to highlight the connection between Krug's "plot by plot" approach of blending different grapes from each harvest to achieve Champagne's most generous expression (the idea being that terroir and annual growing conditions will cause different plots within a vineyard to take on different profiles). In previous years, for instance, the Champagne maison's campaign has focused on single ingredients such as onions, potatoes, and egg.
"Krug Grand Cuvée is always a blend of at least 120 plots of wines from over 10 different years, and the grapes that gave birth to these wines can be likened to the rice in a chef's recipe," says Krug's Cellar Master Julie Cavil "The parallel to be drawn is that both exercises involve crafting an exceptional creation from the simplest ingredients."
Champagne and rice, if you think about it, have a lot in common. Grapes and rice are both humble ingredients on their own that require immense skill to prepare and, depending on the technique and style of the winemaker or chef, may result in different expressions. (Who among us has never accidentally overcooked rice, turning the grains into an inedible, sticky glob of starch?) The same grapes in the hands of two different winemakers can lead to different results, just as two different chefs can prepare rice in totally different ways, as well. Rice is also extremely versatile, offering a variety of textures and flavors, especially when combined with other ingredients.
Here, we consulted five chefs involved with Krug's Single Ingredient program about why they think rice and Champagne make such a wonderful duo—and how they suggest exploring the pairing. Cheers, and bon appétit.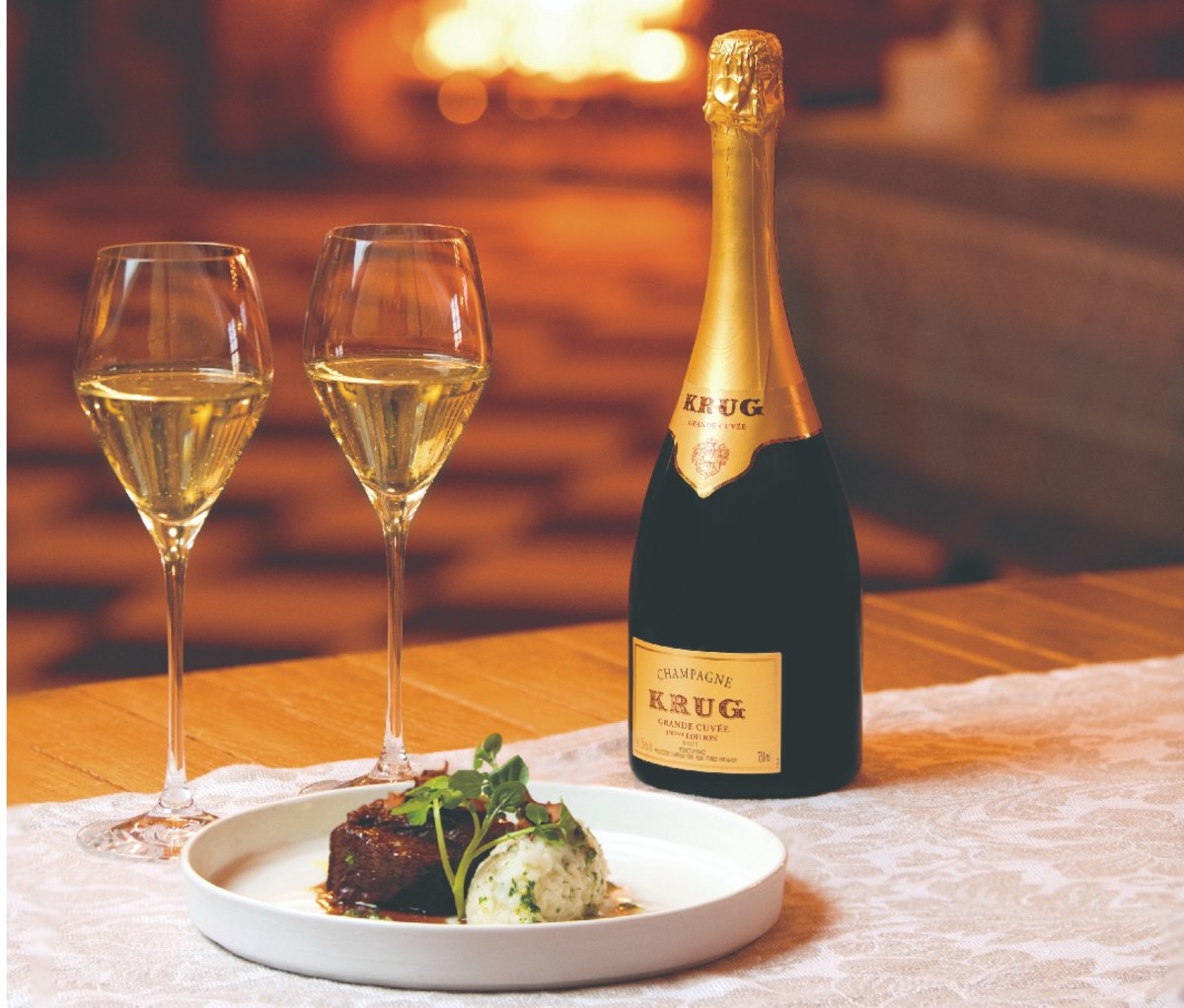 Champagne with braised beef short rib, Vermont wild rice, and gremolata
Don't limit yourself to simple brown or white rice. Take a cue from Nathan Rich, executive chef at Twin Farms in Vermont, who uses locally grown rice from Vergennes, VT, for its nutty undertones and complex mouthfeel—both of which play off the flavors and aromas of Champagne. Toss a bit of gremolata on top to "deliciously accentuate the freshness" of the wine, and you're good to go.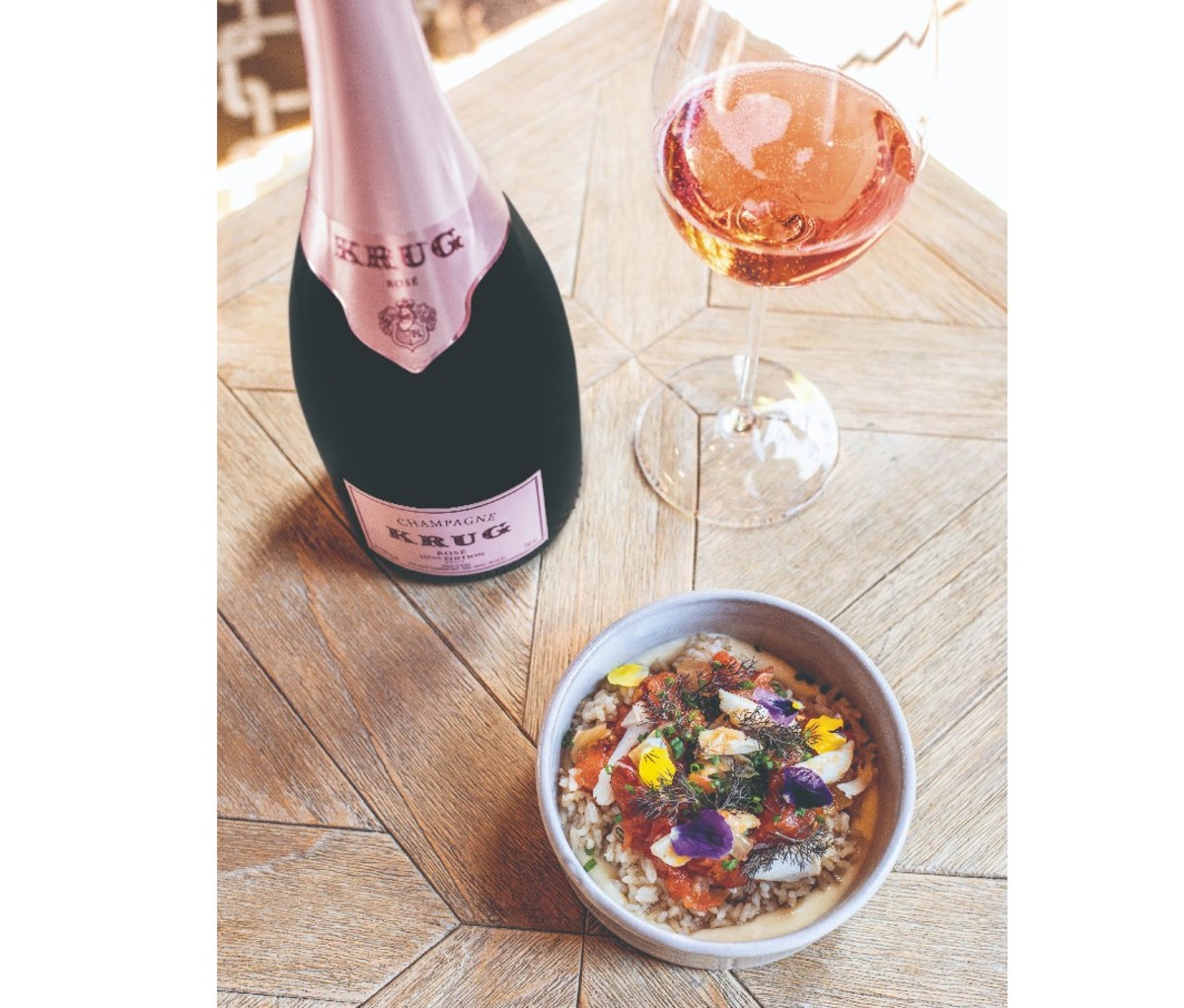 Champagne with crispy brown rice with blue crab, smoked tomato vinaigrette, and fennel purée
Playing with rice's texture by stir-frying it for a few minutes creates a dish that has crispiness and layers of texture, says Cassidee Dabney executive chef at Blackberry Farm in Tennessee. Combining crispy rice, creamy fennel purée, and meaty crab creates a dish that "contrasts and complements the playful effervescence" of Champagne.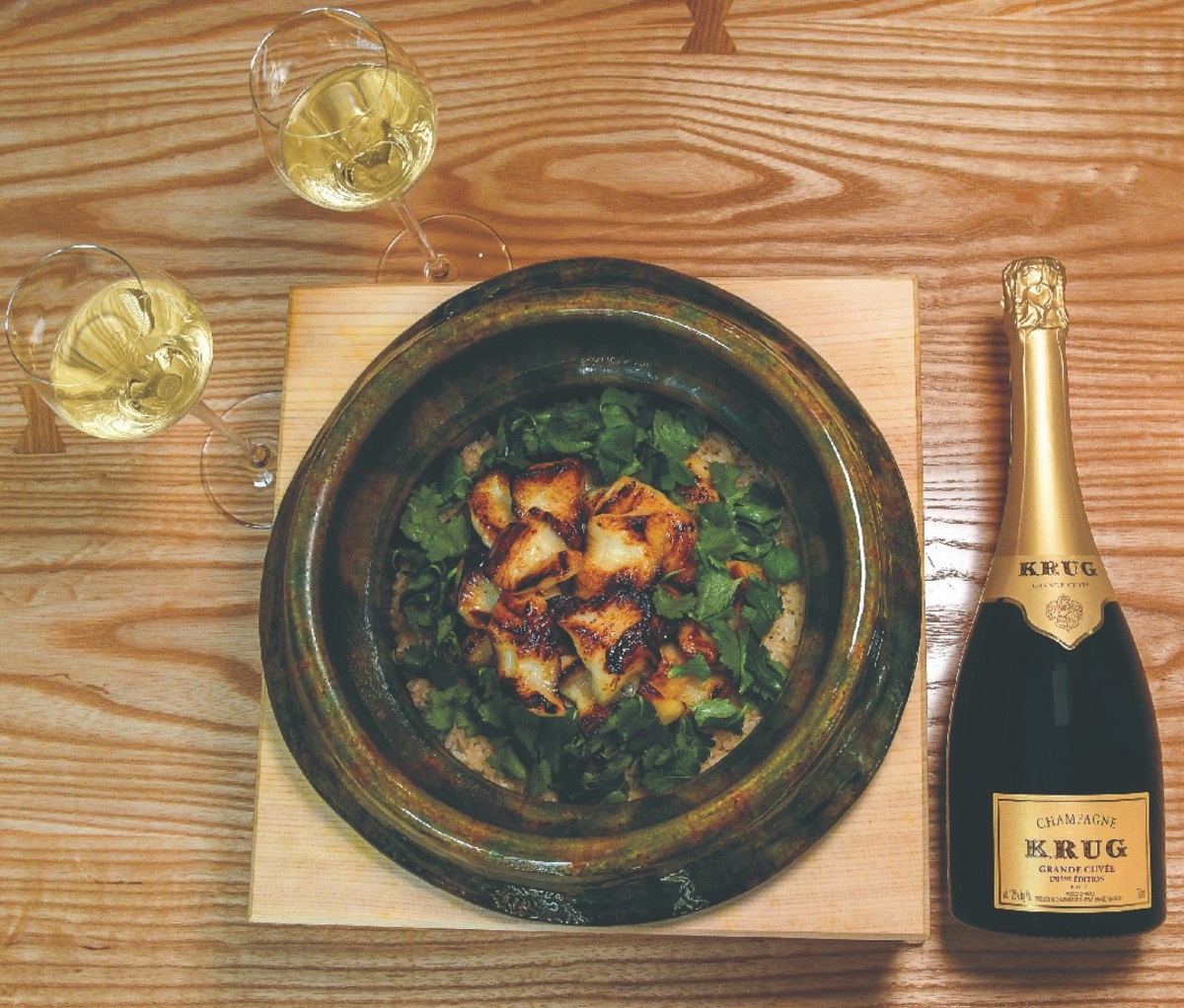 Champagne with black cod and saikyo miso rice
"With Japanese food, there are often a lot of ingredients that can cause conflict with wine—sugar, soy sauce, vinegar, etc. Champagne can work with many of these ingredients and, in my opinion, often enhances the subtle aromatics of our food in a way that still wines can't, says Brandon Hayato, owner and chef at Hayato in California. The rice dish has some oil from the fish that envelops each grain of rice, which is balanced by the acidity of Champagne. There's a smoky element in the rice that we get from grilling the fish over charcoal; there's miso and ginger in the dish as well, and all of these things can be enhanced by Champagne, but not overwhelmed by it."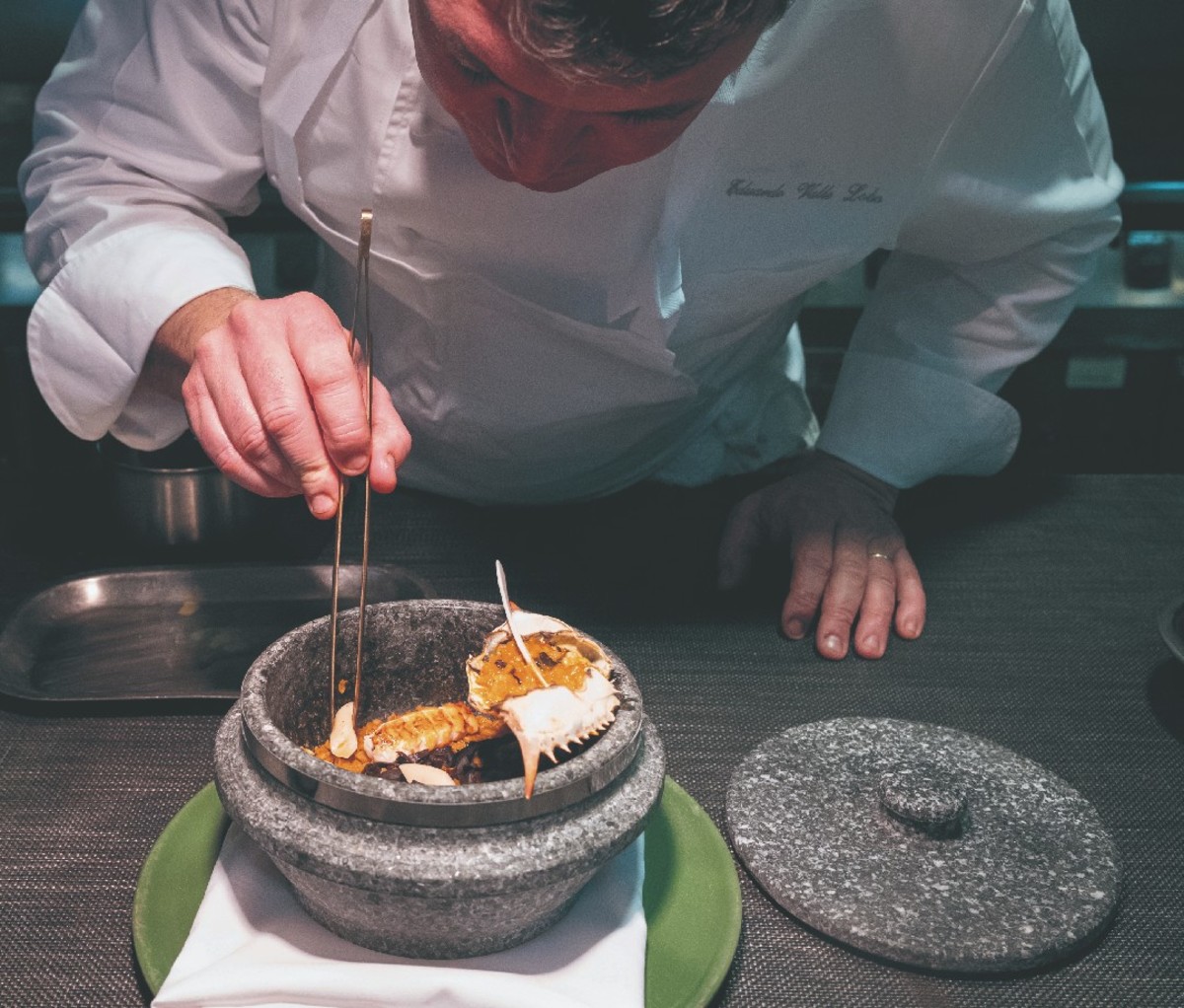 Rosé Champagne with seafood over Mediterranean rice
Eduardo Valle Lobo culinary director at Frasca Food and Wine in Colorado suggests a complex rosé Champagne with salinity and structure to complement his Mediterranean take on a classic paella, complete with lobster meat, uni, razor clams, blue crab and langoustine. Finished with an aromatic shellfish stock. Cooked slowly, the rice takes on the intense seafood flavors which makes a beautiful counterpart to some (rosé) bubbles.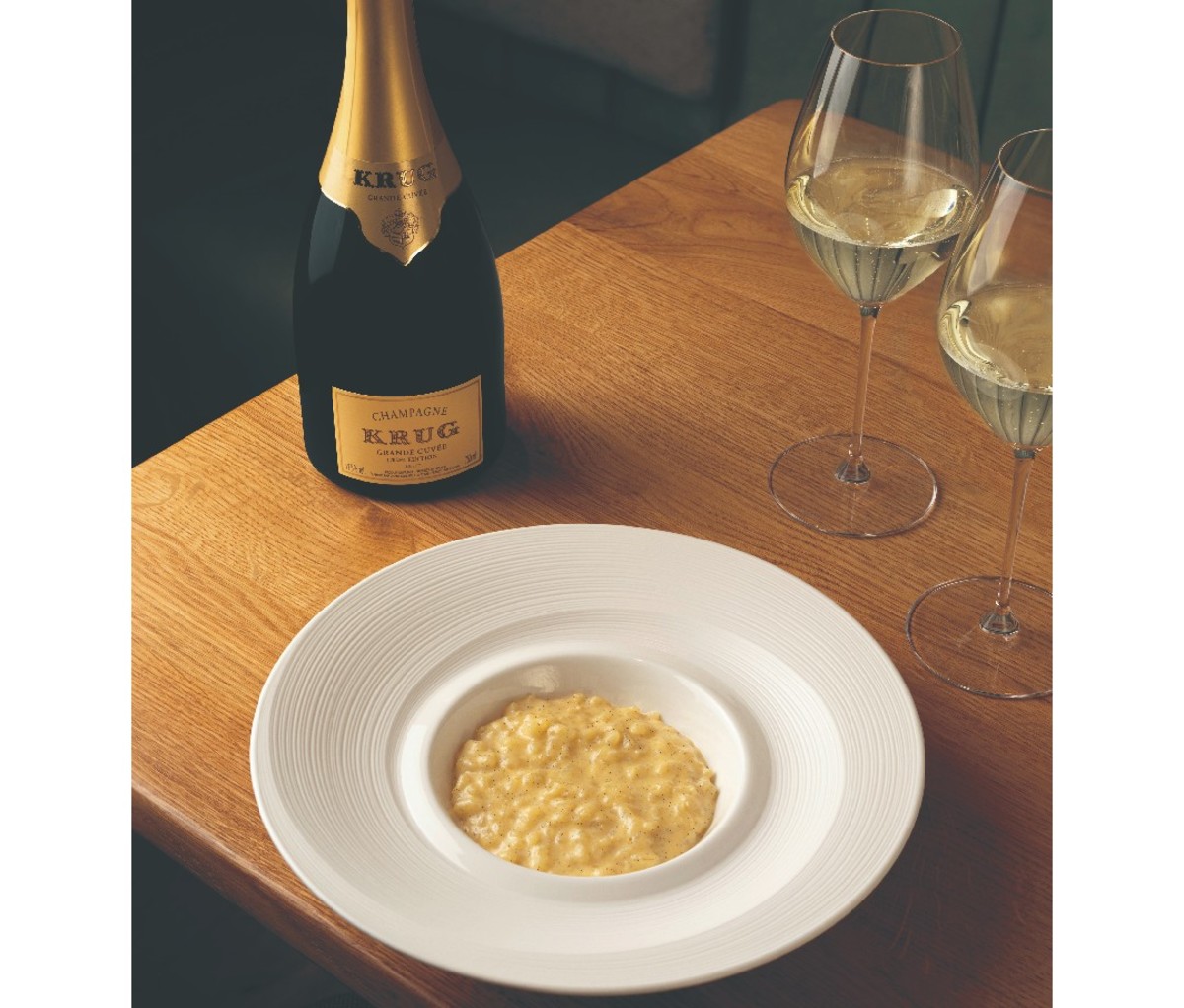 Champagne with rice pudding
The unpretentious creaminess of this quintessential comfort food sets a beautiful stage for Champagne's effervescence—just make sure you're sticking to drier Champagnes when concocting dessert pairings such as this, says Lorna McNee, head chef of Cail Bruich in the United Kingdom.
For access to exclusive gear videos, celebrity interviews, and more, subscribe on YouTube!