It's easy to pick up a rotisserie chicken on your way home from work. This pre-cooked protein is a super easy way to make sure you get a healthy dose of the muscle-building macro. However, eating rotisserie chicken straight from the source can get boring.
Here are 50 (yes, 50!) creative and healthy ways to dress up a plain bird. There's something here for every guy, whether you're looking for rotisserie chicken recipes that are low-carb or more in the realm of a cheat meal.
We've got simple recipes to make as an appetizer, snack, breakfast, lunch, or dinner.
You can always make soup into a light meal by tossing in several ounces of rotisserie chicken. As rotisserie is higher in sodium than a piece of plain grilled or baked chicken, so start with low- or no-sodium ingredients and add sodium as needed at the end.
Chicken Recipes: 50 Things You Can Do With Rotisserie Chicken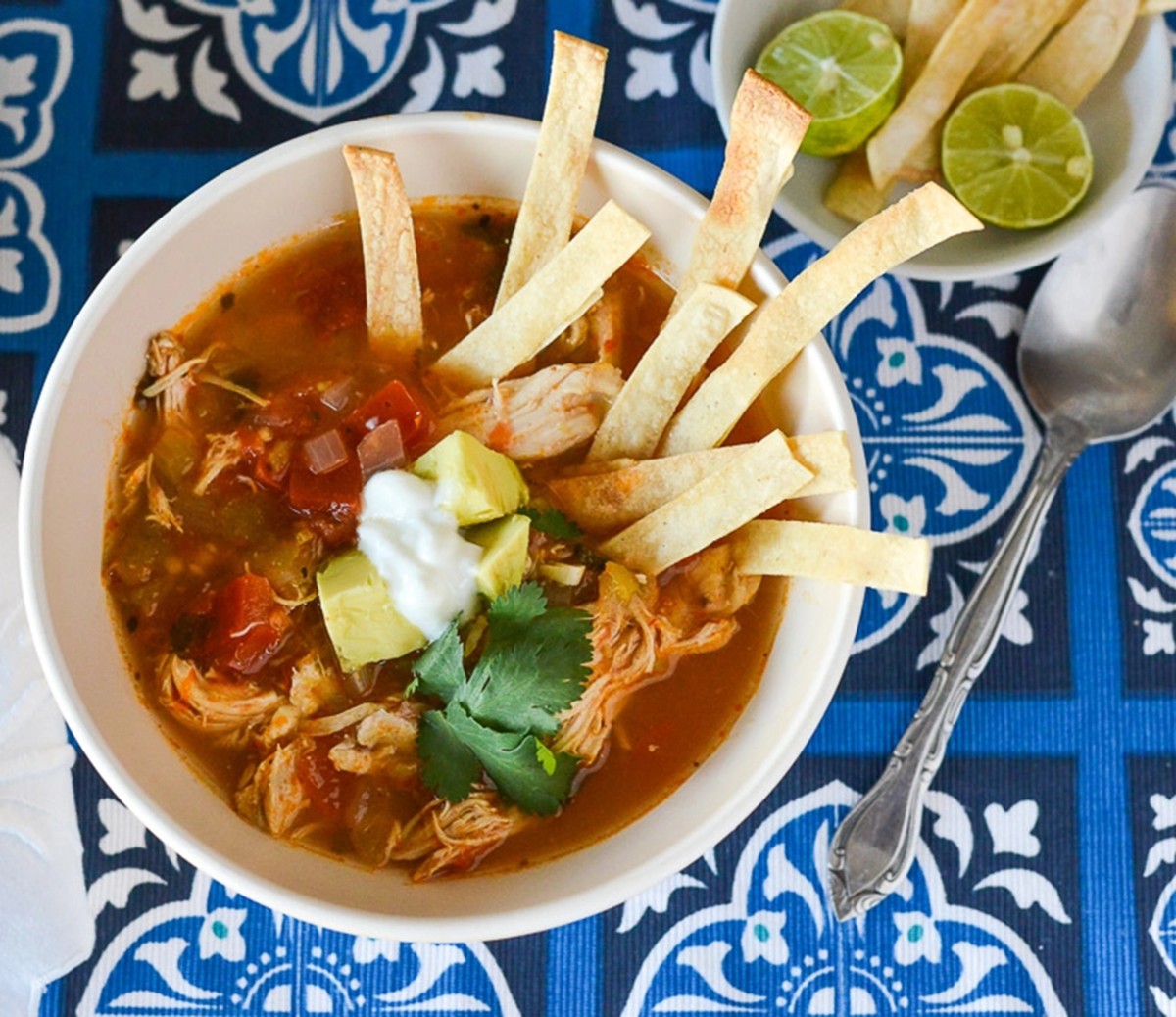 1. Recipe: Quick Tortilla Soup
Skill level: Beginner
Serves: 6
Start to Finish: 35 minutes
Prep: 15 minutes
Cook: 20 minutes
Ingredients:
2 teaspoon canola oil
1 cup yellow or sweet onion, chopped
1 jalapeño pepper, seeded and chopped (optional
1 (4 ounce) can diced green chiles
3 Roma or vine-ripened tomatoes, cored and chopped
2 garlic cloves, chopped and smashed
1 tablespoon tomato paste
1 tablespoon ground cumin
1 teaspoon dried coriander
1/2 teaspoon dried Mexican oregano
6 cups chicken stock or broth (low sodium preferred)
1 pound cooked chicken, shredded (I use store-bought rotisserie chicken)
1/3 cup (or more) fresh cilantro
2 tablespoons freshly squeezed lime juice
1/4 teaspoon ground pepper
1/8 teaspoon salt
Soup toppers (per serving)
1 tablespoon avocado, diced
1 teaspoon reduced fat sour cream or plain Greek yogurt
1 tablespoon reduced fat Monterey Jack cheese
Tortilla strips
6 corn tortillas
Canola oil spray
Instructions:
1. In a large pot, heat oil over medium heat. Add onions, jalapeño, tomato, green chili and sauté for a few minutes. Add tomatoes and garlic and stir to combine ingredients.
2. Add tomato paste to the pot and allow the paste to melt into the other ingredients for about one minute. Add cumin, coriander, and oregano and stir to combine.
3. Increase heat and add broth then add chicken. Bring soup to a boil then simmer for about 10 minutes. Add cilantro, lime juice, salt and pepper. Stir well. Remove soup from heat and cover to keep warm.
4. To prepare tortilla strips, preheat oven to 350 degrees. Stack 3 corn tortillas and slice into 1/2 inch wide strips. Repeat process. Lay strips on a foil lined baking sheet, spray with canola oil and place them into oven. Bake for 10-15 minutes or until golden. Be careful not to burn the strips!
5. Ladle soup into bowls and top with baked tortilla strips and optional toppers including avocado, sour cream or yogurt, extra lime juice and (my favorite) more cilantro!
Recipe and photo by Christy Wilson, RD.
For access to exclusive gear videos, celebrity interviews, and more, subscribe on YouTube!