The guy on the dock sounds upset. "No fishing from the jetty!" he yells across the marina to our small band of trespassers, as we hunt out a spot to cast at the headwaters of Chesapeake Bay. Claes Claesson, a Swedish celebrity chef and fishing-lure designer, turns toward me with a grin, "I think he means we can fish the other side of the jetty."
Claesson, who's something of a Scandinavian cross between Bear Grylls and Anthony Bourdain, is here from Stockholm for his first shot at striped bass. Though he has a charter trip scheduled for tomorrow morning, he wanted to try his luck off the jetty this evening, with some of his hand-poured custom baits. "He will be okay," Claesson says of the wound-up local. He then casts out of sight, into a dirty weed line near the shore.
Here in Maryland, Claesson is just another anonymous, inked-up trespassing fisherman. But in Stockholm, he can't walk down the street without someone shouting, "Claes!" and stopping him for a selfie. In 2016, he starred in a Discovery Networks show that aired in Sweden, in which he made custom lures with celebrities, then took them fishing. "And we fucking killed it and ate it," he says of the fish. You don't see a lot of that on European TV.
On the show, Claesson also got philosophical—on life, family, sobriety. His national celebrity skyrocketed. Soon, he was hosting the Swedish version of Kitchen Nightmares. "Fishing in Sweden is a religion," he explains. "There are 10 million Swedes. Two million fish five times a year or more."
Claesson hasn't made much of a name for himself stateside yet, but that looks primed to change—at least among die-hard anglers. His tackle company, Svartzonker, has already won over hardcore musky and pike fishermen. Moreover, he recently worked with the apparel company Grundens to design a Gore-Tex-based sportfishing line, and Abu Garcia, maker of all things fishing, just released a new signature series of muskie and pike baits that he designed. And this summer, a documentary that follows Claesson and some buddies muskie fishing in the northern Midwest and Canada will air on primetime in Sweden, then go live globally on YouTube. The footage, he says, "is epic, dude."
The jetty didn't pan out. The next morning, on the deck of a 52-foot custom sportfishing boat, Captain Steve Dunn warns that the bite has been slow on open water, too. Claesson doesn't seem concerned. He came equipped with one of his McRubber Shads, a relatively drab-looking plastic bait compared with the umbrella rigs with neon purple teasers that Captain Dunn has ready. Later, Captain Dunn discreetly says of the McRubber Shad, "That little thing ain't gonna catch shit."
Once out to sea, Claesson finds a spot near the stern and looks out over the 20 lines we're trolling. He took an unlikely path to becoming a chef, much less a fishing nut and a tackle maker. As a kid, he fished with his grandfather some. But when he was 16, "the dark side took over," he says. He spent his 20s in the Stockholm restaurant scene, drinking hard, drugging, getting inked with punk-rock tattoos. In January 2000, he blacked out for a week, went to rehab, relapsed, got back on the wagon, and relapsed again.
Then one day, while driving from work, he spotted a fisherman on a canal bank in the middle of Stockholm, cranking in a giant salmon. Claesson told himself, "This is what I need to do." He embedded in the local salmon scene, and soon found himself spending every free minute going to 12-step meetings or to fish. He's been sober ever since.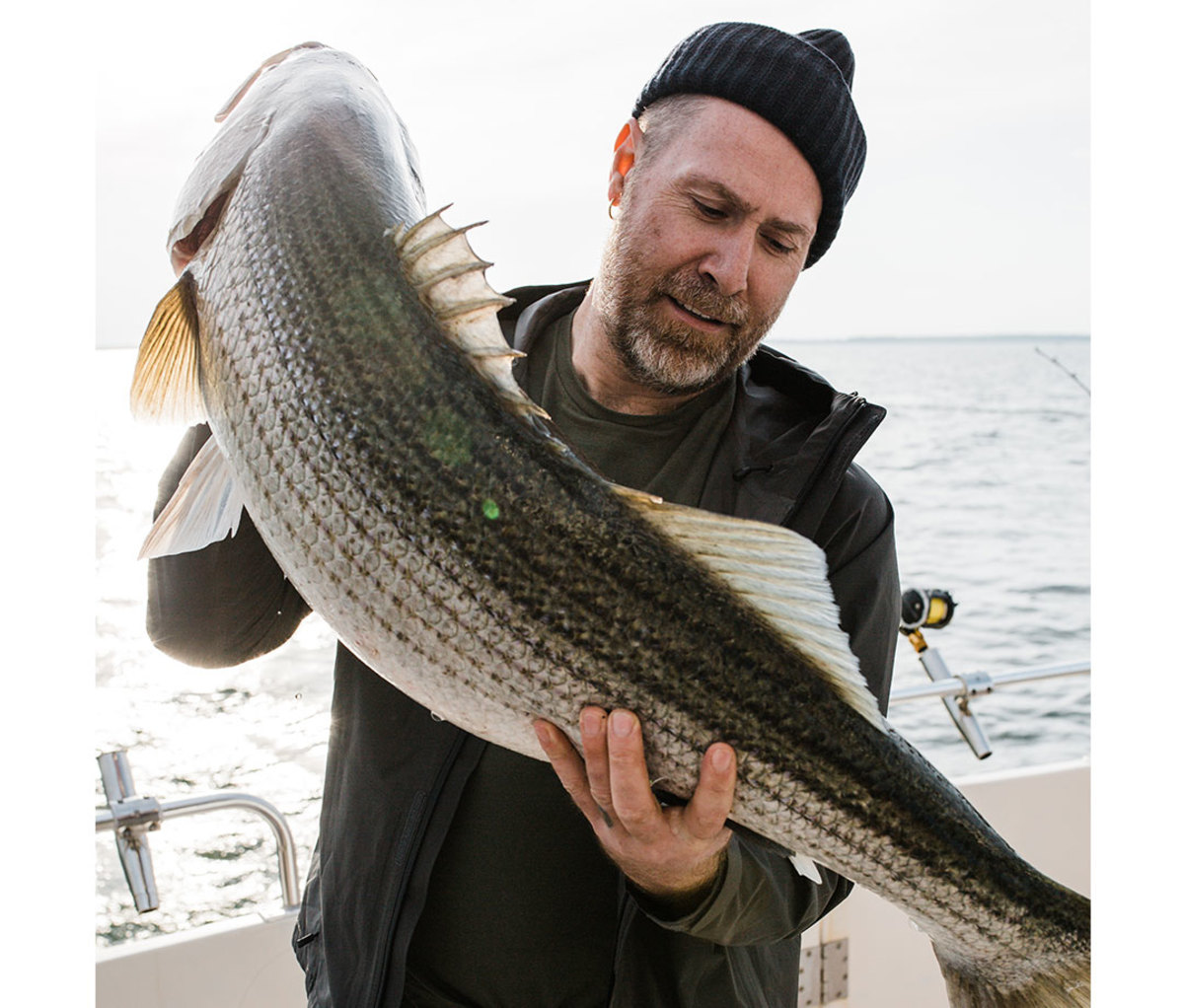 In 2005, Claesson started making his own baits—carved wooden ones at first and later soft plastics—to target muskie, pike, and perch. After anglers started winning tournaments across Europe with his tackle, he found a manufacturer in Asia and spent $10,000 to have the baits mass produced. "That was my family's entire savings," he says. "A huge amount of money." He was soon convinced that the manufacturer had scammed him. Then eight months later, a shipment arrived. In short order, the baits helped anglers win five of Europe's top pike tournaments.
An hour into the Chesapeake striper trip, one of the rods suddenly doubles over. Captain Dunn runs to the stern. "That's Claes's rig!" he says. "Holy shit, that's Claes's rig!" Claesson grabs the rod and starts to cranks. The striper breaks the surface, shaking its head, fighting to dive. Twenty baits in the water, and the big fish grabbed the soft plastic that two days earlier was checked on a plane for a flight across the Atlantic.
Netted, the bass slams down on the deck. Claesson wrestles the fish and pops the McRubber out of its mouth. The hook is bent in a Z shape. The fish measures 44 inches—the biggest catch off the boat this year. Claesson smiles and holds up the fish for a battery of smartphones and cameras. "That was fun," he says, holding his bait between two fingers. He's humble, almost sheepish, that his bait worked. "Totally amazing," he adds.
Maybe he should start making saltwater lures? "Let's just keep fishing," Claesson says, as he goes to fetch more made-in-Stockholm hand-poured baits.
This story has been updated.
For access to exclusive gear videos, celebrity interviews, and more, subscribe on YouTube!