During his fighting career, MMA star Conor McGregor has dominated the Octagon, won numerous world title belts, and even stepped into the boxing ring with Floyd Mayweather. Now, the Dublin-born fighter has his sights set on another industry: the world of whiskey. Launched in 2018, McGregor started his own whiskey brand by creating Proper No. Twelve Irish Whiskey.
The whiskey, which is named after the neighborhood where McGregor originally grew up, started off fast out of the gate, selling out six months worth of bottles in just over a week when it started, according to Business Insider. McGregor used his social media muscle—including his 30 million followers on Instagram—to help launch the whiskey, and it worked: Proper No. Twelve became the most followed liquor brand on Instagram (@properwhiskey) amassing over 610,000 followers as of June 2019.
Overall, the MMA star hasn't just been a figurehead for the brand, either. McGregor was hands-on in the development of the whiskey, including by helping to design the bottle and perfecting the taste. "Proper No. Twelve's first expression is a blend of golden grain and single malt aged in bourbon barrels," McGregor told Men's Journal. "The liquid is smooth and very tasty, delivering hints of honey-like sweetness and toasted wood."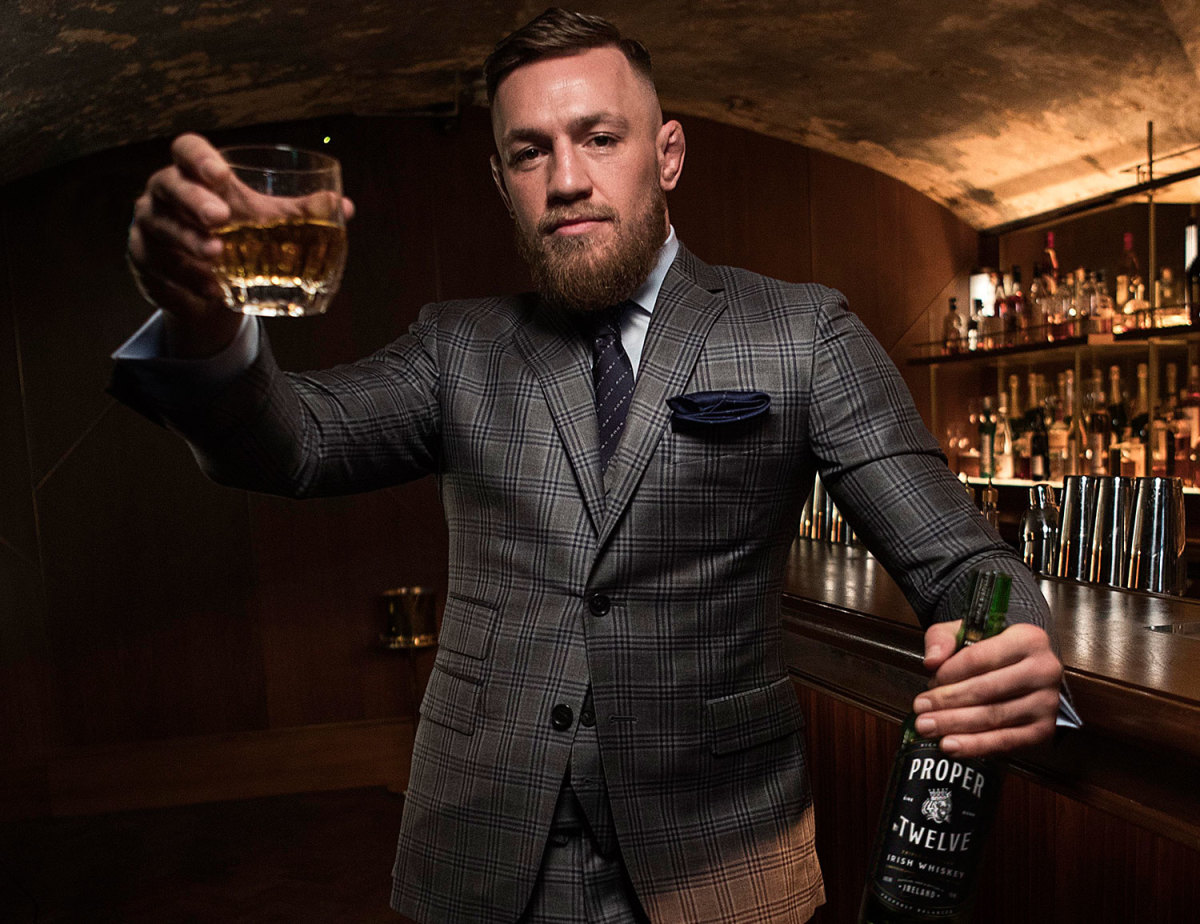 Although McGregor hasn't been back in the Octagon since his fight Khabib Nurmagomedov in October 2018, he's keeping himself plenty busy with Proper No. Twelve. McGregor took some time to speak with Men's Journal about launching his whiskey, what his plans are for the brand, the best advice he's ever received, and how he trains to stay in prime shape.
Men's Journal: What has the experience been like for you overall in launching Proper No. Twelve?
Conor McGregor: We launched Proper No. Twelve this past September, less than eight months ago. We sold out in Ireland and America in a matter of days, and as a result, we were out of stock for almost two months time. We couldn't let the consumer down, so we airfreighted almost 30,000 cases to America during December and then sold out again. It has been a great feeling to see the support from people around the world. It has been magical for me and my team and it's only the beginning. Today we are sold in the United Kingdom and Australia, with more countries coming online soon.
What was your approach in deciding how your whiskey would taste and how much it would cost?
The whiskey is aged four years, and my goal was that I did not want a grain-only product that lacked taste. The single malt whiskey adds flavor and complexity to the grain, and I think it makes for a smooth taste for people. The most important thing for me once we had our blend perfected was to make sure we priced it properly. I did not want it priced whereby my fans and so many others could not afford to drink on a regular basis.
 

View this post on Instagram

 
What was your inspiration for designing the bottle?
Firstly, our bottle for Proper No. Twelve is green. It is and says Irish and this is who I am and what I wanted. Others told me my first product should be in a black bottle or clear bottle, but I didn't want to let others get in the way of my vision for our first product. The bottle is etched with the term "SMOOTH IS FAST"; many know this is part of a Navy SEALs motto and this is etched on my body, the quote "Slow is Smooth, Smooth is Fast." Just as I play it in the fight game, I plan to play it in my whiskey business.
One other thing you will notice on the back of my bottles is the tribute to first responders. These are the true-life heroes. These are the people who risk their lives every day for others. I wanted to pay homage to these men and women. So I decided for every case we sell in a specific district, my company would donate $5 for each case in that specific district up to $1 million per year to start. I am very proud to do this and look forward to distributing the first donations of this money around the world after the end of 2019.
How about choosing the name?
The name was also very important to me. Many ask where the name comes from: The word "Proper" means it is right, it is the way it should be. The words "No. Twelve", pay homage to my hometown of D12 (Dublin 12). It's a proper Irish whiskey and 12 is my hometown. t has real meaning and I wanted to show proper respect to my people in Ireland and those around the world.
When did you first come up with the idea of launching Proper No. Twelve?
My manager and partner Audie Attar and I are approached all the time to do traditional endorsement deals. Several Irish whiskey makers approached us and it was something we did not want to consider. It would have been easy money, and I said to Audie, "let's do our own Irish whiskey," a few years back. We spent a great amount of time educating ourselves on the spirits business and partnered with the best of the best to execute the plan. This is not an easy task but we are leaning in very hard as I am enjoying it immensely and am involved in this business every day when I am not training or being with my family. I am not used to being the "David" going against the "Goliaths". This is a challenge I am enjoying and while there are very big companies trying to crush me every day, they have and will learn they cannot overcome a passion and desire that runs so deep to win and win big. In this business, I like being the underdog.
What's the best advice you ever received and how have you used it in your career?
The best advice I ever received was from Rocky Balboa [Sylvester Stallone]. This is a quote we all must understand in this world: "Let me tell you something you already know. The world ain't all sunshine and rainbows. It's a very mean and nasty place and I don't care how tough you are it will beat you to your knees and keep you there permanently if you let it. You, me, or nobody is gonna hit as hard as life. But it ain't about how hard you hit. It's about how hard you can get hit and keep moving forward. How much you can take and keep moving forward. That's how winning is done."
How should a man handle failure? How about success?
We must always understand this wherever we are on our journey: On top, or on the climb, we must keep moving forward. Move forward through all our trials and tribulations. Through our wins, through our losses, success is never final and failure is never fatal. Keep on moving forward and make sure you have your favorite song blasting while you do it! I would relay this same approach for any failure; success will never come without taking hits, without taking losses. The only difference between success and failure is success keeps moving forward. Never stop, keep going, it's right there.
What areas do you like to hit most in your workouts?
My workouts vary between conditioning-based work to skills-based work and topped off with strength-based work. That combination helps me stay right. I feel I am in the greatest shape of my life at this moment and the world will see that once again in due course.
Is there anything else on the horizon for Proper No. Twelve coming up that you're excited about that you can share?
There will be more, this you can count on! We must remain focused on the task at hand which is on distribution and showing people how our Proper No. Twelve liquid is magical especially at this price. We will blend and age more down the road 100%. It is easy to get distracted but this I will not allow.
For access to exclusive gear videos, celebrity interviews, and more, subscribe on YouTube!