Somewhere between week three and week 5,399 of quarantine life, we lost all desire to cook. And then we realized it didn't have to be this way. We realized there could, in fact, be a better way. Yes, we still could have a satisfying dinner on the table—and please the picky seven-year-old and I'll-eat-anything vegan—but we didn't have to spend hours on our feet cooking. Instead, we simply assemble some ingredients, punch a few buttons on the old Instant Pot, walk away, and resume streaming our guilty pleasure (Million Dollar Beach House on Netflix as of late, if you're curious) until dinner is ready.
Trust us when we say that once you use an Instant Pot, you'll wonder why you cooked any other way. The programmable multi-cooker and pressure cook makes whipping up gourmet meals fail-proof and simple. Dare we say, the satisfaction in tapping a few icons on your machine before serving your pièce de résistance is one of life's best pleasures. (Beyond the classic brand for multi-cookers, these seven Instant Pot alternatives are also superb.)
From Instant Pot peanut noodles to pork chops, read on for our go-to easy Instant Pot dinner recipes. For more ideas, check out these 25 Instant Pot Recipes That Make Meal Prep Suck Less.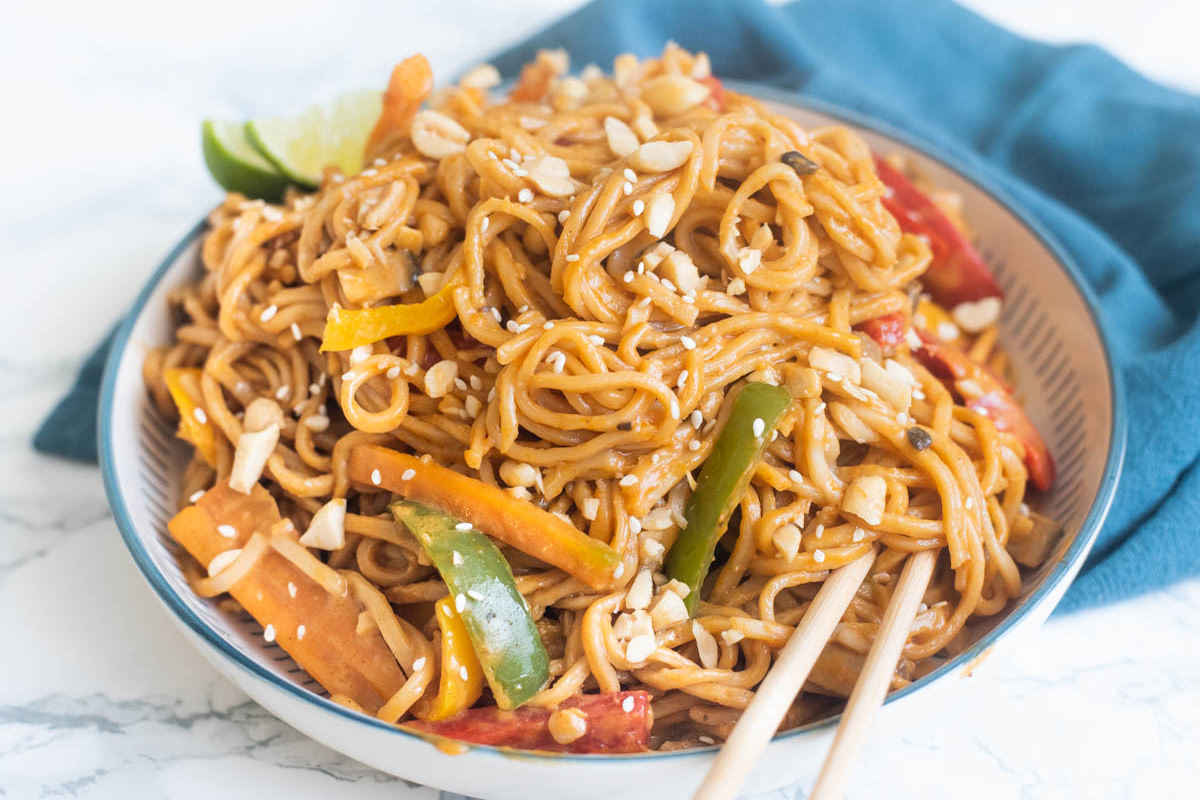 Shinta Simon, food blogger at CaramelTintedLife.com's Instant Pot Peanut Noodles
Makes 4 servings
Prep time: 10 minutes
Cook time: 20 minutes
For the noodles
250 grams (about 9 oz) Lo Mein noodles or use spaghetti noodles
1/2 cup Bell peppers sliced thin
1/2 cup mushrooms chopped
1/2 cup carrots sliced thin
3-4 garlic cloves finely chopped
1 Tbsp sesame oil
Salt, if desired
½ lemon
Crushed peanuts and toasted sesame seeds for garnish
For the sauce
3 Tbsp creamy peanut butter
1 Tbsp chili paste such as gochujang (or any chili sauce of your choice)
1 Tbsp rice vinegar
1 Tbsp soy sauce use a low-sodium variety
1 Tbsp oyster sauce
2¼ cup water
Turn on the Saute mode on the Instant Pot and add the sesame oil. Once the oil is hot, add the garlic and sauté for a minute until fragrant. Then add the veggies and continue to sauté for around four minutes until tender (they should be crisp, and not overcooked).
Hit Cancel and keep the veggies aside in a bowl. In a small bowl, whisk together the ingredients listed under 'sauce'. Check for seasoning, and add salt or adjust chili sauce if needed.
Add the sauce to the Instant Pot, followed by 2+¼ cup water. Whisk to combine. Break the lo mein noodles and place them in the Instant Pot. Push them down to submerge them as much as possible.
Close the lid of the Instant Pot and Pressure Cook for four minutes. Once the cooking cycle is complete and the Instant Pot beeps, manually release pressure (quick release).
Add the reserved veggies, and add the juice of half a lemon. Using tongs, gently toss the noodles and veggies. Garnish with toasted sesame seeds, crushed peanuts and serve.
Blissful Basil's Easiest Instant Pot Tofu Scramble
Makes 4 servings
Prep time: 10 minutes
Cook time: 12 minutes
2 Tbsp extra virgin olive oil or oil of choice
1 medium red or yellow onion, diced or sliced into half moons
1 cup frozen kale or frozen spinach
1 (14-oz) can crushed tomatoes
1 (16-oz) block Nasoya Super Firm Tofu
1 Tbsp nutritional yeast flakes
1 tsp smoked paprika
1 tsp garlic powder
1 tsp sea salt (see note: before cooking), plus more to taste
¼ tsp ground turmeric (optional for color)
Freshly ground black pepper
½-cup filtered water or vegetable broth
Turn the Instant Pot on to the Sauté setting. Add the oil and heat slightly. Then, add the onion and frozen kale (or other veggies). Sauté for just 3 minutes, or until the onions are slightly tender. Add the crushed tomatoes and continue to sauté for just another minute or so, stirring constantly.
Thoroughly crumble the Nasoya tofu into the Instant Pot using your hands. Then, stir in the nutritional yeast, paprika, garlic powder, salt, turmeric (if using), black pepper, and filtered water. (Time-saving tip: Crumble the tofu into a mixing bowl beforehand or while the veggies sauté and add the spices, too. This way, you can just dump and stir when the time comes).
Secure the Instant Pot lid and close the pressure valve. Set to the Pressure Cook setting, and set timer for three minutes. Once the Instant Pot has been brought to pressure and then cooked for 3 minutes, release the steam using the quick release valve.
Once the pressure has been released, open the Instant Pot, taste the scramble, and adjust the seasonings, adding more sea salt and black pepper to taste.
There will be quite a bit of liquid surrounding the tofu scramble (you need this much liquid to prevent burning and scorching while pressure cooking). You can either serve the scramble exactly as is with the tasty brothy liquid, use a slotted spoon to strain off some of the liquid, or set the Instant Pot to Sauté again and cook until some or most of the liquid simmers off. Your choice and delicious all three ways.
Serve immediately.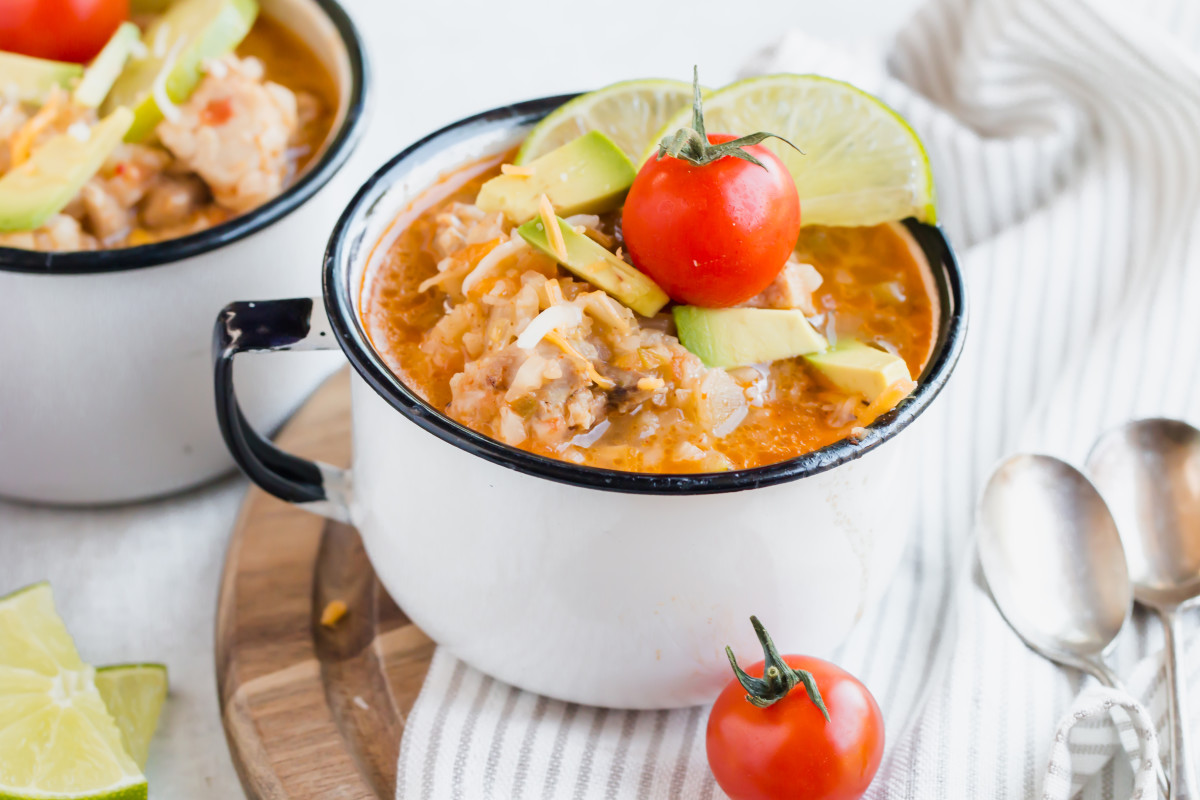 KetoFocus' Spicy Keto Chicken and Cauliflower Rice Bowls
Makes 4 servings
Prep time: 5 minutes
Cook time: 9 minutes
4 chicken thighs, diced (about 1.5 pounds)
1 Tbsp taco seasoning
1/4 cup diced onion
1 (4.5 oz) can diced green chilies
1/2 cup salsa
1/4 cup chicken broth
1 cup diced zucchini
1 (10 oz) package frozen cauliflower rice
1 cup shredded Mexican blend cheese
salt and pepper to taste
Add diced chicken thighs, taco seasoning, onion, green chilies, salsa, chicken broth, zucchini and cauliflower rice to the liner of the Instant Pot. Mix ingredients.
Attach the lid and turn the knob to sealing, not venting. Press the pressure cook button and set on high pressure for 9 minutes. When done, turn the knob to venting for a quick release.
After all the pressure has released, open the lid and stir in shredded cheese and salt and pepper to taste.
To make it as a freezer meal. Add all ingredients except cheese to a gallon plastic bag. Seal and freeze flat for later use. To make, unthaw the bag the night prior for best results. Add the contents of the bag to Instant Pot and continue with the steps above.
You can make this freezer meal from frozen; however, you will have to add additional broth or water to the liner along with your frozen ingredients. That way you won't get a burn notice from your Instant Pot and it is able to come to pressure with the liquid.
America's Test Kitchen Mole Chicken Tacos (pictured above)
Makes 4 servings
Prep time: 10 minutes
Cook time: 1 hour
1 red onion (½ cut into ¾-inch pieces, ½ chopped fine)
2 dried ancho chiles, stemmed, seeded, and torn into ½-inch pieces (½ cup)
1 Tbsp vegetable oil
1 Tbsp sesame seeds
1 Tbsp unsweetened cocoa powder
2 garlic cloves, peeled
¼ tsp ground cinnamon
½ tsp table salt
2 cups chicken broth
¾ cup canned diced tomatoes, drained
¼ cup raisins
2 Tbsp unsalted dry-roasted peanuts
4 cups shredded cooked chicken
12 (6-inch) corn tortillas, warmed
1 cup fresh cilantro leaves
Lime wedges
Microwave onion pieces (reserve finely chopped onion), anchos, oil, sesame seeds, cocoa, garlic, cinnamon, and salt in bowl, stirring occasionally, until onion is softened, about 5 minutes. Transfer to Ace blender along with broth, tomatoes, raisins, and peanuts. Lock lid in place, then select soup program 2 (for creamy soups).
Once the program has completed, carefully remove the lid and stir in chicken. Let sit until heated through, about two minutes. Season with salt and pepper to taste. Serve filling on tortillas, topped with cilantro and finely chopped onion, passing lime wedges separately.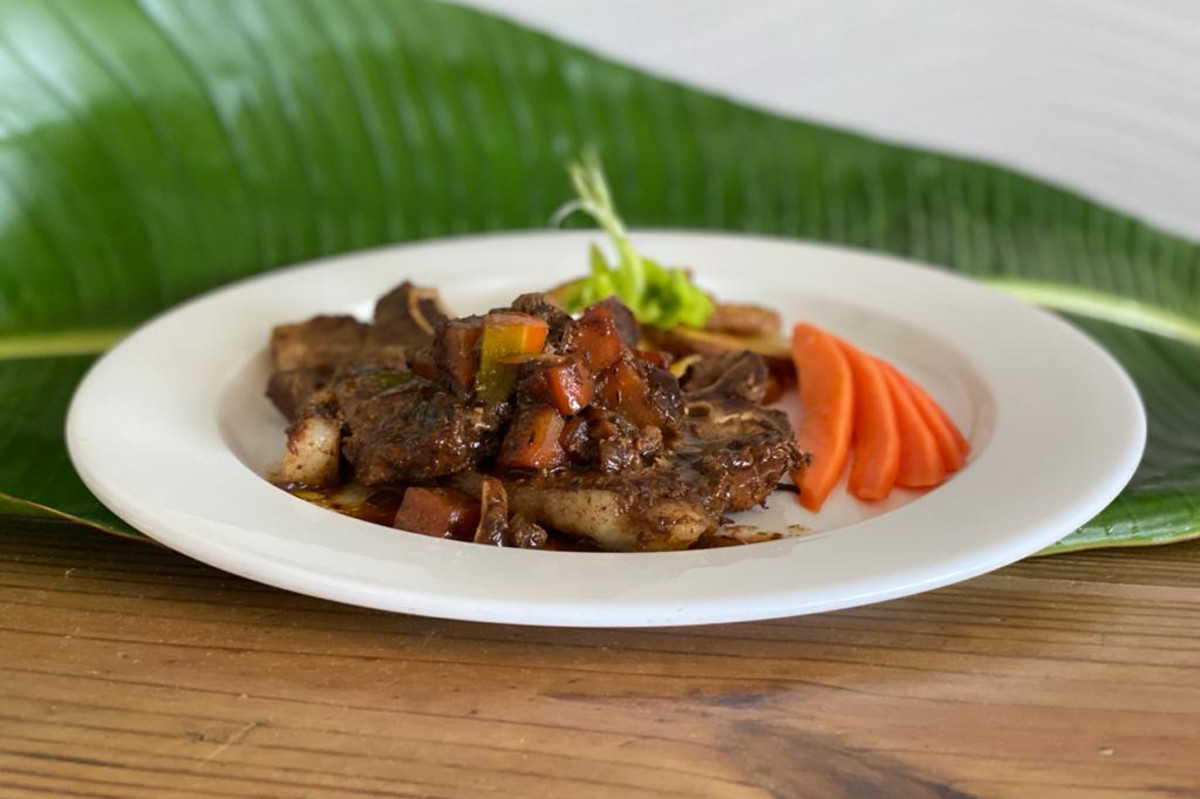 Executive Chef of Hedonism II Resort in Negril, Jamaica, Anthony Miller's Under Pressure Jerk Pork Chops
Makes 3 servings
Prep time: 30 minutes
Cook time: 20 minutes
1 Tbsp jerk seasoning
4 pork chops bone in or out
1 cup soy sauce
1/4 cup of butter
1 cup diced onions
5 crushed garlic cloves
1 sliced carrot
1 Tbsp chopped green onions
1 tsp minced ginger
1 1/2 cups of water
Place thawed pork chops on a plate and dry both sides with a clean towel.
Add butter, onions, garlic, carrots, ginger, and green onions to Instant Pot and allow to heat for three minutes
Rub pork chops with jerk seasoning evenly coating both sides before adding to pot.
Add soy sauce and water, and close lid tight, cook on low heat for 20 minutes.
Serve with desired sides.
For access to exclusive gear videos, celebrity interviews, and more, subscribe on YouTube!