Radio and TV personality Angie Martinez collaborates with celebrity chef Angelo Sosa for healthy versions of their families' favorite recipes. More of these recipes can be found in their new book, Healthy Latin Eating.
…You're now good to go, whether just for you, or if in need of a smart and fresh Valentine's Day move. Enjoy.
ENTER TO WIN A SIGNED COPY OF HEALTHY LATIN EATING >>>
RECIPE ONE: Cucumber & Serrano Chile Salad
from Angelo
Though the true inspiration for this dish comes from Malaysia, I've added the Latin ingredient pineapple. The symbol of hospitality, pineapples originated in South America, but spread throughout Central America and the Caribbean. In this recipe, I love how the crunch and cool flavor of the cucumber marries with the intense heat of the chile and the sweetness of the pineapple. This salad is so refreshing and makes for a great accompaniment to any meal.
Serves: 4
time: 5 minutes
2 large cucumbers, halved lengthwise, seeded, and cut into bite-size pieces
1 serrano chile pepper, seeded and minced
1/2 medium red onion, cut in half and sliced into thin half moons
1 cup large cubed pineapple (see Tip)
1/4 cup chopped fresh mint, or to taste juice of
1 lime
1 tablespoon grapeseed oil
1 teaspoon sugar
1 teaspoon kosher salt freshly ground black pepper
Toss together the cucumbers, chile, onion, pineapple, and mint in a salad bowl. Pour the lime juice and grapeseed oil over the cucumber mixture and toss to combine. Add the sugar, salt, and pepper to taste, and toss gently to combine.
Tip: Picking a Pineapple
For pineapple, you want to select a sweet and juicy fruit that's robust and will burst with flavor. Let your senses lead the way. First, pick up the pineapple. It should not be too firm or too soft. You should almost be able to sink your fingers into the fruit. Next, smell it. It should have a nice, sweet scent. Once at home, let it sit on the counter for a couple of days to let the sugars concentrate—the flavor will become sweeter and more intense.
RECIPE TWO: Tuna Tartare
from Angie
When Angelo and I taped a segment for my web series "Being Better," he gave me this advice on buying tuna: it should smell like the ocean. Fresh fish should never smell even a little bit fishy. If it does, skip it. When shopping for this raw dish, go with sashimiquality tuna from a good seafood market and use it that day.
serves: 2
time: 20 minutes
1 cup chopped sashimi-grade
tuna
2 tablespoons diced red onion
1 tablespoon diced jalapeno
2 sprigs fresh cilantro,
chopped
kosher salt
2 tablespoons chipotle chile powder
1/4 cup grapeseed oil
1/2 teaspoon sugar
3 tablespoons fresh lime juice
In a medium bowl, comdine the tuna, onion, jalapeno, cilantro, and salt to taste. Mix and chill for 10 minutes. Combine the chipotle powder, oil, 1/2 teaspoon salt, the sugar and lime juice in a blender and blend on high for 30 seconds. Chill for 10 minutes. To serve, drizzle the tuna with the vinaigrette and toss.
RECIPE THREE: Grilled Skirt Steak Tacos
from Angelo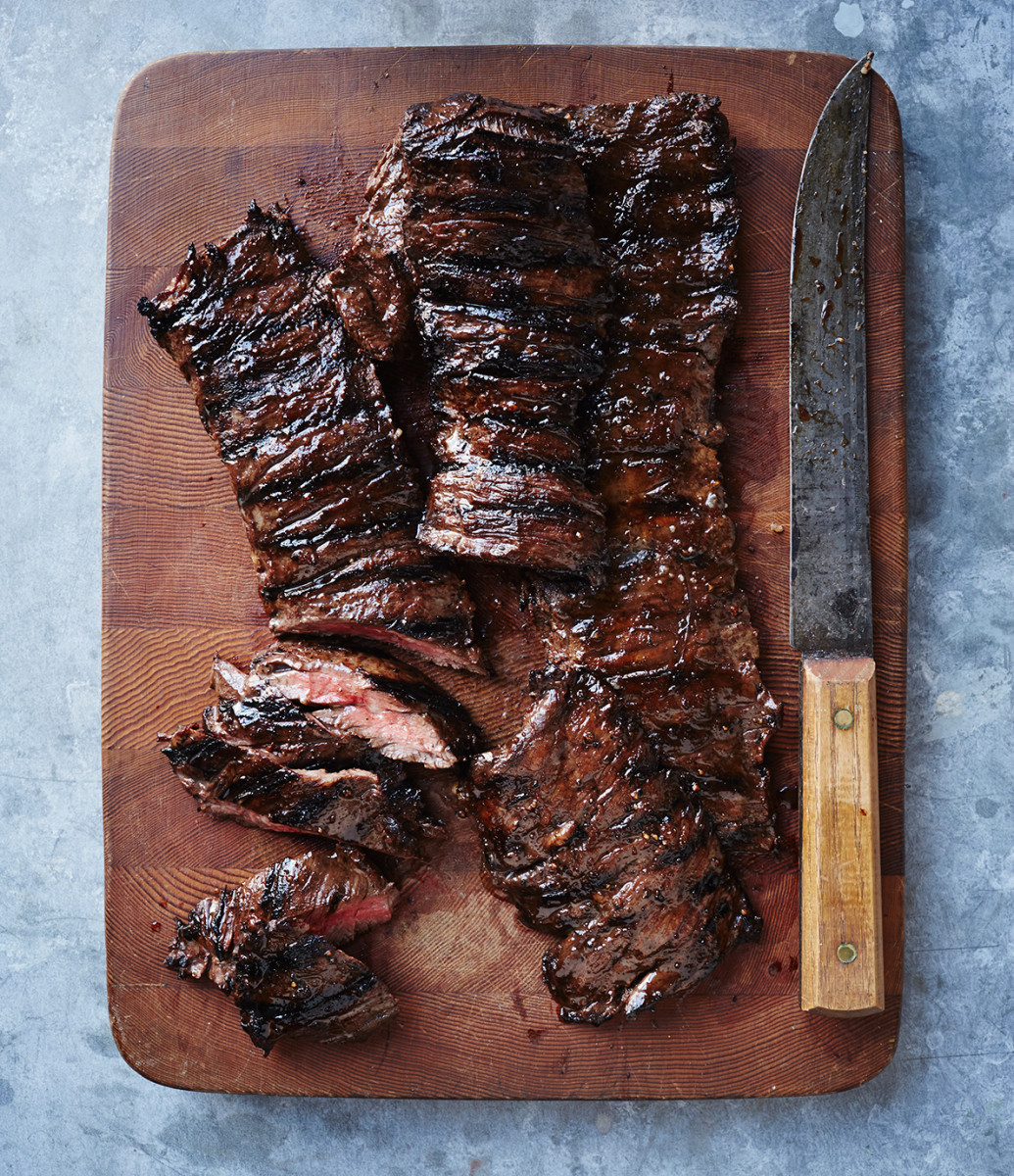 I like using skirt steak as opposed to ground beef in this recipe because it's incredibly flavorful and satisfying. Trust me, there's nothing like biting into a taco filled with slices of spice-rubbed meat with a crispy char on the surface. The lightly pickled vegetables and cilantro add a welcome acidity and brightness to this dish that makes it brilliant.
serves: 4
time: 30 minutes
1 tablespoon cumin seeds
1 tablespoon coriander seeds
2 dried bay leaves
kosher salt
1/2 pound skirt steak
3 tablespoons grapeseed oil
1 cup shredded carrots
1 cup shredded cabbage
1/4 cup red wine vinegar
3 tablespoons sugar
1 tablespoon Tabasco sauce
8 (6-inch) corn tortillas
fresh cilantro sprigs
In a small, dry sauté pan over medium heat, lightly toast the cumin, coriander, and bay leaves until aromatic, about 2 minutes. let cool completely, then grind the spices in a spice grinder with 1 tablespoon of salt until very fine. Pat the steak dry with paper towels and rub with the oil and the spice mixture until thoroughly coated. (Transfer any extra spice rub to an airtight container and store in a dark place for up to 6 months.) Let the steak stand at room temperature for 30 minutes to marinate. In a large bowl, combine the carrots, cabbage, and 3 tablespoons salt and let stand for 30 minutes. Rinse the vegetables, squeeze out any excess liquid, and set aside. Meanwhile, in another large bowl combine the vinegar, sugar, and Tabasco.
Add the vegetables to the bowl and toss well. Heat an outdoor grill or a grill pan to medium-high heat and cook the meat until well charred on the outside but still pink on the inside, about 2 minutes per side. Let rest for a couple minutes before thinly slicing against the grain. Wrap the tortillas in a damp kitchen towel and steam them in the microwave until soft – 1 minute or less. Using tongs, carefully flash each tortilla over a burner, tunring once, to release the corn flavor. To serve, place a spoonful of the marinated vegetables on each tortilla, top with a few slices of the beef, and garnish with a sprig of cilantro.
RECIPE FOUR: Niko's Tropical Smoothie
from Angie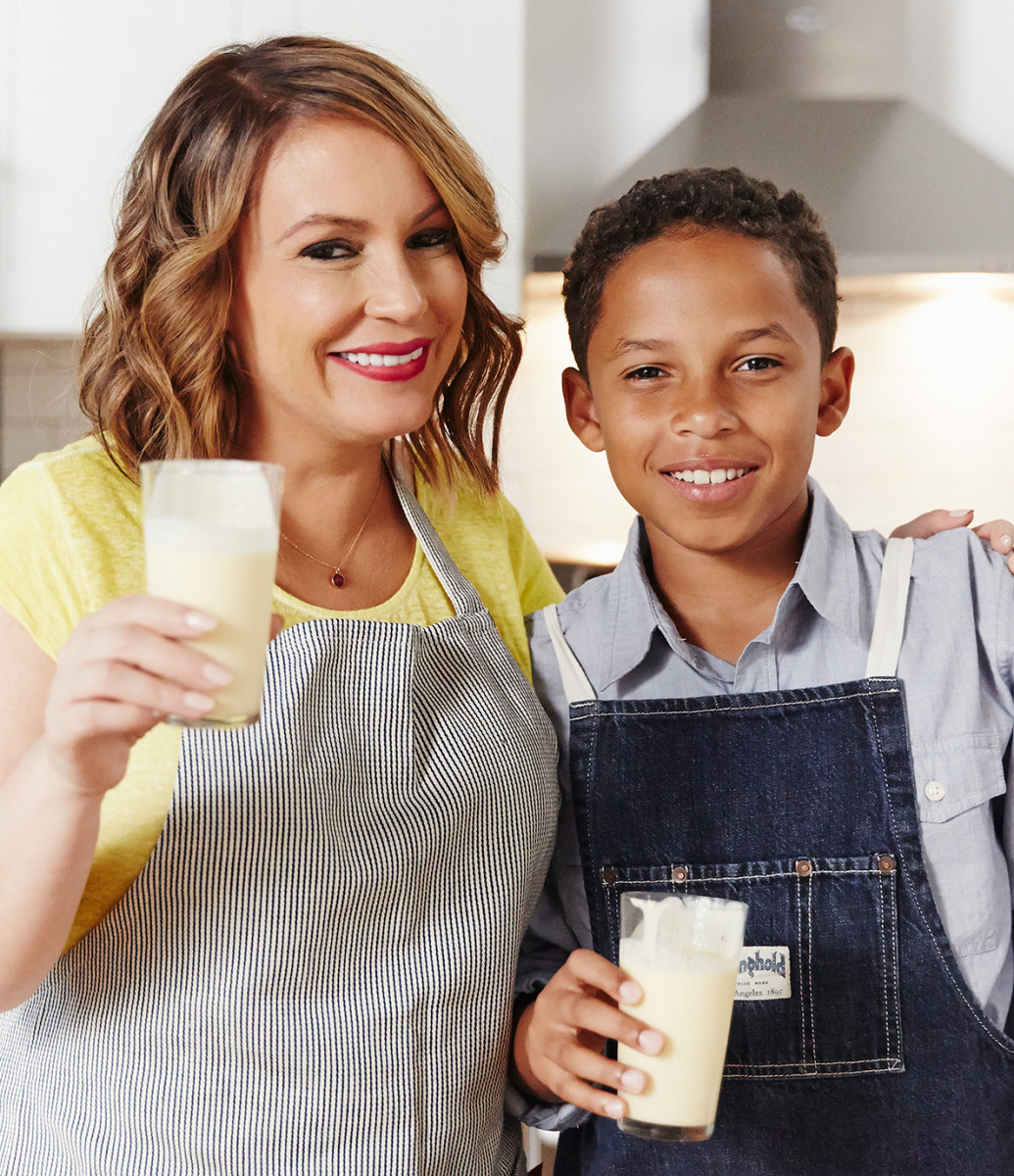 My son Niko is super sweet, as I know I've already said but it's true! He'll do things for me when I least expect it. Like on Mother's Day, he brought me breakfast in bed, including this smoothie served in a really nice glass. I like that the Greek yogurt has protein and satisfies my hunger in the morning. Plus, it's got naturally sweet and delicious fruit that's worth jumping out of bed for.
serves: 1 to 2
time: 5 minutes
1 peeled and diced frozen mango
1 cup chopped pineapple
1 cup nonfat Greek yogurt
1/2 cup low-fat (1%) milk
3 to 4 ice cubes
Place all the ingredients in a blender and blend until smooth. Pour into one or two pretty glasses and serve.
For access to exclusive gear videos, celebrity interviews, and more, subscribe on YouTube!