While traveling through Southeast Asia—hitting up spots in Indonesia, Malaysia, Singapore and Thailand—we feasted on some of the most delicious and flavorful foods we've ever tasted. This grilled lemongrass chicken with mango-cucumber salad is inspired by our travels and is exactly what we want to eat all summer long. It's packed with umami and fresh flavors like lemongrass, coriander and ginger, which pair very nicely with the sweetness of the mango and cooling taste of the cucumber. It doesn't hurt that it's low-carb and high-protein, which makes it perfect for your summer-body goals.
The five-day workout plan to burn off the extra body fat
INGREDIENTS—serving four
10-12 Chicken thighs – preferably free-range, organic, bone-in and skin-on
2 Anchovy filets – packed in olive oil
1 Stalk of lemongrass
1 med-sized onion – sliced
2 Mangoes – julienned
1 English cucumber – julienned, core reserved
3 cloves garlic
2 tbsp fresh ginger
2 Thai Bird Chilies 
1 cup coriander – roughly chopped
2 limes
¼ cup Fish Sauce
1/8 cup Coconut Aminos (or substitute low-sodium, organic soy sauce)
1 tbsp + 1 tsp all-natural maple syrup 
1/8 cup rice wine vinegar 
1 cup extra-light olive oil
2 tsp sesame oil
Salt and Pepper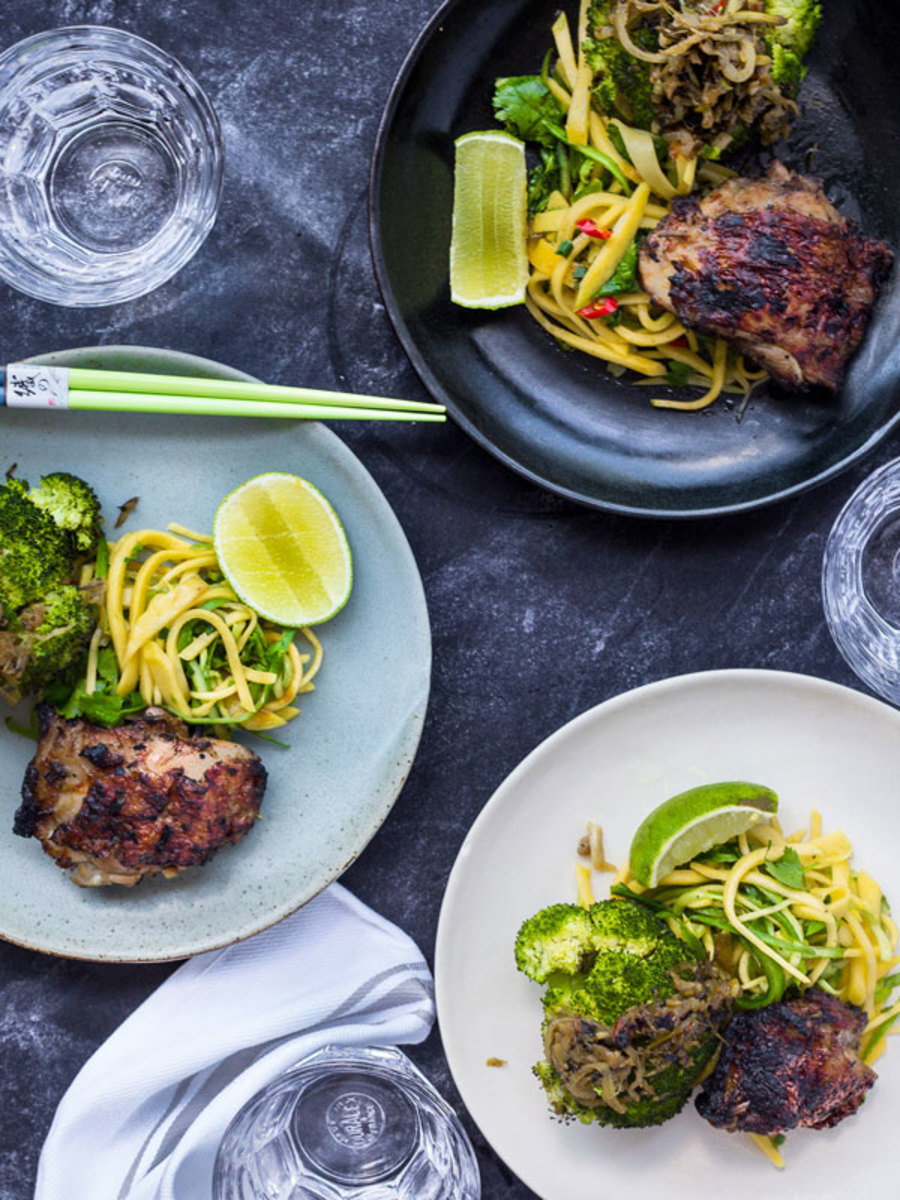 METHOD
For the Lemongrass Chicken:
Rinse the lemongrass under cold water and discard its outer layer. Using the back of your knife, tap along the stalk to soften it and release the aromatics. Flip the knife back over and give the lemongrass a very fine chop. Add it to a large mortar and pestle along with the garlic, ginger, chilies, anchovies, zest of 1 lime, ½ cup coriander and 1 tsp kosher salt. Give everything a very good bashing until you form a chunky paste (Alternatively, you can use a food processor, but where's the fun in that?) Add-in the fish sauce, coconut aminos, rice wine vinegar, juice of 1 lime, 1tbsp maple syrup and extra-light olive oil and give everything a good stir. Taste for seasoning. It should be fairly salty. If not, add a pinch more salt and taste again.
Rinse and dry the chicken thighs and place them in a zip-top bag. Pour-in the marinade along with the sliced onion. Give everything a good massage then seal the bag and refrigerate for 6hrs to overnight.
Preheat the grill to med-low heat. Remove chicken thighs from marinade and place over direct heat, skin side down. Cook the chicken, flipping occasionally, until the internal temperature reads 165F (approx. 16-18 min. total). Meanwhile, transfer marinade and onions to a grill-safe cast-iron skillet and place over direct heat as well. Cook until the onions have caramelized and juices reduced, stirring occasionally to prevent burning. Remove everything from grill.
For the Mango Salad:
Add the mango, cucumber, ½ cup coriander, sesame oil, 1tsp maple syrup, juice of 1 lime and a pinch of salt and pepper to a bowl. Toss everything to combine and refrigerate for 1-2 hours for the flavors to marry.
Tip: rather than discarding the core and seeds of the cucumber, slice into discs and add to a pitcher of water to infuse it with flavor.
To serve:
Pile the mango salad high in the center of a serving platter and arrange the chicken thighs around it. Spoon the caramelized marinade overtop of the chicken or grilled vegetables of your choice (optional). Garnish with thinly sliced chilies. Enjoy with plenty of the cucumber-water you made.
Ronny Joseph is an expert contributor to Men's Fitness magazine and HUMANFITPROJECT. For more easy-to-make recipes—follow him on Instagram.
For access to exclusive gear videos, celebrity interviews, and more, subscribe on YouTube!