The latest science on the best breakfasts for weight loss suggests people who eat a high-protein meal consume fewer calories the rest of the day, according to a study in the journal Current Developments in Nutrition. They're also less likely to reach for high-fat and high-carb foods; plus they sleep better at night (you're more likely to lean on junk food when you're sleep-deprived, studies show).
If you do your best to eat a healthy breakfast, you've likely consumed a coop full of eggs and a bushel of oats over the past several months—and your recycling bin overfloweth with empty yogurt containers. After all, healthy high-protein breakfasts don't come easier than eggs, oatmeal, and yogurt.
But they do come more delicious. That's why we asked a few of our favorite nutritionists, dietitians, and cookbook authors to create some tasty alternatives to the gold (yet boring) standards.
Result: nine unique and delicious breakfast options that pack a high-quality protein punch. Read on—breakfast is about to get much more interesting.
9 High-Protein Breakfasts for Weight Loss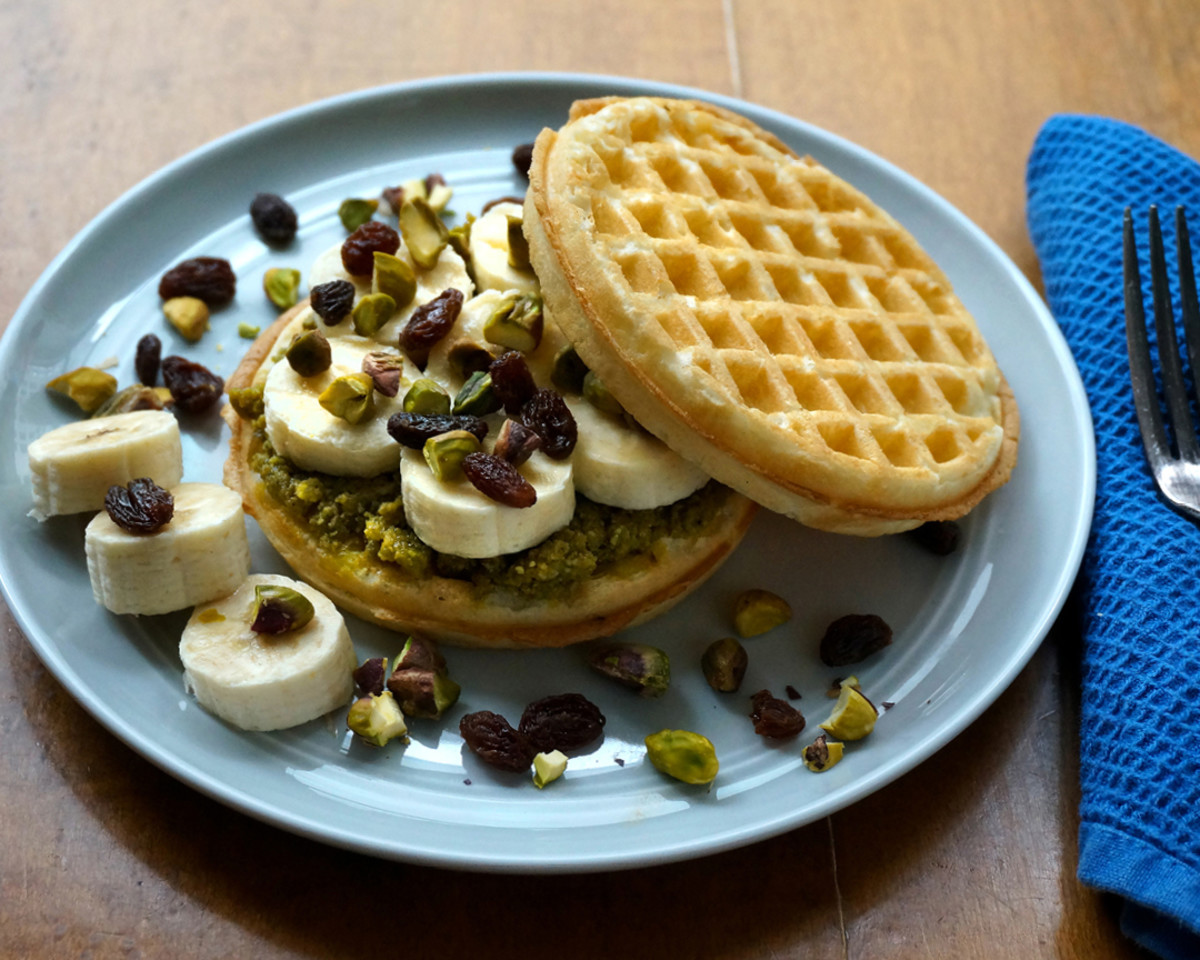 1. Plant Protein Waffle Sandwich
This recipe can satisfy your sweet tooth and carry you through to lunch, says creator Elizabeth Shaw, MS, RDN, CPT, author of The Instant Pot Cookbook for Dummies and owner of shawsimpleswaps.com.
"Don't fear the fat!" says Shaw. "Nearly 90 percent of the fats found in pistachios are the good-for-you mono- and polyunsaturated types," she says. "Plus, nuts are a good source of plant protein and fiber, which work together keep you fuller longer."
Makes 1 serving
Prep: < 5 minutes
Cook: < 5 minutes
Protein: 18 grams
Ingredients
For the Pistachio Butter
16 oz roasted pistachios
½ tsp kosher salt
1 tsp maple syrup, optional
For the Sandwich
2 whole-grain protein waffles
1½ tbsp pistachio butter
1 oz roasted, salted, shelled pistachios, chopped
½ oz raisins
1 medium banana, sliced
Directions
To make pistachio butter: Add pistachios to a high-powered blender or food processor. Process 1 minute on high, then add salt and syrup (if using). Process until smooth. Set aside 1½ tablespoons and store remainder in an air-tight container in the fridge.
To make the sandwich: Toast waffles. Spread reserved pistachio butter on top of one waffle. Layer on banana slices and sprinkle with chopped pistachios and raisins. Top with remaining waffle.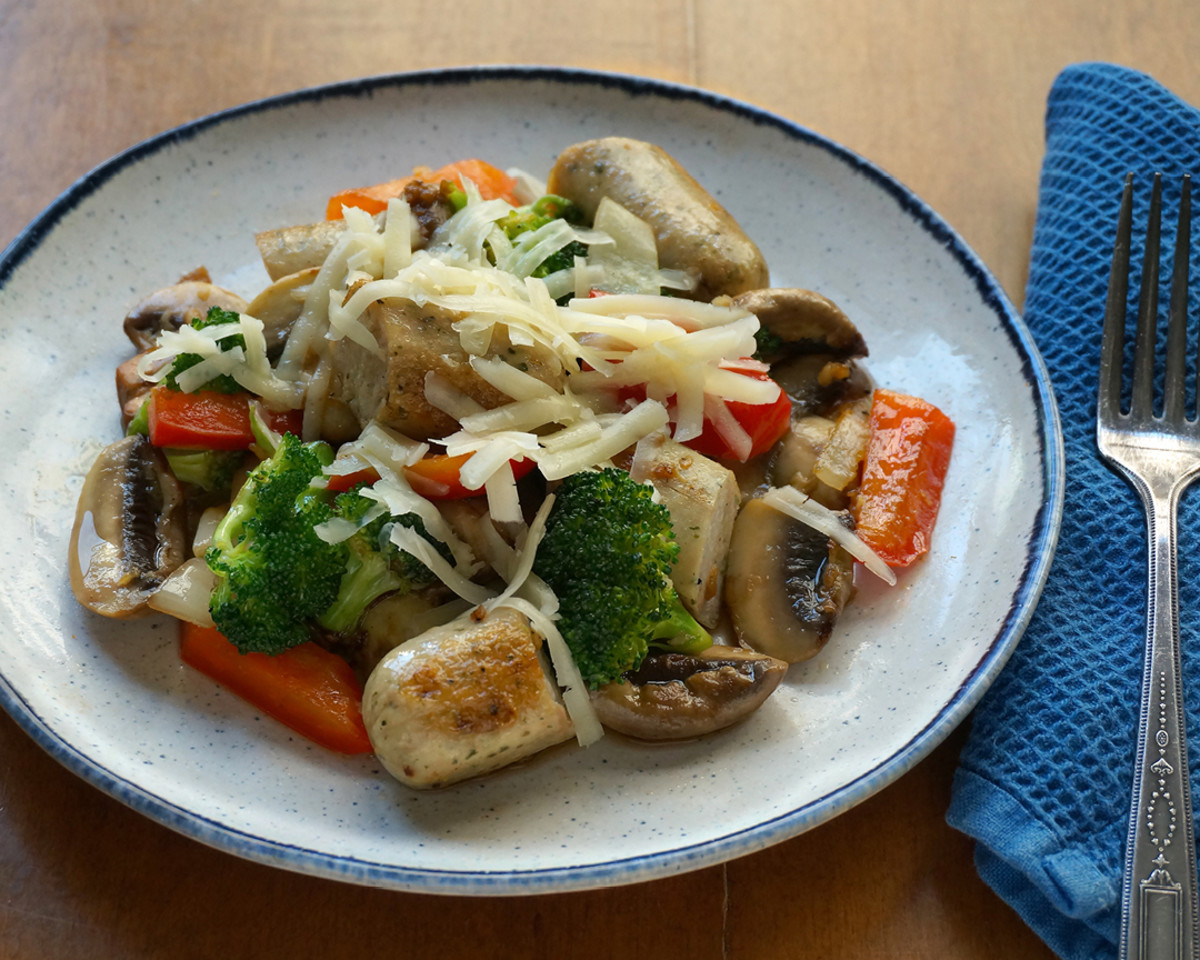 2. Everything-But-the-Kitchen-Sink Breakfast
"Whether you've just crushed a workout or need to power through a morning of meetings, this breakfast has the staying power for a day of wins," says Anne L'Heureux, RDN.
Bonus: No matter what vegetables you have hanging out in your fridge, this recipe will always come out right, L'Heureux says.
Makes 4 servings
Prep: < 10 minutes
Cook: 10 minutes
Protein: 14 to 22 grams (depends on sausage brand and optional cheese)
Ingredients
1 tbsp olive oil
1 lb lean chicken sausage
2 cups fresh vegetables of choice (e.g. onions, mushrooms, peppers, spinach), chopped
¼ cup shredded cheese, optional
2 tbsp garlic, minced
Salt and pepper, to taste
Directions
Heat olive oil in a large skillet over medium-high. Add sausage to pan and cook 2 to 3 minutes, searing on all sides, or until internal temperature reaches 165˚F. Set aside.
Add vegetables and garlic to skillet, stirring frequently, until softened. Slice sausage diagonally into 2-inch pieces and return to skillet. Add salt and pepper (to taste) and stir to combine.
Divide into four equal portions. Store three portions in individual containers in the fridge or freezer. Top the fourth with cheese (if using) and serve.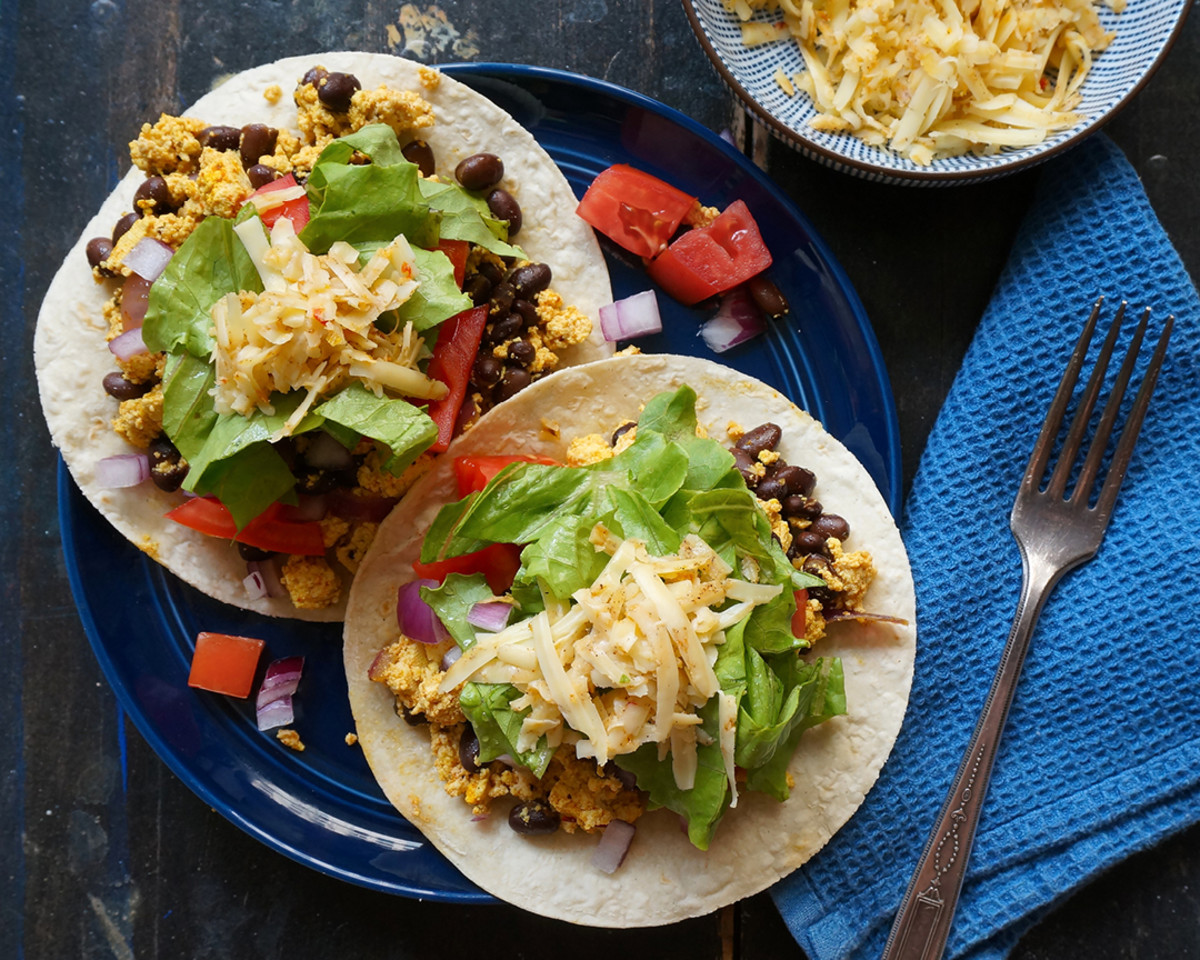 3. Feel-the-Burn Black Bean and Tofu Scramble
Taco Tuesday is not just a dinner thing. "This plant-based breakfast will fuel your workout and start your day right," says L'Heureux. Not a tofu fan? She suggests using ground turkey or scrambled eggs instead.
Makes 6 servings (serving size = 2 tacos)
Prep: 10 minutes
Cook: 15 minutes
Protein: 26 grams
Ingredients
1 (14 oz) package extra firm tofu, drained
1 tsp turmeric
1 tbsp low-sodium taco seasoning
1 tbsp extra virgin olive oil
½ cup red onion, chopped, divided
2 cloves garlic, minced
1 (15 oz) can black beans, rinsed and drained
12 corn tortillas (10-inch)
3 cups romaine lettuce, chopped
1 large tomato, chopped
1 cup shredded habañero cheese or Mexican cheese blend
Directions
Place tofu in a medium bowl and use a potato masher to break it into pieces so it resembles scrambled eggs. Gently stir in turmeric and taco seasoning and set aside.
Heat olive oil in a large skillet over medium-high. Add garlic and ¼ cup onions and cook until fragrant, about 2 to 3 minutes. Add tofu to skillet, stirring gently to heat through.
Add black beans and heat an additional 2 minutes. Microwave tortillas in batches to heat. Divide tofu mixture between tortillas and top with remaining onions, lettuce, tomatoes and cheese.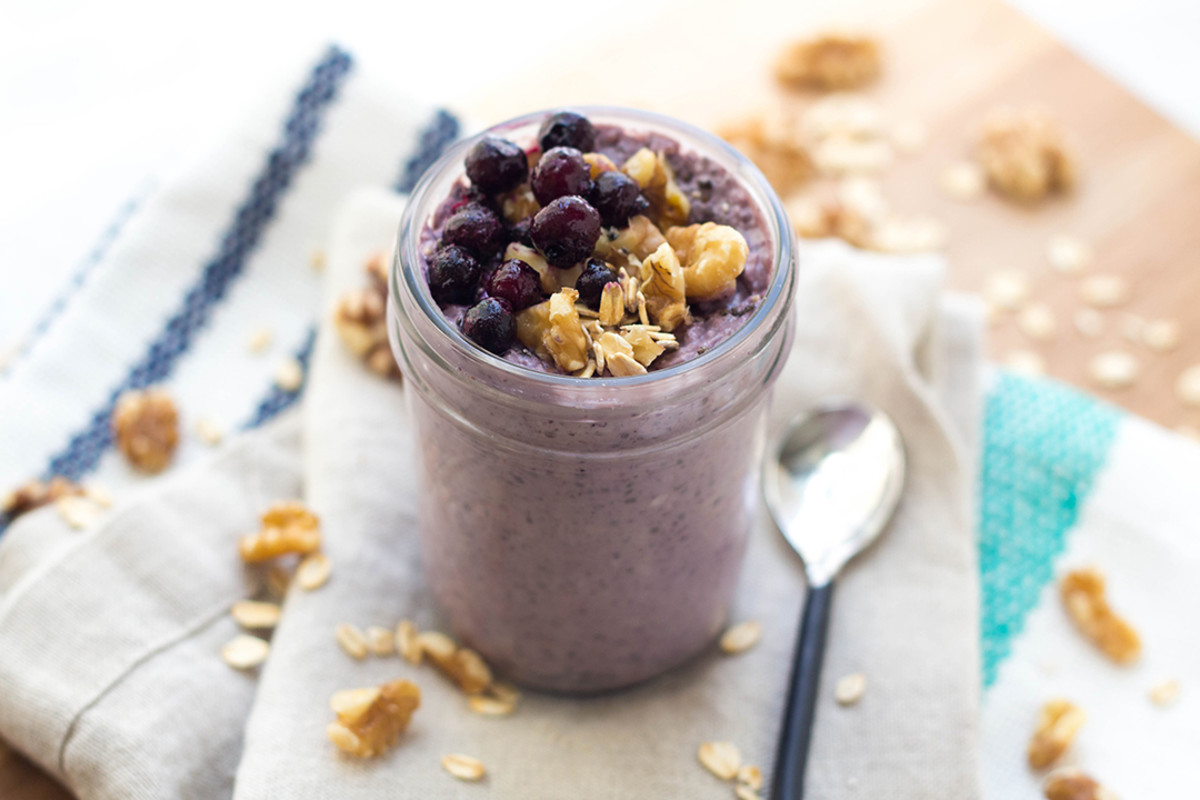 4. Blueberry Walnut Overnight Oats
This make-ahead meal from ACSM exercise physiologist Jim White, RDN, delivers 20 grams of heart-healthy protein from yogurt, milk, chia seeds, and walnuts.
Makes 1 serving
Cook: > 5 Minutes
Wait: 4 to 24 Hours
Protein: 20 grams
Ingredients
½ cup frozen blueberries
½ banana
1/3 cup plain Greek yogurt
1/3 cup nonfat milk
¼ cup chopped walnuts, divided
1 tsp honey
1/8 tsp vanilla extract
1/3 cup rolled oats
1 tbsp chia seeds
Directions
Add blueberries, banana, yogurt, milk, honey, vanilla, and 3 tablespoons walnuts to a blender cup and blend until smooth. Pour mixture into a bowl and stir in oats and chia seeds until well-incorporated.
Pour mixture into a small Mason jar or storage container and top with remaining walnuts. Cover and refrigerate 4 hours, or overnight.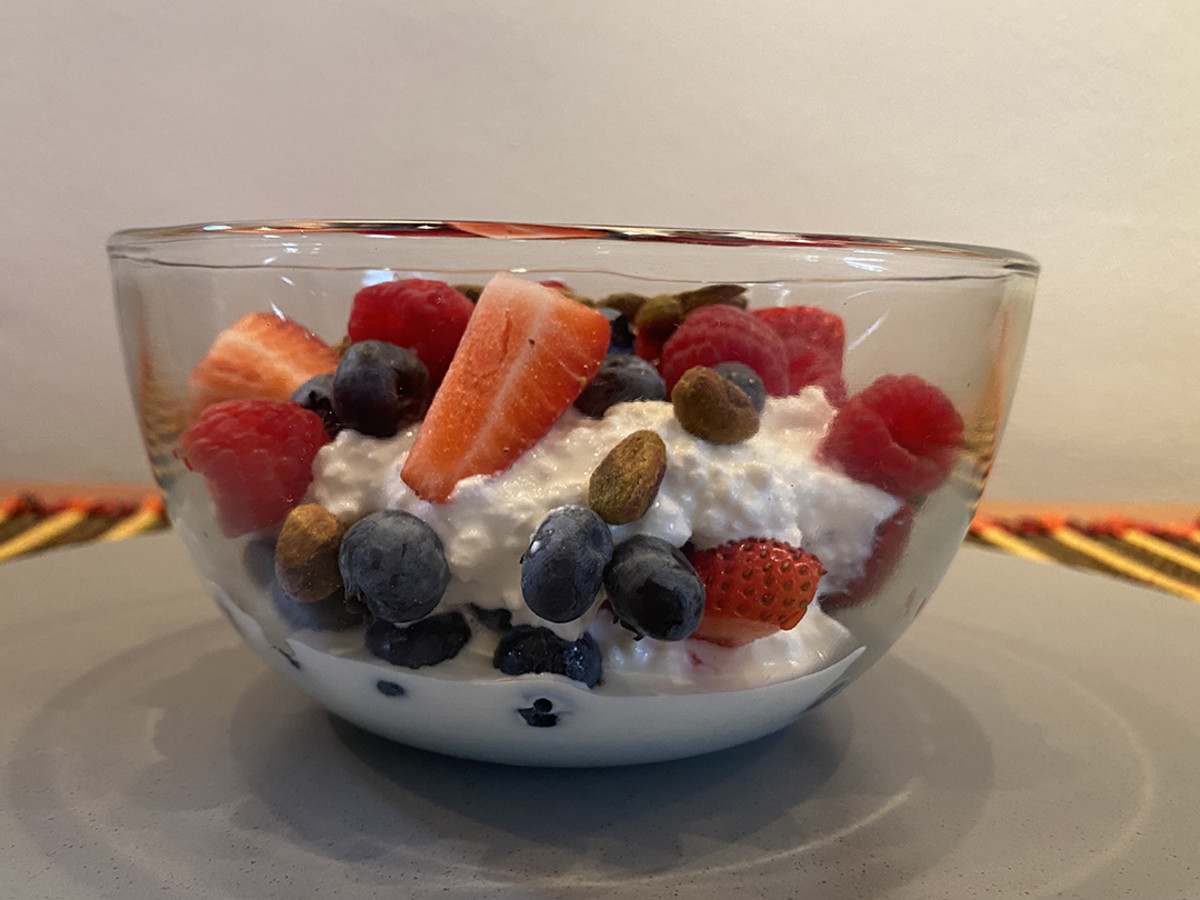 5. Cottage Cheese Parfait
While a parfait sounds fancy, this recipe from Leslie Bonci, MPH, RDN, CSSD, LDN, a sports dietician for the Kansas City Chiefs and owner of activeeatingadvice.com, delivers more than 35 grams of protein in each serving.
Makes 1 serving
Prep Time: > 5 minutes
Protein: 35 grams
Ingredients
8 oz cottage cheese
1 cup mixed berries, fresh or frozen (thawed)
2 tbsp shelled pistachios
Directions
In a jar, bowl, or parfait cup, alternate layers of cottage cheese, berries, and pistachios.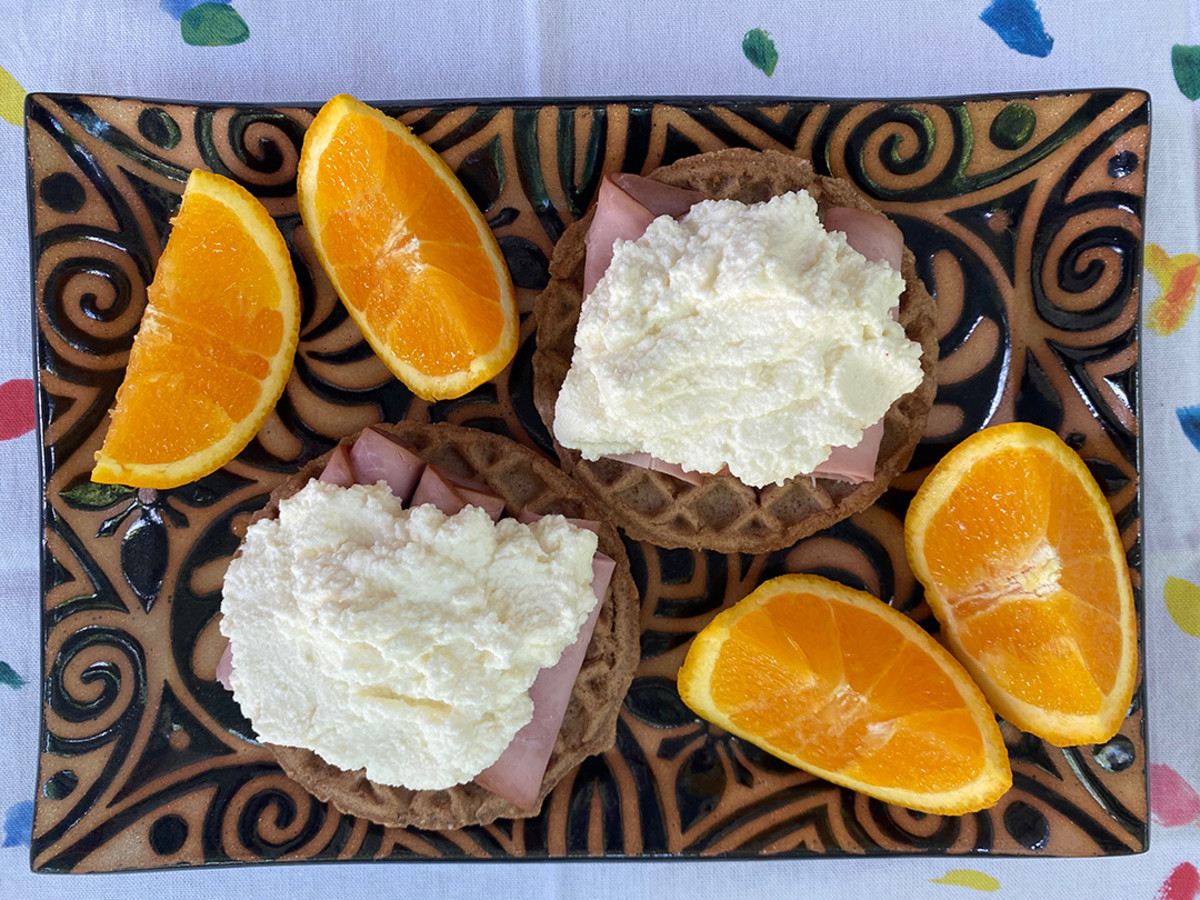 6. Waffles with Ham, Ricotta and Orange Slices
Sometimes you've just got a hankering for ham. This recipe from Bonci leverages that craving in a healthy way.
Makes 1 serving
Prep: 5 minutes
Protein: 24 grams
Ingredients
2 whole-grain frozen waffles
6 thinly sliced pieces of ham (about 2 oz)
½ cup 2% ricotta cheese
1 orange, cut into wedges
Directions
Toast waffles or microwave according to package directions. To each waffle, layer 3 slices ham and 2 tablespoons cheese. Serve with orange slices.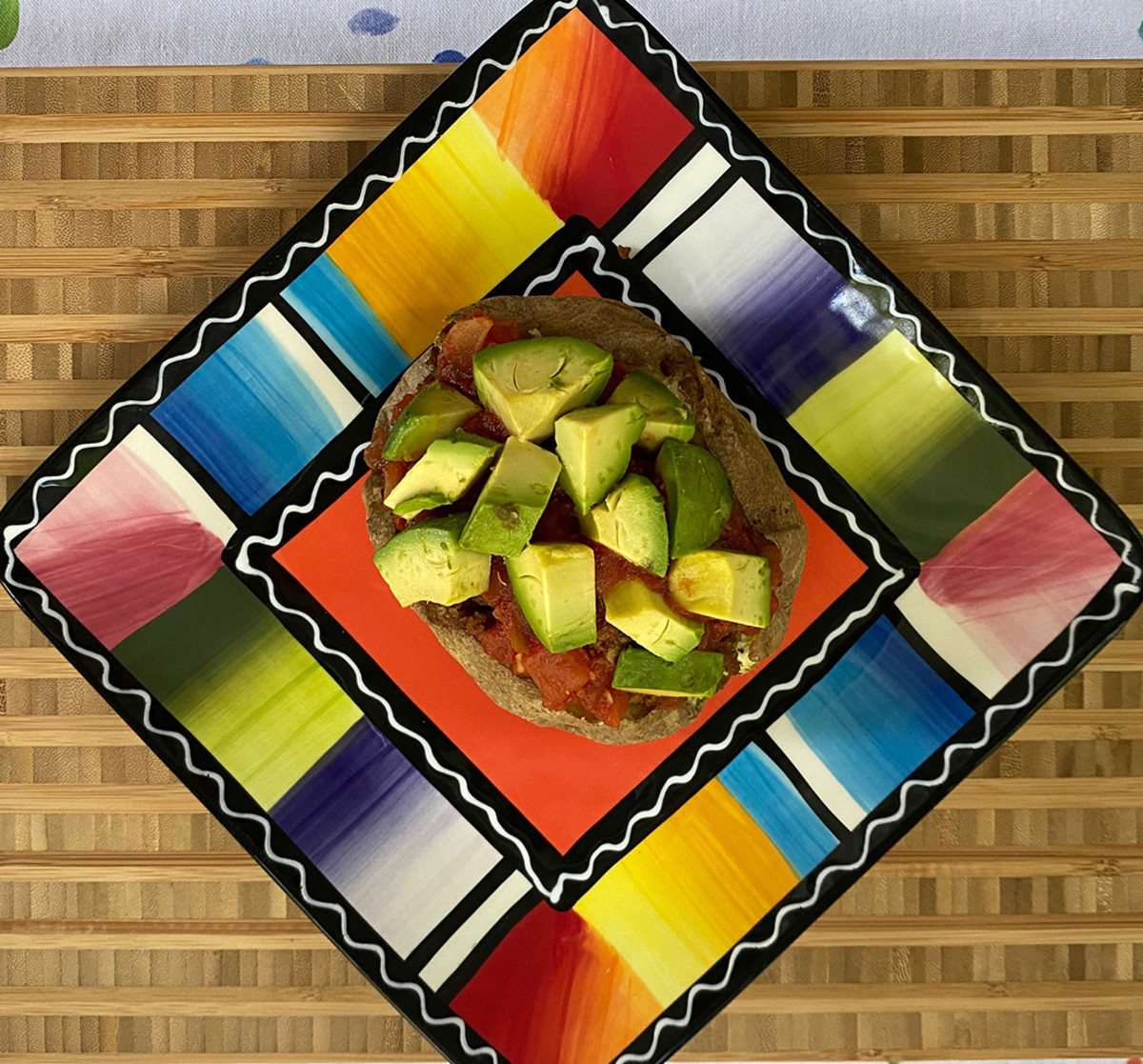 7. Veggie Crumble-Stuffed Potato with Avocado and Salsa
If you're vegetarian, vegan, or simply lean toward plant-based eating, you're always on the hunt for tasty high-protein recipes. This simple concoction from Bonci is the perfect blend of savory flavors.
Makes 1 serving
Prep: 10 minutes
Protein: 27 grams
Ingredients
½ cup vegetable-based "meat" crumbles, (e.g. Morningstar Farms, Boca, or Beyond Meat)
1 medium potato, baked
¼ cup salsa
½ avocado, peeled, pitted, and chopped
Directions
Place veggie crumbles in a pan and place over low to medium heat until heated through. Slice potato open and heat in microwave.
Top with veggie crumbles, salsa, and avocado.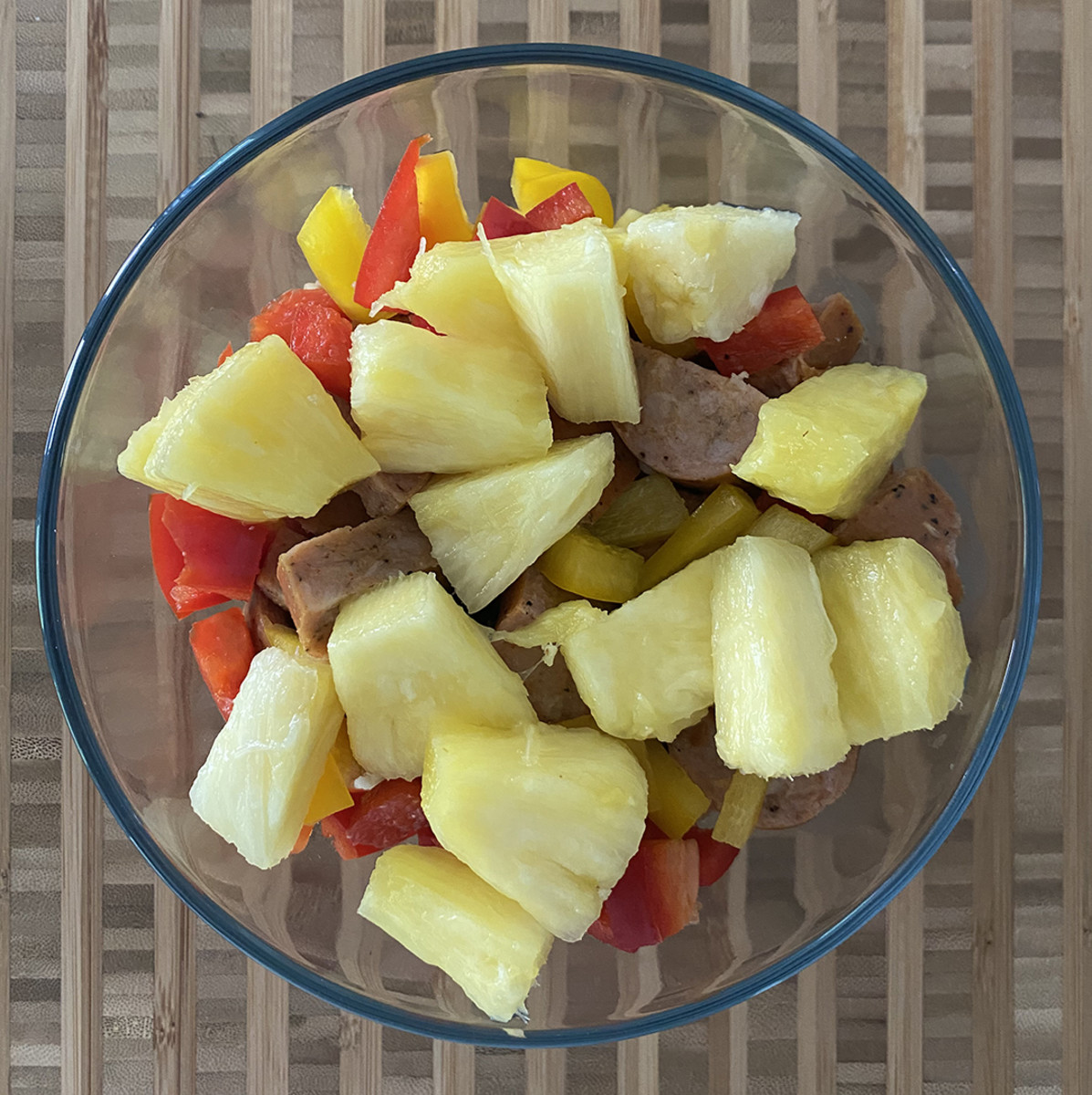 8. Rice, Chicken Sausage, Peppers, and Pineapple Bowl
If you're looking for a less conventional meal—that can be eaten any time of the day, really—try this recipe from Bonci.
Makes 1 serving
Prep: 10 minutes
Protein: 35 grams
Ingredients
1 single-serve packet microwavable instant rice
2 precooked chicken sausage links
¼ cup bell peppers (red, yellow, green or orange), chopped
½ cup pineapple, chopped
Directions
Microwave rice according to package directions. Dice sausage links and microwave to heat through. Place all ingredients in a large bowl and serve.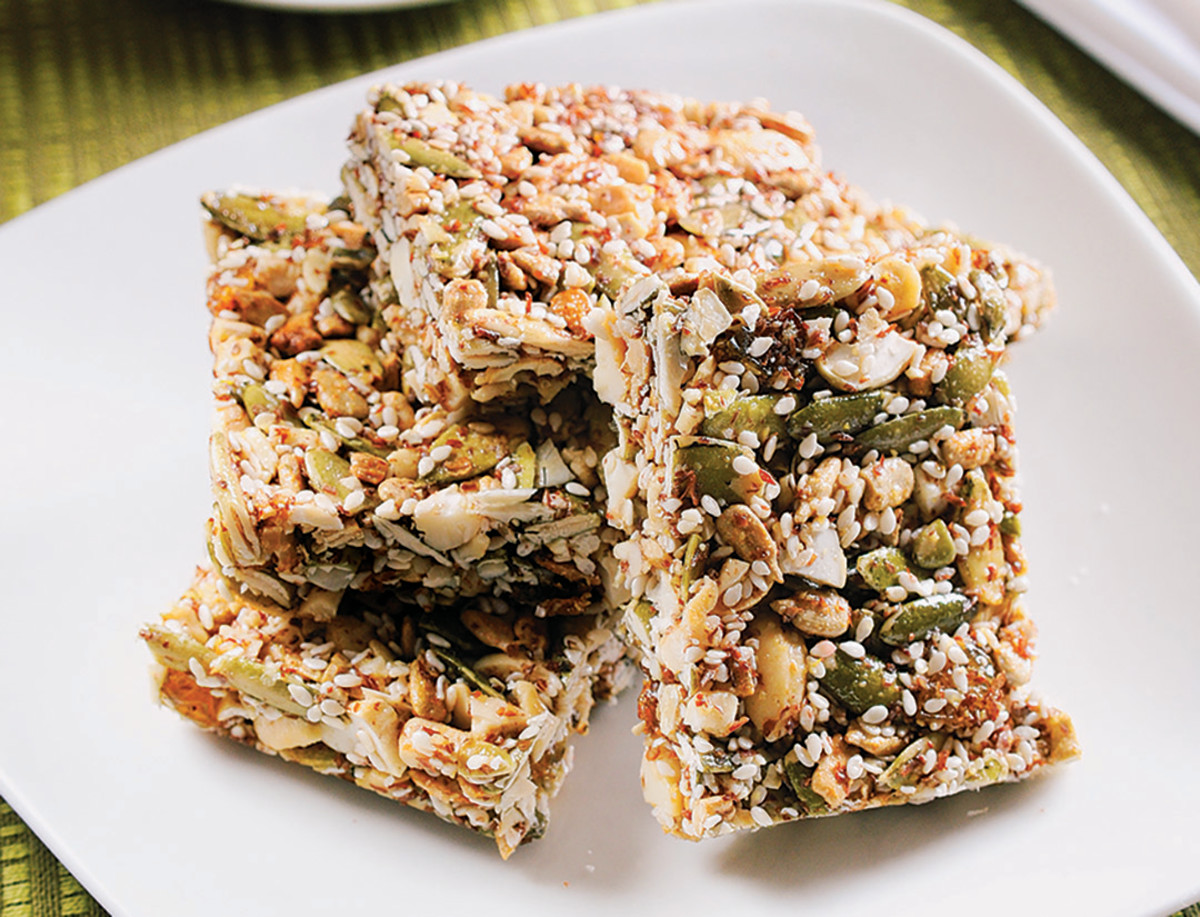 9. Quick-Fix Trail Mix Bars
Save money and eat healthy with these bars created by Michelle Dudash, RDN, Cordon-Bleu trained chef, and creator of Dash Dinners Spice Kits. "They're a fraction of the cost of high-quality store-bought bars and you can wrap them individually and refrigerate as grab and go meals and snacks," she says.
Makes 12 bars
Prep: 10 minutes
Cook: 20 minutes
Protein: 20 grams
Ingredients
1 cup raw cashews
¼ cup dried tart cherries, or raisins
1 cup toasted pepitas
½ cup raw sunflower seeds
1/3 cup raw sesame seeds
3 tbsp flaxseed meal
½ tsp salt
¼ cup honey
1 tsp vanilla extract
Directions
Preheat oven to 300˚F. Coat a 9- by 9-inch pan with cooking spray. Add cashews and cherries to a food processor cup and process until finely chopped. Place in a large bowl and add pepitas, sunflower seeds, sesame seeds, flaxseed meal, and salt and stir to combine.
Place honey in a small bowl and microwave a few seconds to warm. Drizzle honey and vanilla into nut mixture and stir until well-combined. Pour into prepared pan and spread evenly with a spatula.
Spray a sheet of wax paper with cooking spray and place on top of mixture. Press down gently with your hands to pack. Bake 20 minutes until golden.
Cool completely then cut into bars. Store individually in snack bags and refrigerate up to a month.
For access to exclusive gear videos, celebrity interviews, and more, subscribe on YouTube!