As a fit guy, you know how important fresh produce—especially vegetables—is in your diet. The more you can pack in to your meals, the better. But did you know that almost 30 million people in the US live in neighborhoods that don't have access to quality, fresh fruits and veggies? These areas are called "food deserts" and they're a very real problem.
To help combat it, Naked Juice kicked off a campaign called #DrinkGoodDoGood along with chefs Bobby Flay and Tom Colicchio, plus Common and Adrian Grenier (among other celebs and chefs).
The concept is simple: Share a fruit and veggie selfie (see below for an example) and use the hashtag #drinkgooddogood. Naked Juice promises to donate 10 pounds of produce for each selfie up to 250,000 pounds.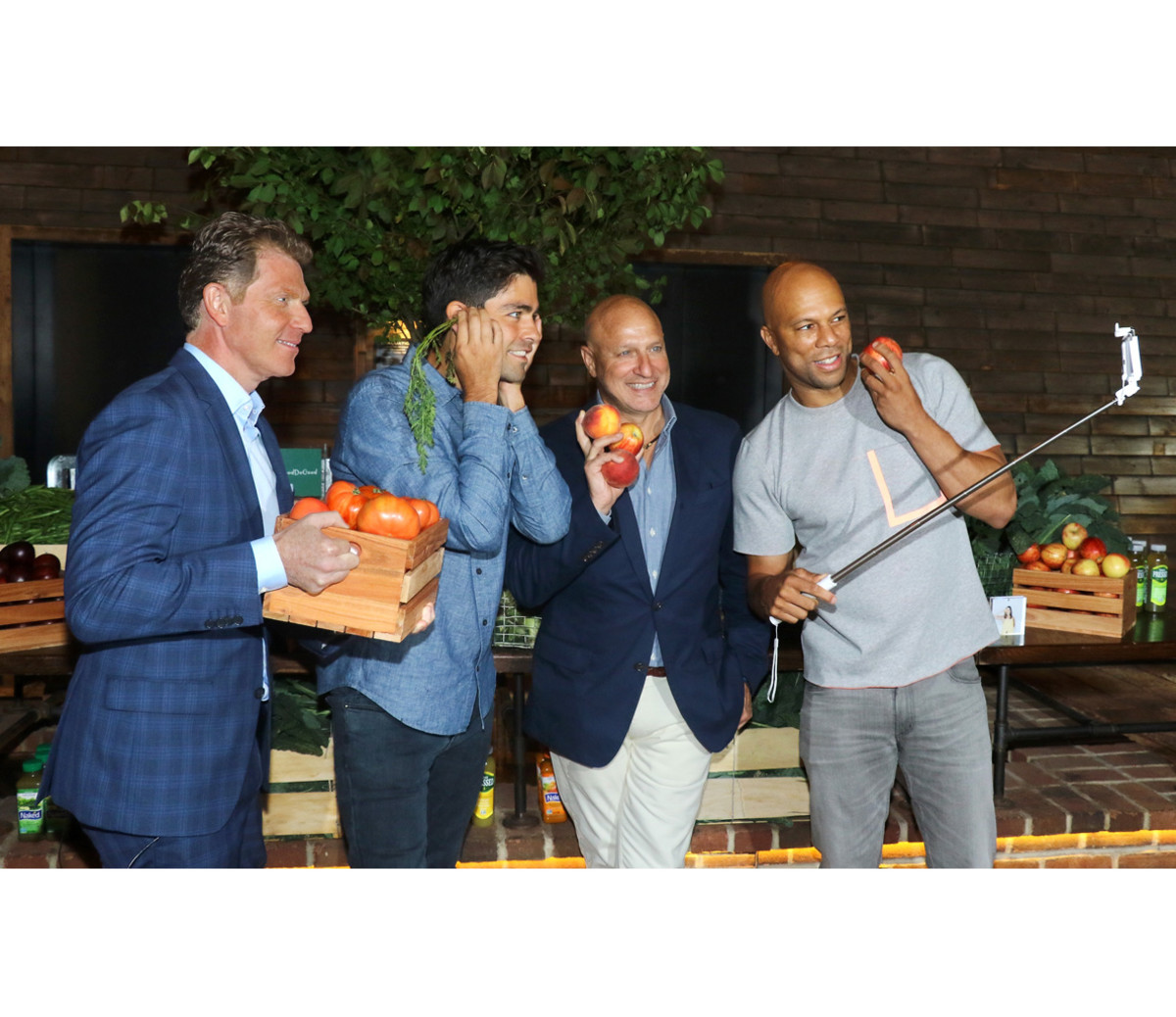 "I love fruits and vegetables. Not only are they vibrant, delicious and nutritious ingredients for a great dish, they are also a powerful ingredient for a healthy, successful and bright future," said chef Bobby Flay. "And the fact that one out of every 10 people in this country don't have access to affordable, healthy produce is unacceptable. I'm proud to join Naked Juice to bring attention to and help fight food deserts."
To make it really easy for you to join this cause—and get a healthy, gourmet meal in the process—we asked Colicchio and Flay to share some of their favorite veggie- and fruit-packed recipes with us. Pick your favorite, make it, and share it on Facebook, Twitter or Instagram with #DrinkGoodDoGood. (PS – Women are turned on by a guy who gives back.) 
Grilled Mango with Lime Seasoning and Ancho Powder
by Chef Bobby Flay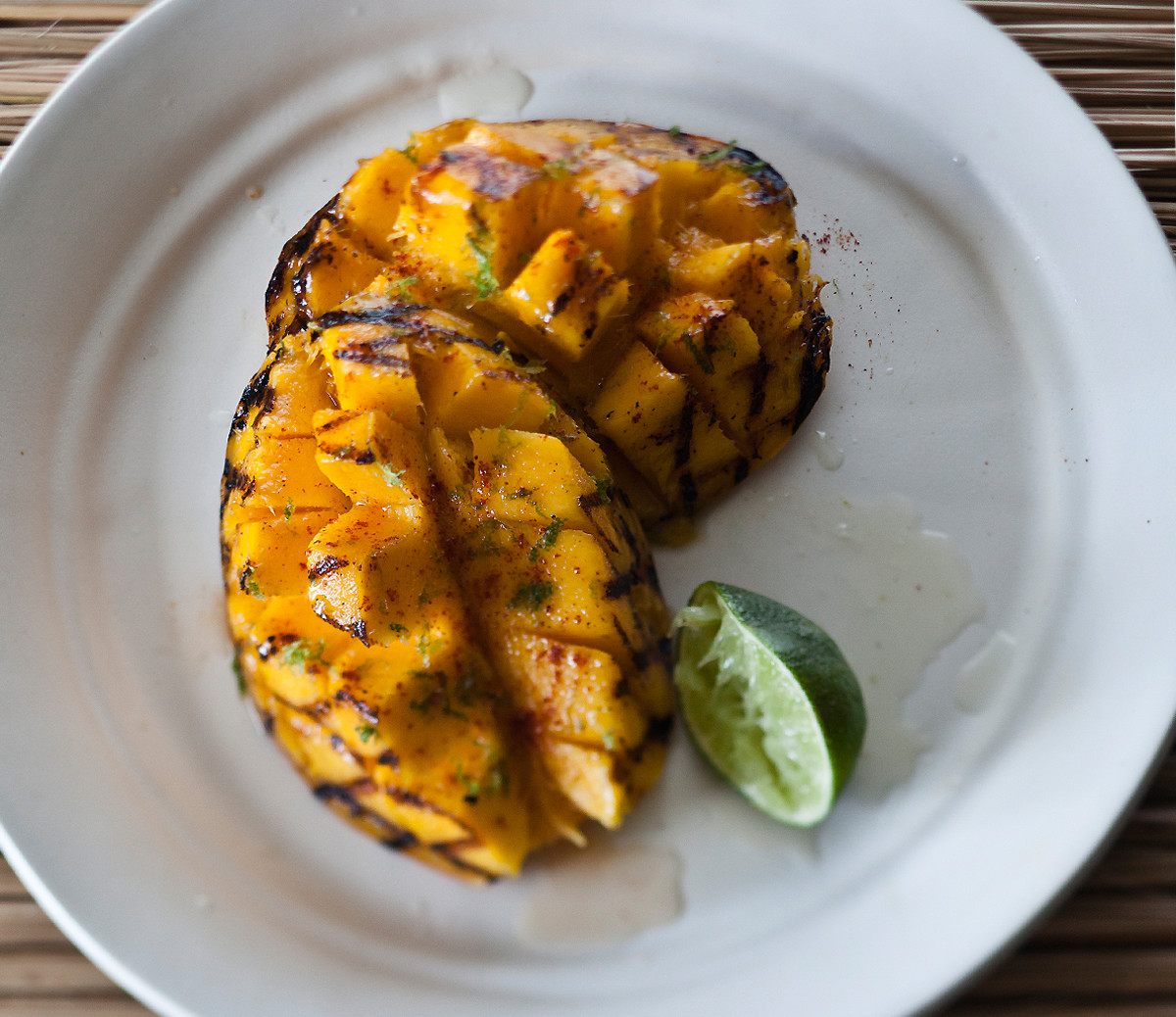 Serves: 4
Ingredients:
4 ripe mangoes
2 tbs canola oil
Juice of 1 lime
1 tsp fine sea salt
1/4 tsp ancho or New Mexican chile powder
Finely grated zest of 1 lime
Fresh cilantro leaves, for garnish, optional
Instructions:
1. Heat the grill to medium for direct grilling. Slice the mangoes in 2 pieces from the pit. Score the flesh of the mangoes in a diamond pattern, taking care not to cut into the skin. Pop the flesh by holding the skin side and pushing up. Brush the flesh with the oil and grill, cut-side down, until slightly charred, about 1 minute.
2. Transfer the mangoes to a platter and immediately drizzle with the lime juice and sprinkle with the salt, chile powder and lime zest. Garnish with cilantro leaves if desired.
Shredded Kale with Lime and Cotija
by Chef Bobby Flay
Serves: 4
Ingredients:
1 small bunch (about 10 oz) Tuscan (lacinato) kale, washed, dried, and finely shredded
Juice of 2 fresh limes
1 tbsp extra-virgin olive oil
Kosher salt and freshly ground black pepper
2 oz grated cotija cheese (can substitute feta or ricotta salata)
Instructions:
1. Put the kale in a large bowl and add the lime juice, oil and salt. Using impeccably clean hands, rub the ingredients together with your hands (massage) until the leaves wilt, about 2 minutes. 
2. Add the cheese, toss to combine, and let the salad sit at room temperature for at least 30 minutes (and up to 2 hours) before serving—or cover and refrigerate for up to 8 hours. The salad is best served at room temperature. 
Passion Fruit Ceviche
by Chef Tom Colicchio 
Ingredients:
2 ears corn, cleaned
2 oz fingerling potatoes, sliced thinly
Canola oil, for frying
Kosher salt and freshly ground black pepper
1 (2 lb) red snapper, filleted, skin removed, cut into 2-inch pieces)
⅓ cup fresh lime juice
¼ cups fresh ripe passion fruit pulp
1 tbsp honey
2 tsp aji Amarillo paste
2 fresh serrano chilis, seeds removed, minced
3 scallions, sliced thinly on the bias
8 heirloom baby tomatoes, halved lengthwise 
Instructions: 
1. Light a grill. Transfer corn to grill; cook, turning occasionally, until charred and cooked through, about 20 minutes. Cut corn from husks and cool.
2. Heat about 4-inches oil in a heavy-bottomed pot until it reaches a 375°. Fry potatoes in small batches until they are crisp and golden, about 3 minutes per batch. Drain chips on paper towels, sprinkle with salt.
3. In a medium bowl, mix the lime juice, passion fruit pulp, honey, aji amarillo, chilis, salt, and pepper. Add the fish and toss to coat. Leave for 5 minutes, then toss with the corn, scallions, and tomatoes. Transfer to a serving platter and garnish with the potato chips.
Roasted Beet and Farro Salad
by Chef Tom Colicchio 
Serves: 3-4
Ingredients:
For the salad
1 cup farro
3 ½ cups water
Pinch of salt
3-4 medium beets (classic red works, but chioggia and golden beets are striking)
1-2 tbsp olive or grapeseed oil
Kosher salt and freshly ground black pepper
For the vinaigrette
½ cup plus a tbsp olive oil
1 small or ½ large shallot, peeled and sliced
3 tbsp red wine vinegar
¼ tsp dijon mustard
¼ cup peeled and chopped roasted beet
Kosher salt and freshly ground black pepper
Instructions: 
1. Combine farro, water and salt in a medium saucepan, bring to a boil, then lower heat and simmer for 30-40 minutes, until farro is tender (about the texture of al dente pasta) and most of the liquid is absorbed.  Drain if necessary and set aside.
2. Preheat the oven to 375 degrees.  Trim the beets and wash them well, then coat with 2 tablespoons or so of olive or grapeseed oil, sprinkle with salt and pepper and toss to coat.  Line a baking dish with aluminum foil, place the beets on it, then cover with more foil.  Roast until the beets can easily be pierced with a knife–depending on your oven and size of the beets, this might take a couple of hours.  Cool the beets.
3. To make vinaigrette, heat a tablespoon of olive oil in a small saucepan over medium heat, add the shallot, and saute gently until soft and translucent, then transfer to a blender.  Add the chopped beets, vinegar, mustard, salt and pepper, then blend to puree.  With the blender running, gradually add the 1/2 cup of olive oil in a steady stream.  Taste and season with more salt and pepper if you'd like.
4. Slice or quarter the rest of the beets, arrange them on plates over cooked farro, and drizzle with the vinaigrette to serve.
The Ultimate Recipe for Smoked Lamb Ribs >>>
For access to exclusive gear videos, celebrity interviews, and more, subscribe on YouTube!