Sunday's should be about relaxing and catching up on a bit of me-time. But the old adage rings true, failing to prepare is preparing to fail. Unless you've got a game plan for the coming week of healthy meals, you're likely going to scramble for unhealthy options at the last minute. If you've ever meal prepped before you know that some foods simply don't stand the test of time and taste goes out the window by day 2. My absolute favorite way to avoid this is to cook a big shepherd's pie. Not only does it taste better the second and third day, you can portion-out individual servings and freeze them for a few weeks if needed. Problem solved! Once again, swap traditional potatoes with Japanese yams for a delicious, low-glycemic alternative.
Ronny Joseph is an expert contributor to the HUMANFITPROJECT network for MEN'S FITNESS. Follow Ronny on Instagram (@Primal_Gourmet) and Facebook.
For more great recipe ideas delivered right to your mailbox—sign up for the MEN'S FITNESS newsletter.
Serves 6
INGREDIENTS
2 lbs pasture-raised lamb mince, 500ml Natural Chicken stock – preferably homemade, 1 med-sized onion – diced, 1 med-sized carrot – diced, 2 celery stalks – diced, 1 large zucchini – diced, 250gr Cremini mushrooms – roughly chopped (sub any soft-fleshed mushroom of your choice), 6 cloves garlic – peeled and roughly chopped, ½ cup fresh parsley – finely chopped, 3-4 med-sized Japanese yams – peeled and chopped into 1" cubes, 1 tbsp Spicy Spanish Paprika, 1 tbsp Smoked Spanish Paprika, 1 tbsp Onion powder, Salt and Pepper, 1.5 tbsp Ghee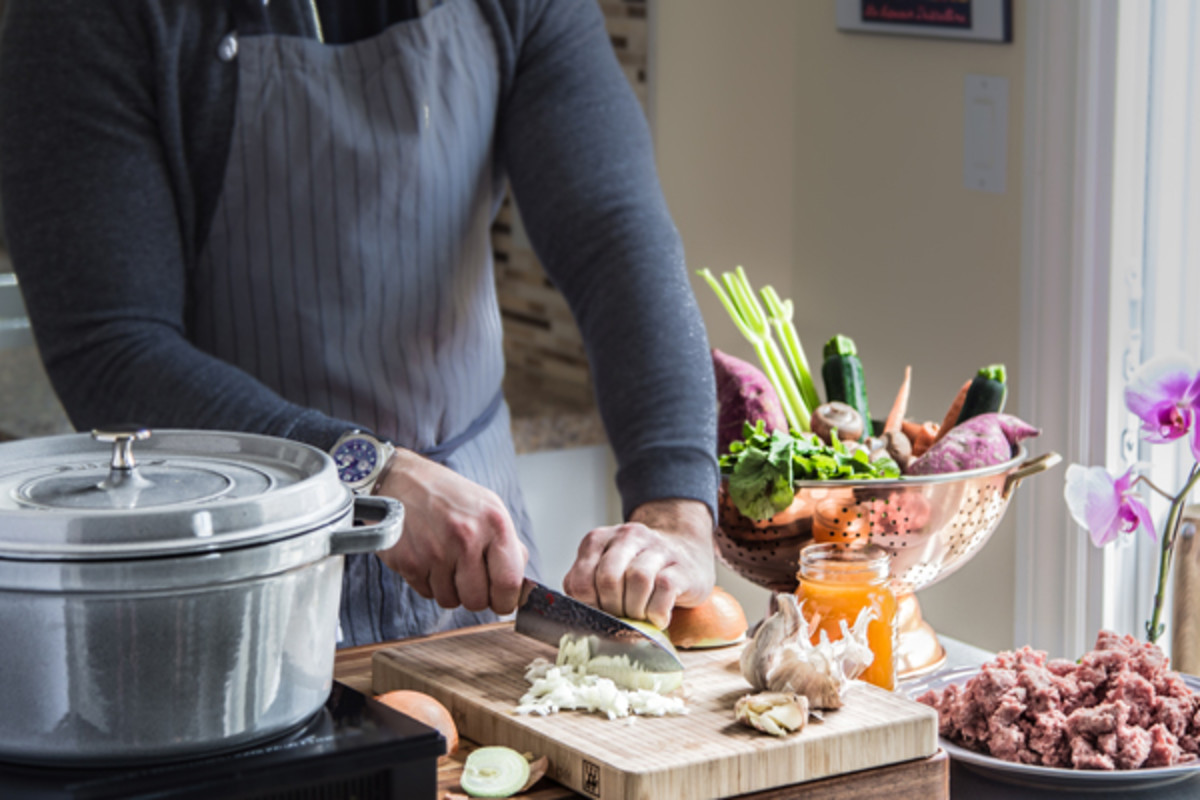 METHOD
– Bring a large pot of water to a boil. Season with a pinch of salt and add-in the cubed yams – cook until fork tender (approx. 12-15 min). Using a slotted spoon, transfer the yams to a food processor along with 1.5 tbsp ghee and a pinch of salt. Purée until very smooth. Set aside.
– Heat a large Dutch Oven or heavy-bottomed stock-pot over medium-high heat. Drizzle ½ tbsp. avocado oil and add-in the ground lamb – cook until browned. Using a slotted spoon, transfer the lamb to a bowl and set aside.
– Lower the heat to med-low and discard all but 3 tbsp of the rendered fat in the pot. Add-in the onion, carrot, celery and mushrooms. Cook until the carrots have softened (approx. 12-15 min), stirring occasionally. Add-in the zucchini and garlic and cook an additional 5-7 minutes.
– Add-in spicy paprika, smoked paprika, onion powder, a pinch of salt and pepper, stir to coat and toast the spices for 60 seconds. Add the browned lamb back to the pot along with the chicken stock and chopped parsley. Bring everything to a steady simmer and allow the liquid to reduce by half.
– Preheat the oven to 400F. Meanwhile, spoon the meat mixture into a shallow baking dish or casserole and spread mashed yams overtop. Place the baking dish onto a baking sheet to catch any spill over from the juices. (Tip: To achieve a fancier look, spread the yams using a piping bag or heavy-duty zip-top bag fitted with a metal tip.)
– Bake at 400F approx. 20-25 minutes or until yams are golden brown.
– Remove from oven and let cool 10-15 minutes before serving.
For access to exclusive gear videos, celebrity interviews, and more, subscribe on YouTube!