Assuming everything went according to plan and the Steak and Yam Fries sealed the deal, it will soon be breakfast. In the time it takes you to sneak off to grab a bagel and coffee from the deli down the block, you can whip-up an epic Steak and Yam Hash before she realizes you've left the bedroom. The best part is she'll never know you're using yesterday's leftovers to create an entirely new meal. Scratch that, the best part is you're eating steak two days in a row! She'll offer to help because she's awesome like that, but this time let her lay in bed and freshen-up while you get to work in the kitchen. Trust me, she'll appreciate it!
Note: the ingredients listed below are a basic guideline so feel free to sub-in whatever veggies you happen to have on hand. 
Ronny Joseph is an expert contributor to the HUMANFITPROJECT network for MEN'S FITNESS. Follow Ronny on Instagram (@Primal_Gourmet) and Facebook.
For more great recipe ideas delivered right to your mailbox—sign up for the MEN'S FITNESS newsletter.
Serves 2
INGREDIENTS
4-6 free-range, organic eggs, 4 oz leftover steak – diced, 6-8 wedges leftover yam fries – diced, ½ small onion – diced, ½ bell pepper – diced (red, green, orange or yellow), ½ cup zucchini – diced, ½ cup fresh mushrooms – diced (shiitake, Portobello, cremini or white buttons), 1 handful fresh baby spinach, ½ small chili pepper – finely chopped , 2 tbsp avocado oil
METHOD
– Heat 1 tbsp avocado oil in a cast-iron skillet set to medium. Add-in the onion, pepper, zucchini, mushroom and chili and sauté for 6-8 minutes, stirring frequently. 
– Add-in the steak, yams and spinach and stir everything to combine. (If the skillet is very dry, add 1 tbsp avocado oil.)
– Using a spatula, create 4-6 small pockets (depending on how many eggs you use) in the hash-mixture and crack 1 egg into each. 
– Fry the eggs for approximately 5-6 minutes or until the whites are cooked through and the yolks are runny. 
– Serve with plenty of freshly-brewed coffee.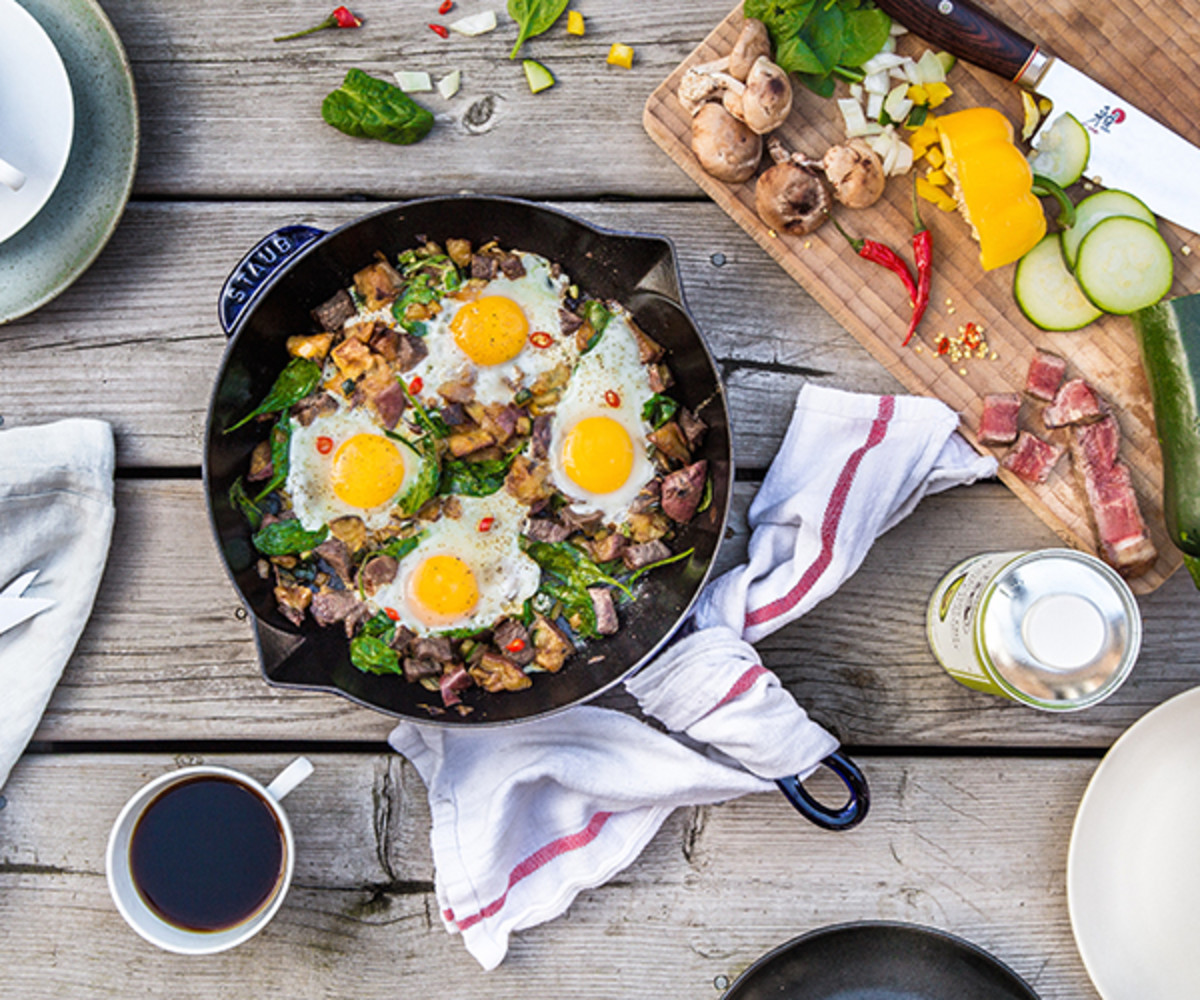 For access to exclusive gear videos, celebrity interviews, and more, subscribe on YouTube!