Life is too short to throw an unmemorable bachelor party, so head to these six cities in America that are legendary as stag night stomping grounds. 
New York City
The Drink: Manhattan
The Spot: Swarming with all kinds of guy packs (from hipster lumbersexuals to young Wallstreet tycoons), The Lower East Side in Manhattan is chockablock with riotous bars, rooftop lounges and swank after-hours. Check into Hotel Indigo Lower East Side, an art-centric high-rise hotel known for Mr. Purple, an indoor/outdoor rooftop bar and lounge with killer views. The crown jewel is the hotel's 26th-floor, party-friendly duplex penthouse suite with floor-to-ceiling windows, multiple outdoor balconies and unparalleled panoramas of the cityscape. Rooms from $270; penthouse from $3,000 per night.
Photo: Hotel Indigo hotel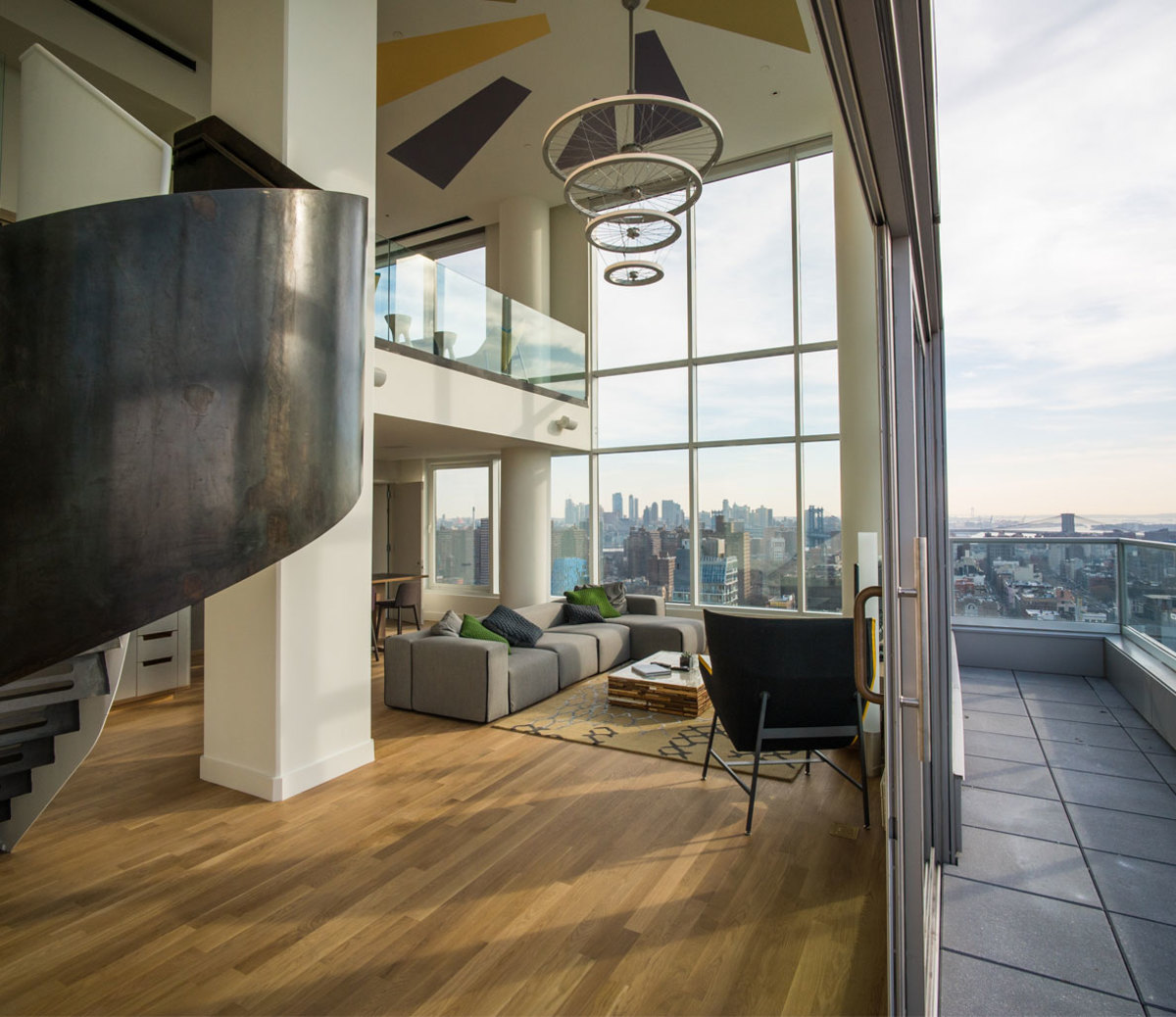 Photo: Mr. Purple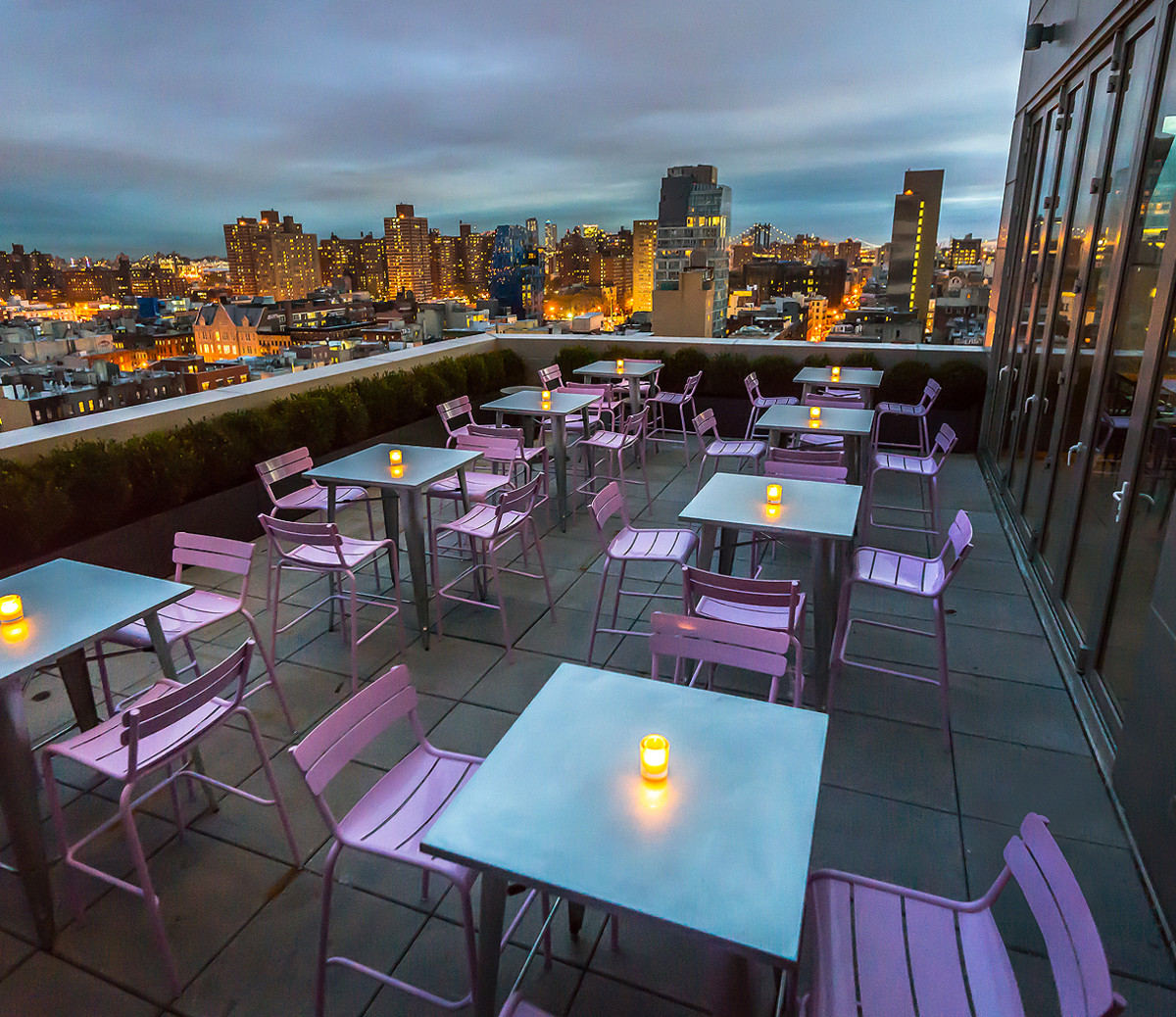 The Entertainment: Party down and fuel up at Vandal, a lively, multi-roomed restaurant that dishes out large, sharable portions of gourmet, street food-inspired plates. Catch a Knicks game or rock show at Madison Square Garden. 
Photo: Vandal restaurant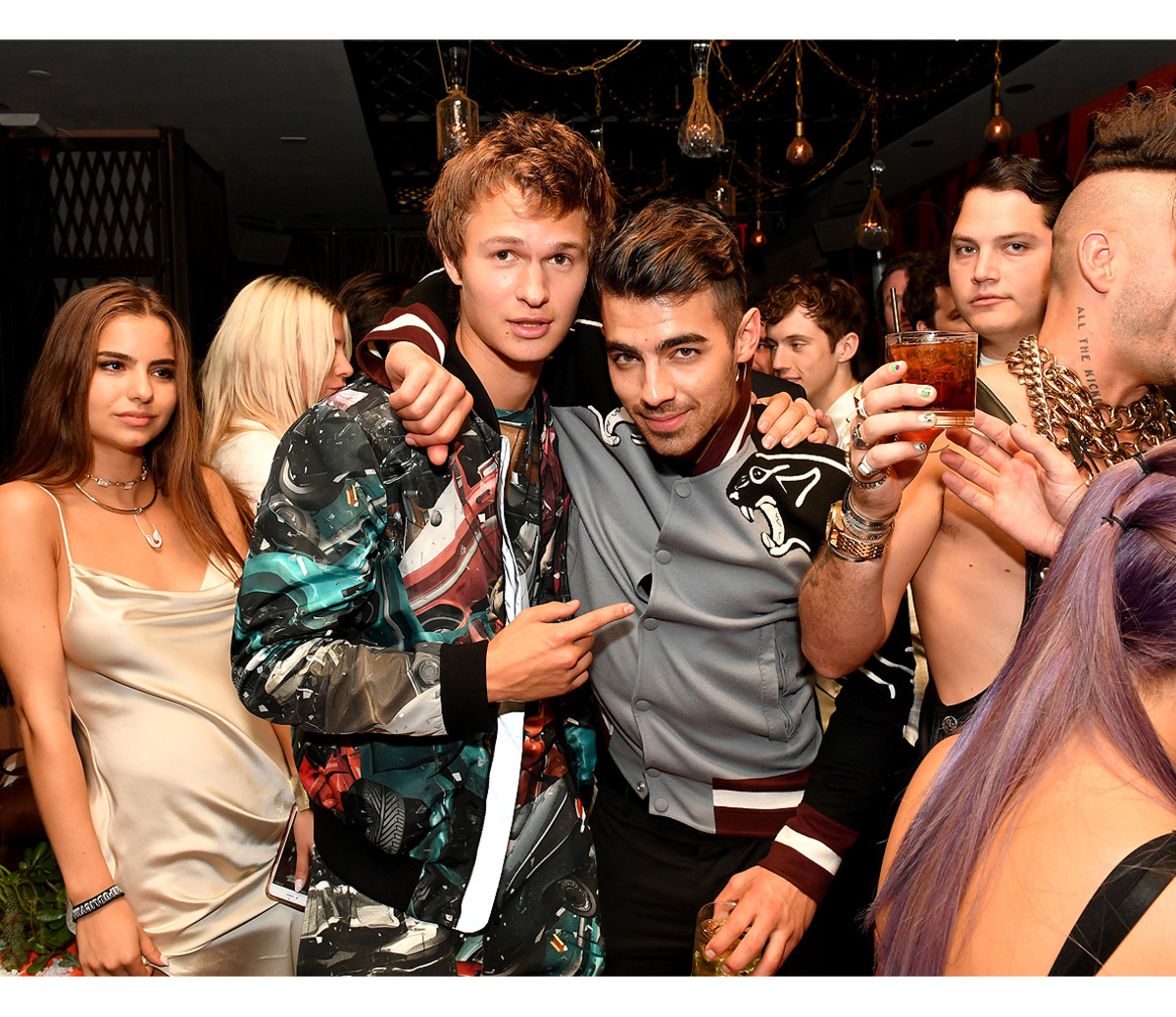 The loose ends: Get door to door with NY Top Limo, providing a fleet of luxury vehicles (from executive SUVs to 10-passenger stretch limos) with dedicated chauffeur. From the Upper East Side, cruise through Times Square, Fifth Ave, and Union Square to get the full, scenic route. Naturally, you'll want the driver to stop at Artichoke Pizza (open til 5 am nightly) for their classic Artichoke or Vodka slice before heading home.
Miami
The Drink: Mint Julep
The Spot: In recent years, Miami hotels have become more swank and dignified, and all the highbrow action is in Miami Beach. Slick your hair back at Faena Hotel Miami Beach, a posh, refined resort that has luxury-drenched rooms and plenty of cool, Instagram-worthy art pieces, like the gilded skeleton of an actual woolly moth on display, courtesy of famed artist Damien Hirst. Considering the resort's upscale sensibility, you'll feel ultra-VIP on your stag night. Rooms from $341.
The Entertainment: For pre-game, head to 1 Hotel, an upscale beachfront hotel with the most buzzing, rooftop bar and outdoor pools in South Beach. The rooftop, with unarguably the best coastal views, has become the ultimate day-pool party destination. For a steak-heavy dinner, grab a table at STK Miami Beach, known for the best surf-n-turf in town, live DJs and "shot shows" with sparklers. After midnight, make a beeline to E11EVEN, Miami's first and only 24-hour ultra club where celebrities like Brody Jenner and Jamie Foxx hang out, and world-renowned DJs like Diplo and Chainsmokers get behind the decks. Tables start at $2000.
Photo: E11EVEN club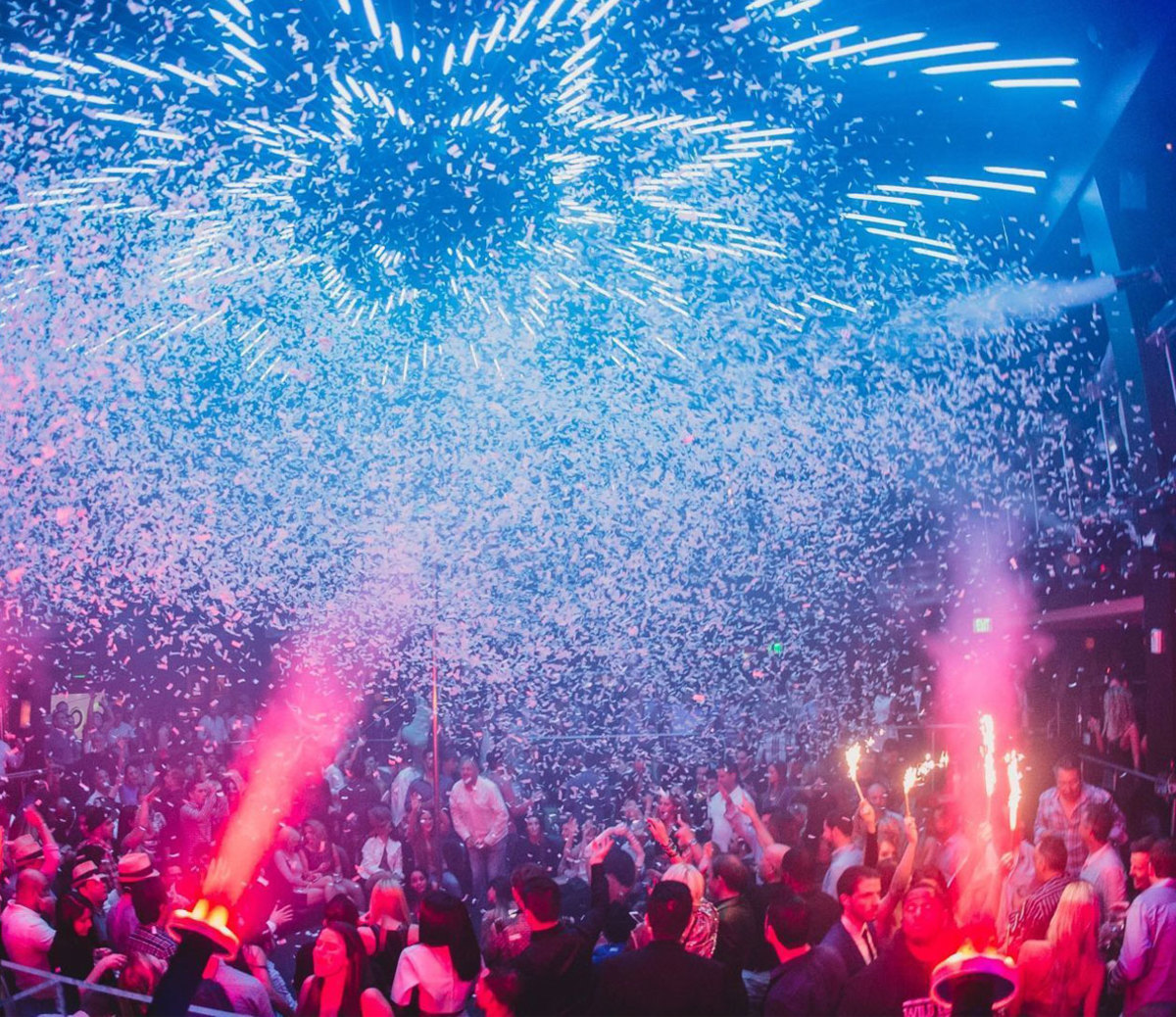 The loose ends: At night, the traffic is bumper-to-bumper near the beach (especially down Collins and Ocean Drive), and taxis are hard to hail at peak hours. Book a Cadillac or Mercedes for the night with Majestic Limousines. If you're not ready to call it a night after E11EVEN, kill two birds with one stone at Bodega Taqueria y Tequila, a casual taco joint with a secret speakeasy bar through a hidden door that's packed until it closes at 5 am.
Las Vegas
The Drink: Whiskey Sour
The Spot: Las Vegas is the ultimate bachelor party destination, and most stag groups shack up at The Cosmopolitan, the most stylish, over-the-top resort on the strip where all the rooms have terraces. It's home to a buzzing casino, wild pool parties, night clubs, day clubs, celebrity-chef restaurants and some decked-out, spacious party suites and one-of-a-kind penthouses with insane views of the famed Bellagio fountain and Vegas strip. Rooms from $330 per night. 
The Entertainment: After piloting an actual jet (no, seriously) with Sky Combat Ace and getting fast and furious on a race track with SPEEDVEGAS, gather the gang and head casino level to Race & Sports Book at Cosmopolitan, a newly redesigned space where players can wage and bet on sporting events (Nevada Gaming Control allowed sports books in Las Vegas for the first time in fifteen years). Some of Sin City's best restaurants are inside the Cosmopolitan, including David Cheng's award-winning Momofuku. Head over to Absinthe, a comedic and visually-stunning cabaret/anything-goes show where the performers are known to pick out (and pick on) audience. From here, make a beeline to Jewel at Aria, a new, 24,000-square-foot, bi-level nightclub with five VIP-themed skybox suites. Head back to Cosmopolitan, where you can gamble the night away on the casino floor.
The loose ends: Not many people know you can arrive to Vegas in style in a private jet… sort of. JetSuite, a private charter company, launched JetsuiteX, a public charter with daily direct flights between California cities (like LA) and Las Vegas on a luxuriously configured Embraer 135 aircraft (30 seats per plane). Resorts can pick you up from the actual runway. Guys prepare for a wild night out at Sahra Spa, a massive spa with oversized hot tubs, steam room, and the only hammam in Las Vegas. To get around and cruise the strip, rent a Ferrari or other sports car with Dream Cars Las Vegas. This way you won't mind being stuck in late-night traffic. Juice Standard, featuring cold-press juices, opens promptly at 7 am should you need to detox ASAP the next morning. Vegas has become home to some of the nation's best festivals, like Life Is Beautiful music festival, so make sure to check out what's happening in Sin City to plan accordingly.
Los Angeles
The Drink: Old Fashioned
The Spot: Hollywood Roosevelt. This historic, celebrity-laden hotel may be known for its massive pool and parties, though the cabana rooms and suites are well-designed and the location is the perfect base for a night crawl. Rooms from $260 per night. 
The Entertainment: Nobody realizes how easy it is to get tickets to Jimmy Kimmel, every man's favorite late-night dude, which films in front of a live studio audience during the day time. Just sign up here for tickets. The live taping will amp you up before your night out. The biggest bro hangout is Barney's Beanery, a famed dive bar on West Hollywood where professional sports athletes often congregate. A hot spot for celebrities and local trendsetters is Roku, a forward-thinking, dimly lit and bustling sushi joint with teppanyaki and lounge seating on famed Sunset Boulevard. End the night at Bootsy Bellows, a longstanding, trendy nightclub (co-owned by David Arquette), known for celebrity sightings (from Channing Tatum to Zac Efron), burlesque dancers and, interestingly, puppet shows.  
The loose ends: Check into Next Health for IV Therapy, a cool way to expedite nutritious vitamins into your body for increased energy for your night out (and squashing any hangover the next day). Considering the short distances you need to get around in West Hollywood and Hollywood, Uber Black is reliable, cheap and fast. Avoid Santa Monica Boulevard and Sunset Boulevard during peak hours to retain sanity and make sure to have your driver take you through Hollywood Boulevard after 2 am to say you did. 
Palm Springs
The Drink: Cablegram at Workshop
The Spot: Thanks to the influx of millennials and large-scale festivals like SplashHouse and Coachella, a number of new, hip and socially driven resorts in Palm Springs are exceptionally stag friendly. The Arrive is a contemporary, 32-room hotel opened by a former Facebook employee, so expect cool features like a bocce court, ping pong, 22-foot jacuzzi and hotel check-in at the hotel bar. Rooms from $149 per night. 
Photo: The Arrive hotel 
The Entertainment: Start early at Saguaro, home to the live DJ music festival Splash House, where the weekends are home to wild pool parties. Grab some grub at Workshop Kitchen + Bar, a stylish, progressive restaurant that features James Beard award-winning design (cement booths, cathedral ceilings) and a slew of Palm Springs' coolest cats dining on top-notch American cuisine. Bardot at Hard Rock Hotel is the city's first upscale nightclub with VIP tables, bottle service, and live DJs, and it's become a magnet for night revelers on a party mission. End the night at Ace Hotel & Swim Club, known for its outdoor party scene where twenty-something travelers chill out by the pool and massive hot tub until the wee hours of morning. It's the most popular stop for a final nightcap.
The Loose Ends: The Buzz Trolley is Palm Springs' free trolley service/party mobile until 1 AM. It's hot in the desert so be sure to properly hydrate.
New Orleans
The Drink: Sazerac (invented here)
The Spot: The new Ace Hotel New Orleans recently anchored The Big Easy as a hip city when it opened March 2016. The lively, contemporary hotel has a buzzing lobby bar, rooftop pool scene, event space for clubbing and concerts, and stylish rooms right in the burgeoning Warehouse District. Rooms from $189 per night. 
The Entertainment: Start at Barcadia, a few blocks from Ace Hotel, which is nostalgifying with retro arcade games. All big-portion bar food is actually cooked on premises should you want to grab some grub. Dinner should be lively as hell in the French Quarter, and Port Of Call knows how to entertain. The burger joint with award-winning bites goes back half a century. From here, head straight to the French Quarter for a traditional bar crawl, New Orleans style. Fortunately, open containers are legal on the streets, so you can grab your choice of beverage (from Crown Royal to beer) while you party down famed Bourbon Street. Finally, end up at Frenchman Street, chockfull of jazz bars where nightlife goes on… well, 24/7.
The loose ends: When in the French Quarter and Marigny, avoid walking solo on dark streets even if it looks safe. Tourists can be targets for petty crime in the late hours (take an Uber for door to door service). For late-night munchies, head to world-famous Cafe Du Monde, open 24/7 and a cultural institution in New Orleans (it's also one of the most Instagrammed places in the world). Grab a world-famous beignet. New Orleans is known for its fun tours (from ghost tours to swamp tours), so carve out time for that if you've survived your next-morning hangover.
For access to exclusive gear videos, celebrity interviews, and more, subscribe on YouTube!