An Irish coffee is uniquely comforting, like luxuriating in the warmth of a blazing fire or lolling about with an old friend. This is a drink that makes you slow down and relish a moment in time.
But don't let the simplicity of its elements fool you; pouring one to perfection is about as difficult as pronouncing these weird and wonderful Irish words.
We spoke with two New York City-based masters of mixology: Jillian Vose, beverage director of renowned Financial District establishment The Dead Rabbit and the slightly newer (yet no less outstanding) BlackTail, and Pam Wiznitzer, creative director of Seamstress, a cozy sanctuary for libation lovers on the Upper East Side.
Discover the art of preparing a traditional Irish coffee.
But first, a little bit of history
Like all great cocktails, the origins of the Irish Coffee are somewhat ambiguous. There are a few theories as to how the legendary beverage came to be. Here's an abridged version of the most popular rendition of the tale, as told by Vose.
"The original Irish Coffee was invented in 1942 by a chef called Joseph Sheridan, who worked in a restaurant and coffee shop at Foynes Port [the precursor to the Shannon International Airport] in County Limerick," she tells Men's Fitness. One miserable winter evening, "a group of American passengers disembarked from a Pan Am flying boat" and entered the coffee shop. In an effort to warm the weary travelers, Sheridan added a bit of Irish whiskey to their coffee and topped it off with whipped cream. When the passengers asked "if they were being served Brazilian coffees," Sheridan said no: "Irish coffee".
(Dave Wondrich, a cocktail historian, has another plausible theory that puts a slight twist on Vose's. In Wondrich's words, the Irish Coffee was created "not for the mythical group of tired, cold travelers, but rather for the inauguration of regular nonstop seaplane service between Foynes and Port Washington, NY".)
Jillian Vose, beverage director of The Dead Rabbit and BlackTail in New York City
"Either way, sometime later a travel writer for the San Francisco Chronicle named Stanton Delaplane tasted the coffee as he was traveling through Shannon Airport," Vose says. "He loved it and brought the idea back to The Buena Vista Restaurant on Fisherman's Wharf, his favorite San Francisco watering hole."
When Jack Koeppler, former owner of The Buena Vista, challenged Delaplane to recreate the brilliant beverage he'd been served at Shannon Airport, the American rendition was born.
"Intrigued, Delaplane accepted Jack's invitation, and on the night of Nov. 10, 1952, the pair began to experiment," Vose says. They encountered a few major challenges right away, namely, getting the cream to float and achieving the perfect balance of flavors.
As for the cream quandary, San Francisco's mayor at the time, also a prominent dairy owner, provided a solution.
"When the cream was aged for 48 hours and frothed to a precise consistency, it would float as delicately as a swan on the surfaces of Koeppler and Delaplane's special nectar," Vose explains. "With the recipe now mastered, a sparkling clear, 6-oz, heat-treated goblet was chosen as a suitable chalice."
Word of The Buena Vista's Irish Coffee quickly spread throughout the country—and, ultimately, the world. Today the establishment claims to serve more than 2,000 orders each day.
Irish coffee basics
Both Vose and Wiznitzer agree that Irish whiskey (obviously), hot coffee, sugar (syrup or raw), and lightly whipped heavy cream make up the ingredients of a traditional Irish Coffee. That's not to say variations don't exist (they do—and they're also delicious).
When it comes to riffing on the classic recipe, that's just acting the maggot (an old Irish expression for behaving foolishly), according to Vose. "Let's just get the original right first, people," she says bluntly.
As for Wiznitzer: "I love the traditional, and for my version this season (recipe below), I chose Slane Irish Whiskey for its robust flavor from triple-casked aging that stands up to strong coffee." She notes that making one "shouldn't be daunting for the home bartender," which is why she sticks to "natural ingredients that are easily accessible for a cocktail that's round and rich".
Wiznitzer does have a sweet spot for one twist on the classic: "I love the nontraditional frozen Irish Coffee down at the Erin Rose [bar] in New Orleans!"
Tips from behind the bar—and unforgivable sins
As with any method-focused cocktail, there are a few do's and don'ts every at-home bartender should follow when crafting an Irish Coffee of their own.
First, the do's: "Do use a rich demerara syrup instead of a sugar cube; use a blended Irish whiskey; and use a heavy cream with 35-38% milk fat," says Vose.
"Use piping-hot coffee," adds Wiznitzer, "and make sure the heavy cream is fresh."
Just don't make one of these rookie mistakes: "Don't sweeten your cream," advises Vose.
"Don't use a glass bigger than 6oz, and don't use a pot still Irish whiskey," Wiznitzer warns. Don't over-whip the cream either. "If it becomes stiff, then it won't float on the top of the drink."
How to make The Dead Rabbit's Irish Coffee
It's no overstatement that The Dead Rabbit's Irish Coffee is just about as famous as the bar itself, which is pretty damn famous considering it was awarded Best Bar in the World in 2016. One Travel & Leisure editor describes it as "perfectly timeless," while Food Republic contributor Naren Young deems it "sacrilegious to be in this venerable, egalitarian public house and not have the one drink where the staff's pride in its execution is palpable".
Here's the formula, which is based on a recipe by Dale DeGroff (aka King Cocktail), straight from Vose:
1.25oz of Clontarf Irish Whiskey
.625oz (between .5 and .75oz) of a rich demerara syrup
hot Sumatra coffee (enough to fill glass 3/4 of the way)
about 1oz freshly whipped cold, unsweetened heavy cream
How to make Slane Irish Coffee by Pam Wiznitzer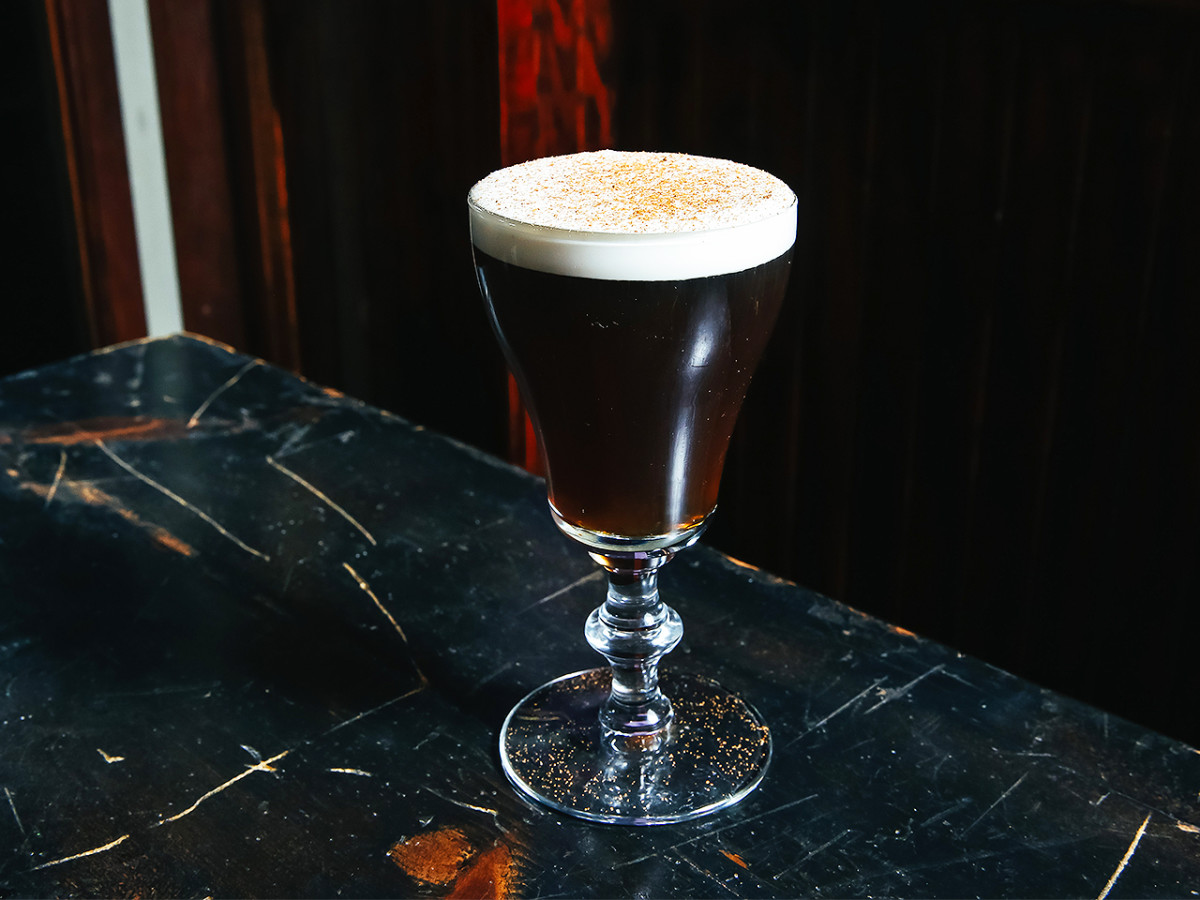 Wiznitzer's recipe highlights the robust flavor profile (think burnt caramel and spices with a touch of floral on the nose) of Slane Irish Whiskey. Though it "doesn't stray too far from the classic," she says. A grating of fresh cinnamon adds an inviting, seasonal twist, while the addition of powdered sugar provides an extra layer of silkiness to the cream float.
Ingredients:
1 3/4oz Slane Irish Whiskey
1/2oz demerara simple syrup (2:1 sugar to water)
2 1/2oz hot, strong-brewed coffee
1oz cream float
For the cream float:
6oz heavy cream
3 tsp powdered sugar
1 grating fresh cinnamon
Directions
In a heatproof Georgian glass, add Slane Irish Whiskey, demerara simple syrup, and coffee. Leave room at the top for the heavy cream. Stir gently. Float a thin layer of cream on top. Garnish with a healthy grating of fresh cinnamon.
*To make the cream float: Combine ingredients in a Mason jar or protein shaker. Cover, and shake for 20-30 seconds. Do not overshake. The consistency should become dense, but still pourable.
For access to exclusive gear videos, celebrity interviews, and more, subscribe on YouTube!