Coconuts are a true superfood, rich in healthy fats and a host of nutrients. They're also extremely versatile in the kitchen. Coconut oil is possibly the healthiest of all available cooking fats, coconut water is nature's sport's drink and coconut milk is a vegan's answer to dairy. Luckily, us carnivores can join in on the fun too. I'm sure you've tried a great Thai Green curry where coconut milk is added to a rich and complex spice blend.  But did you know coconut milk is also great for marinating chicken? When combined with some spicy sambal, citrus, and plenty of coriander, it makes for a spectacular combo. Not only is the marinade extremely flavorful, the coconut milk acts as a natural tenderizer.
Ronny Joseph is an expert contributor to the HUMANFITPROJECT network for MEN'S FITNESS. Follow Ronny on Instagram (@Primal_Gourmet) and Facebook.
For more great recipe ideas delivered right to your mailbox—sign up for the MEN'S FITNESS newsletter.
INGREDIENTS
Serves 4
10-12 Chicken thighs – preferably free-range, organic, bone-in and skin-on
2 cups full-fat coconut milk
3-4 cloves garlic
2 tbsp fresh ginger
1 cup coriander – plus a few sprigs for garnish
1 lime – juiced and zested
¼ cup Fish Sauce
¼ sambal
1/8 cup Coconut Aminos (or substitute low-sodium, organic soy sauce)
1 tbsp all-natural honey
1/8 cup rice wine vinegar
1/4 cup coconut oil
1 bunch scallions – finely chopped for garnish
1 red chili pepper (eg. Anaheim) – finely chopped for garnish
1/4 cup toasted pine nuts – roughly chopped for garnish (sub toasted cashew nuts if unavailable)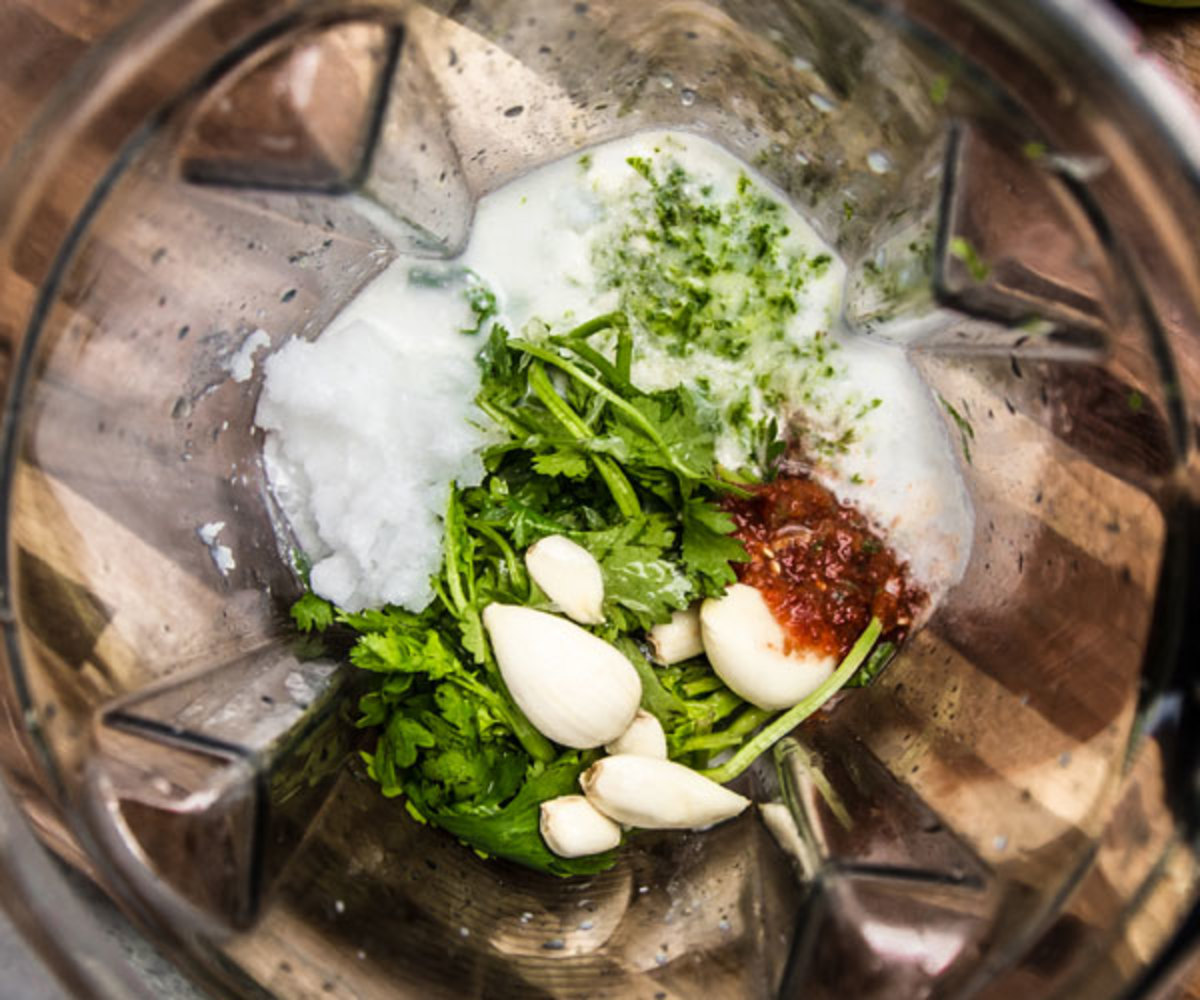 METHOD
– In a blender or food processor, add coconut milk, garlic, ginger, coriander, lime juice, lime zest, fish sauce, sambal, coconut aminos, honey, rice wine vinegar, and coconut oil. Puree until smooth.
– Rinse and dry chicken. Transfer to a zip-top bag and pour in marinade. Seal, massage to coat and transfer to fridge for 6 hours to overnight.
– Preheat a grill to low heat. Cook the chicken over direct heat, turning frequently, for approx. 20-25 minutes or until internal temperature reaches 165f.
– Transfer to a serving platter and garnish with a fresh cilantro, chopped scallions, red chilies, and chopped pine nuts. Serve with your favorite steamed and grilled veggies, such as broccoli and mushrooms.
For access to exclusive gear videos, celebrity interviews, and more, subscribe on YouTube!