Branded Content
How Pendleton Whisky Is Dedicated to Helping Veterans
This article was produced in partnership with Pendleton Whisky
Inspired by the famed Pendleton Round-Up Rodeo, Pendleton® Whisky is more than a brand—it's a celebration of the American West and all those who embrace its values, traditions, and culture.
It all starts with what goes into each bottle: a well-crafted whisky that delivers rich flavor and a smooth finish. First released in 2003, the Original blend is barrel-aged in American oak and finished with glacier-fed spring water from Oregon's Mt. Hood. The Pendleton Whisky collection also includes a Midnight variety, a 90-proof whisky aged in American brandy barrels, as well as a 1910 variety, a 100 percent rye whisky that's oak barrel aged for a minimum of 12 years.
The Pendleton Whisky collection pays homage to the spirit of the American cowboy and true western tradition. However, to truly appreciate the brand behind the bottle, you need to be acquainted with Pendleton's annual limited edition 'We've Got Your 6' Military Edition bottle.
The idea for the Military Edition bottle stems from Pendleton Whisky's core principles—based on the "Code of the West" from the book Cowboy Ethics by James P. Owen—which include 'having each other's back', 'staying true to your word', and 'always doing what's right'. When the first dedicated Military Edition bottle was released in 2015, the goal was simply to support veterans in local communities who had sacrificed so much to defend the freedoms we all hold dear.
In 2021, the Pendleton Whisky team decided to double down on their support of military families by partnering with the Bob Woodruff Foundation. Founded in 2006 after reporter Bob Woodruff was hit by a roadside bomb while covering the war in Iraq, the foundation is one of the largest non-profit organizations in the country. In fact, it's granted over $87 million to local veterans' organizations around the country, supporting emerging and long-term needs like suicide prevention, caregiver support, and food security.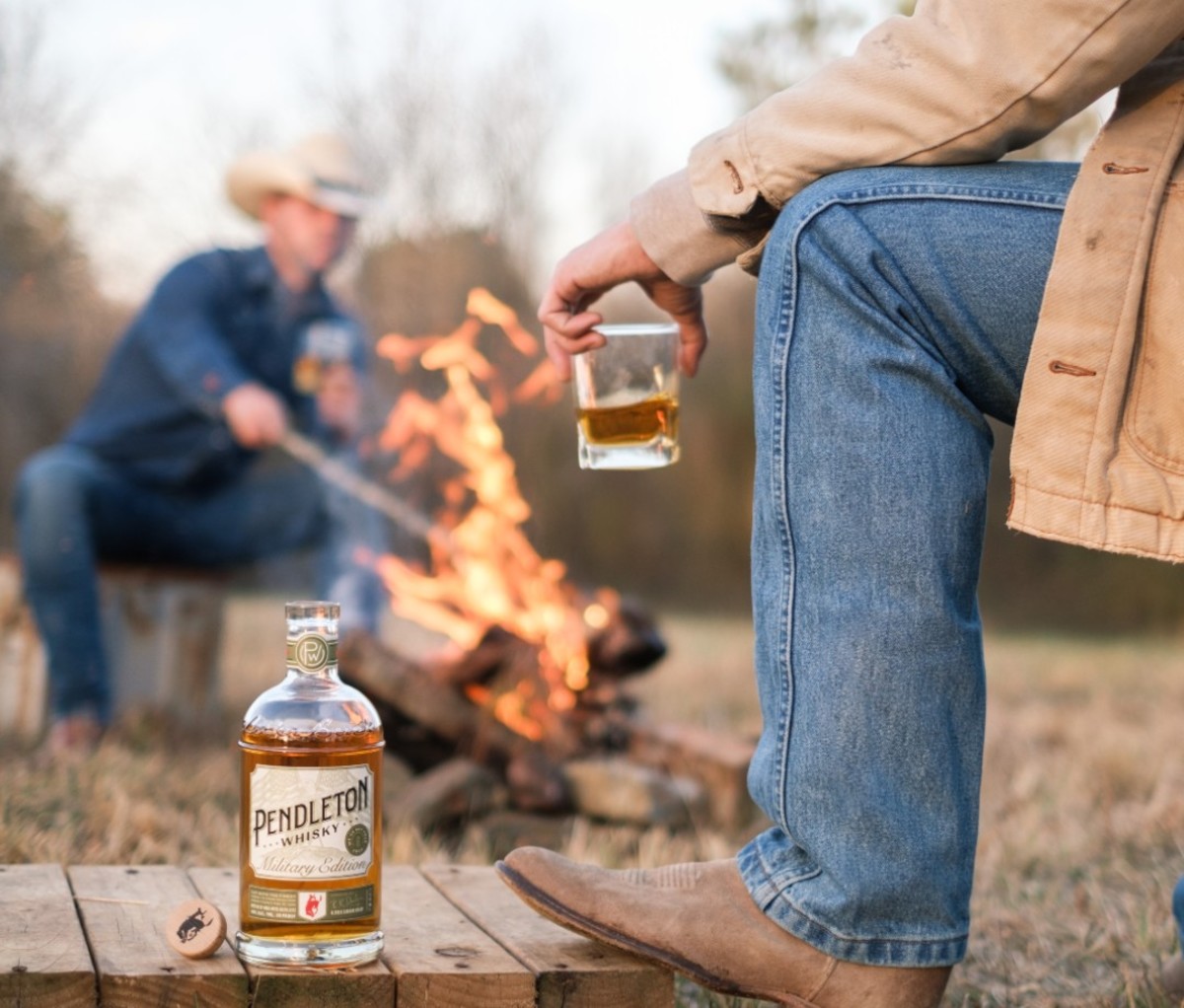 A Worthy Cause
This year, Pendleton Whisky renewed its partnership with the Bob Woodruff Foundation. Pendleton Whisky is donating a portion of sales to the foundation, totaling $100,000. This money will go directly toward supporting local veterans' organizations.
"The VA and other government services do a lot of great work for veterans, but the reality is they can't do it all," says Dave Woodruff, Bob Woodruff Foundation's co-founder and chief development officer. "We come in and try to fill those gaps by getting dollars to people who are doing the work in local communities."
That includes people like Brandon Davis, an eight-year U.S. Army veteran, who now serves as a senior care coordinator at Veterans Services of the Carolinas (VSC). Davis runs the largest veterans' call center in North Carolina, connecting local veterans with assistance including housing, employment, food, and more.
More than a job, this work is personal to Davis. Following his first tour of duty in 2008, Davis struggled to reintegrate into society and fell into homelessness before eventually re-enlisting in the Army for another tour. That experience drove Davis to work tirelessly in service of fellow veterans, many of whom are facing the same situation he found himself in.
"Companies donating money to the Bob Woodruff Foundation are enabling those of us on the front lines to go out and fill those gaps where the needs are," says Davis. "Hopefully this makes our communities healthier as a whole."
Last year, Veteran Services of the Carolinas received a grant from the Bob Woodruff Foundation to support local veterans and their families who are dealing with food insecurity—one of the major challenges brought on by the pandemic. The impact from the Bob Woodruff Foundation partnership was immediate.
Serve One Forward
New for 2022, Pendleton launched an innovative new program that enables everyone to support veterans. The "Serve One Forward" campaign allows consumers to show support for veterans by purchasing a drink for an active duty or retired service member at select bars across the country, from Memorial Day through Labor Day. Purchased drinks will be displayed via tear sheets and veterans can claim those drinks at select bars.
"It's beautiful because it gets right to the local community and is a great way for people to say thank you to veterans," said Woodruff.
It all goes back to the concept of "We've Got Your 6": four simple words that represent much more than a motto. It represents a promise to support veterans in need—to protect those who protected us.
For Pendleton Whisky, supporting veterans and having their backs isn't just something they say, it's something they do.
Now that's a cause worth toasting to.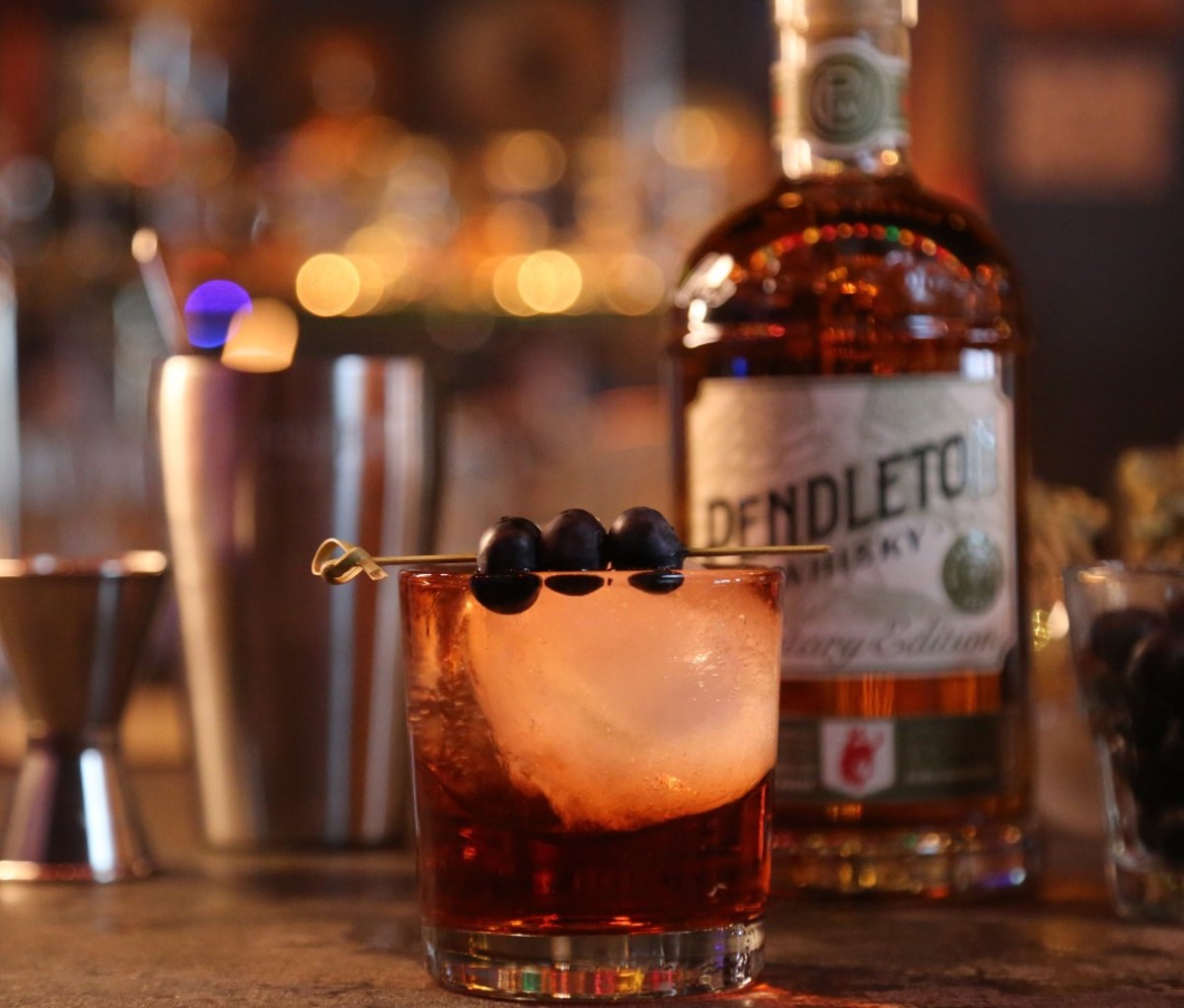 How to Make a Pendleton Salute
Servings: 1
Ingredients
1.5 oz Pendleton® Whisky
1 oz Campari
1 oz Sweet Vermouth
3 Blueberries
Instructions
Stir ingredients very well with ice and strain into an ice-filled rocks glass.
Garnish with blueberries.
Pendleton® Blended Canadian Whisky. 40% Alc./Vol. (80 proof). ©2022 Pendleton Distillers, Lawrenceburg, IN. Please drink responsibly.
LET'ER BUCK and the bucking horse logo are registered trademarks of The Pendleton Round-Up Association. PENDLETON is a registered trademark of Pendleton Woolen Mills.
For access to exclusive gear videos, celebrity interviews, and more, subscribe on YouTube!