German brewers have been making Oktoberfest beer, the easy-drinking amber lagers, for over 200 years. But a U.S. craft brewery that previously only dabbled in the style has surpassed them all with the best Oktoberfest we've ever tasted, from Europe or anywhere else. So how did they do it? It all started, unsurprisingly, from a partnership with one of Germany's oldest independent, family-owned breweries, Brauhaus Riegele.
Riegele isn't a big name in the U.S., but among its laurels is Germany's Beer of the Decade for the crowd-pleasing Commerzienrat Riegele Privat. Though Privat is a masterful take on German lagers, Riegele has built a reputation for breaking out in Germany's rigid, staid beer culture. Instead of resting on its centuries-old standards, the Bavarian brewery has spent generations refining its beers and experimenting with new styles (they make some of Bavaria's only IPAs). It was that constant drive for better beer, says Sierra Nevada founder Ken Grossman, that led him to reach out to collaborate with the brewery.
Grossman's Chico, California-based operation previously produced a limited run of an Oktoberfest lager that was consumed at the brewery's annual Oktoberfest celebration. After last season, Grossman thought the quaffable, yet potentially complex style was primed to go coast-to-coast. And following the success of his Beer Camp Across America tour, where the Chico crew brewed with renowned colleagues like Oskar Blues, Victory, and Firestone Walker, Grossman knew he wanted to team up with a like-minded brewer. His list of friends in Germany is long, but he'd recently begun helping Riegele on a barrel-aging project (rarely found across the Atlantic) and knew their attention to detail and creative spirit matched his own brewing philosophy.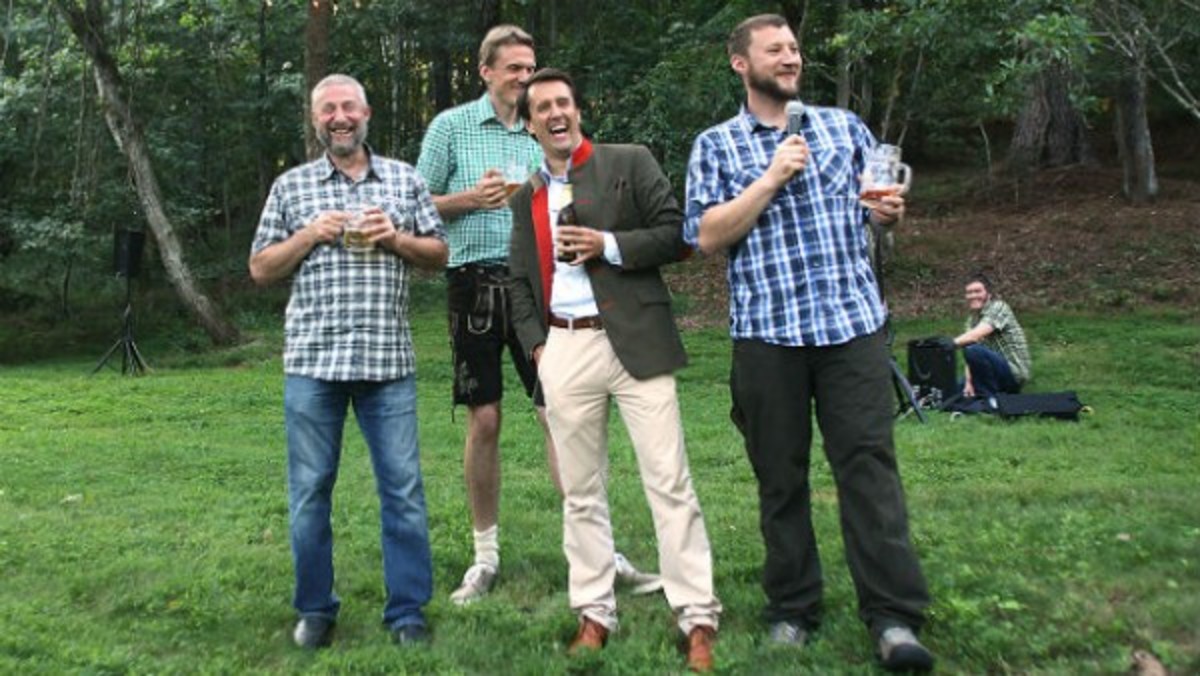 Ken Grossman (left) and his son Brian (right) celebrate with Riegele brewer Frank Muller and manager Sebastian Priller-Riegele at an Oktoberfest preview party.
When Grossman's team and Riegele came together, they pinpointed an heirloom barley called Steffi to help set their Oktoberfest apart. Though it's a favorite grain for the German outfit, Steffi is rarely used elsewhere due to its cost — it takes more grain to produce a batch than modern strains. "It's an old variety, but it has quite a bit more character," says Grossman. 
The Bavarian brewery also maintains one of the largest libraries of brewers yeast in the world, each of which imparts a unique character on barley, hops, and water. "A beer is a puzzle of 1,000 parts," says Riegele manager Sebastian Priller-Riegele. "Each piece and ingredient has to fit into each other." The Riegele team combed through its extensive collection and picked the ideal yeast that would bring the desired flavors together.
The team finished the beer with a mix of spicy German hops. "We spent a lot of time getting a balance of roasted malts and bitterness that was traditional," Grossman says. "But in a Sierra Nevada twist, we boosted the aroma hops."
The resulting beer sets the new standard for the style, with a rich, wide range of flavors you'd find in a much stronger brew, while maintaining the trademark drinkability of a fest beer (at 6 percent ABV). You'll taste the Steffi and complementing barleys upfront with spicy hops following. The lager finishes dry and crisp with a balance of hop bitterness and malt sweetness.  It's the ideal beer for any fall day — one you can sip and geek out on, and one you can hoist in a stein and enjoy without thinking. Our only complaint: Sierra Nevada says they plan to reformulate and collaborate with a different brewery next Oktoberfest season.
For access to exclusive gear videos, celebrity interviews, and more, subscribe on YouTube!