Food & Drink
The Ranch Water Cocktail Is Texas' Single Greatest Contribution to the World
Looking for a refreshing summer cocktail without fuss or frustration? Let us introduce you to what might be Texas' single greatest contribution to the cocktail world: the highball ranch water. With just three ingredients (and no need for glassware), the ranch water is the ultimate tequila (or mezcal) sipper.
Its origins are a bit of a mystery. We don't have any proof it was conjured by a parched ranch hand in Texas after a long day of corralling cattle, as you might imagine.
The implied authenticity (and the mystique that comes with it) may be behind the recent acceleration of the ranch water's popularity. Drinks writer Tim McKirdy noted an astronomical rise in Google searches for the drink last August; since then, more than a dozen pre-made canned versions have hit shelves.
Likely buoyed by the pandemic, this simple drink's rise is at least partially due to its simplicity. In its purest form, the ranch water is just tequila added to a bottle of Topo Chico sparkling water, with a squeeze of lime to add freshness. It's refreshing, bold, easy to make, and can be tailored to your preferences with your choice of agave spirits.
One person who's happy to see the ranch water gaining appreciation is Nico Martini, who literally wrote the book on Texas cocktails: Texas Cocktails. Martini says there's plenty of flexibility for the drink, but the "standard" version, as he calls it, consists of the following:
10 ounces Topo Chico
1.5 ounces blanco tequila
a "squeeze" or 1/4 ounce of lime
It's "the most true to form and, frankly, the most balanced," says Martini. "The ranch water is all about simplicity. If you make it right, you can drink them all day. It's tasty and hydrating."
It's a social occasion drink for Caer Ferguson, co-founder of Daijoubu, and bartender at DrinkWell Austin. "You open a Topo Chico, take a sip and pour the tequila right in there," she explains. "For hanging out in the backyard while it's hot, it's great. Like all highballs, it's more refreshing (and better for you) than a beer."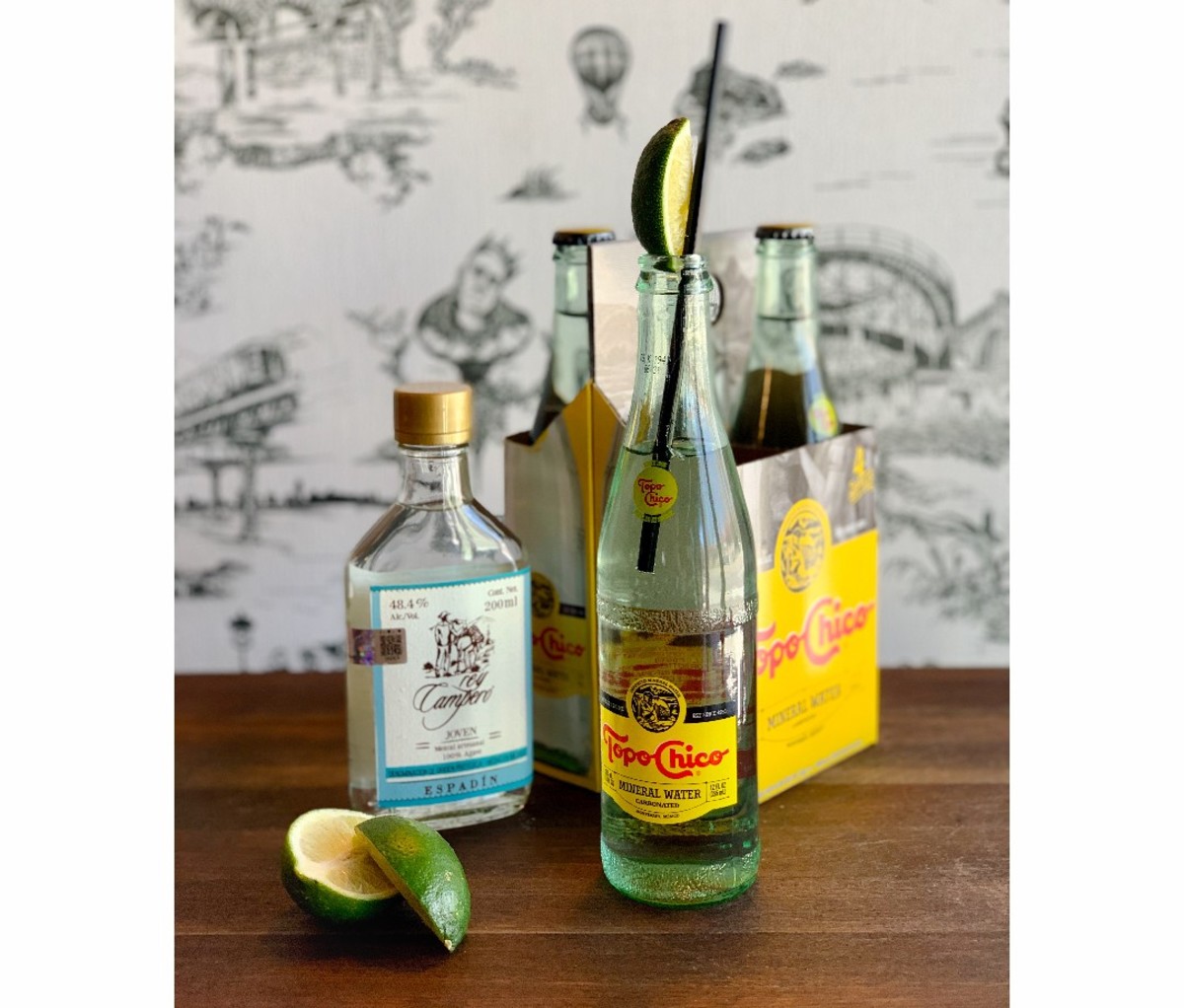 The ranch water is a favorite of Jesse Torres, formerly of the American Elm bar in Denver. Torres created a to-go version of the drink at the beginning of the pandemic, consisting of a 200 ml hip-bottle of tequila, a lime, paper straws, and a four-pack of Topo Chico.
American Elm's version was served DIY because, for most fans, the ranch water isn't finicky. "I don't think anything about it is strict," says Ferguson.
But popularity comes with politics. Some roll their eyes at the sudden cult status achieved by what is essentially a tequila soda. Others were quick to point out that a "superior" drink can be achieved by switching out tequila for mezcal, which gives the refreshing drink smoke and other, more complex flavors.
While whiskey lovers may instinctively reach for an aged product, Martini says to leave the añejo and reposado tequilas on the shelf. "To me, the older the spirit, the more you take away from the essence of the drink. If you're making it with an extra añejo, you've eliminated the light nature of the cocktail."
We like El Tesoro Blanco ($45; Drizly) and Tequileño Platinum ($52; Drizly), but your favorite is where you should start, (yes, even if it violates some "rules").
Margarita fans should also resist the urge to add salt—on the rim or in the drink. "If you must garnish, I'd recommend squeezing the lime, then shoving it into the bottle it was hopefully served in," Martini says.
One thing everyone seems to agree on: Ranch water is defined by Topo Chico, the Mexican carbonated water that's soared in popularity (comparable to the ranch water). And thank goodness for that, because its popularity has made it significantly easier to track down outside of Texas.
Why Topo Chico? Well, there's a cultural reason, and a scientific one. "Topo is so effervescent," says Martini. "When you have a three-ingredient recipe and one of those ingredients is almost 80 percent of the cocktail, you should probably aim for the best version of that ingredient. I don't know what magic Topo found, but it's easily the best sparkling water I've had. If not Topo, make sure your soda is as carbonated as possible. That's the key."
The ranch water is still growing its audience, but it has a powerful home state movement behind it. "Texas doesn't have a rich history of original cocktails," says Martini, "but the ranch water is absolutely a Texas cocktail. It's becoming trendy and that makes me happy, but it's becoming trendy because it's delicious."
Martini thinks it's poised to take over territory occupied by popular cocktails as it expands, and there's evidence of that: The drink has entered mass production, with half a dozen canned versions (including one made by Topo Chico) entering the market in the last year. But if you're going to have one at home, you might as well make it yourself, to your own specifications. A little more tequila, some smoky mezcal, or even the taboo dash of salt that Martini hates, but Ferguson likes.
There's one thing they agree on: It's a damn good drink.
"Once you have a ranch water," says Martini, "you might not have another margarita for a while. [It's] simple, crisp, tangy, and based on the greatness of agave spirits. You need nothing else."
Ferguson cuts to the chase: "People just f—ing love it."
For access to exclusive gear videos, celebrity interviews, and more, subscribe on YouTube!