There are few better ways to shop than at a farmers market at the height of the growing season. But it's easy to lose your wits (and a good chunk of your paycheck) in the presence of all that peak produce. Too often we end up with sacks of delicious vegetables and no idea what to do with them. Farmers-market cooking is not about following recipes; it's about grabbing what's in season and cooking it simply, and so I usually let the produce dictate what's for dinner. In early spring, it's wild vegetables like ramps and fiddlehead ferns, which give way to peas, tomatoes, corn, and zucchini, and finally to braising greens, squash, and root vegetables in the fall.
That doesn't mean I don't plan ahead, though. I keep the format of my meals at home consistent (a grilled protein with some steamed seasonal vegetables and a vinaigrette), while changing out the base ingredients to keep things interesting. Here are other ways to master the market.
Make a Sauce
One way to ensure that nothing goes to waste is to create a few base sauces. I take any excess vegetables – e.g., spring onions, leeks, green garlic, beets, kale – and combine them in a food processor with some toasted nuts (almonds or pine nuts), a little hard cheese, and some garlic, vinegar, and olive oil (recipe at right). This pesto is a terrific addition to fried eggs and grilled vegetables, fish, or meats, or it can be thinned out with more vinegar and oil to make a bright-green vinaigrette. The flavor can go in totally different directions depending on what you find – from spicy mustard greens to pungent spring garlic tops. Make a lot and freeze it in small batches.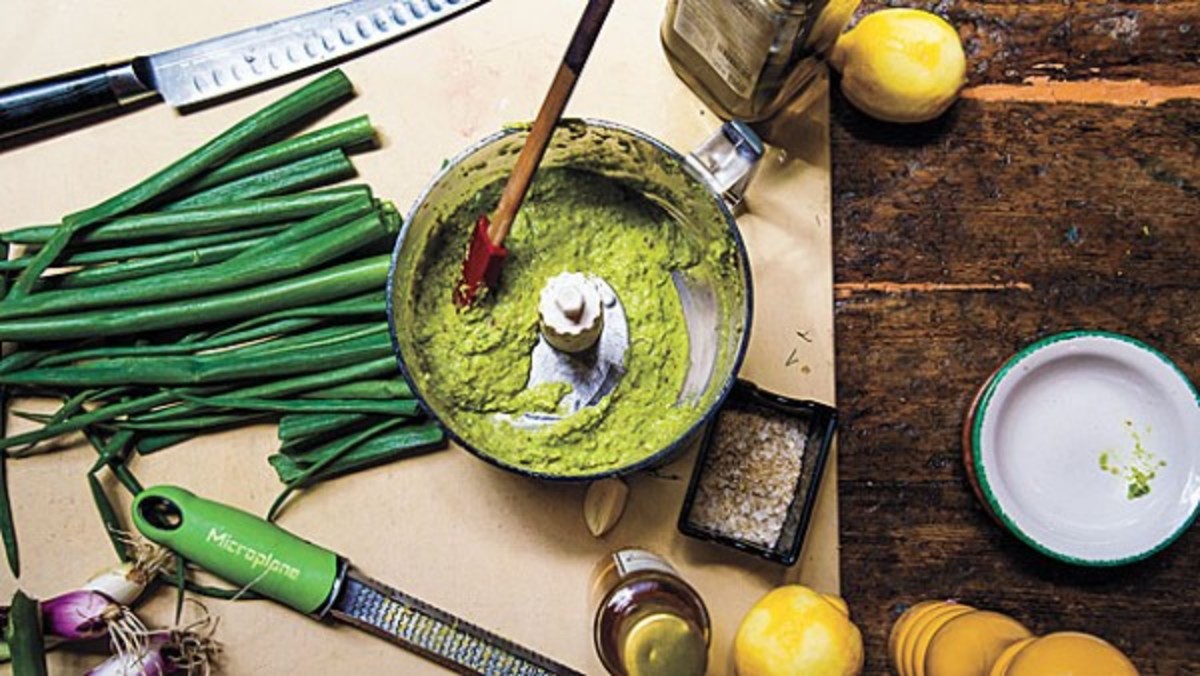 The pesto: Take the green tops of two bunches of spring onions, add ½ cup of almonds, the zest and juice of 1 lemon, a 4-tbsp chunk of Parmesan, and 2 tbsp of good vinegar. Process in the blender and drizzle in ½ cup of olive oil.
Store Things Right
The first step to storing produce is to decide what needs to be refrigerated and what doesn't. Tomatoes, for example, are much better kept out of the fridge in a basket on the counter; herbs and delicate greens will last longer if you gently wrap them in a moist kitchen or paper towel and store inside a ziplock bag or airtight container. Some things freeze exceptionally well – berries, peas, green beans. Just be sure to keep as much moisture and air as you can out of the bag before you freeze them. I love buying a bunch of local berries and freezing most of them to use in making smoothies all winter.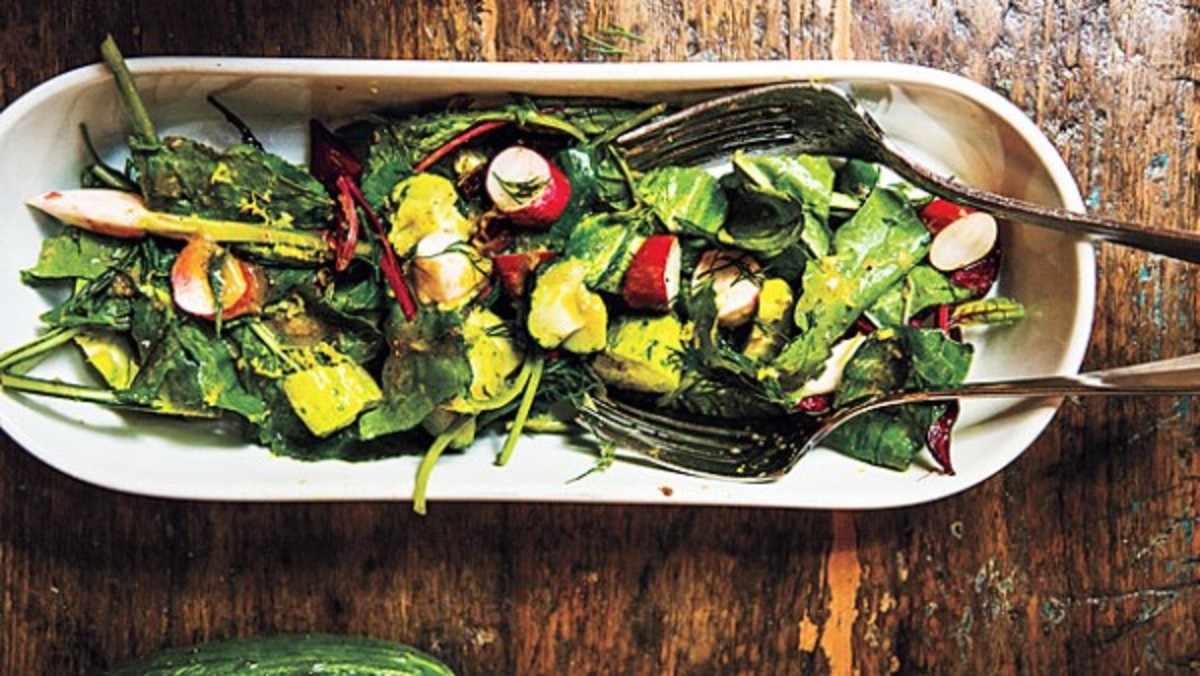 Buy in Bulk – Pickle the Best
If you have a lot of vegetables – beautiful peppers, green beans, and cucumbers, for example – and don't have the time to eat them, turn them into pickles. Pickling is an excellent way to make sure your veggies don't spoil and to add a dynamic briny and acidic flavor to your ingredients. If I find a lot of fingerling potatoes, I'll cook them up with salted water, dried chilies, garlic, and herbs. Then I have a base for a potato salad or spuds on the grill, or they can even be crisped up in some bacon fat for breakfast. Got beets? Slice some raw and quick-pickle them in vinegar with honey, garlic, and spices, and they'll last all week (recipe above). Then take the others, season with salt, pepper, olive oil, and balsamic vinegar; wrap them in foil and roast until tender at 390 degrees.
Quick Pickling: Bring 2 cups water, 1 cup vinegar, and ½ cup honey to boil. Add herbs and whole spices as desired. Pour over vegetables and refrigerate.
Just trust your instincts and combine that trust with a framework of a plan. Switch in and out ingredients that look best at the market.
For access to exclusive gear videos, celebrity interviews, and more, subscribe on YouTube!