Justin Fornal, a filmmaker, writer, and explorer known for his expeditions across the globe, led a trio of comrades on an eight-day swim around the Scottish island of Islay, which produces some of the world's finest whiskies. The goal? To add a sampling from each Islay distillery to the cask chained to their backs in an attempt to create one of the rarest blended malts in the world (the resulting 145 bottles are available for $500 apiece). Fornal and his fellow swimmers Chad Anderson and Johnnie Mundell will be offering a sneak preview of the Great Islay Swim documentary as well as a whisky tasting at the Explorers Club's Tartan Night on April 5, 2018.
Below, Fornal's accounting of day three of the Great Islay Swim.
The blistering cold of the North Atlantic had taken away the mobility from my fingers. As I swum furiously forward, my hands no longer cut through the waves with the custom sharp stroke, now they just smacked into the liquid. Four-foot swells crashed around me in every direction; occasionally, a wave would catch my arm and throw it back over my shoulder like a basketball rejection. The ocean's pounding had become so violent that my head started to ring with music. Moving with the current, the music was ever changing, at one moment it sounded like a clanking Christmas harpsichord; at another, a death metal requiem.
I'd been swimming hard for two hours without rest. I stopped and tried looking around. Where was everyone? Where was the boat? Where were my fellow swimmers, Chad and Johnnie? The swells were too high to see anything but walls of water. When I passed over a swell of the sea, I could see the cliffs of Portnahaven five miles away. There were still no signs of the boat or my two fellow swimmers. I spun around searching in every direction, and suddenly I saw a dark form breaking the surface and approaching me. Each time I crested a wave, I could see it getting closer. I ripped off my foggy goggles in an attempt to see what was coming toward me. As it got about ten feet away, it disappeared as if it was diving under me. I feel a surge of horror and braced for the attack. Whatever was about to happen, I had certainly asked for it.
Over a year earlier, I'd met with my friend Chad Anderson in the map room of the Explorers Club to discuss a very ambitious expedition. We split a bottle of smoky single malt whisky and stared at a nautical chart of Islay, Scotland, known to some as Queen of the Hebrides for its fertile soil and dramatic landscape; to others, as the Whisky Island—home to eight of the world's greatest distilleries. The goal of the expedition was to complete the first circumnavigational swim of Islay's 100 miles of coastline. As if swimming one of the most unforgiving sections of the Atlantic for eight days straight wasn't enough of a logistical nightmare, we planned to do it with a 30-gallon whisky barrel that we would fill along the journey. The resulting 'pillage cask' would render just 145 bottles of a truly once-in-a-lifetime whisky. Everyone I spoke to about the swim seemed to be interested in drinking it, but few seemed interested in helping to actually get the cask filled.
But Chad was very frank, saying he would partner on the expedition with me on one condition. "I want to swim as well."
While planning our course, Chad suggested we swim the same route that Alfred Barnard walked by land in the 1880s while writing his canon, The Whisky Distilleries of the United Kingdom. We would start at Ardbeg Distillery then swim clockwise around Islay.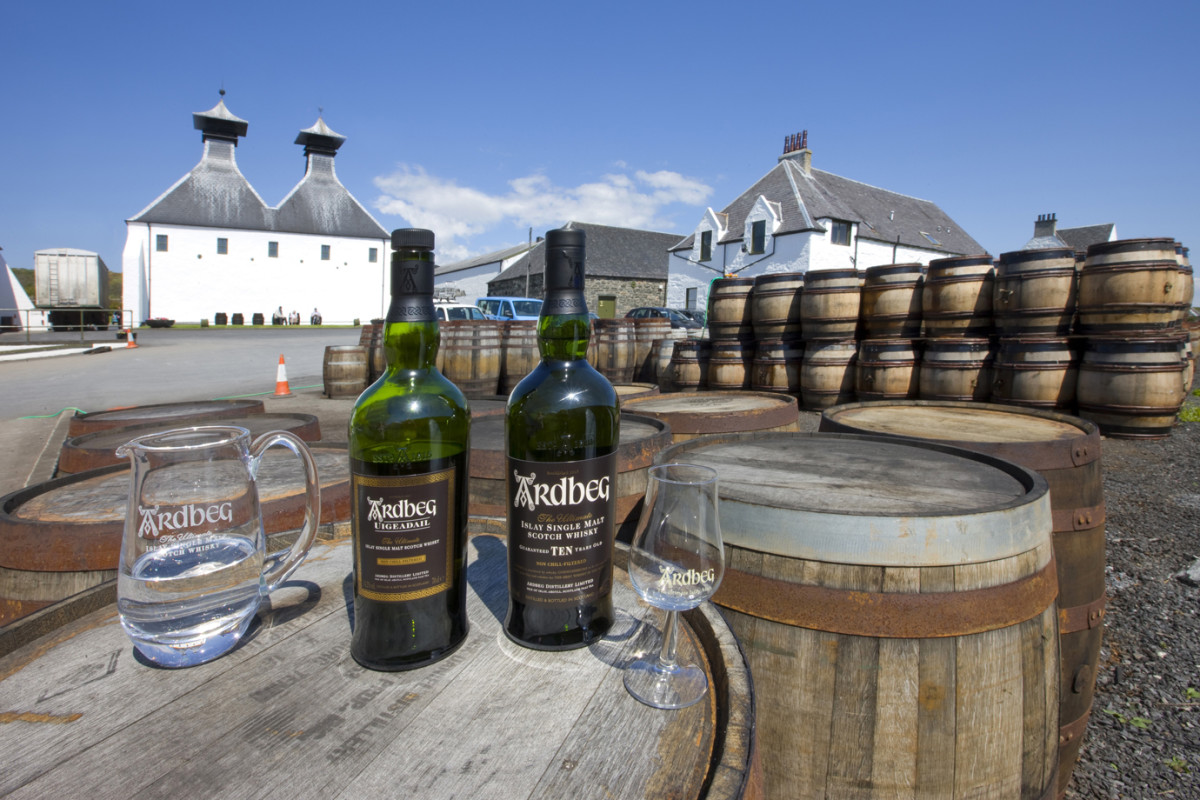 Laphroaig ambassador Simon Brooking and some friends from Visit Scotland offered support and valuable local contacts on the island, the most crucial contact being a sea captain named Angus Newman, owner of a sea tour company and the fastest boat on the island. Considered the saltiest man in the region, Captain Gus knew the waters around Islay and could navigate them better than anyone.
With Gus's local credibility, our expedition started to be taken seriously, both on Islay and farther abroad. News of our quest made its way to Single Cask Nation, a bottler of rare and fine whiskies. They agreed to fund the expedition in exchange for the contents of the cask, which they would bottle. When the funding came in, Chad and I knew we only had a few months to get into the best shape of our lives. Outside of a strict daily pool regimen, every weekend we committed to a 10-mile swim either in the Hudson River or Long Island Sound. Field testing the right gear was just as important as getting in the proper physical condition.
Just days before leaving for Islay, we got word that Suntory brand ambassador Johnnie Mundell wanted to join us. He revealed he was an experienced open water swimmer and had family members on the island associated with the Royal National Lifeboat Institution who could help with the safety flotilla. More importantly, Johnnie listed all of the best places on Islay to get hot soup and curry, and how these locations could be coordinated with our swim schedule. With three swimmers, Gus's boat, trusted kayakers, a small film crew, a paramedic, and the Kilchoman Land Rover set to follow us from land, the team was complete. We all came to an agreement with Single Cask Nation that the whisky barrel would remain on the boat for most of the journey as the contents were too precious to risk getting broken against Islay's rocky shores.
To lose a swimmer would be bad. To lose the whisky would be unacceptable.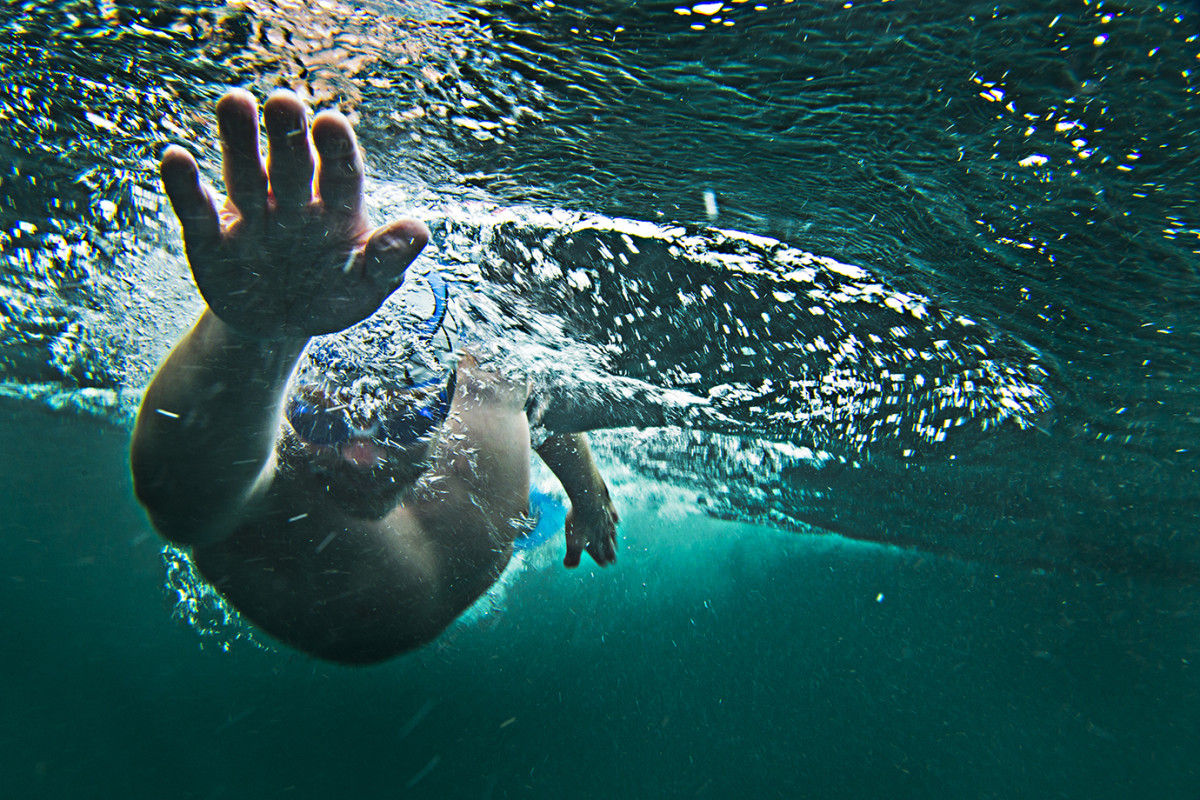 So here we all were three days into an eight-day swim. Each day Captain Gus saved our lives at least once. Even when the swimmers couldn't see him, he could always see the swimmers. Stroke styles and strong currents would often keep the three of us miles apart. Gus would motor between each swimmer delivering hydration and energy gel. When we occasionally swam into one another, the chilling water temperature kept the dialogue brief. Chad would speak as if emerging from an existential trance, "It's really strange out here man." Johnnie's replies were far more visceral: "I'll be better when I get soup and a fucking pint." After a few more choice words he would paddle off furiously.
The North Atlantic was dark, cold and unforgiving. From the moment I dove off of the pier on our first day leaving the Ardbeg distillery, I felt a presence. Something ancient and powerful from the deep knew we were in the water. Now with a large form approaching me at high speed, it seemed it would finally reveal itself. I was a cold, weak land mammal immersed in an environment where I did not belong. As the form dove under the waves, I feared it had finally had enough of the imposters. I prepared to fight but felt no impact. I looked under me and spun around wildly trying to find it. I turned and saw a massive gray seal staring right into my eyes. I could do nothing but stare back.
The seal's expression was oddly human. It twisted its head as if to ask, "What the hell are you doing here?"
I started to laugh and yelled out, "I'm here for the whisky."
With that, he popped his head back under the surf and disappeared. I felt my muscles starting to cramp up from the cold, and realized wearing a wetsuit might be necessary for the days to come. Either way, my fellow mammal had the right idea: keep moving.
I took one more look at the distant cliffs of Portnahaven and thought of Johnnie's promise of soup and a pint. I knew that if I was ever going to feel dry land again, I was going to have to swim to it.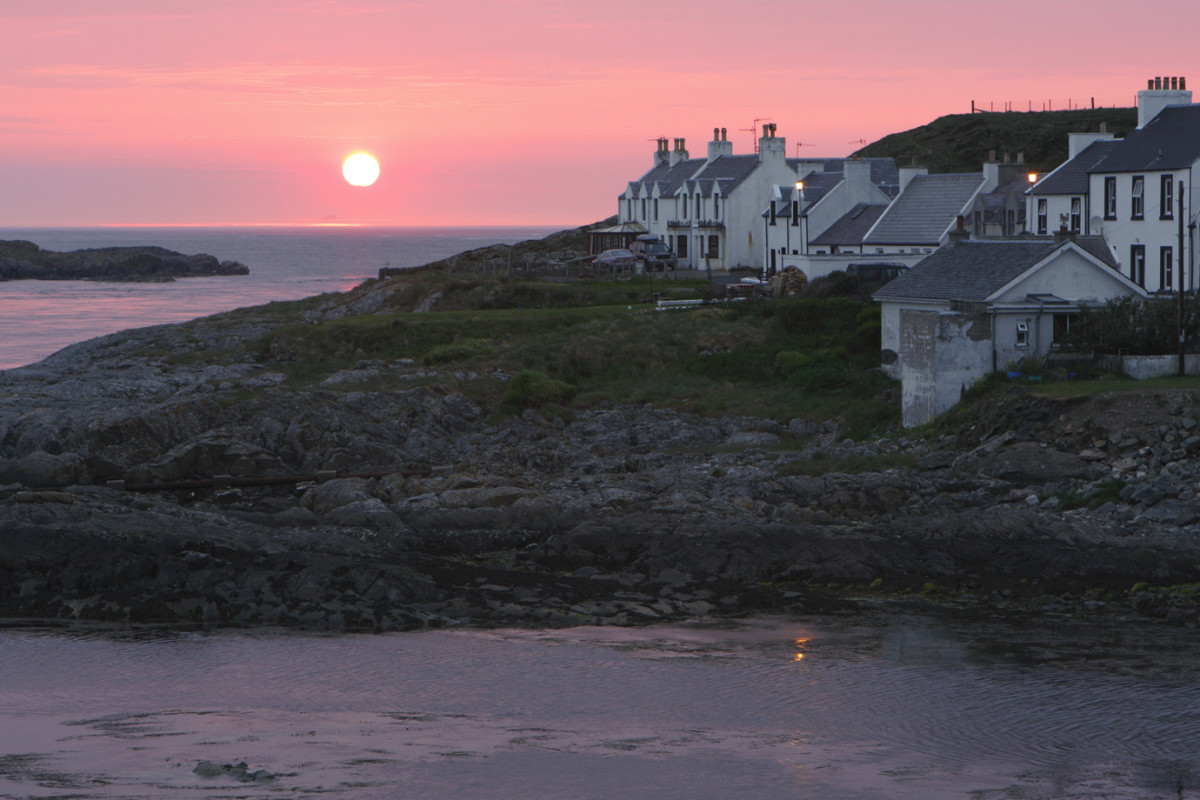 For access to exclusive gear videos, celebrity interviews, and more, subscribe on YouTube!