For one weekend every year, San Francisco's Hotel Nikko blocks off an entire floor of its convention and meeting space from public view. The halls smell like the cleanest frat party you've ever attended. If you forget to eat breakfast, the midday fumes can be dizzying.
Over the course of those two days, some of the biggest names in liquor assemble in the larger rooms here to sip, swish, and spit out hundreds of spirits, from the oldest and rarest whiskeys to flavored vodkas and everything in between. They bring in thousands of special tasting glasses for the process, which keeps the kitchen's dishwashers in a continual cycle. The tablecloths start off white, but by the end of the day, they're invariably stained with a myriad of browns, reds, and yellows.
This is the scene inside the San Francisco World Spirits Competition, a highly secretive conclave of some of the biggest names in the world of adult beverages. Its results can change the liquor world in a week. You can witness your favorite hidden gem bourbon disappear entirely from shelves with one press release calling it the best in the world. And if you're the owner of a small, quality brand, high marks can create an industry-wide sensation that changes your life forever.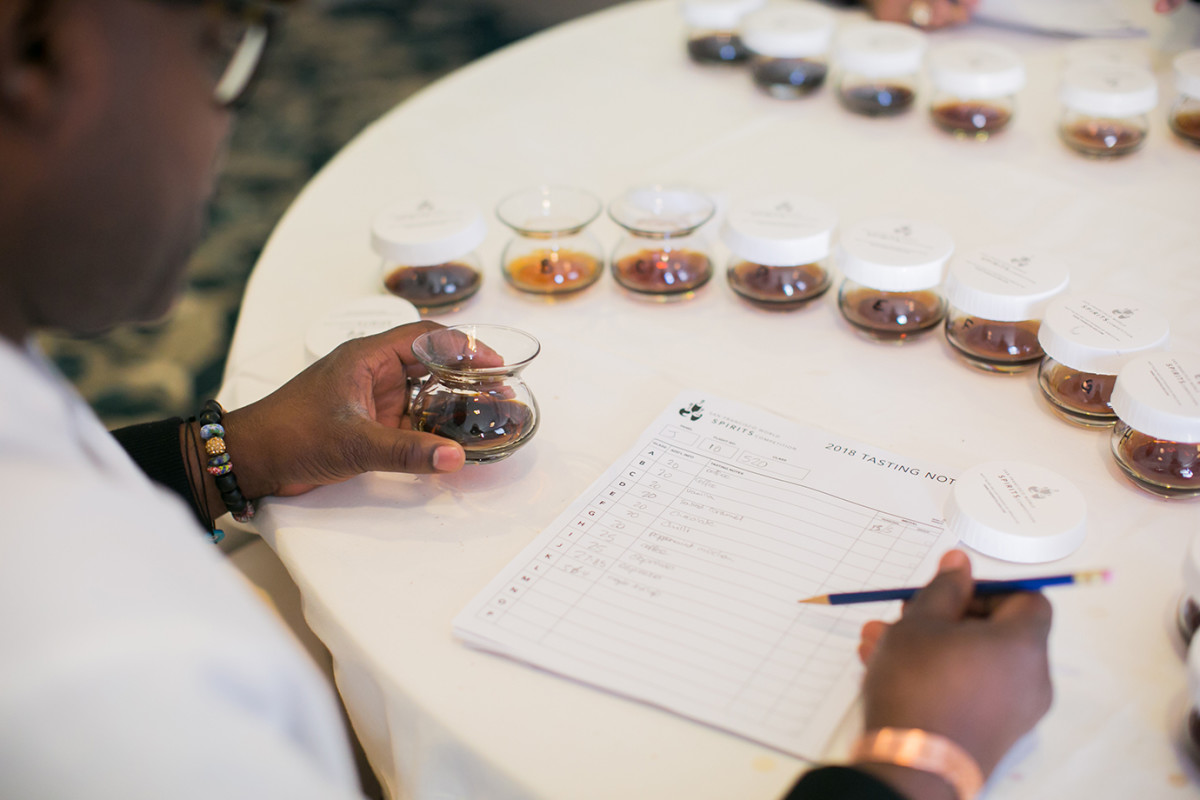 And that's not hyperbolic. Tito's Vodka was a small, regional brand until it won double gold over Grey Goose and over 70 other vodkas in 2001. Last year, a relative unknown called Barrell Bourbon won best bourbon, snatching it from the hands of a few guarded fans and making it equally impossible to find as most of the other greats.
The SFWSC medals can adorn bottles for everything from bottled cocktails to cognac, but for all the power behind this elite group of gathered judges, the competition itself has been somewhat of a mystery, even to folks like myself who ostensibly drink for a living. So when they invited me for a look behind the curtain, I jumped at the opportunity to learn how everything works.
Judges as Jury
I've been tasting professionally for nearly a decade now, but these men and women do it on an entirely different level. The list of judges is a juicy, center cut filet of who's who in the world of alcoholic beverages. Amanda Victoria, the face of the Scotch Malt Whisky Society of America was at the 2018 edition, as was Fred Minnick, author of Bourbon: The Rise, Fall, and Rebirth of an American Whiskey. So were legendary cocktail artists like David Wondrich and Jeffrey Morgenthaler.
The star-studded judging panel is necessary. Liquor trends are hard to predict. In the '90s the death of bourbon seemed near, and a decade ago hardly anyone knew much about mezcal. SFWSC changed all that because it's designed to adapt to and reflect an ever-changing market for booze, but its reputation and the reputations of its judges are really what holds it up against rival competitions year after year.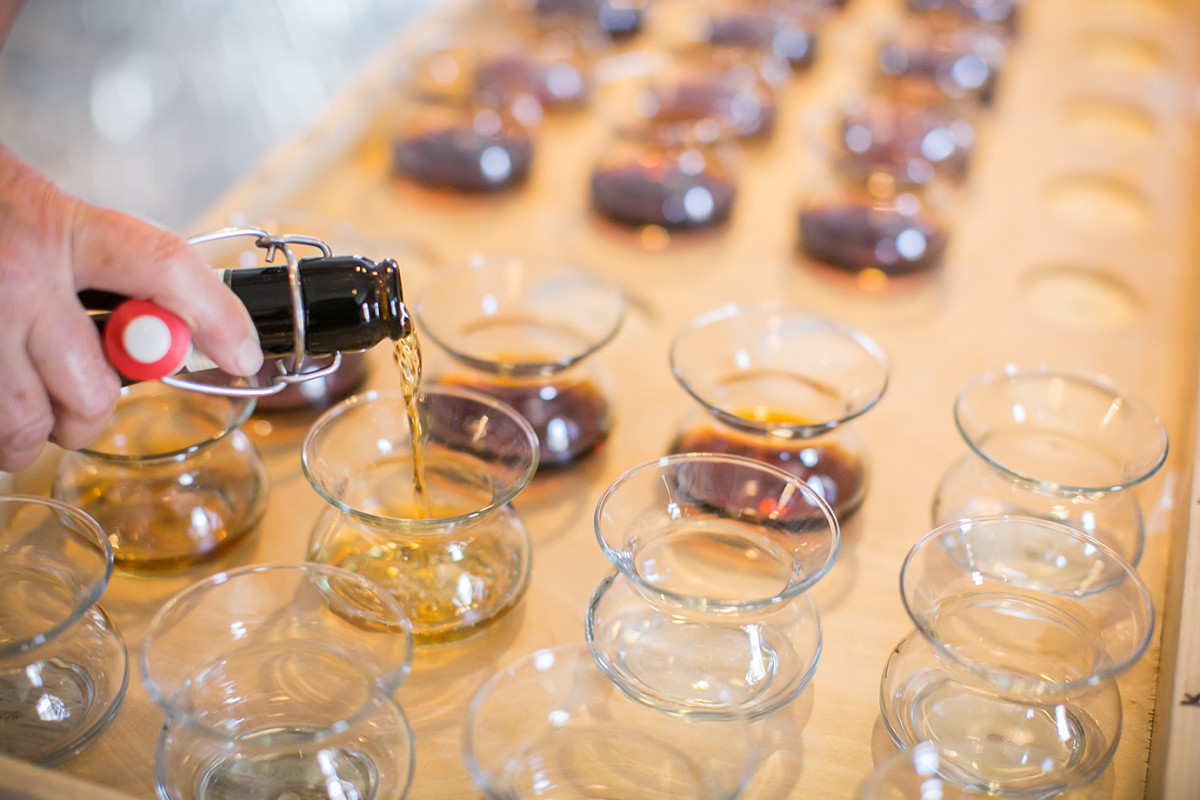 The judging process is complicated, but after observing the competition for a few days, I've got a pretty good idea of how it works. The spirits to be tasted are divided into styles (potato vodka, craft bourbon, aged rum) and a panel of four people is assigned to taste them. They're poured in a closely monitored and protected room (I wasn't allowed to go inside) and brought out and staged at tables for the judges. The judges are told what they're tasting, and sometimes given other pertinent information like the proof of the liquid, or the intended flavor if it's a pre-made cocktail.
Then comes the slurping.
For five minutes or so there's very little speaking as the judges taste (but not swallow) each spirit in front of them. Sometimes there are eight glasses; sometimes there are more than a dozen. They record their scores, and when everyone is done, a proctor for the group goes around the table and tallies the scores for each glass.
Judges can assign one of four ratings to their individual tastings: gold, silver, bronze, or no score.
This is where things get serious. Once all the scores have been shared, the judges have to arrive at a consensus. Sometimes that's easy, like when four people give it the same score. Often these judges are very close, with perhaps one outlier to the group every two or three samples.
Sometimes it's split between gold or silver, and it's up to one of the judges to modify his or her score, or it's up to the panel's lead judge to break a tie. Usually, that means going with the higher score, but not always.
No score ratings often mean there is an apparent flaw in the liquor, but from bronze up, you can assume it's a drinkable spirit. But the real jewel every brand is after is the double gold, which can only be awarded if, you guessed it, two or more panelists give the spirit a gold rating.
The Man Behind the Medals
A win on this stage is a guarantee of quality, signed Declaration-of-Independence style by dozens of prominent names in the business. And the biggest signature belongs to the man who founded it.
Anthony Dias Blue (known to the 100 or so people that make up the judges panel and support staff affectionately as Andy) built SFWSC from scratch in 2001 as an offshoot from the older and equally well-respected San Francisco International Wine Competition.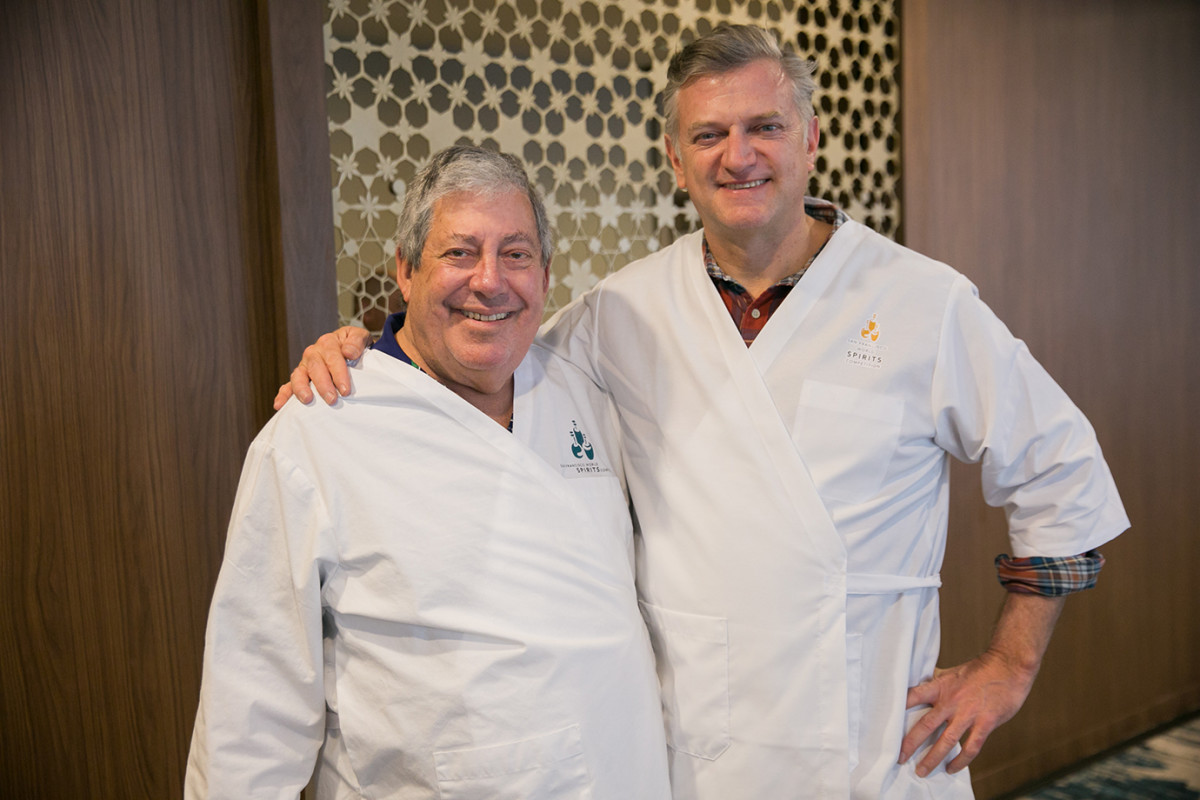 These days, Andy's daughter Amanda runs many of the day-to-day elements of the competition, including shepherding potentially dangerous booze journalists around the hotel so that they don't jeopardize the legitimacy of the blind tasting system. (The idea is if I see too much and mention something to one of the judges, it could undermine all the preparations.)
Objectivity is what has kept this thing running for nearly 20 years. There's a careful screening process for new judges, and not all judges are asked back every year. Blue gives each new judge more or less the same advice. "I always like to tell them upfront that all the people that entered think their product is wonderful," he said, "and if they [taste] a product that they think is really terrible, to give it the proper amount of attention that it deserves."
I shadowed Blue during one tasting, and when he hit on a great whiskey, he passed me his glass. "You really should taste this," he explained. (Amanda, who just two hours earlier politely told me that, unfortunately, I wouldn't be allowed to taste anything, shrugs, and laughs. Nobody's going to stop him from sharing his wisdom.)
Blue has gathered a lot of talent around him over the years, and you can tell he wants people to learn not only how to be good judges, but also how to identify great spirits. I'm the freshest face in reach. The whiskey he handed me is damn good. Because of the coded system, I have no idea what it is, but whatever it was definitely earned the double gold the panel gave it.
"It's Mentally and Physically Taxing"
The judges will do a few hours of tastings in the morning, and then a few hours in the afternoon, and there may be additional rounds of tasting the top scorers for "sweeps," which is a sort of pre-championship screening flight.
That's a lot of booze, even if you're not imbibing. Over breakfast on the second day, one judge explains that it's not an easy job. "Judging like this… it's mentally and physically taxing. You have to maintain a focus, and you have to maintain productivity, and you can't play favorites. It's nearly impossible to go, 'OK, I love all these categories, you just don't.'"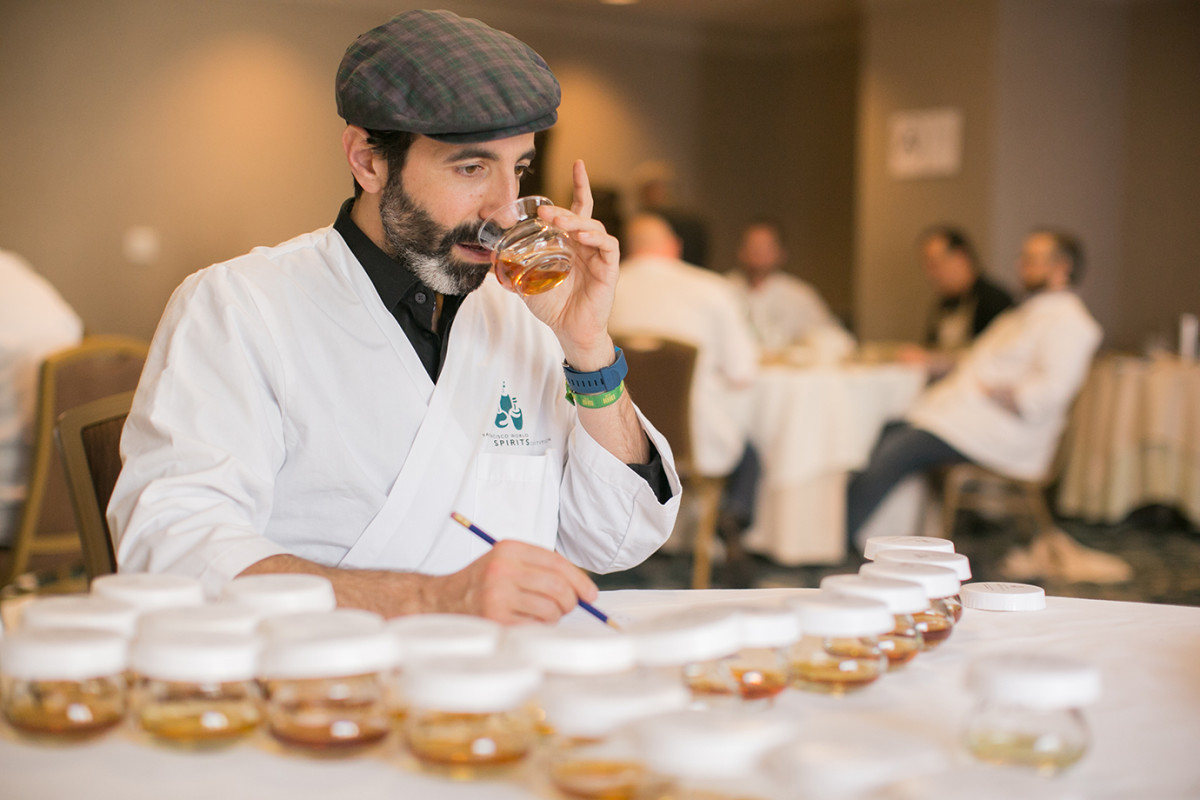 For most of these judges, there's a preferred category, and there's everything else, and they have to treat everything with equal rigor and respect. "It's very important to put yourself in the mindset of the customer for that product and judge it with that sort of lens. When they're really well-made spirits, just because it's not your cup of tea doesn't make it bad."
This is exactly the mindset you want someone in when they're giving you their recommendations. You want the whiskey snob giving fair attention to your flavored rums, just as you want the guy who can't stand juniper sucking it up to help you find the best gin for your martini.
Medal Winners
Though each spirit starts the competition on smaller panels, at each subsequent level it'll be tasted by more judges. By the end, a competitor for best spirit will have been tasted over 100 times.
The final results can vary in enthusiasm, but generally, by the time they're down to best in show, best whiskey, and the like, a vast majority select the same winner.
Curiously, there isn't a quota system for golds, or silvers, or anything. Making a double gold feel elusive for marketing purposes isn't something they care about. "We tell [the judges], 'this is not a comparative tasting,'" Blue said. "We've had whole flights get double gold."
Scores aside, there are other reasons to watch the SFWSC: it is also one of the frontline forecasters of new trends. They witnessed the gin explosion, and they've seen new spirits like baijiu and cachaca blossom.
"You take something like rye that was a real insider's thing when I started at this," David Wondrich, the noted bartender, said. "And it was like, 'Oh, rye's never going to do anything.' Now it's a buzzword. It's popular. It's actually broadly popular, from nothing."
So what's next? Wondrich said we're seeing the start of some fledgling trends in whiskey, though they have a ways to go. "You're getting also a lot of pressure from craft bourbons coming in. And some of those are not ready yet. They're still a little bit unbaked. But those are starting to improve also, quite a bit. In the last couple of years, you're starting to see fully-aged craft whiskeys that are quite delicious. And that's, I think, what we're going to see a lot more of."
Over the next few months, we'll be sharing our own tasting notes of some of the great bottles that won awards at the competition (we've already touched on one two, Knob Creek's upcoming cask strength rye and George Dickel's tobacco barrel aged whiskey). But for now, explore the list yourself, and see how your favorites stacked up. And, you know, stock up if you have to.
For access to exclusive gear videos, celebrity interviews, and more, subscribe on YouTube!