Here's my list of pandemic hobbies. I grew a vegetable garden and baked focaccia, propagated houseplants and fermented gallons of tangy kombucha, the barely boozy, probiotic-packed bubbly tea that's supposedly good for gut health. At the minimum, homemade kombucha was better for me than all those double IPAs I drank during that dark New York City spring.
Six months later I'm still in Brooklyn, still fermenting kombucha, and in another 2020 plot twist, consuming kombucha-infused beer. I'd like to call the move unforeseen, but truth is, I'm seeing hard kombucha everywhere.
Companies are betting big on higher-ABV kombucha, cranking up the tangy ferment's alcohol content (it typically contains less than 1 percent alcohol by volume) to levels usually seen in lagers and IPAs. Hard kombuchas are carbonated conundrums, better-for-you beverages that deliver a buzz.
I'm not totally opposed to hard kombucha's existence. Plenty of solid options exist, including Sierra Nevada's Strainge Beast and KYLA, produced by Full Sail in Oregon. Drinking several is invigorating, but hard kombucha is not suited for afternoon-long intake while watching football. The acidity overwhelms, inebriation served with a side of indigestion.
Pass the aspirin and Tums, please.
I didn't need antacids to try two compelling new entrants into the kombucha sphere. First, San Diego's JuneShine, a hard kombucha producer, partnered with Stone Brewing on StoneShine. Kombucha made with green tea and honey is augmented with tropical Citra and coconut-like hops and a brewery pun—stone fruits, namely nectarines and peaches.
The hybrid has moderately gripping acidity, the fruit and hops demanding full attention from your nose and taste buds. In a beer world swirling with juicy hazy IPAs and berry-mobbed sour ales, the 6 percent ABV StoneShine fits neatly into the current zeitgeist. It's pleasant enough to pound on a late-summer beach, but it's best to frame the hybrid as a gluten-free sour IPA—a health-minded selling point for drinkers with that dietary concern.
Get it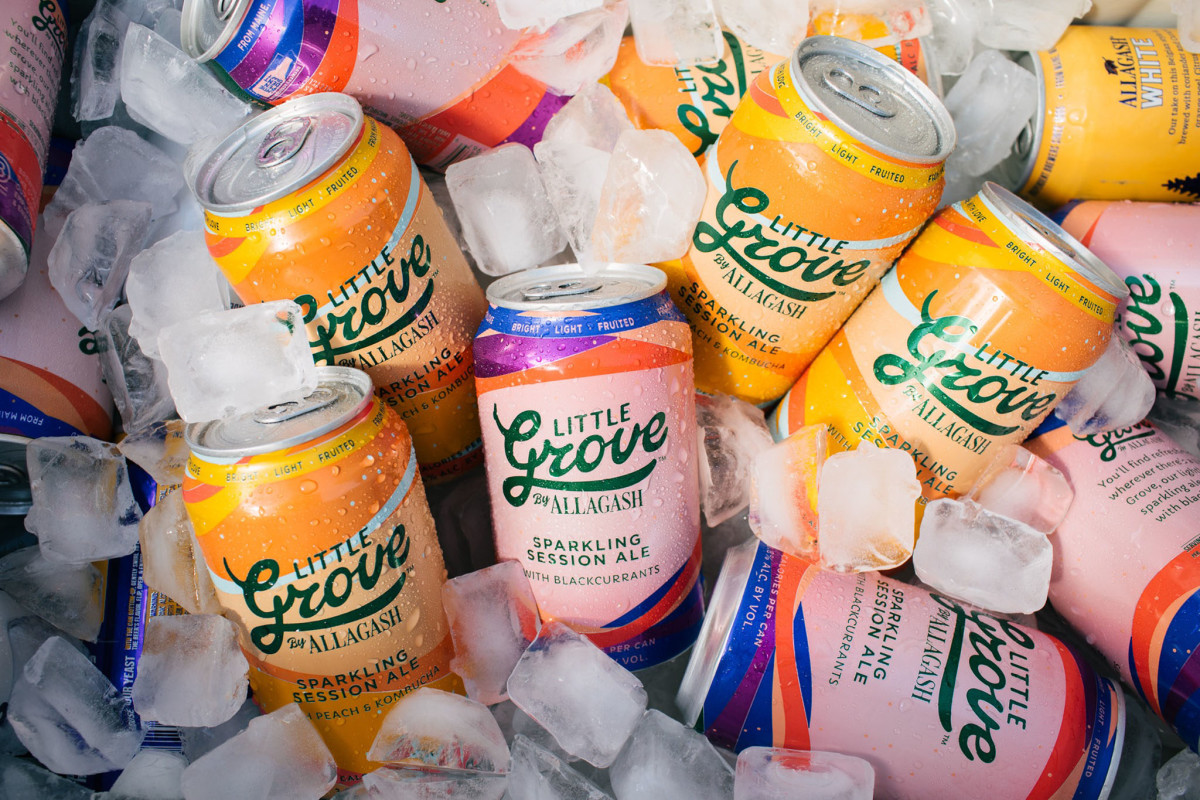 On the other hand, Allagash Brewing appeals to waistline-conscious customers with its Little Grove line of 100-calorie sparkling session ales infused with fruit. This seems off-brand for the Belgian-influenced brewery famed for its fragrant White witbier and spontaneously fermented ales, but the pandemic-ordered closure of bars and restaurants hit Allagash hard. (This was my first summer in a decade that I did not devour a lobster roll and a couple White pints in Maine.)
Instead of moping, Allagash innovated with new packaged products, most notably Little Grove. The beers come in two versions: blackcurrant and peach blended with kombucha. The blackcurrant has a terrific tartness, something I might sip at brunch to wash away a wee hangover. I personally prefer the kombucha version that's barely sweet and pleasingly tangy, the peaches present and not pummeling. It's a light and breezy sipper suited for lazy afternoons, the 3.6 percent ABV meaning you can—and should—crush a couple cans.
Unlike most hard kombuchas, Little Grove is easy to drink again and again.
Get it
For access to exclusive gear videos, celebrity interviews, and more, subscribe on YouTube!