Food & Drink
Meet the South Dakota Rancher Taking on Climate Change—One Bison Steak at a Time
UP CLOSE, the American bison is a primordial-looking creature, an ancient cave painting come to life. Curved horns angle upward from square heads. Woolly fur hangs off shoulders in matted strands. And dark eyes, almost sunken in their skulls, are piercing—unmistakably wild.
Of course, bison are largely domesticated animals at this point, having been fenced in for generations. In some ways, they act no differently from cattle, even when roaming free on a 9,000-acre ranch. So when Dan O'Brien and his family decide that it's time to move their herd of 800 animals from the family's ranch, 45 miles southeast of Rapid City, South Dakota, to the bison's annual "winter range"—a 24,000-acre grazing lease on the adjacent Buffalo Gap Grasslands—all it takes is opening a few gates. Well, that and a four-wheeler to push them in the right direction.
"Once that gate is open, they know where to go," says O'Brien, the 71-year-old rancher, writer, and ecologist behind Wild Idea Buffalo Company, which sells 100 percent grass-fed, humanely harvested bison meat direct to customers across the country. "Just get out of their way, and they'll go."
Before long, the herd appears on the horizon, steadily moving its way down a series of bluffs and into a wide river valley. The bison lope along in single- or double-file lines, and when they reach the Cheyenne River, which marks the ranch's southern boundary, they splash through it like a herd of wildebeests crossing the Nile. Then the herd gallops up into the grassy buttes beyond, a trail of dust rising into the air.
Matthew McConaughey's Life on the Road »
O'Brien, sitting atop a Polaris ATV, wearing Carhartt bibs and a Stormy Kromer hat, is smiling at the sight, clearly still enamored with a scene he's witnessed hundreds of times. "It never gets boring," he says. "Watching those animals go across the water—it just takes you back in time. It's what I live for."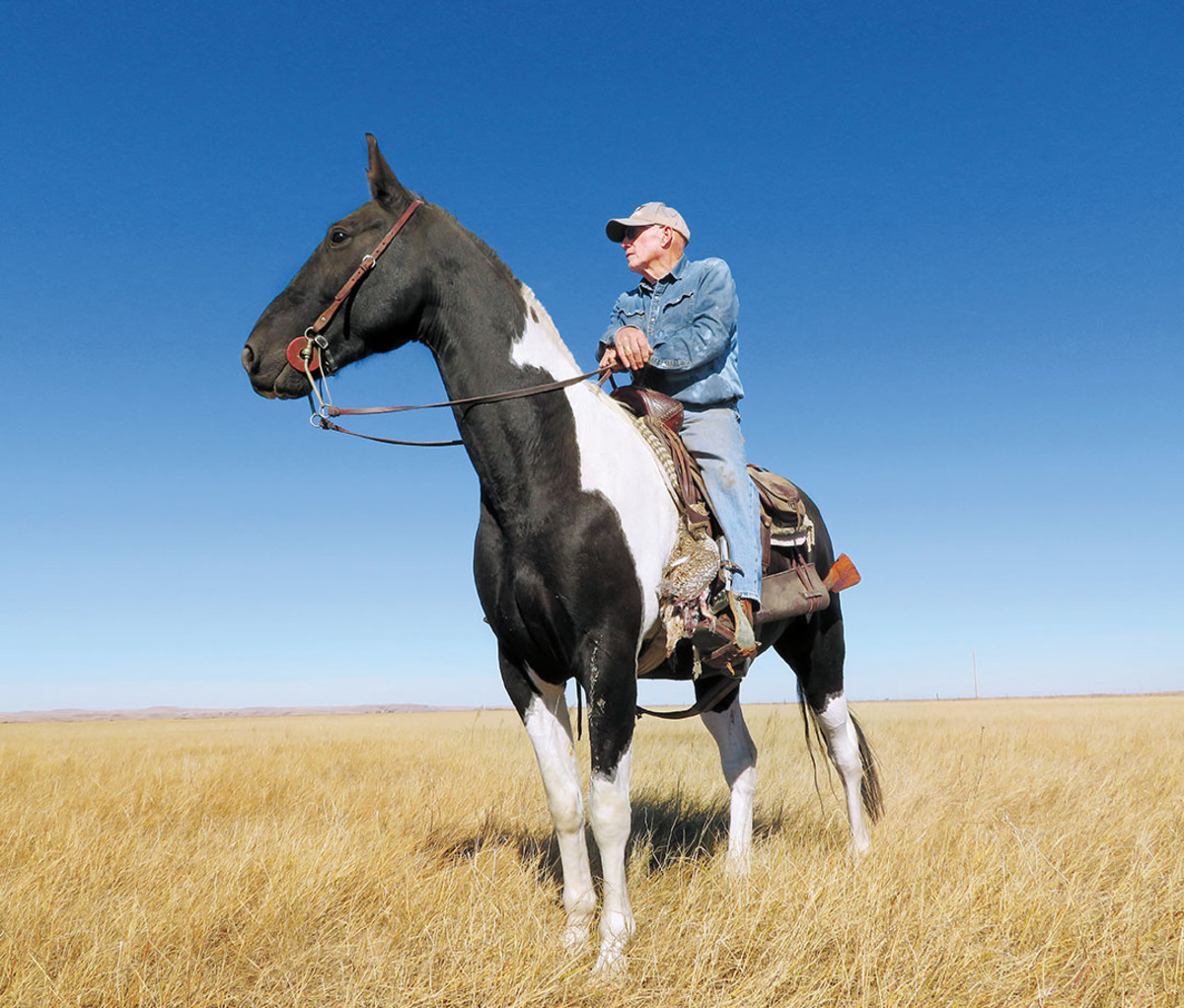 O'Brien has become something of a legend in the conservation community, thanks to his efforts to protect and restore the native prairies of the northern Great Plains. Sitting next to him in the ATV is perhaps the biggest legend in the modern conservation community, Patagonia founder Yvon Chouinard, who's wearing an orange puffy with a green beanie sitting lightly atop his head.
Butchers Go Postal: The Rise of Mail Order Meat »
O'Brien's Wild Idea company produces bison jerky for Patagonia Provisions, the company's food division, and Chouinard is on hand to help celebrate Wild Idea's 20th anniversary. But the two septuagenarians are more like-minded environmental radicals than business partners. Each is convinced that the world, if it isn't already entirely screwed because of climate change and other environmental threats, is well on its way. And both are certain that the best way to mitigate the disaster is by changing the way we eat.
dan is doing exactly what he should be doing as a farmer. he's out to save the planet.
Chouinard is doing this through Patagonia Provisions, which focuses on regenerative agriculture and sustainable food, but he's a relative newcomer to the cause in that sense. O'Brien has been at it for two decades through his bison herd, which has increased biodiversity on his ranches, helped capture vast amounts of carbon dioxide through the protection of native grasslands—the prairie ecosystem being one of the best carbon sinks in the world—and produced some of the healthiest red meat on the planet.
It's heady, inspiring stuff. But standing here with the two men on the edge of South Dakota's Badlands, after a morning spent discussing the world's ills—disappearing salmon, California wildfires, greenhouse gas emissions—it feels as if the planet's future rests in the hands of Steve Zissou and Elmer Fudd.
Patagonia's Fight for Public Lands »
"We can't just work on the symptoms of climate change," Chouinard says. "We're gonna have to just admit the polar bear is toast. He's on his way out. All those streams in California, Oregon, Washington—they're not gonna have salmon in them. That's just the way it is. But what we can do is work on the cause of global warming. That brings us to agriculture, and that's why we're here."
O'Brien, for his part, says he was aware of the coming environmental crisis early on. In 1970, while a college student at Findlay College, he helped organize the campus's first Earth Day. But the seriousness of the issue and a possible solution didn't crystallize in his mind until he began living in South Dakota in the late 1970s. "And I became vocal about it, too," he says, "to the point where people thought I was a little nutty. But I couldn't just sit by and watch the deterioration of the Great Plains and not try to do something."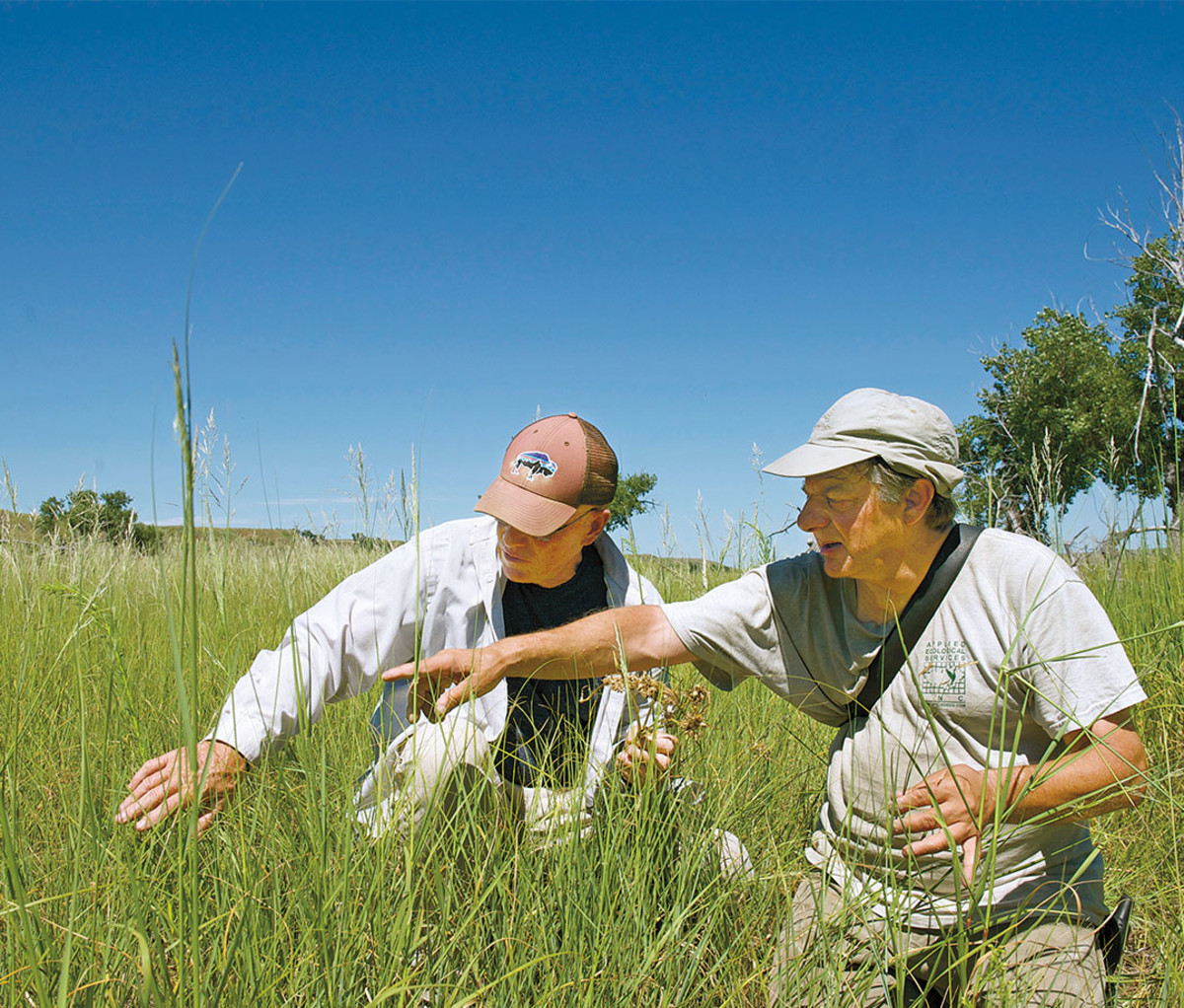 O'BRIEN'S CHEYENNE River Ranch is as big as 9,000 acres sounds. The nearest neighbor is a five-minute drive down dirt roads. The view from the front porch extends unbroken to the horizon. From the kitchen table, you can spot a mule deer across the prairie from a mile away.
"This is an area of big landscapes," says O'Brien, who lives on the property with his wife, Jill O'Brien, Wild Idea's CEO, and a pack of bird dogs—grouse hunting being one of his favorite pastimes. "A hundred and sixty acres here doesn't even count."
Are American Hunters the Last Great Hope for Conservation? »
Most mornings before sunrise, O'Brien works at his desk, writing. He's authored more than a dozen novels and nonfiction books over the last 35 years and won numerous awards, including the Western Heritage Award for his 2000 novel, The Contract Surgeon. O'Brien has also published three memoirs, and like most authors who've written about themselves, he's told a few versions of his origin story, at least as it pertains to the Great Plains.
O'Brien grew up in Ohio, and when he was a kid, his parents loaded up the family car for a road trip to South Dakota's Black Hills. As they drove across the state's vast plains, abundant in solitude and not much else, O'Brien announced to his mother that he would live here one day. His mother waved off the childish notion. But O'Brien didn't let it go. After earning an M.A. in English literature from the University of South Dakota in 1973, he signed a bank contract that allowed him to take over ownership—and payments—on a ranch north of Rapid City. He was 27 years old.
"I'm a believer that everybody has their own landscape that's easiest to love, and a lot of times it's where you grew up," he says. "But sometimes it isn't, and that kind of happened to me here."
He augmented his income with the occasional gig teaching English and spent seven years working for the Peregrine Fund, helping restore the onetime endangered species back to health by releasing young birds across the Rocky Mountains. (O'Brien has been a falconer for most of his life, hunting small prey with the birds—"my golf on the Great Plains," he called it.) But mostly he tried to make it as a traditional cattle rancher. He constantly struggled, though, because the cows needed constant attention so they wouldn't freeze to death in the winter, wither in the summer heat, or starve year-round. Snowstorms or droughts occasionally swept across the plains and wiped out entire herds.
One day in the early 1980s, while driving down a road near his ranch, taking stock after a divorce from his first wife, he stumbled on a lone bull bison wandering the plains, an escapee from a nearby buffalo-ranching operation. It was his Road to Damascus moment. This was the animal meant to live on this land, not his European, overbred Angus cattle, which were destroying the land through their intense grazing habits. So over the course of a few years, he sold off his cattle and went all in on bison, letting them graze freely on the native prairie grasses.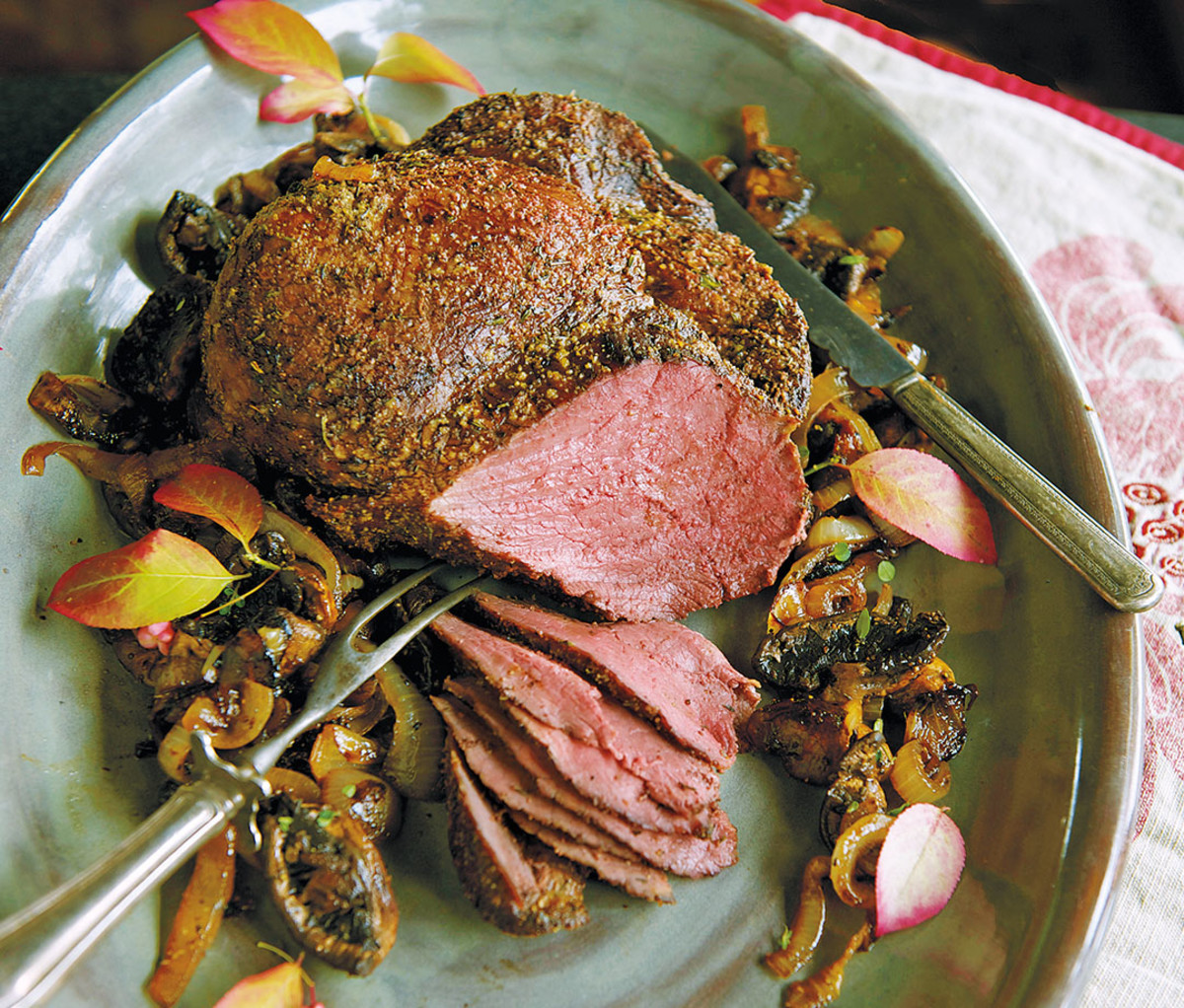 Buffalo meat was increasingly in vogue at the time, thanks to its newfound health benefits—a bison rib eye has 70 percent of the calories of beef and 60 percent less fat, with more protein. But O'Brien envisioned something far different from the typical bison operation, which treated the prehistoric critters as cows, crowding them into feedlots, jacking them full of antibiotics to curb disease, and "finishing" them with grains, which develop the fat so beloved in beefsteaks but which contributes to red meat's artery-clogging omega 6 fatty acids. O'Brien's vision, informed by years of reading ecology books and working across the West protecting raptors, was to let the bison roam free, as their ancestors had done for millennia. He'd harvest the animals in the field. And he'd ship the meat directly to his customers, which would make it all profitable. By doing this, he could keep his ranch afloat and preserve vast stretches of the northern Great Plains.
The Wildest New National Parks in the World »
Almost immediately, O'Brien began to notice a difference on his ranch. There were more birds, more predators. Deer began showing up in greater numbers. It was like watching the Serengeti return to life after a fire. One reason for this was the "buffalo wallows" that the bison created by rolling in the ground—small depressions that became water holes for other animals. Plus, the bison have evolved to adapt to the harsh climate, so caring for them largely meant leaving them alone.
As the gamble paid off, O'Brien became more and more ambitious about expanding his vision. As his herd increased from 12 to 50 to 800, he would move to his current Cheyenne River Ranch in 2002, because of its adjacency to the Buffalo Gap National Grasslands, where he can graze the bison in the wintertime. "There's a nexus of public, tribal, and private lands here where you can start to make a real difference," says O'Brien. "This is some of the best prairie anywhere, and we're going to fight like hell to protect it."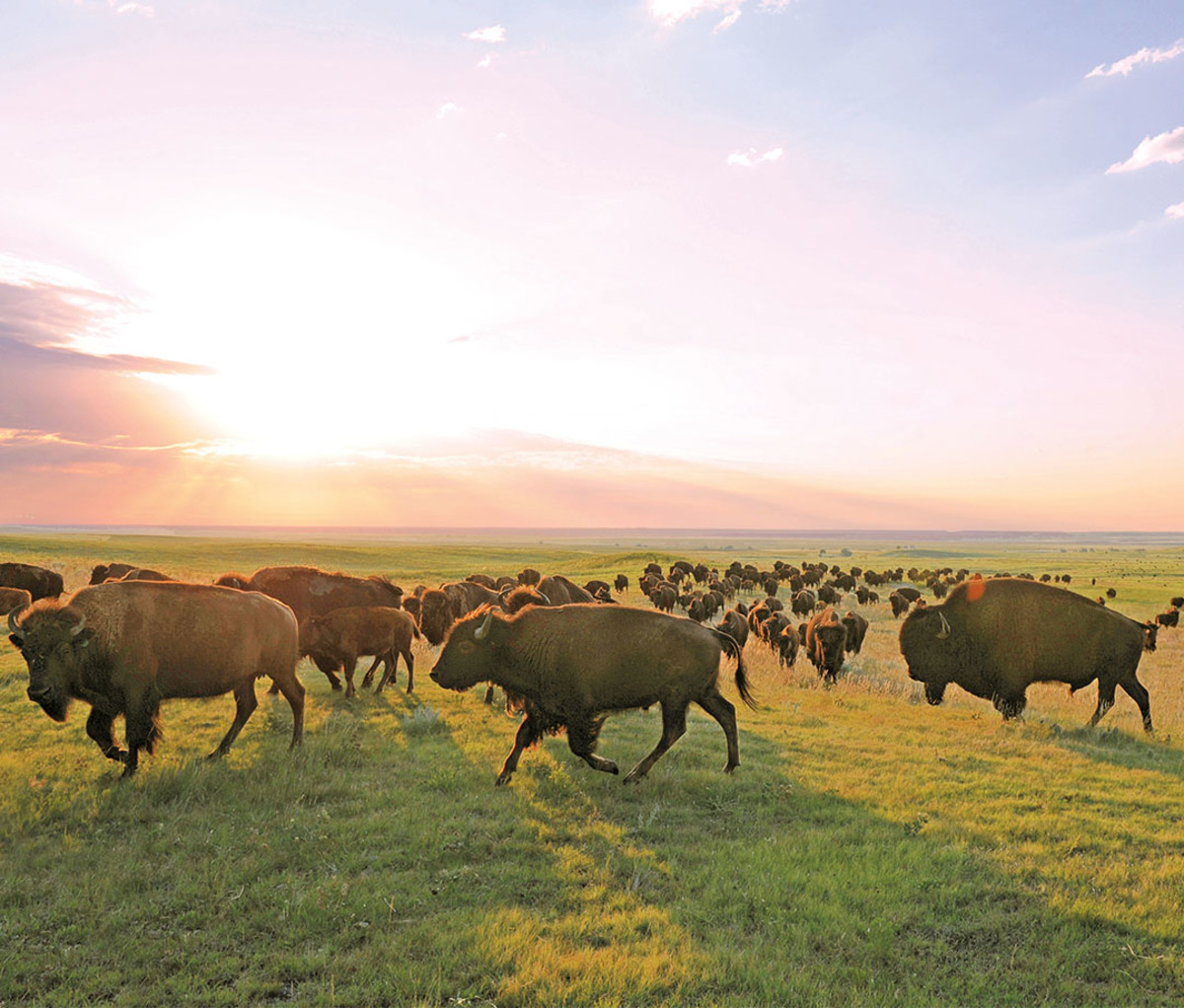 THE STOREFRONT AT Wild Idea's Rapid City HQ is like a strange mashup of a butcher shop and a hippie health-food store. There are freezers full of steaks, ribs, bison sausages, and bones for dogs. But there's also Native American artwork, a shelf with buffalo tallow lotion (for your skin), jars of strawberry-rhubarb compote, Wild Idea hats and T-shirts, and a collection of O'Brien's books.
In the back are stacks and stacks of boxes, waiting to be filled and shipped. Wild Idea processes roughly 800 animals per year. In addition to looking after its own herd of bison, the company works with nine other buffalo producers, who raise their bison according to Wild Idea's strict animal husbandry standards. The partners include South Dakota's Yankton Sioux reservation, a 7,000-acre plot of land run by the Nature Conservancy, and a Montana ranch owned by late-night icon David Letterman. There are other bison ranchers offering a similar model, but few do it with such zeal for the environment as O'Brien or have such a dedicated following.
The day before moving the bison to their winter range, Jill had organized a 20th anniversary party for the company, which was held in a white tent in the HQ's parking lot and attended by ranching partners and dedicated customers, who came from across the country. Native American hoop dancers performed, and Jill, a chef and restaurateur before coming aboard Wild Idea, oversaw a dinner that included wine pairings for buffalo prime rib, braised bison chuck roast, and what she called indigenous tacos: corn cakes with ground buffalo meat topped with warm chokecherry sauce. But the highlight of the evening was a conversation between Chouinard and O'Brien, the two softhearted cynics.
6 Lean Burger Blends for the Grill »
Before long, and without much prompting, Chouinard launched into a "discussion" of why the regenerative agriculture movement was so important in addressing climate change, and why modifying the way we eat is so crucial to the planet's future. Eating bison meat, for example, in addition to being better for you, also helps justify keeping vast stretches of the Great Plains intact, which is a prime way of sequestering carbon. The root systems of native grasses on the Great Plains can reach 15 or 20 feet underground, storing all that carbon for millennia.
"Just think about it," Chouinard said. "The total amount of leaf material in the grasslands is way more than the Amazon. Every one of those little leaves is pulling CO2 out of the air."
"Dan is doing exactly what he should be doing as a farmer," he continued. "He's out to save the planet."
When O'Brien chimed in, he did it with his characteristically upper Midwestern stoicism.
"I came to the same conclusions in a lot simpler way," he said. "I like birds. I like to watch birds. When I was 28 years old, I said, 'I gotta live where these birds live,' and really, that was the driving force in why I've been up here the last 20 years. Eventually, that transformed into 'How am I gonna save this planet?' Well, I'm gonna start with the birds, and that meant bringing the bison back."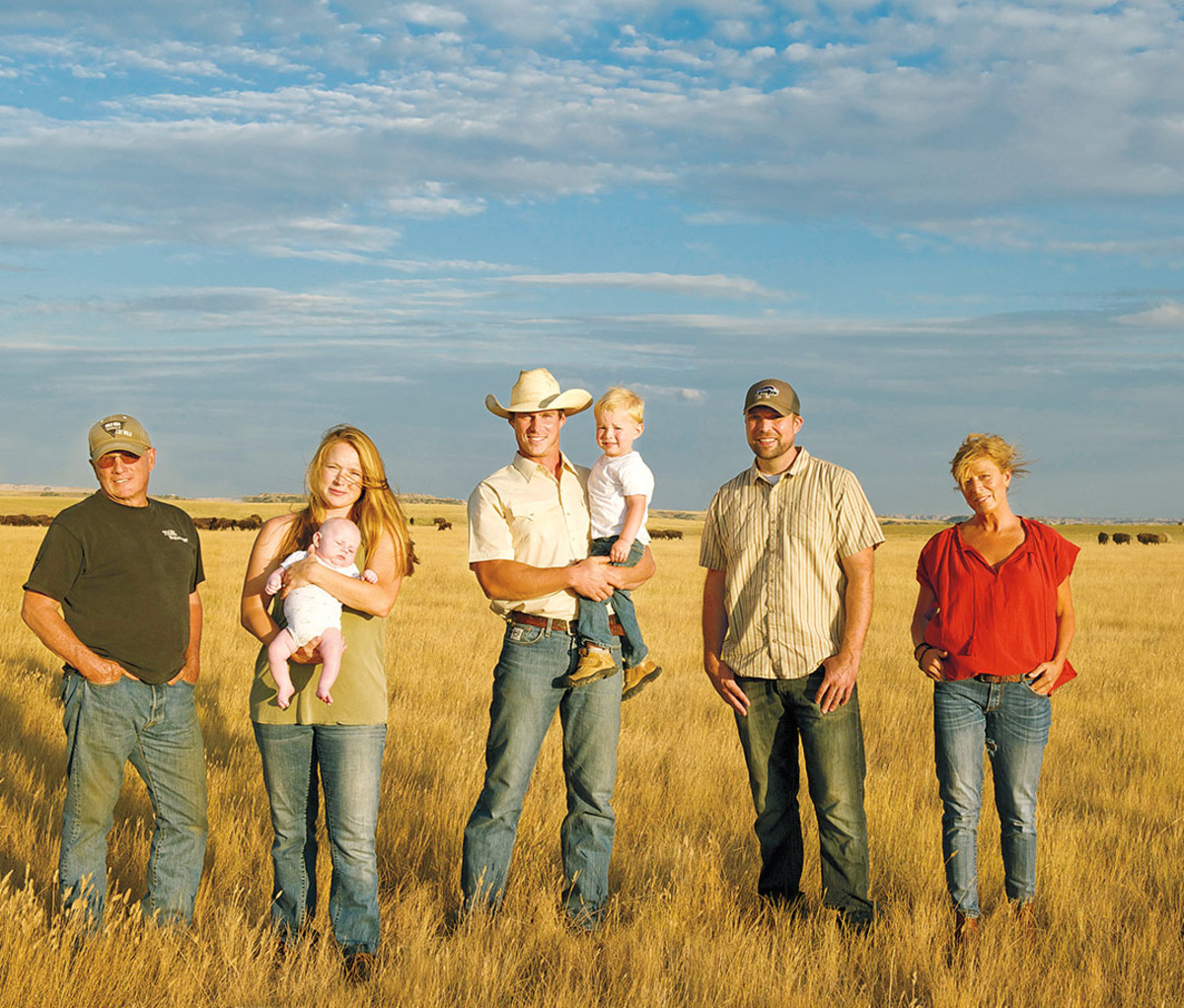 O'Brien is hard at work on another novel when he isn't hunting with his falcons. But his focus always comes back to Wild Idea. These days, the company employs 35, including Jill's daughter, Jillian, Wild Idea's assistant manager, and her husband, Colton Jones, who, in addition to running the ranch, oversees sourcing from the company's partners. Lately, that has also come to include properties owned by Ted Turner, who has more bison than anyone in the U.S. Most of Turner's bison are still grain-finished in feed lots and processed in a slaughterhouse, meaning ecologically they're almost no different from cattle. But last fall, O'Brien and Jones met with representatives from Turner's ranches and agreed to field harvest a few animals to test the idea. If they decided to make the transition to Wild Idea's model, it would be a huge breakthrough for O'Brien's vision on how to protect the Great Plains.
"The one thing that I really want to do is figure out exactly how to make what we're doing a consistently profitable business, because that's the only way it's gonna catch on with other people," he says. "It's close. It's very close, but there's trouble in paradise from time to time. A whole lot of money runs through Wild Idea, but very little of it sticks."
The 10 Best Fly-fishing Lodges Around the World »
O'Brien has considered building yurts on the property and expanding the number of nature tours they offer. That requires money and compromising, perhaps, one of the ranch's charms for O'Brien: solitude. The company is also looking into carbon offsets, whereby they sell credits for people or companies looking to reduce their overall CO2 emissions by paying to help protect the land the bison graze on. They've worked with Patagonia to hire scientists to drill 1,500 holes into the landscape and measure just how much extra carbon has been stored in the land since the bison returned.
But these days, O'Brien's environmental preoccupations are also tinged with more prosaic concerns about bank loans, wills, and making sure his adopted kids and grandkids can live off this land in a sustainable way.
"This is kind of the last chapter," he says. "When I think back to that 27 acres that I started with, I'm just amazed. I can't believe it. All I wanted was little chunk of ground that no one would fuck with. But it's hard to be an island when there's a fire coming."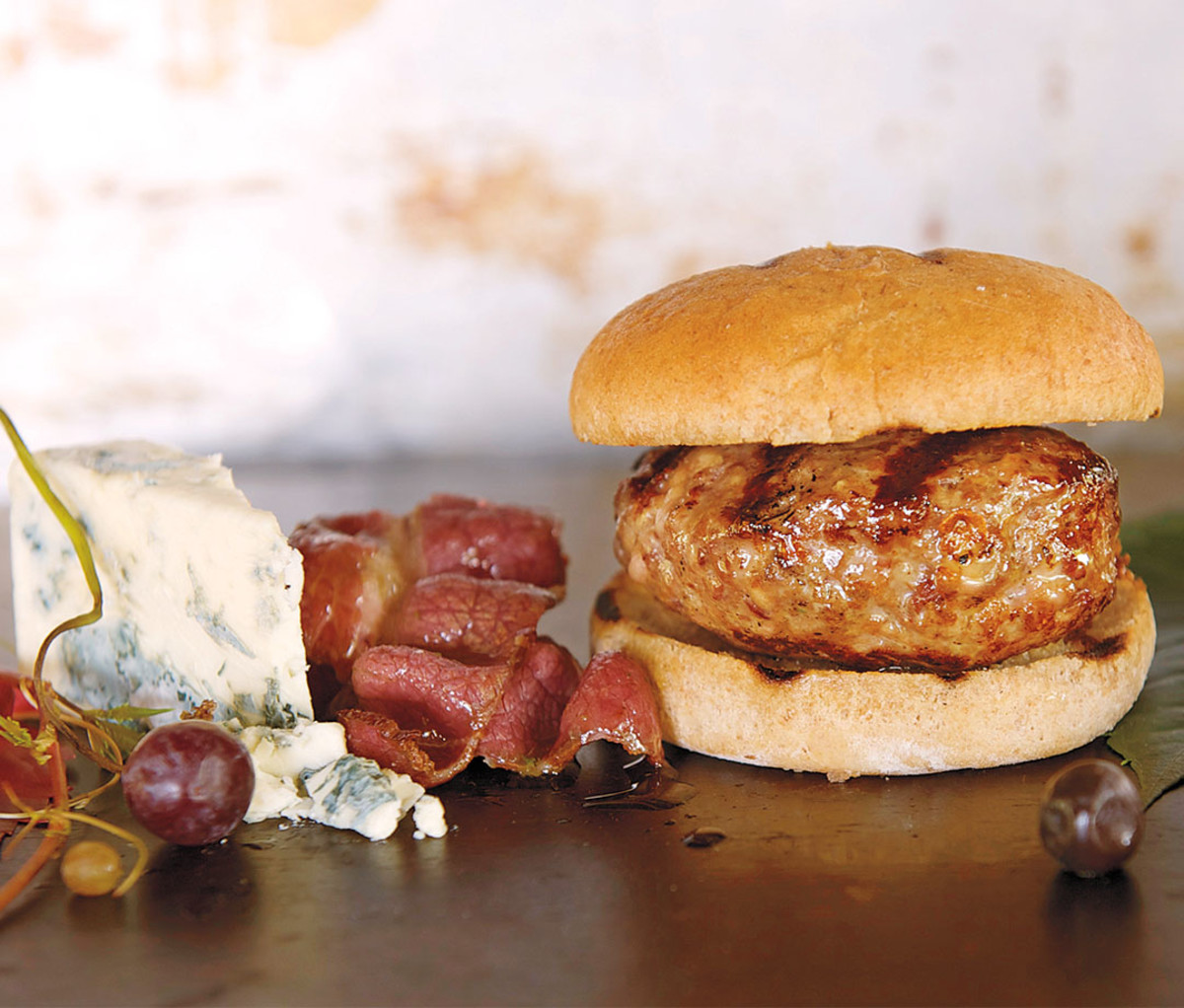 A BETTER RED MEAT
Here's why grass-fed bison is arguably the best meat for you—and the planet.
LOWER FAT: 100 percent grass-fed buffalo meat has fewer calories, fat, and cholesterol than chicken and more protein than beef.
MORE OMEGA 3S: Buffalo that are raised on wild grasses have substantially more heart-healthy omega-3 fatty acids than grain-finished bison.
A BOOST TO YOUR GUT BIOME: There's growing research that some chronic diseases are linked to microbes in the digestive system, which make up roughly 60 percent of the cells in our body. For example, as much as 90 percent of serotonin, a neurotransmitter that affects pain and emotions, is produced in the digestive tract. The health of that digestive tract depends on the beneficial bacteria there. Bison meat could help, thanks to the microorganisms that buffalo ingest through grazing on healthy, wild prairie grasses.
For access to exclusive gear videos, celebrity interviews, and more, subscribe on YouTube!