"I've been practicing for this my entire life," Sierra Nevada founder Ken Grossman told me on Friday night — minutes before a marching band and stilt walkers took the stage, on the eve of his brewery's dizzyingly ambitious Beer Camp Across America tour. Over 14 days, Grossman and a merry band of revered brewers, including Russian River's Vinnie Cilurzo and Cigar City's Wayne Wambles, will barnstorm the country by bus and train, pit-stopping to host beer festivals at cities that culminate in Mills River, North Carolina, where Sierra is opening a massive new brewery.
Fittingly, the liver-wrecking gauntlet is kicking off in Chico, California, where Grossman founded the brewery in 1979. Back then, Chico, which is perched about 90 miles north of Sacramento and within spitting distance of the Sierra Nevada mountain range, was best known as the home to Chico State (Playboy's No. 1 party school in 1987!). But as Grossman's hoppy Pale Ale slowly conquered, and in many ways created, the world of craft beer, Sierra Nevada has grown into a national powerhouse and a must-stop on any beer geek's bucket list. (Yesterday, sales and marketing director Joe Whitney said wrestler "Stone Cold" Steve Austin popped by for a tour. "He told us that Torpedo IPA is his favorite beer," Whitney says.)
Following the path blazed by Sierra Nevada, many of Northern California's finest beer merchants specialize in aromatic pale ales and dry, intensely hop-forward IPAs, such as Firestone Walker's Union Jack, Bear Republic Racer 5, and Drake's Aroma Coma. That's to be expected, given that a day's drive will bring most brewers to America's premiere hop-growing regions in Oregon and Washington.
Fittingly, today's festival is held alongside Sierra Nevada's lush hop fields, which make good use of the Sacramento Valley's fabulously fertile soil. There are 112 breweries assembled here with excellent representation from the Northwest including Portland, Oregon's Gigantic Brewing; Vancouver, Washington's Loowit Brewing Company; Oakland's Linden Street Brewery; 21st Amendment from San Francisco; Justing Brewing from Everett, Washington; and Dust Bowl Brewing in Turlock, California to name a few. Needless to say, we have a lot of beers to taste. 
Check back in to MensJournal.com for picks of our favorite (rare, unknown, and outstanding) beers from the Chico festival and reports on the state of brewing in America from the best small local brewers in Northern California. Our coverage continues tomorrow in San Diego – giving us just enough time to sleep off today's festival in the bus.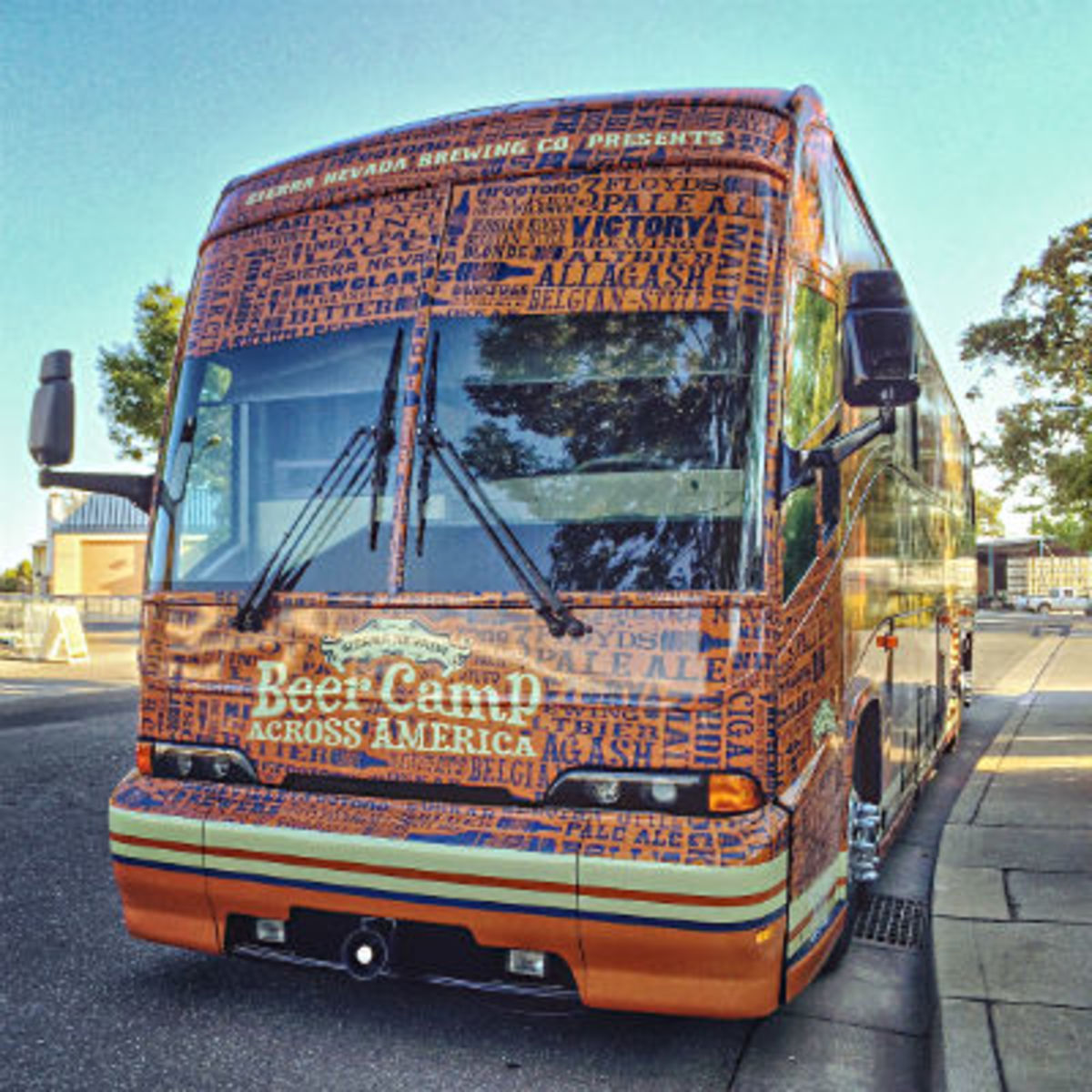 Sierra Nevada's party bus will escort Ken Grossman and a handful of
brewers and guests to festivals in Chico; San Diego; Denver; Chicago;
Portland, Maine; Philadelphia; and finally Mills River, North Carolina.
MORE FROM THIS SUMMER'S BIGGEST BEER FEST: 
For access to exclusive gear videos, celebrity interviews, and more, subscribe on YouTube!