Pho is absurdly popular, especially in Seattle. Pork shoulder is definitely in, but bacon cupcakes are out. And don't even get us started on turmeric.
Those are some of the lessons we've picked up from Google's new Food Trends 2016 report [PDF], a nifty little data analytics project that explores the ever-changing American palate according to all the foods Americans are asking the Internet about. From January 2014 to February 2016, a team at the internet search giant parsed all food-related searches, adjusted for a seasonal affect—fewer Americans are buying ice cream in January, for example—and then tracked what's gaining (and losing) a share of America's plate.
Some big takeaways: Americans are fascinated by eating food with a purpose, whether it's pounding down turmeric to reduce inflammation, draining some bone broth to improve exercise recovery, or simply gnoshing on high-protein snacks to hold us over in the middle of the day. We also tend to pursue those foods in spurts—functional food searches spiked on Mondays, but fell throughout the week until bottoming out on Fridays and Saturdays—likely a sign consumers are looking to "reboot and optimize their lifestyle habits."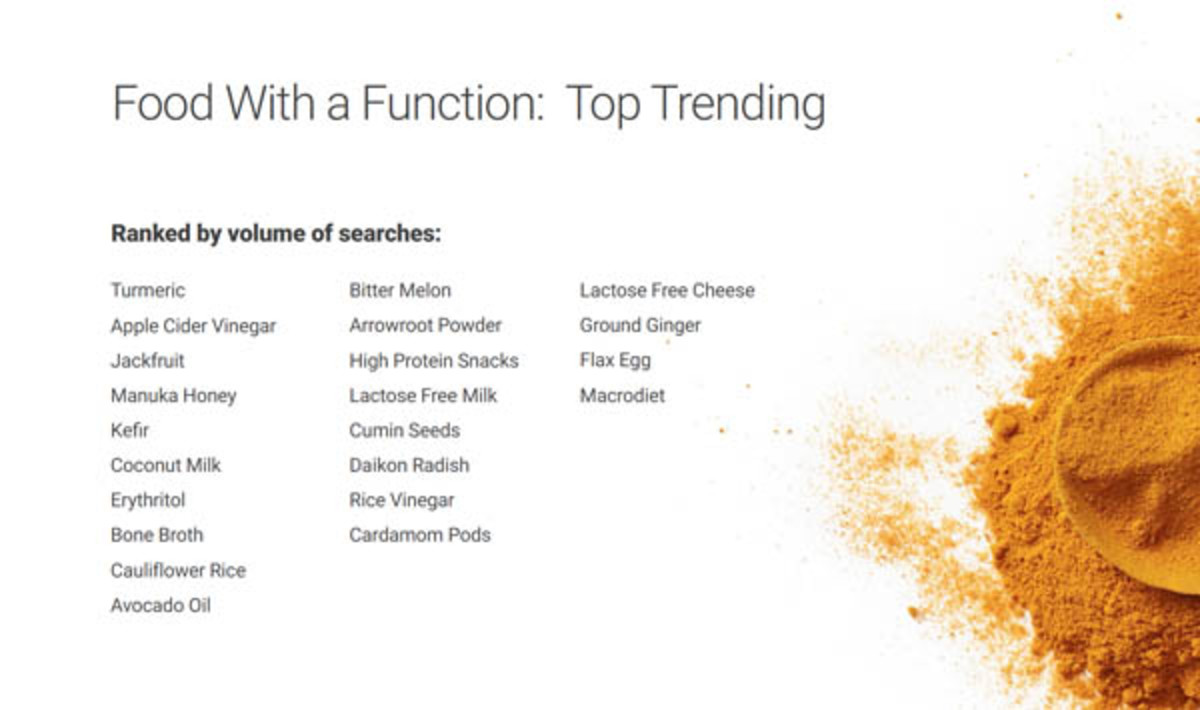 Not all of our searches are necessarily health foods, though. Bite-sized snacks like mug cake and cheese curds are big winners (especially on weekends). Pasta is starting to make a huge comeback after a few years of taking a hit over carb fears. Pro tip: Don't fear pasta.
And not all food trends behave the same way. Some trends are more gradual—rigatoni a "sustained riser," bacon-topped cupcakes a "sustained decliner"—while others are rapidly rising (jackfruit, vegan donuts) or falling (chocolate slices, rainbow bagels) out of favor…erm, flavor.
Speaking of bacon-topped cupcakes: If one thing remains constant, it's the American love of pork. The report dedicates an entire section to "Experimenting With Pork" (definitely not a euphemism), as Americans eagerly searched for everything from "andouille sausage" to "bacon jam" to "longaniza," which, according to Google, is a Spanish sausage similar to chorizo.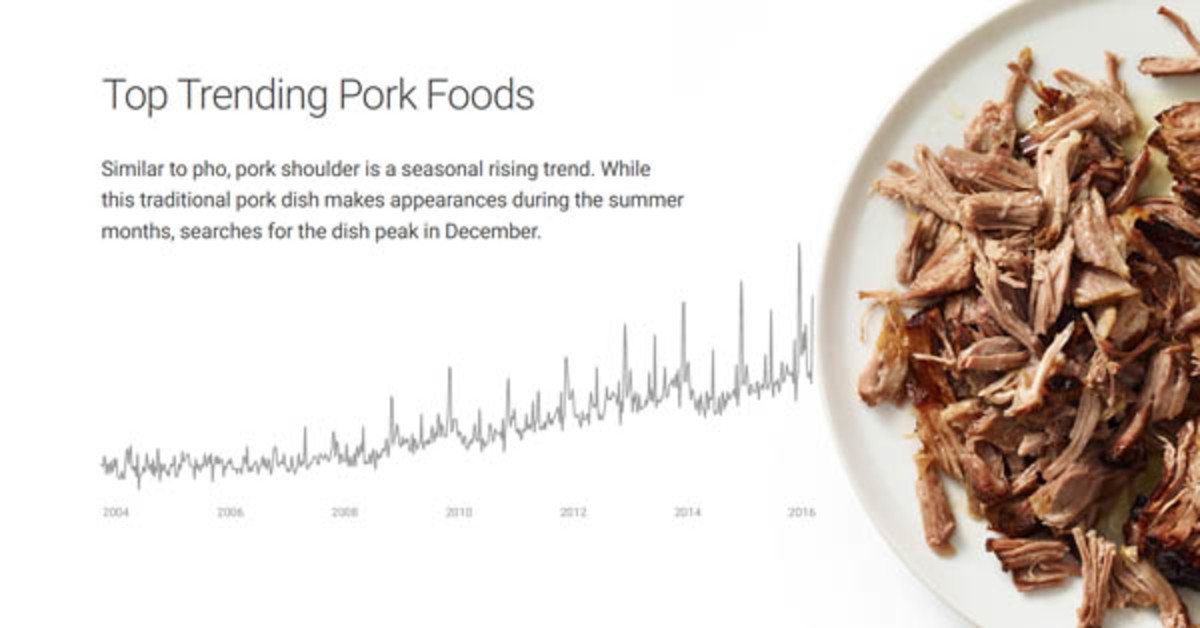 Pork has risen steadily from 2004 to 2016, and Google noted especially eager searching for pork on weekends, during the summer months, and in December. And while those bacon cupcakes and bacon cinnamon rolls may be falling out of favor—they're both "sustained decliners"—Americans are making up for it with searches for uncured bacon (a "sustained riser") and pork shoulder (a "seasonal riser").
Oh, and the top recipe search? Waffles. That's one delicious dish we can all agree on.