Macallan is once again the crowned prince of auction records, after a Bonhams auction in Edinburgh, Scotland, today saw a bottle of The Macallan Valerio Adami 1926 Vintage go for a reported $1.1 million. Yeah, you read that right: $1.1 million.
Whisk(e)y auction records have been breaking left and right for a couple of years now, but every time we think there's a ceiling, it seems to budge. Before you balk, it's important to understand just how rare today's bottle is. This stuff really starts to read like the prelude to The Lord of the Rings.
Macallan Vintages are a rare and valuable segment of the famous distillery's total production, but the 1926 is the rarest of the rare. Only 40 bottles were ever produced (like, ever), and of these, many have already been consumed.
But even within the 1926 vintage, there's a hierarchy. Not all of the bottles are the same. At one point in 1986, 12 bottles were given to Sir Peter Blake, a British artist whose achievements include co-creating the cover art for Sgt. Pepper's Lonely Hearts Club Band. He was then tasked with designing the label for these 12 alone.
At the same time, 12 were given to the elves—err—to acclaimed pop artist Valerio Adami. Those? Released in 1993.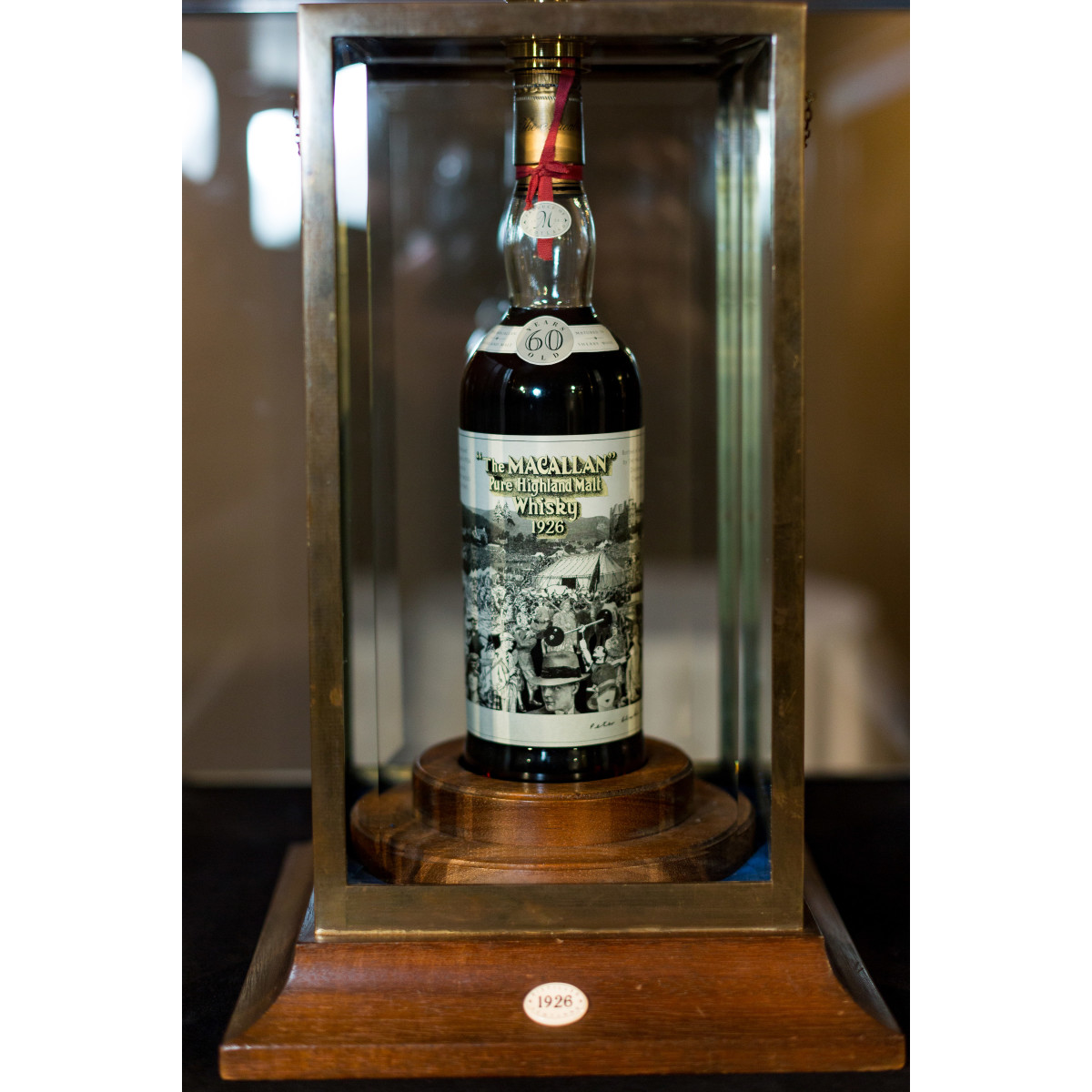 According to Macallan, in April 2018, "Two bottles of The Macallan 1926—one with the Sir Peter Blake label and the other with the Valerio Adami label—were sold at Dubai Airport-based retailer Le Clos for $600,000 each ($1.2 total) to an international businessman for his private collection. This broke the world record for the most expensive whisky bottles ever sold."
It happened again a month later, at Bonhams in Hong Kong, with a bottle that went for a slightly lower price than today's bottle.
Every time one of the bottles is accounted for, it pushes the value of the others higher. And according to some sources, at least two other Adami bottles are gone—one allegedly has been consumed, and the other may have been destroyed in Japan in 2011 during the earthquake.
Another auction is coming up in 10 days. Sotheby's New York has a Peter Blake 1926 bottle it expects to break $1.2 on October 13. So if you've got about $1.2 burning a hole in your pocket and you want to own one of these, let us know—we'd like to be your friend.
For access to exclusive gear videos, celebrity interviews, and more, subscribe on YouTube!