It's easy to find fresh mozzarella, but there are few things more impressive than being able to point to a white globe and say, "Yeah, I made that."
This recipe, from chef Heather Terhune of Tre Rivali in Milwaukee, starts like every other cheese recipe: a pot of warm milk that you acidulate to help separate the curds (what becomes cheese) from the whey (the liquid by-product).
When that happens, you basically have ricotta; the warming and gentle stretching is what creates mozzarella. Serve warm from the pot, covered in extra-virgin olive oil and flaky salt.
Degree of difficulty: Difficult
Total time: 1 hour
Is it Cheese Yet?  The 4 Stages of Mozzarella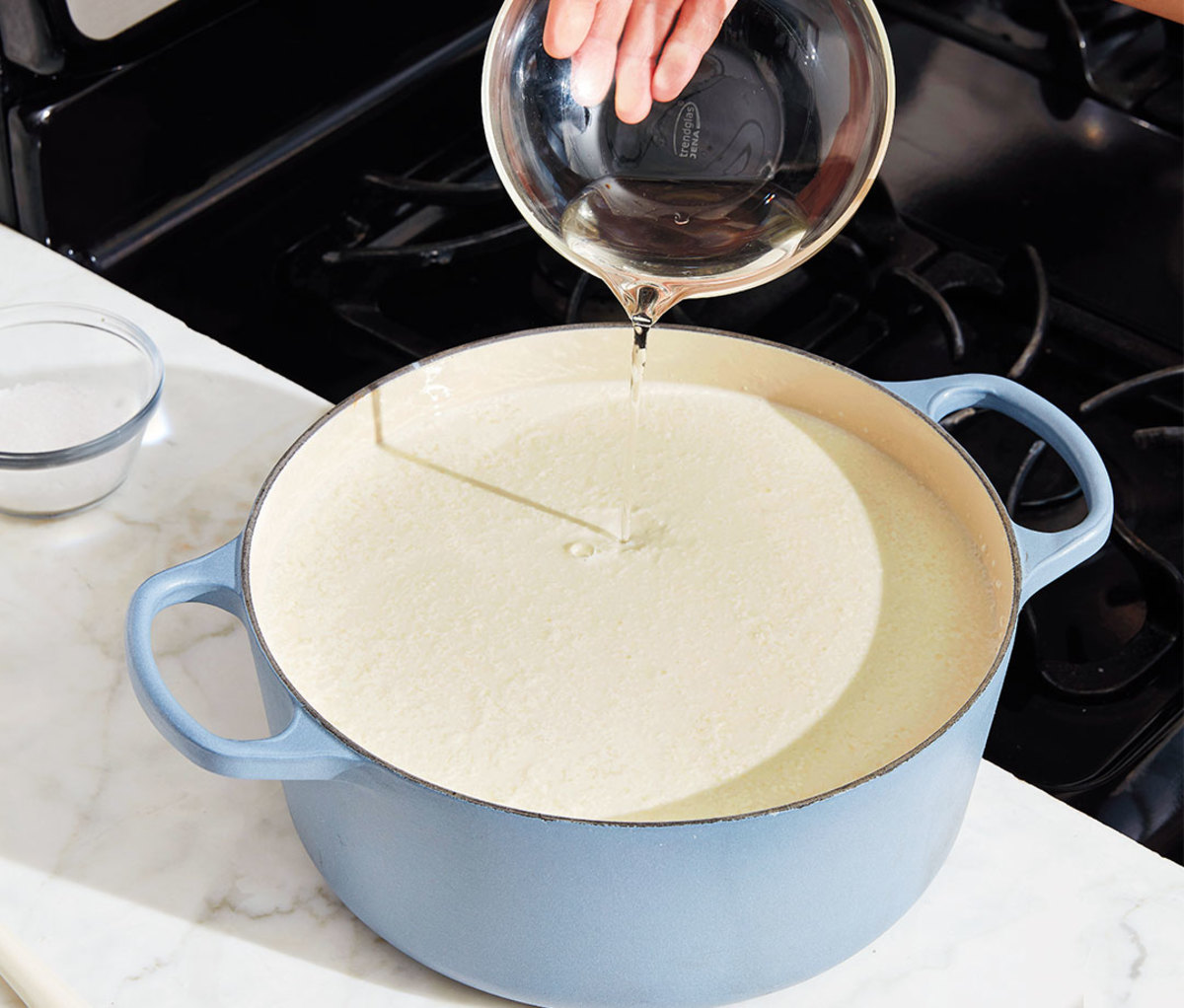 1. Combine milk and citric acid in a cast-iron pot.
2. Gently stir the curds; you do not want them to break up too much.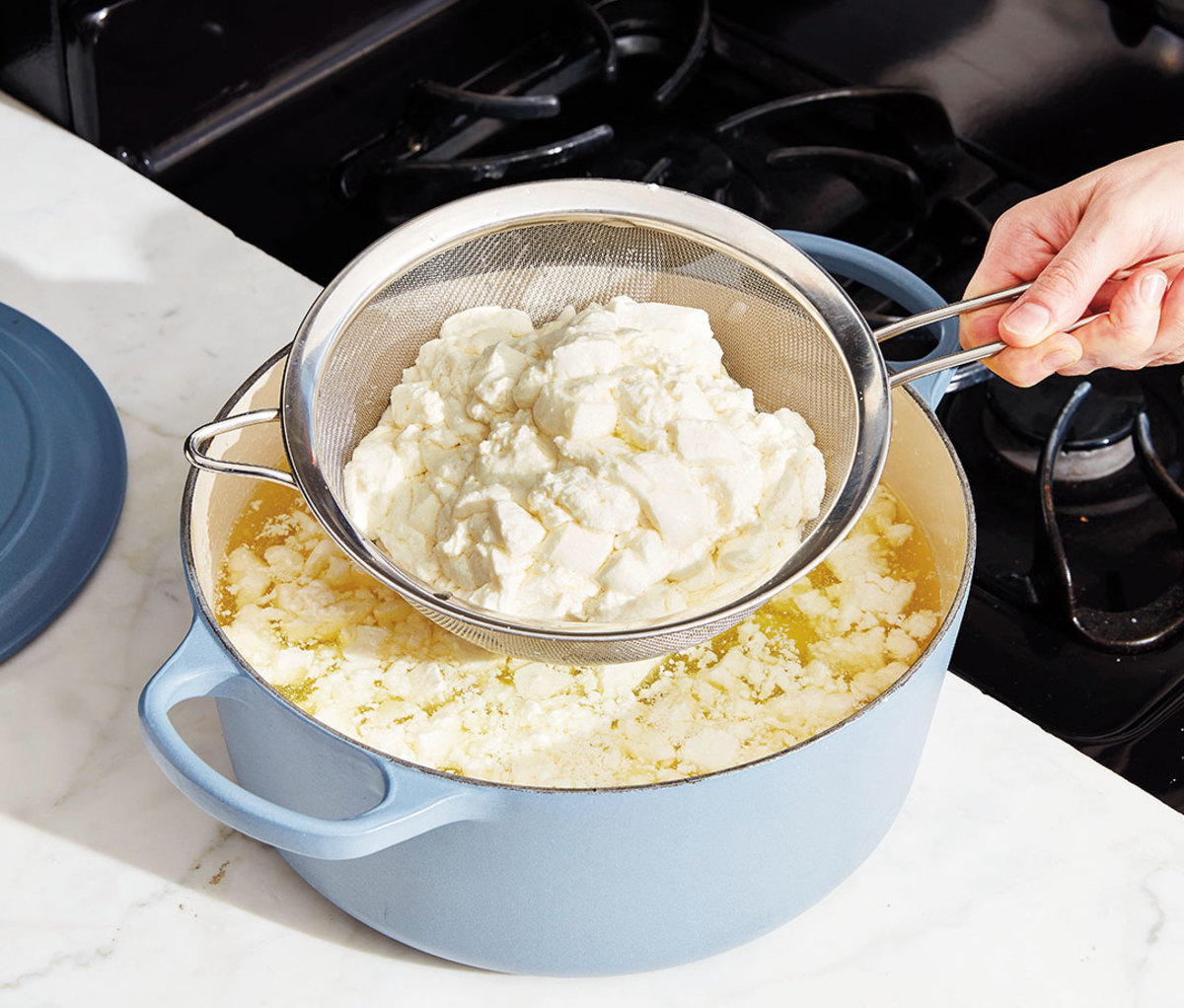 3. Carefully separate the curds from the whey.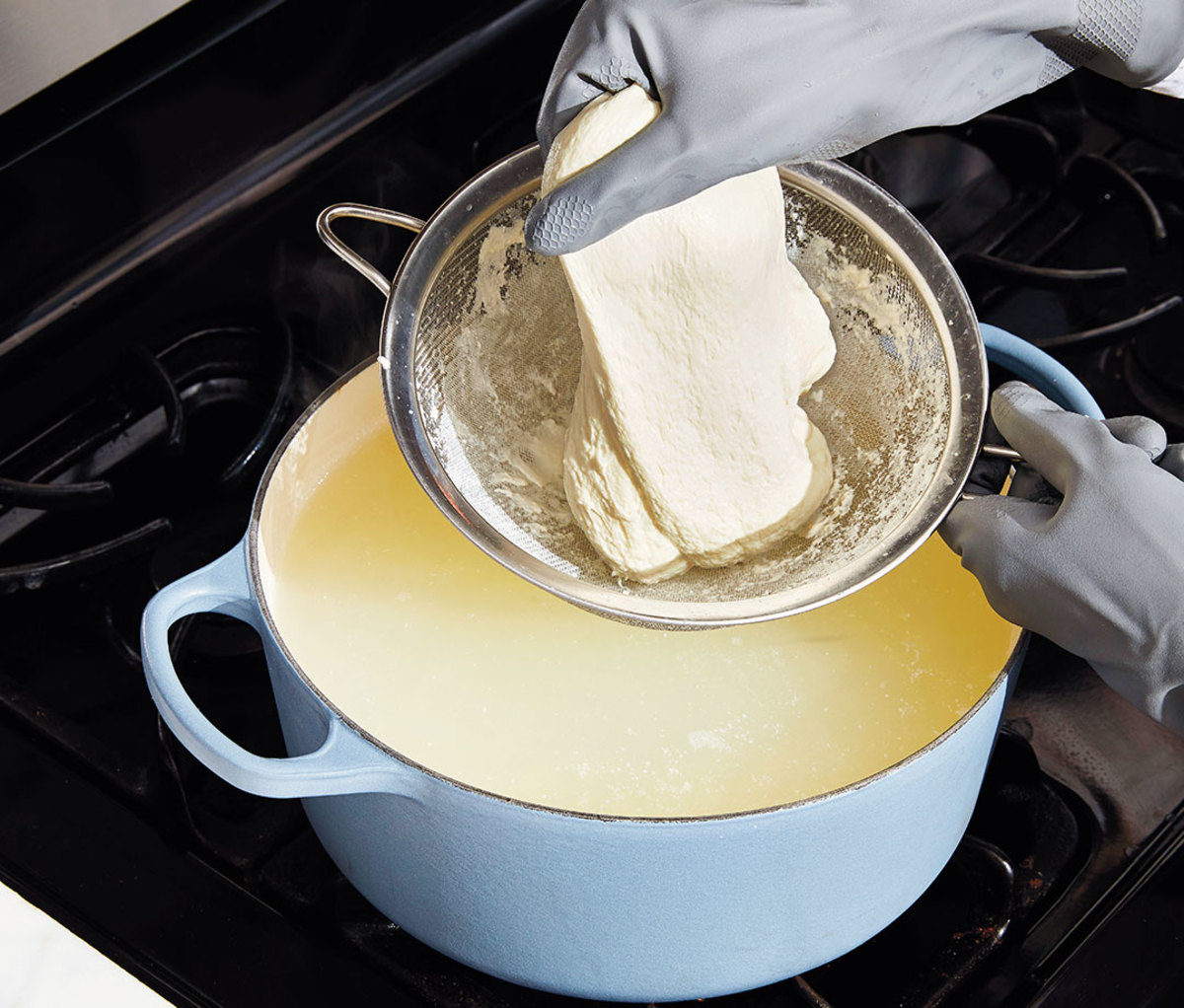 4. Fold and stretch the curds until you reach desired consistency.
For access to exclusive gear videos, celebrity interviews, and more, subscribe on YouTube!
Ingredients
1 gallon organic whole milk
1¼ cup water
1½ tsp citric acid
¼ tsp liquid rennet
1 tsp kosher salt
How to make it
Dissolve citric acid into 1 cup of water in a mixing bowl. In a separate bowl, combine remaining water with rennet. Add milk to a large heavy pot, preferably an enamel-coated Dutch oven. (Photo 1.) Add citric acid mixture to milk and warm over medium heat until it reaches 90°F on an instant-read thermometer, 3 to 5 minutes; milk should feel slightly warm to the touch. Remove pot from heat, add rennet mixture, and stir for 30 seconds. Cover and set aside for 5 minutes.
After 5 minutes, milk mixture should be set with a gelatin-like texture and pull away from the sides when you jiggle the pot. If mixture is still liquid, let sit for another 5 minutes. Once curds are set, use a long knife or an offset spatula to cut curds, making sure to reach all the way down to the bottom of the pot. Make vertical and horizontal cuts at about ½-inch intervals across the surface to form a crosshatch pattern.
Set pot over medium heat and cook, stirring gently occasionally; you want to avoid breaking up curds too much. (Photo 2.) Cook mixture about 7 to 9 minutes, until it reaches 105°F on the thermometer. Remove pot from heat and set aside for another 5 minutes, stirring occasionally.
Separate curds from whey by dipping a fine-mesh sieve into pot. (Photo 3.) Gather curds together in the sieve and drain off as much whey as possible. Reserve curds in strainer.
Bring a second large pot of water to just below boiling, about 185°F. Lower curds into hot water for 2 to 3 minutes. Wearing thick food-safe rubber gloves, fold curds several times until their internal temperature reaches 135°F on the thermometer. (Photo 4.) Sprinkle salt over warm curds. Working over the pot of hot water, gently fold curds over themselves, stretching as you fold. If it gets cool as you stretch it, dip it into the pot of hot water for 10 to 20 seconds, then continue. Repeat folding and stretching until curds become smooth and elastic and look like a ball of cheese.