Tomatoes are in season through summer's peak and the onset of fall (typically May through October), which means they're ripe, ready, and perfect for incorporating into daily recipes.
But we urge you to think beyond salads and salsas. Or at least take advantage of our well-thought-out list of recipe ideas that reimagine the humble tomato.
Here are 15 ways to make 'em new again.
1. Caprese 2.0
For a summery twist on the Italian classic, chop 2 tomatoes and 2 peaches or nectarines into equal-size pieces. Toss with 1 tbsp olive oil, 2 tsp white balsamic vinegar, salt, pepper, and let the mixture hang out for 20 minutes. Arrange the salad around a globe of room-temperature burrata and garnish with torn, fresh basil leaves.
2. A Better Bloody Mary Mix
Chop 6 large tomatoes and cook in a covered pot with 2 tbsp grated horseradish and 1 tbsp each Worcestershire sauce, hot sauce, and tomato paste until the tomatoes are soft. Puree and season with lemon and lime juices, salt, and pepper. Stir in minced cilantro and dill. Chill and mix with your favorite vodka.
3. Stuffed Tomatoes
Mix 1 cup cooked couscous and 1⁄2 lb browned ground lamb in a bowl with 1 tsp each cinnamon and cumin, 1⁄4 tsp turmeric, 1⁄2 cup golden raisins, 1⁄4 cup toasted pine nuts, 1 cup chopped parsley, salt, and pepper. Stuff into 4 hollowed- out tomatoes, drizzle with olive oil, and bake at 400°F for about 45 minutes, until tomatoes are soft and slightly shriveled.
4. Steamed Mussels
Ripe tomatoes bring brightness and sweetness to this classic dish. Saute 1⁄2 chopped onion, 2 minced garlic cloves, and 1⁄2 head chopped fennel in 2 tbsp olive oil and 1 tsp butter until soft, about 7 minutes. Add 1⁄2 cup white wine and 1 cup quartered heirloom tomatoes (or halved cherry tomatoes) and bring to a simmer. Add 1 lb mussels, cover, and steam until opened, about 8 minutes. Finish with torn fresh basil leaves.
5. Succotash
Here's how to sweeten up this late-summer barbecue staple: Char 2 ears corn on the grill. Cool, cut off the kernels, and toss with 1 lb cooked lima beans, 2 pints halved multicolored cherry tomatoes, 1⁄2 cup chopped parsley, salt, and pepper. Whisk a dressing with 2 tbsp each roasted pumpkin seed oil and champagne vinegar, 1 tbsp each honey and Dijon mustards, and 1 minced shallot. Pour the dressing over the succotash and toss.
6. Tomato Tart
Arrange thin slices of red, yellow, and green tomatoes on store-bought frozen puff pastry, overlapping them like roof shingles and leaving a 1⁄2-inch border. Sprinkle with salt and pepper and drizzle with extra-virgin olive oil. Bake according to package directions, topping with 4 oz each chevre and chopped hazelnuts halfway through. Garnish with a drizzle of honey and fresh tarragon or basil.
7. 10-minute Pasta
Toss 2 pints of cherry tomatoes with 1 tbsp olive oil, 1 tsp dried oregano, salt, and pepper. Load into a grill pan and cook over direct heat on the grill until tomatoes are blistered, 7 to 10 minutes. Meanwhile, heat 1⁄3 cup extra-virgin olive oil on the stove with a pinch of red pepper and a dozen anchovies. Slowly cook until anchovies melt, then toss with the grilled tomatoes, 1 lb cooked spaghetti, grated pecorino, fresh oregano, and lemon zest.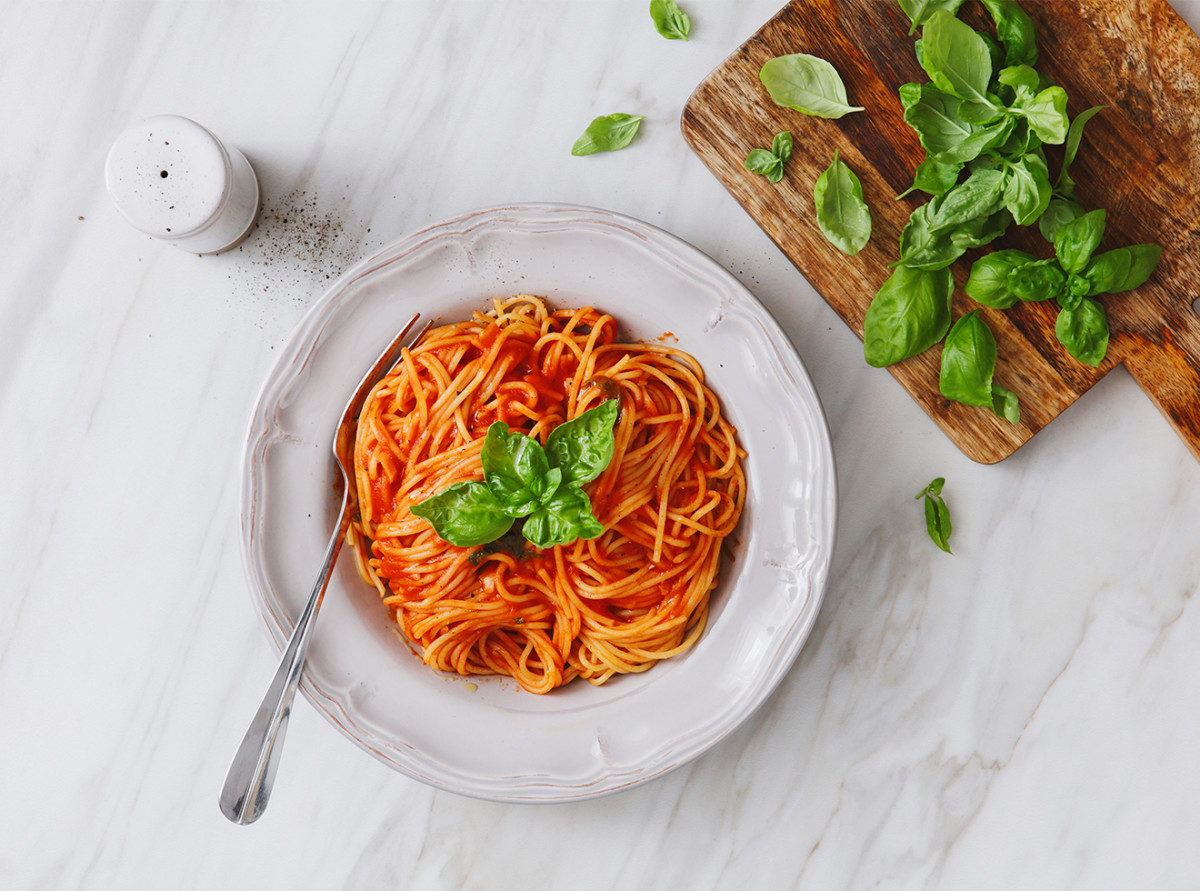 8. Fruity Gazpacho
Peak tomato season intersects with peak melon season. Bring them together in this cold soup. In a blender combine 2 cups each chopped tomatoes and chopped watermelon, 1⁄2 cup cashews, the juice of 1 lime, 1⁄2 red onion, 1 seeded red chili, 2 tbsp each red wine vinegar and olive oil, salt, and pepper. Puree until smooth, chill for 30 minutes, and garnish with fresh cilantro.
9. Smoky Salsa
Slice 2 large tomatoes in half and grill cut side down over direct heat until well charred. Cool, dice, and mix with 2 chopped avocados, 1⁄2 diced white onion, 1 seeded chopped jalapeño, a handful chopped cilantro, the juice of 1 lime, 1 tsp each ground cumin and coriander, and salt.
10. Fattoush
For an easy Middle Eastern bread salad, chop 3 heirloom tomatoes and toss with 1⁄2 sliced red onion, 1 sliced cucumber, 2 cups pita chips, 1⁄3 cup pomegranate seeds, 1 cup each chopped parsley and cilantro, 1 tsp sumac, salt, pepper, and 3 tbsp extra-virgin olive oil.
11. Pickled Green Tomatoes
Fill a pot with 2 cups water, 2 cups cider vinegar, 1 cup sugar, and 1⁄4 cup salt, and simmer until the sugar and salt dissolve. Put 1 tbsp yellow mustard seeds, 2 tsp fennel seeds, and 3 sprigs dill in the bottom of a 32-oz jar. Fill the jar with thick slices of green (unripe) tomatoes, pour in the hot brine, seal the jar, and refrigerate for at least a week. Layer on burgers.
12. Ceviche
In a blender, puree 1 cup each coconut milk and lime juice, 1 tsp sugar, and 1⁄2 tsp fish sauce. Pour over 12 quartered scallops, 1 pint halved grape tomatoes, and 1 minced Thai bird chili. Cover and chill for an hour, until the scallops are "cooked" through by the acidity.
13. Tomato Butter
Toss 3 halved plum tomatoes with extra-virgin olive oil and roast cut side down in a 450°F oven until caramelized, about 45 minutes. Puree the tomatoes, cool, then whip in 2 sticks salted room-temperature butter, 1 tsp minced rosemary, 1⁄2 tsp thyme, and 1⁄2 tsp crushed juniper berries. Use as a dip for raw vegetables or finisher for grilled steaks, poultry, and seafood.
14. Tangy Tomato Soup
Roast 5 lbs chopped tomatoes in a 450°F oven until caramelized, about 45 minutes. As they're roasting, sweat onion, garlic, shallots, 1 sprig each rosemary and thyme, salt, and pepper in 2 tbsp butter. Add 2 tbsp tomato paste and saute. Add the roasted tomatoes and 1 quart buttermilk, and simmer gently for 30 minutes. (Don't worry if the buttermilk breaks.) Cool and puree until smooth; garnish with minced chives.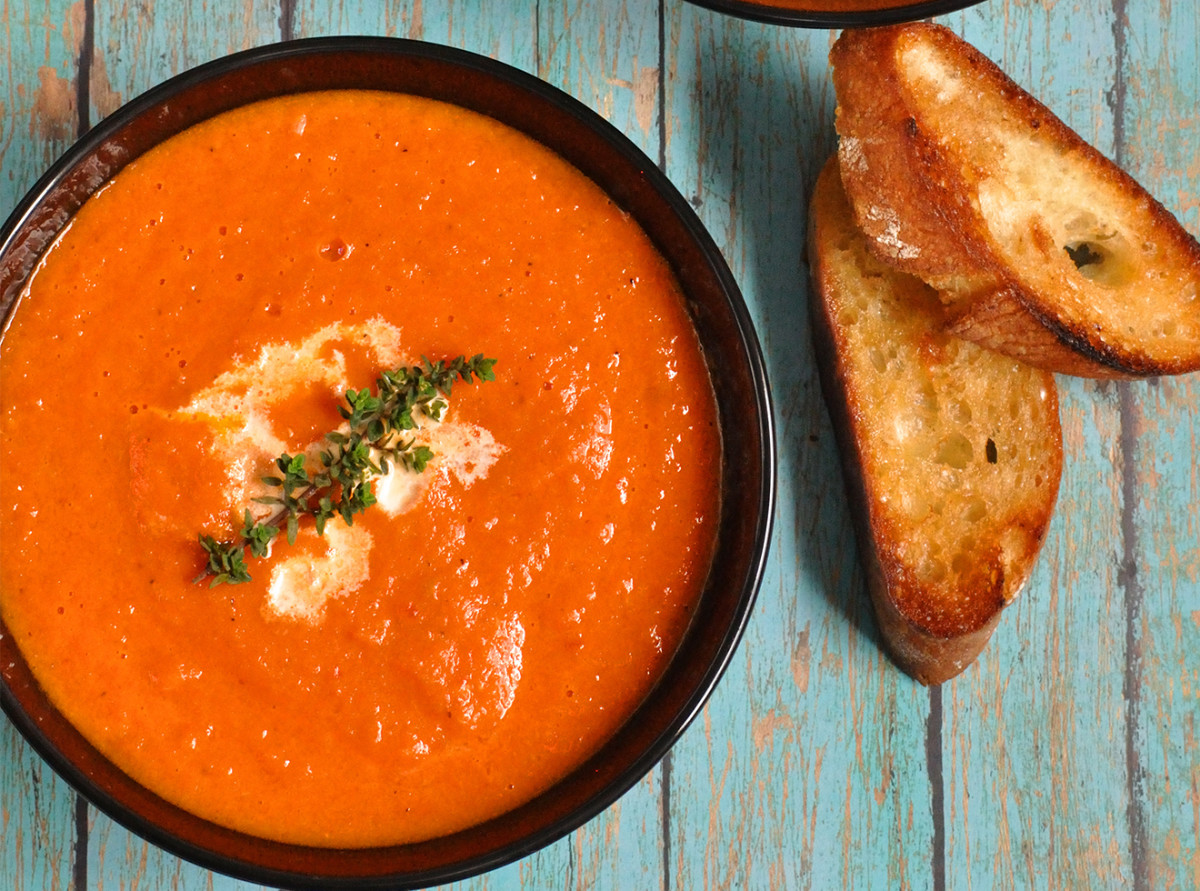 15. Smørrebrød
This open-faced sandwich is go-to comfort food in Denmark. To make it, smear 1 slice of dark rye bread with creme fraiche or cream cheese and top with halved cherry tomatoes, flakes of smoked trout, a drizzle of extra-virgin olive oil, minced chives, salt, and pepper.
For access to exclusive gear videos, celebrity interviews, and more, subscribe on YouTube!