This is sponsored content, Men's Journal is not endorsing the products featured below.
If you like getting baked, it really doesn't get better than THC gummies. Not only do these products provide the same great THC buzz that you're used to, but they do it in a highly enjoyable way. No more choking on bong hits or killing your lungs by puffing fatties. With THC gummies, you get to chow down while you head to stoney town. These babies are delicious, packed with cannabinoids, and so discreet that you can get ripped just about anywhere.
In this article, we're going to explore the wild world of THC gummies. Not only are we going to introduce you to the finest products on the market, but we're also going to hook you up with a 25% discount, teach you what you should be looking for, and educate you on some of the important aspects of THC gummies that every user should know
The Best THC Gummies
There are a ton of different options when it comes to THC gummies, but they aren't all created equally. As you may already know, there are plenty of bootleg THC gummies out there, and finding the real deal isn't always the easiest task. Fortunately, we have your back! We've scoured the web, tried countless products, and after much deliberation, narrowed it down to what we believe to be the 5 best THC gummies available.
Before we get into the in's-and-outs of THC gummies, let's take a look at the best!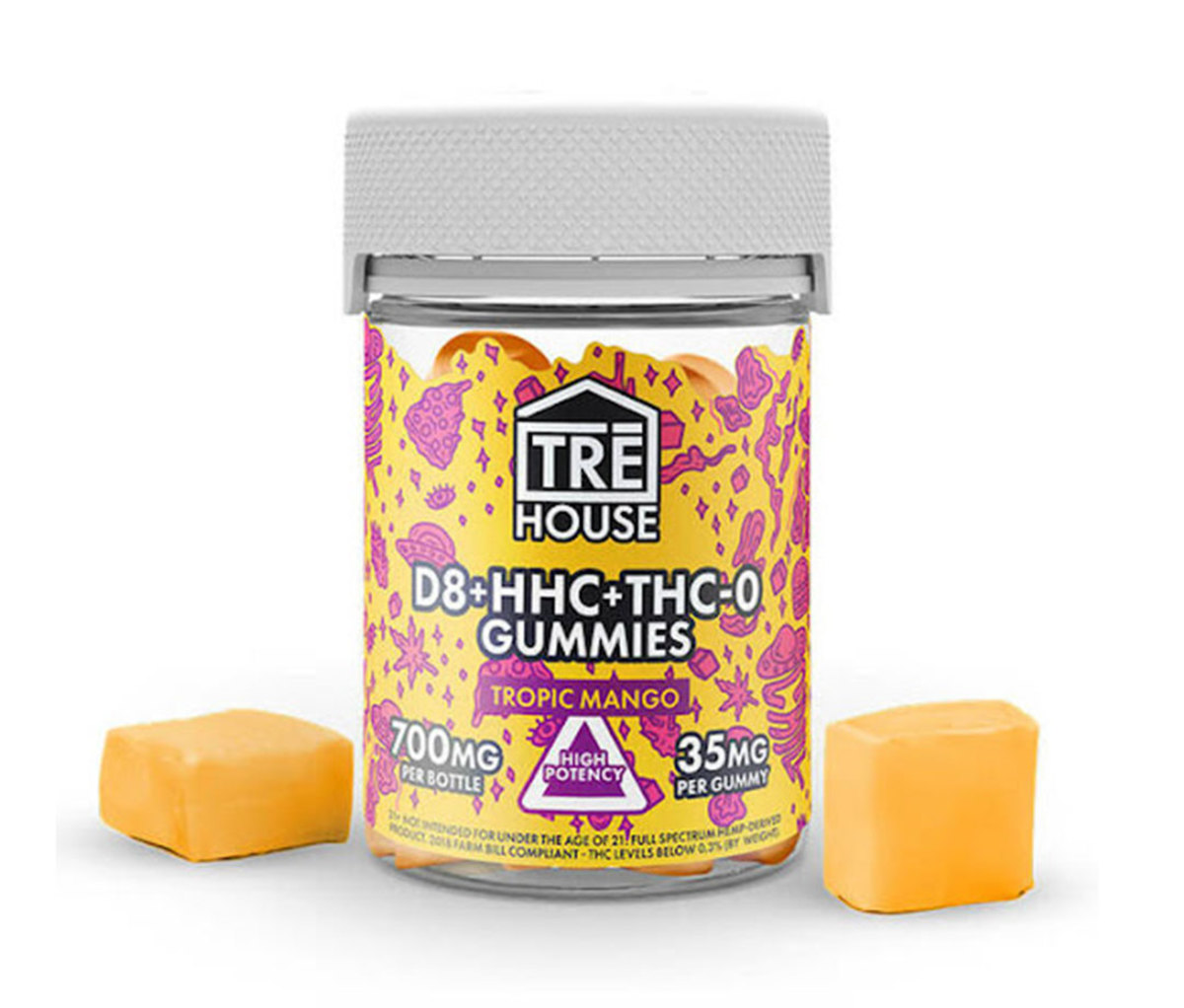 The world of weed gummies has changed drastically in recent years and there are a variety of different types of THC to enjoy. One of the most popular forms of THC is Delta 8 THC and when it comes to Delta 8 THC gummies, TRĒ House crushes the competition. This brand was started by some of the most prominent cannabis experts in the industry. Not only do they utilize fascinating combinations of THC, but the flavors they come up with are truly next level.
The Tropic Mango Delta 8 THC gummies are a product that every THC user definitely needs to try. They taste like fresh mangos, get you super baked, and contain hearty servings of Delta 8 THC, HHC, and THC-O. What more could you ask for!?
Save 25% Off Your Next Order with Code: JOURNAL25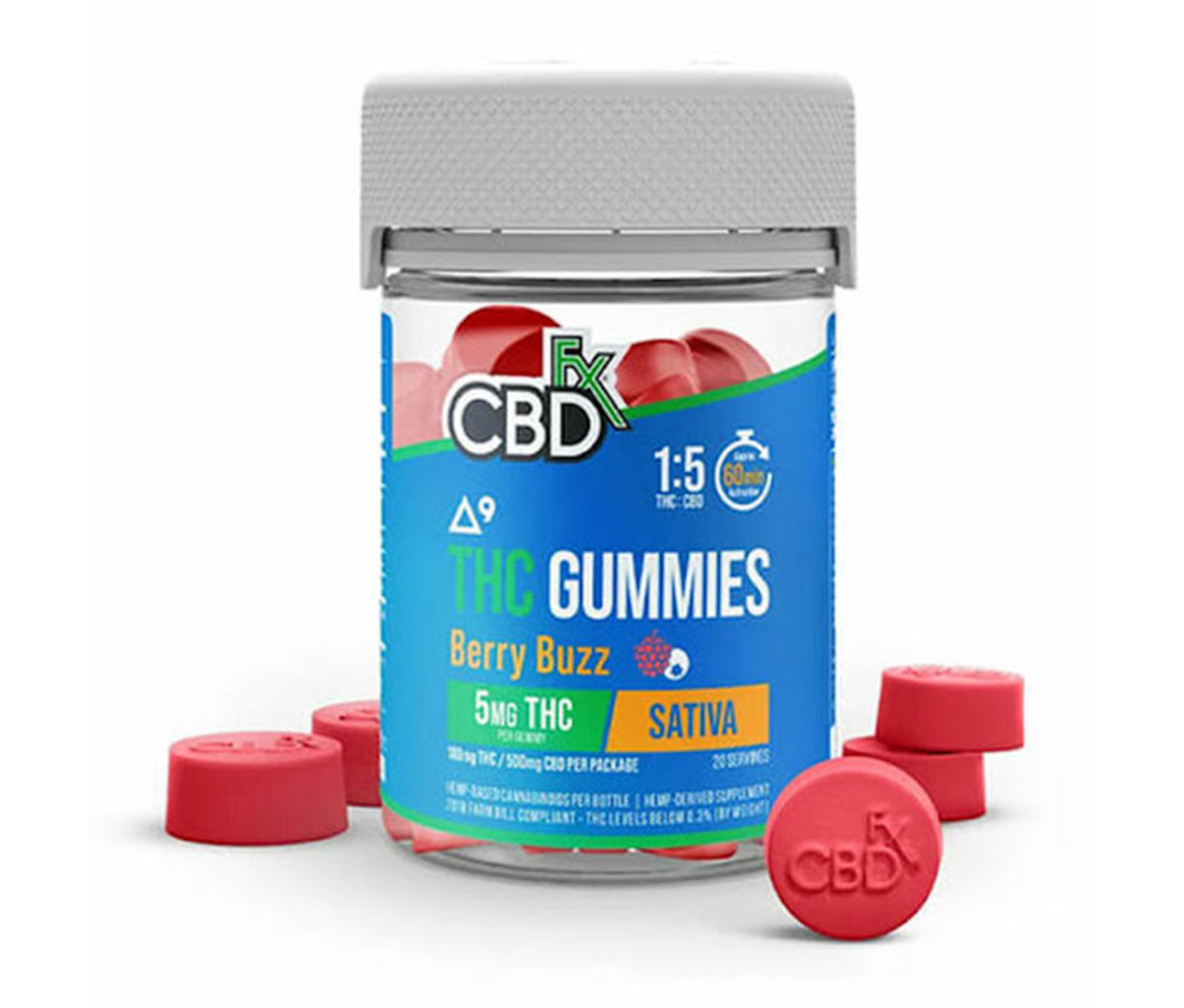 CBDfx is a household name in the cannabis world. If you don't know about these guys, you've been missing out big time. This brand is known for its unwavering commitment to quality, its impressively effective products, and flavor profiles that are so good they'll make you wanna smack yo momma (please, don't smack your momma).
Out of all the fantastic CBDfx products, the Berry Buzz THC Gummies are one of our absolute favorites. These delicious little treats are a powerhouse of premium cannabinoids and berry goodness. We loved the 1:5 balance of THC to CBD and found that these gummies gave us the mellow buzz we were looking for but left us functional enough to get through the day. Looking for THC gummies for anxiety? These are an excellent choice!
If you want to treat yourself to some of the finest THC gummies out there, do yourself a favor and pick up the Berry Buzz THC Gummies from CBDfx!
Save 25% Off Your Next Order with Code: JOURNAL25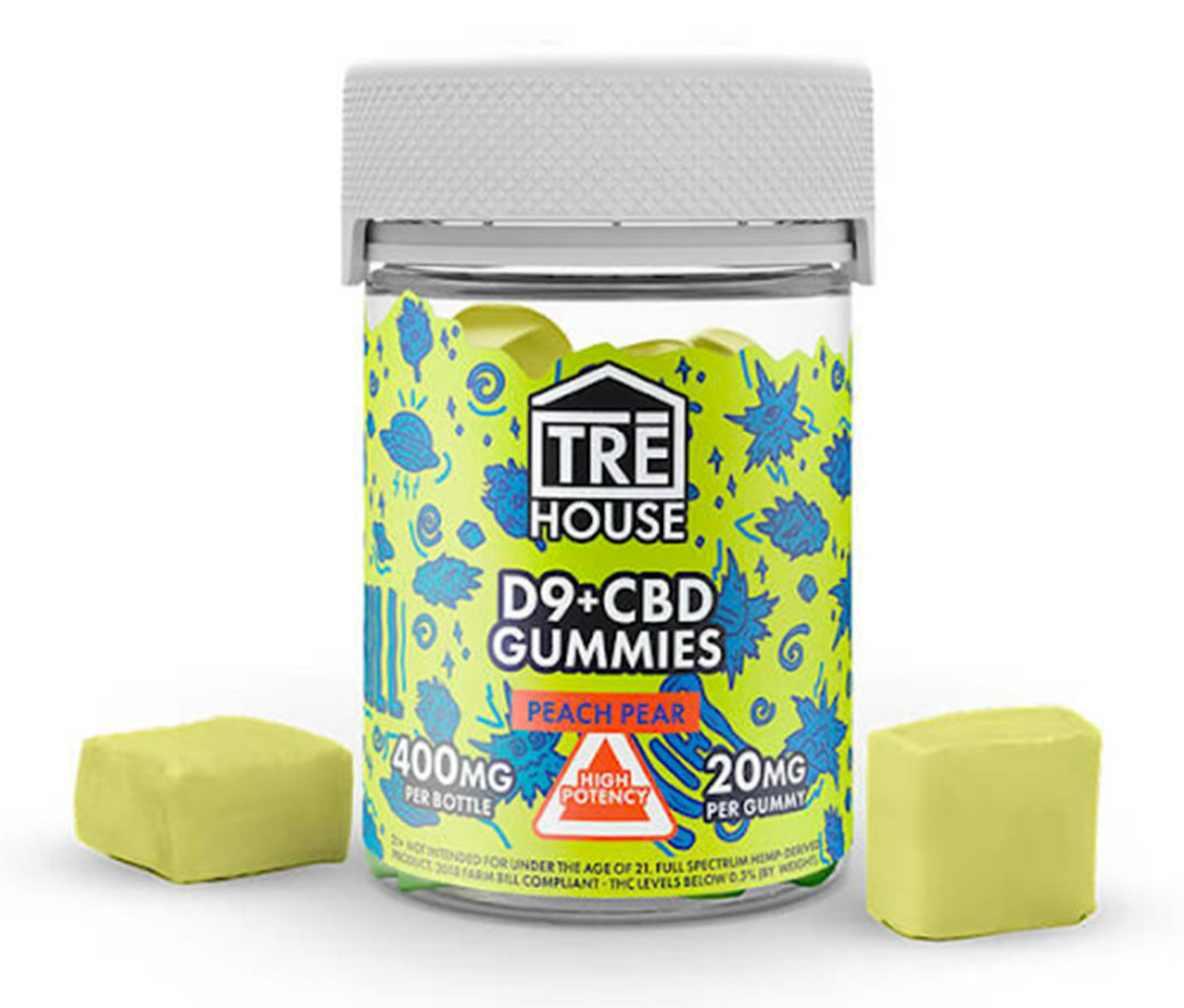 When you want to get ripped on some gummy THC and enjoy a burst of fruity flavor, then you need to try the TRĒ House Peach Pear Delta 9 THC gummies. These powerful gummies get you impressively baked and taste like a bunch of freshly picked peaches from some luxurious field. Peach pear is a fairly rare flavor for gummies, but we expect a bunch of manufacturers to follow suit after seeing the success TRE House has experienced. 
There's a whole lot to love about the Peach Pear Delta 9 THC gummies, but one of the things that really stands out to us is the combination of cannabinoids they provide. THC is amazing on its own, but when you combine it with premium CBD, the results are something that every cannabis user should experience at least once in their life.
If you're on the hunt for a unique and refreshing THC gummy, then you're going to love the Peach Pear gummies from TRE House!
Save 25% Off Your Next Order with Code: JOURNAL25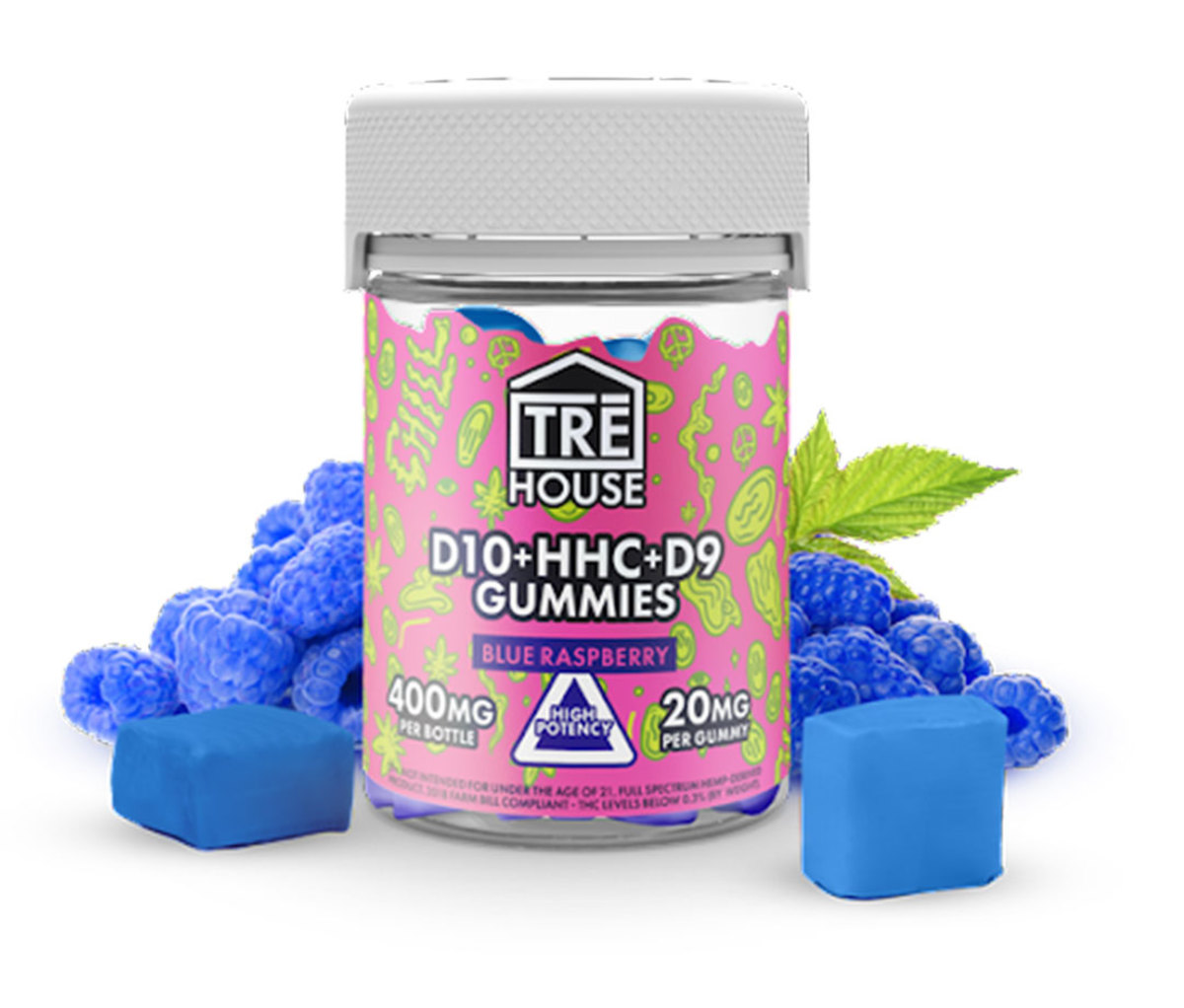 We know what you're thinking… and yes! This is another TRE House product on our list. Why? Because this brand is AMAZING! We're on the hunt for the best of the best and TRĒ House gummies fit the bill better than almost any other product that we've tried. These gummies are made with the best ingredients, have the best flavors, and got us way more baked than most gummies.
One of our favorites from the TRĒ House product line is their Blue Raspberry Delta 10 THC gummies. If you like the taste of fresh blueberries combined with a perfectly tart twist from raspberries, then these are the gummies for you. Enjoy a wonderfully mellow buzz from the Delta 10 THC while the HHC and Delta 9 provide you with a bit more of the trippy side of things. 
When you want to enjoy a perfectly balanced combination of cannabinoids that tastes like fresh berries, pick up some Delta 10 THC Blue Raspberry THC gummies from TRĒ House!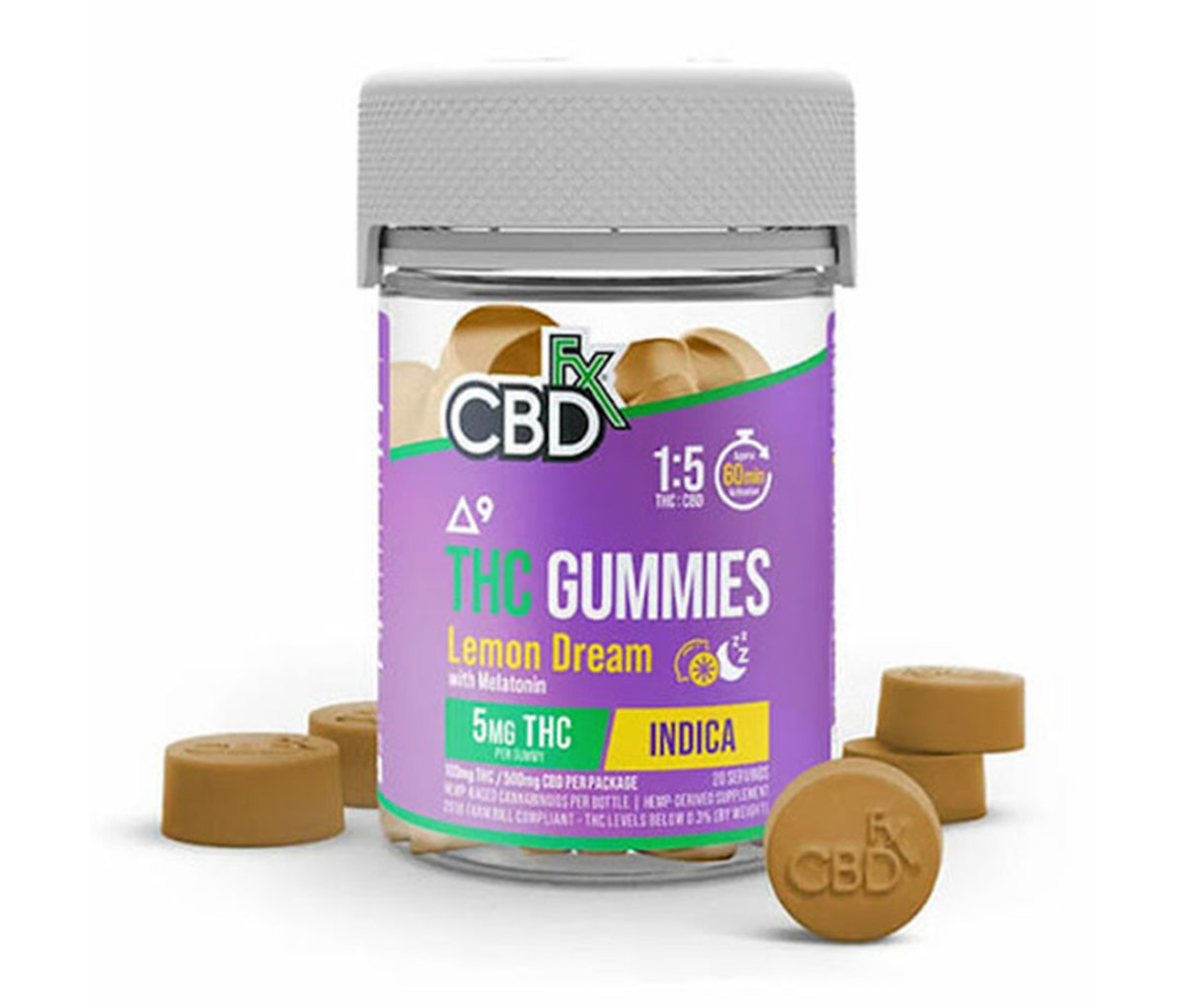 When it comes to cannabis products, CBDfx is hard to beat. This brand has been an industry leader since the beginning and has continued to push the bar for the entire industry. CBDfx is committed to using the best ingredients, finding the most interesting formulations, and consistently delivering the quality their customers have come to expect.
CBDfx has a ton of great products to choose from and one of our favorites is the Lemon Dream THC Gummies. These babies were designed specifically to be used when it's time to catch some Zs. Insomnia is a huge problem in the U.S and around the world. You can count sheep or get some prescription medication from your doctor, but if you want to try something natural, these gummies might be just what you've been looking for. With a hearty serving of Indica-extracted THC and super soothing Lemon flavor, these gummies make the perfect bedtime companion.
Stop counting sheep and treat your body to a perfectly balanced serving of CBD and THC with the CBDfx Lemon Dream THC Gummies!
Save 25% Off Your Next Order with Code: JOURNAL25
What You Need to Know about Hemp Gummies
THC gummies are one of the most popular ways to enjoy the effects of cannabis, but how much do you know about how they were extracted? Are THC gummies even legal? Let's take a look!
Manufacturing THC gummies in the U.S is a little bit tricky. The FDA requires that all CBD and THC products be extracted from industrial hemp plants that contain 0.3% THC or less. This is not nearly enough THC to get you buzzed. So, how do companies produce THC gummies that get you baked? Well, just because the hemp plant must contain 0.3% THC or less doesn't mean the end product has to as well. 
You can still legally make a THC product that is 50% THC or more from plants that contain 0.3% THC, it just means you have to use a lot more plant matter to create a product strong enough to get you baked. This is no problem for manufacturers because CBD and THC are relatively easy to extract and can be separated. Once a manufacturer has extracted all of the THC from a hemp plant, they can then utilize the CBD for other products.
The main takeaway here is that all legally manufactured THC products actually come from plants containing less than 0.3% THC. This is a little tricky, but definitely, something that all THC users need to know.
Delta 8 THC Gummies vs THC Gummies
Another thing that every THC user needs to know is the difference between delta 8 gummies and THC gummies. Delta 8 is actually an analog isolate of THC. Both of these compounds exist on the same molecular chain and share many of the same psychotropic properties. Delta 8 tends to provide a familiar, but more mellow buzz, while THC has a particularly trippy effect. If you love THC gummies, then you'll probably love Delta 8 gummies as well. 
If you've never indulged in Delta 8 gummies, then we highly recommend that you give them a try!
How to Find THC Products You Can Trust
The THC industry is booming and now more than ever, it's important to do your research before buying a product. There are a bunch of great brands out there, but there are also a ton of bootleg brands making products they don't care about. There is a lot of money floating around in the THC industry and plenty of companies are in it just to make a quick buck. We want products from brands that care about our wellness and the quality of products they produce. So, how do you find the best?
Every THC user needs to know how to find quality THC gummies and we're happy to help. When you're on the hunt for premium THC gummies, make sure to do some reading about the company. Check customer reviews to make sure that people have had good experiences and there aren't a ton of complaints. Next, make sure that the products come with a detailed COA. A certificate of analysis lets you know exactly what a product contains so you know the level of quality you're really getting.
We highly recommend sticking with big-name brands like TRĒ House and CBDfx. Both of these companies have an outstanding reputation, use the finest possible ingredients, and provide detailed COAs with all of their products.
Do THC Gummies Show Up On a Drug Test?
Drug tests are a real bummer and many people aren't sure whether or not eating THC gummies will make them fail a drug test. It's pretty easy to see how puffing on a bong would make you fail a drug test. It's kind of a no-brainer! But what about THC gummies? 
Well, drug tests don't care how THC got in your system. Whether it's from a bong or a gummy, if you have THC in your body, the drug test will likely be able to detect it. Because THC gummies contain THC, they will likely cause you to test positive for THC use. 
If you're concerned about taking a drug test, we highly recommend that you seek advice from your primary physician. If you're not worried about taking a drug test, then do yourself a favor and start chowing down on some tasty THC Gummies!
Save 25% Off Your Next Order with Code: "JOURNAL25"