Men's Journal aims to feature only the best products and services. We update when possible, but deals expire and prices can change. If you buy something via one of our links, we may earn a commission. Questions? Reach us at shop@mensjournal.com. Sponsored content
There's nothing like kicking back after a long day of work with a nice glass of whiskey. Getting that rich brown liquid down your throat to unload some of that stress that 2022 keeps throwing at us is just one of the finest aspects of life. But if you're really into whiskey, you know that you just can't pour that rich stuff into any ole container and throw it back. You need to class it up a little bit with a good whiskey glass.
Having some good whiskey glasses in your house isn't just about presentation though. The biggest thing is the way a good whiskey glass can enhance the experience of drinking that whiskey. And not just because you'll feel more elegant with one in hand. But because the right glass for the right drink can make it taste better.
Now, there's many different kind of whiskey glasses you can pick up. Different styles mean different benefits and these different styles can also mean they are better for one kind of drink over the other. And to give you guys a good little rundown of the different kinds of glasses that are available, we have laid them out for you below.
Popular Types of Whiskey Glasses
Tumbler – Probably the most popular type of whiskey glass around, as you've definitely held one in hand if you ever ordered some whiskey on the rocks at a bar. It's solid and durable and comfortable in the hands, if not overly sexy. The go-to if you're looking for a simple but effective time. Best straight up or on the rocks, but can handle some cocktails if you're feeling frisky.
Glencairn – This glass is the kind you'll find most typically at tastings. It's made to drink in social settings, allowing you to hold it comfortably while chatting it up with friends. And you can swish it around to allow the flavor to explode just a little more. Straight-up whiskey, no ice. Skip the cocktails, this
Snifter – This is basically like a thick wine glass. You got a wide mouth and a thin stem to allow you to grip it underneath and hold it out when you're not drinking. Cocktails are the go-to drink with a glass-like this.
Tulip – Even more a glorified wine glass with its long stem. Easy for you to hold onto when you're drinking or relaxing. You get a clean experience with this kinda glass in hand. Another solid option for that cocktail you're looking to drink.
Neat – An interesting and pretty recent addition to the whiskey glassware lineup. It's got an opening that juts out, so when you drink you don't get smashed in the face with the aroma emanation out from it. That way you can enjoy the taste in a purer way than ever before. You can go with this neat (obviously) or with some ice.
Crystal vs Glass for Whiskey
Something that needs to be kept in mind when you go looking for new glassware is if you're going to go with Crystal vs Glass. What this really boils down to is the thickness of the glass you're drinking from. Crystal is thinner but it is actually stronger than Glass. That's why glass needs to be thicker so as to make them more durable. So in our minds, it really comes down to if you're gonna be holding that drink in hand for a long time so you don't end up transferring too much body heat into the drink. Cocktails vs neat/rocks.
Does The Glass Make A Difference
The glass does make a difference because each drink has its own process of being drunk. When you go with a straight shot or a rocks shot, you're not dealing with a lot of flavors and ingredients. It's not gonna take you too long to drink that down. So you don't need a thick glass or one that keeps the flavor nice and rich for you. You just need to decide if you drink your whiskey straight or in a cocktail more often than not.
Average Price For Whiskey Glasses
The good news is that you can end up getting yourself a good whiskey glass or two without spending too much money. But if you wanna really upgrade that home bar of yours, you can either spend a bunch on one/two really snazzy glasses or you can get a really big box that overloads that cabinet of yours. So you can end up spending anywhere from around $25 to $300. It's really up to you.
Now that all of this is out of the way, we wanted to do you guys the favor of throwing some great whiskey-drinking options at you. A great selection with a wide variety that will definitely satisfy you and your specific whiskey drinking ways. So scroll on down and check what we think the best one is and all the other winners we rounded up.
Men's Journal Pick For The Best Overall Glass – Glencairn Whiskey Glass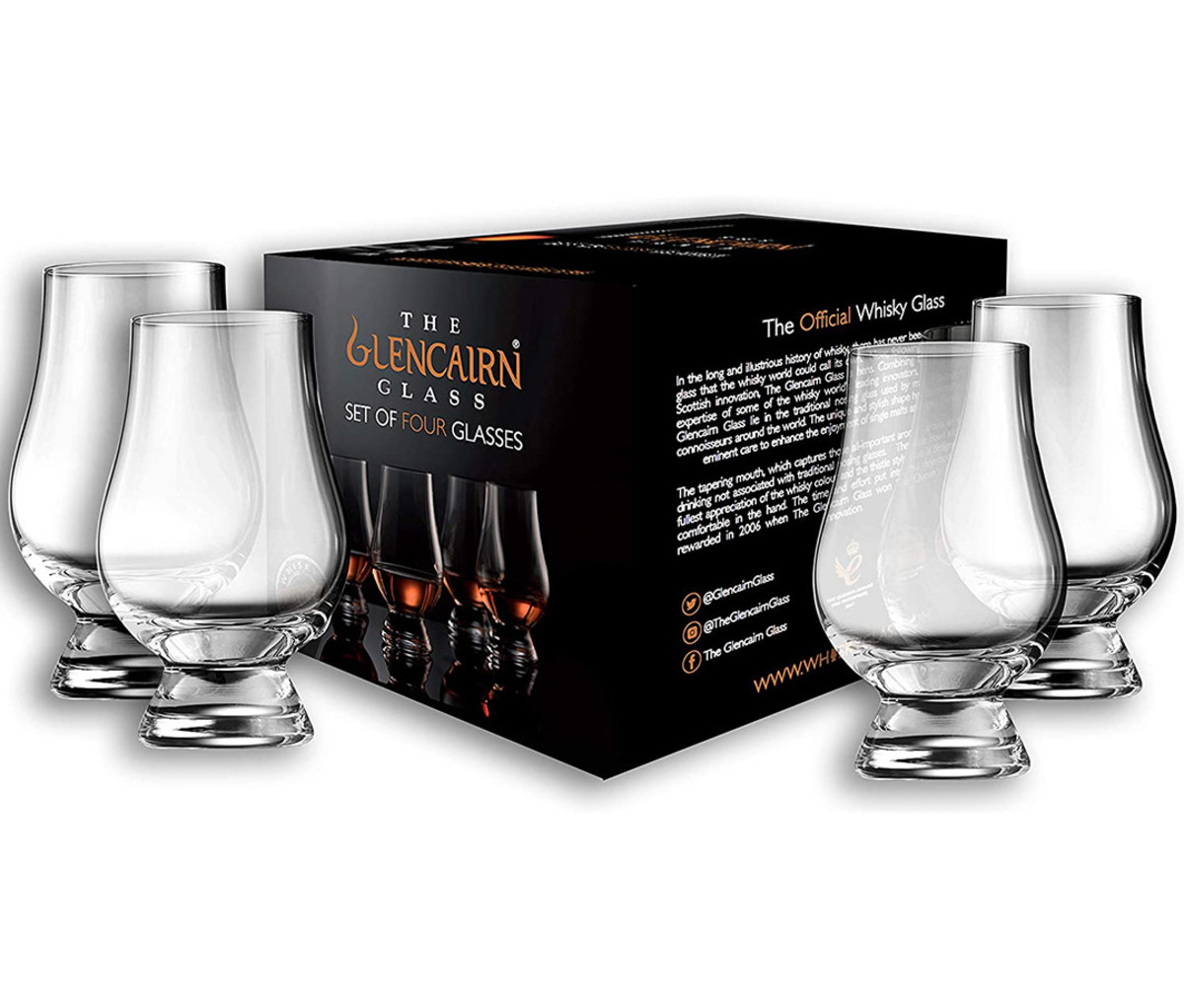 Elegance defined. While there are numerous styles of whiskey glasses, the Glencairn was the first to be endorsed by the Scotch Whisky Association. The shape of the glass is derived from the traditional nosing copitas used in Scotch and Irish whiskey labs and distilleries. You will maximize the aroma with this 4 pack of lead-free crystal glassware.
Recommended For: Bourbon Drinkers
Get It: Pick up the Glencairn Whiskey Glass ($33) at Amazon
Get it!
Best Double Walled Glass: Norlan Whiskey Glass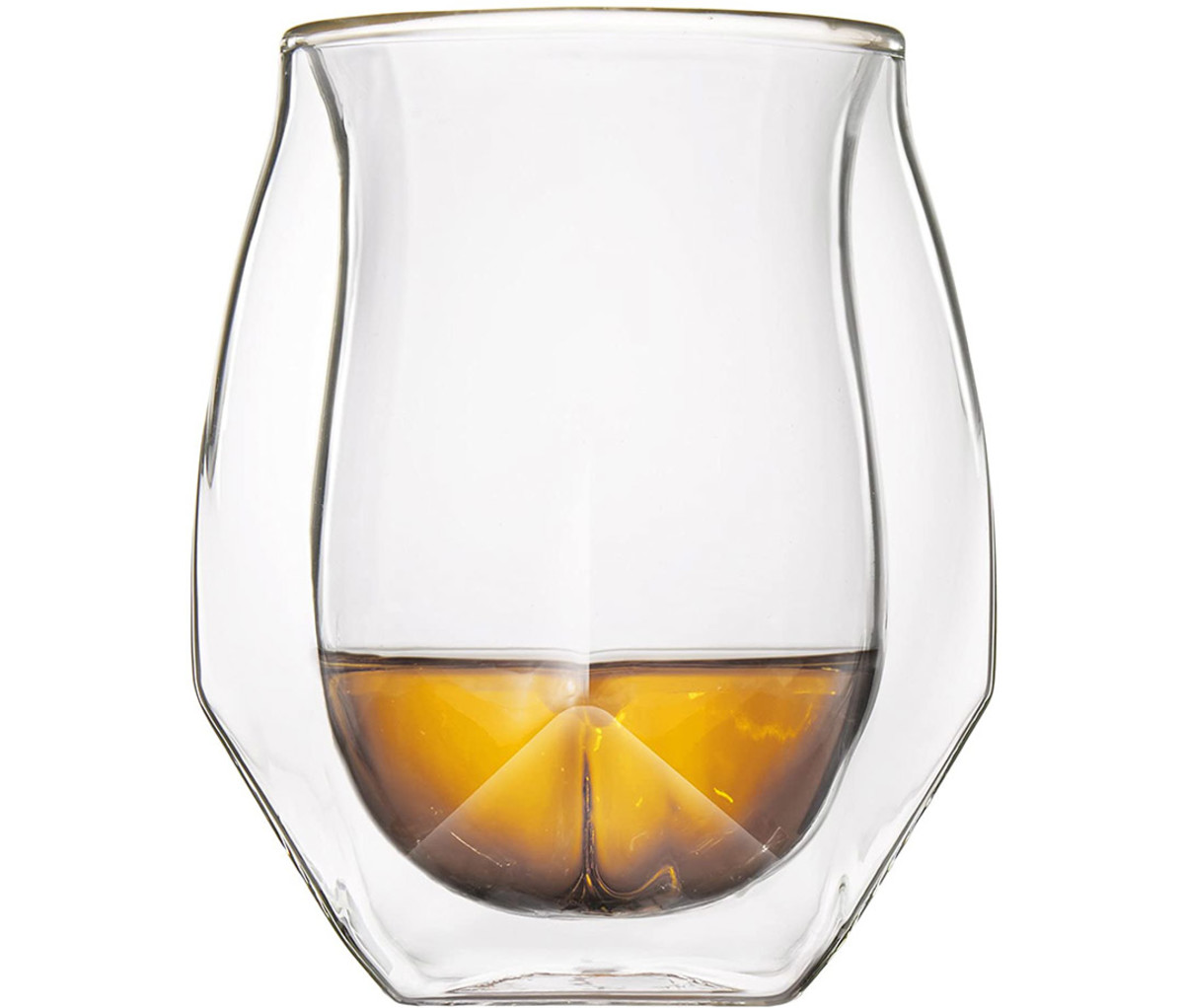 The innovative Norlan is designed to capture a whiskey's complex flavors and aromatics and deliver them to the senses. A protrusion inside the glass creates a wave when whisky is swirled, increasing the rate of oxidization and ethanol evaporation, resulting in a smoother, softer aroma. The outer tumbler allows for easy grasping and drinking while preventing the whiskey from absorbing warmth from your hand. Plus, it's made of handblown borosilicate glass (a.k.a. Pyrex), which is great for maintaining a steady temperature. Pick up this 2 pack now for your social drinking needs.
Recommended For: The Social Drinker
Get It: Pick up the Norlan Whiskey Glass ($85) at Amazon
Get it!
Best Large Glass: BrüMate NOS'R Stainless Steel Whiskey Nosing Glass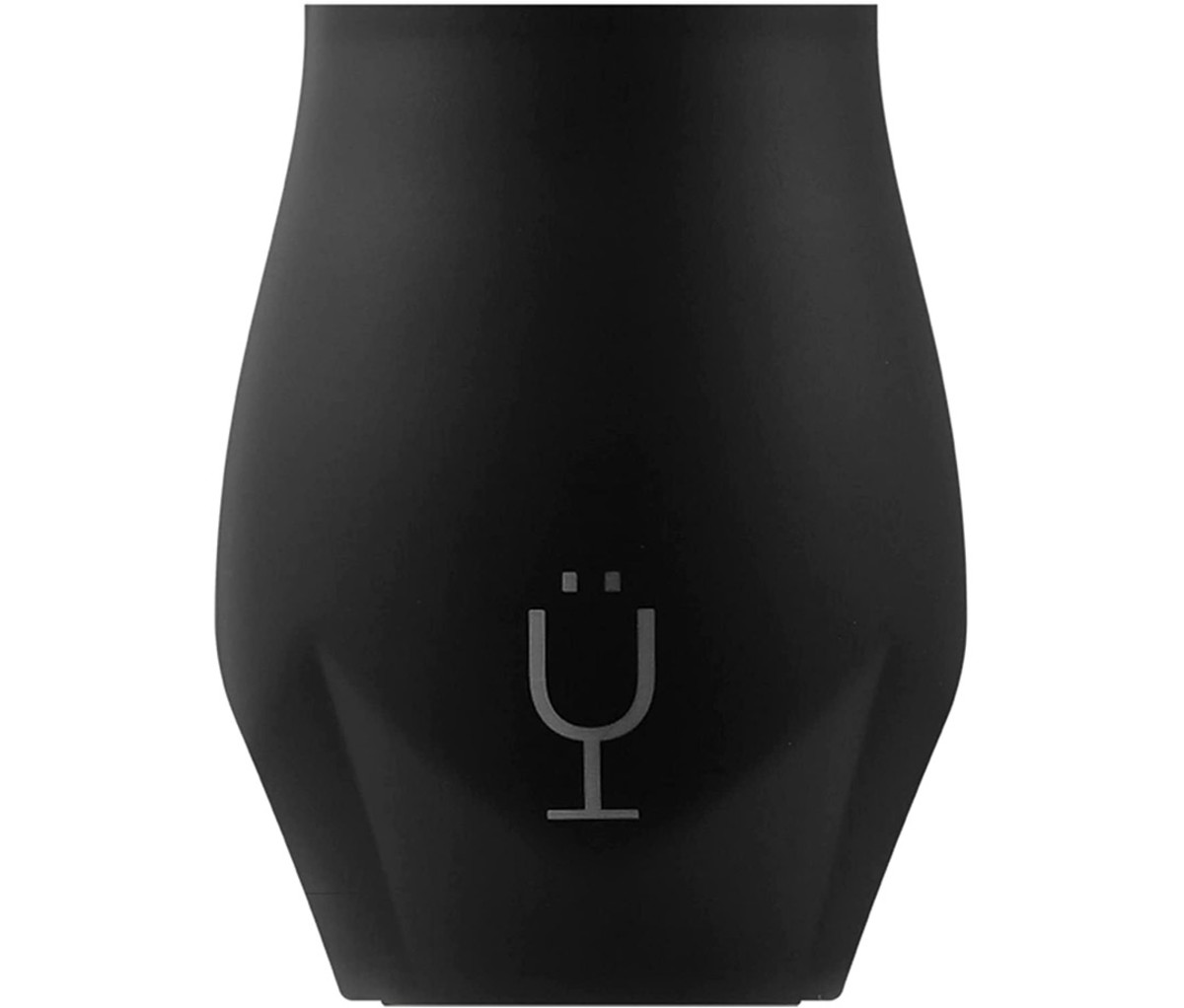 This ain't no tin cup. Sleek, sexy, and sophisticated, the NOS'R has 20 times better temperature retention than a glass tumbler, minimizing heat transfer and keeping your spirits perfectly cool. It's awesome for outdoor activities like tailgating, camping, or beach trips. This durable and shatterproof cup will help to accentuate the aroma of the spirit of your choosing.
Recommended For: Drinking Outdoors
Get It: Pick up the BrüMate NOS'R Stainless Steel Whiskey Nosing Glass ($25) at Amazon
Get it!
Best Luxury Glass: Whiskey Peaks Premium Rocks Glasses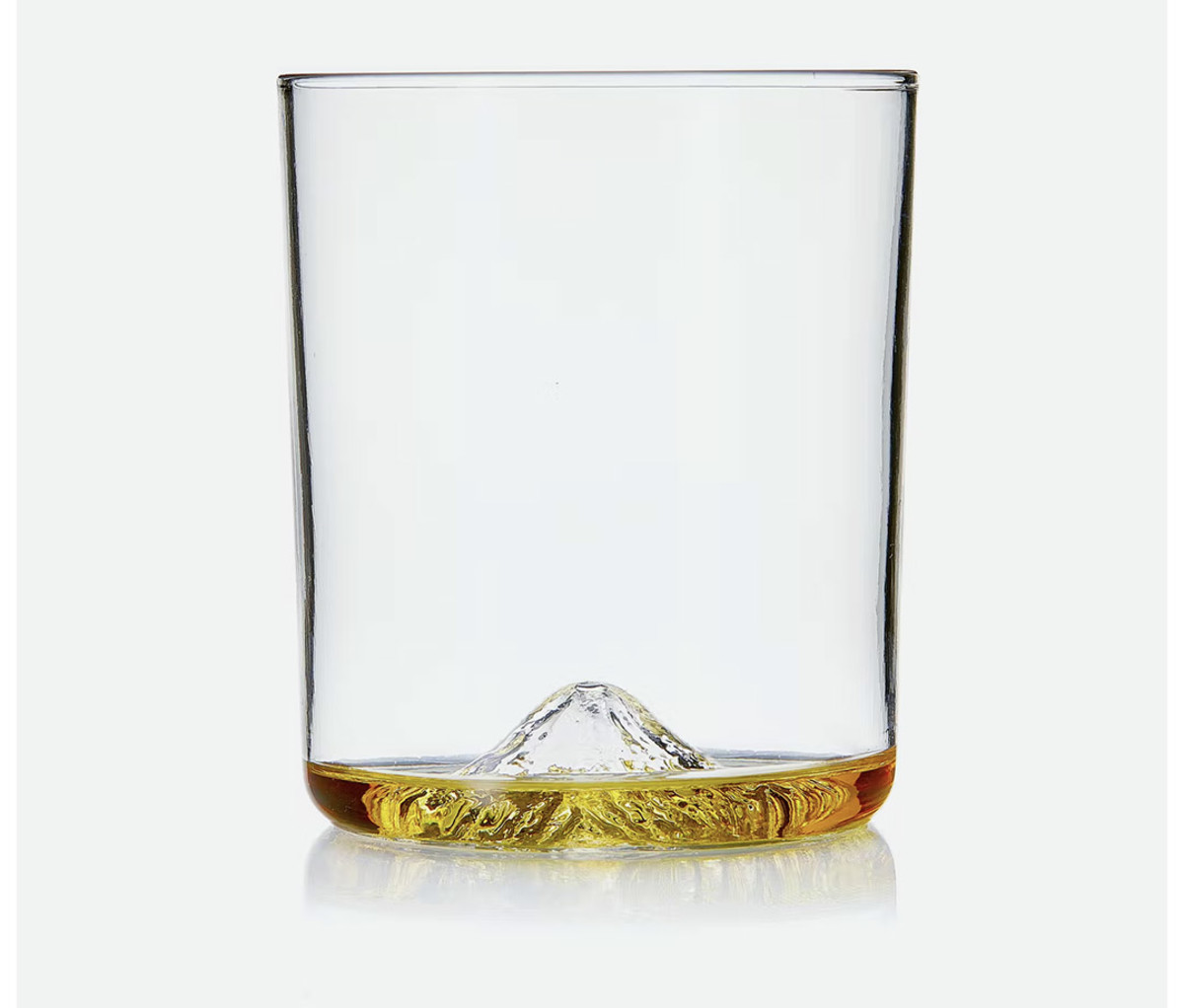 From our pals at Huckberry comes this awesome collection of hand-blown glasses with indented bottoms featuring topographic silhouettes of various mountains of America and around the world: Half Dome, Whitney, the Matterhorn, Kilimanjaro, Everest, and more. Prices vary.
Recommended For: Fans of Travel
Get It: Pick up the Whiskey Peaks Premium Rocks Glasses ($30) at Huckberry
Get it!
Best Old Fashioned Glass: Maketh the Man Art Deco Whiskey Tumblers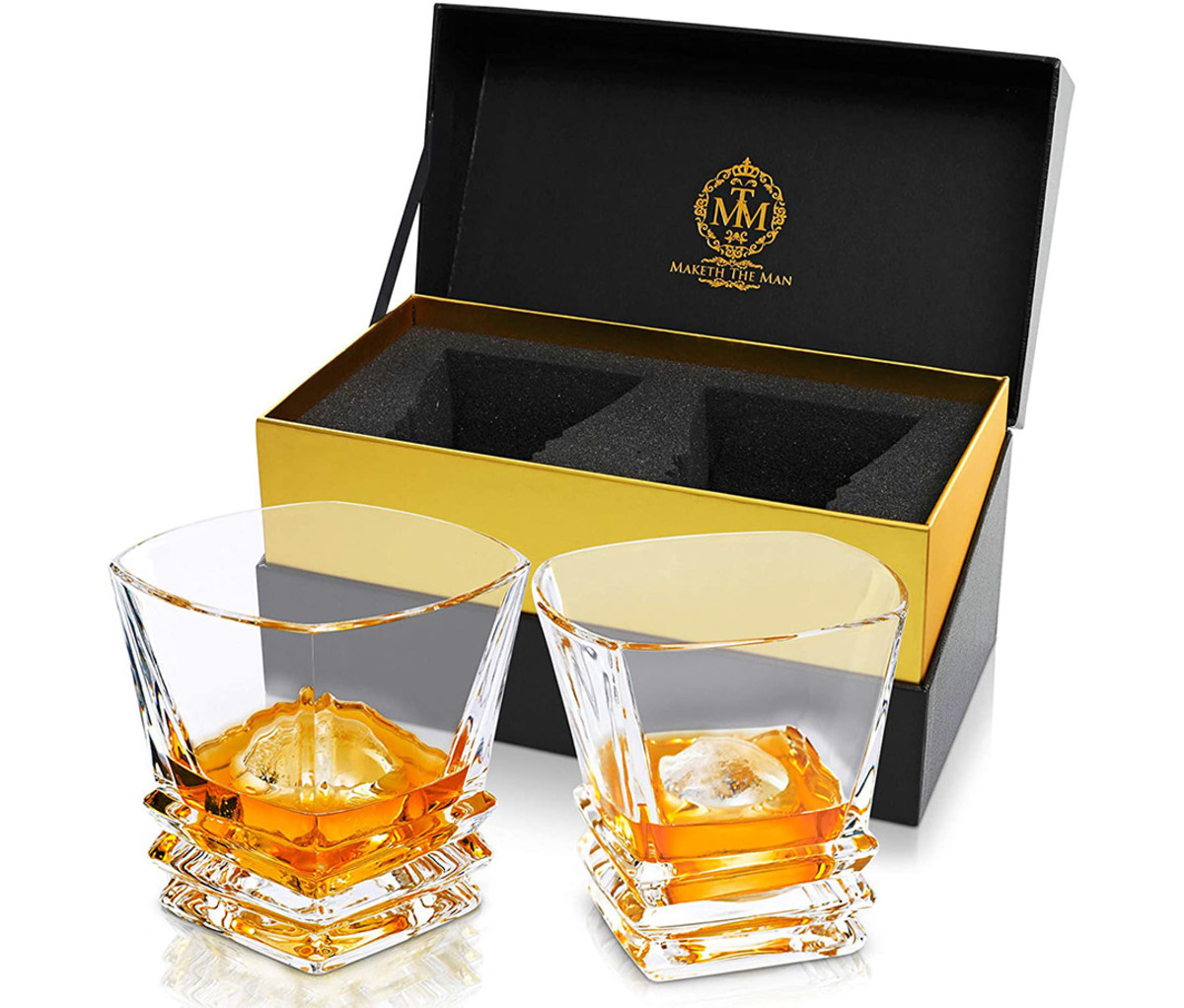 If you're more of the Don Draper-type whiskey drinker—or know someone who is—these space-age, Art Deco-inspired tumblers make a suave statement. The thick base adds stability and shatter resistance, and the 10-ounce capacity means they'll work great for cocktails, too. Pick up this gift box to get 2 of these gorgeous tumblers right now.
Recommended For: Don Draper Fans
Get It: Pick up the Maketh the Man Art Deco Whiskey Tumblers ($28; was $40) at Amazon
Get it!
Best Small Glass: Kanars Everest Whiskey Glasses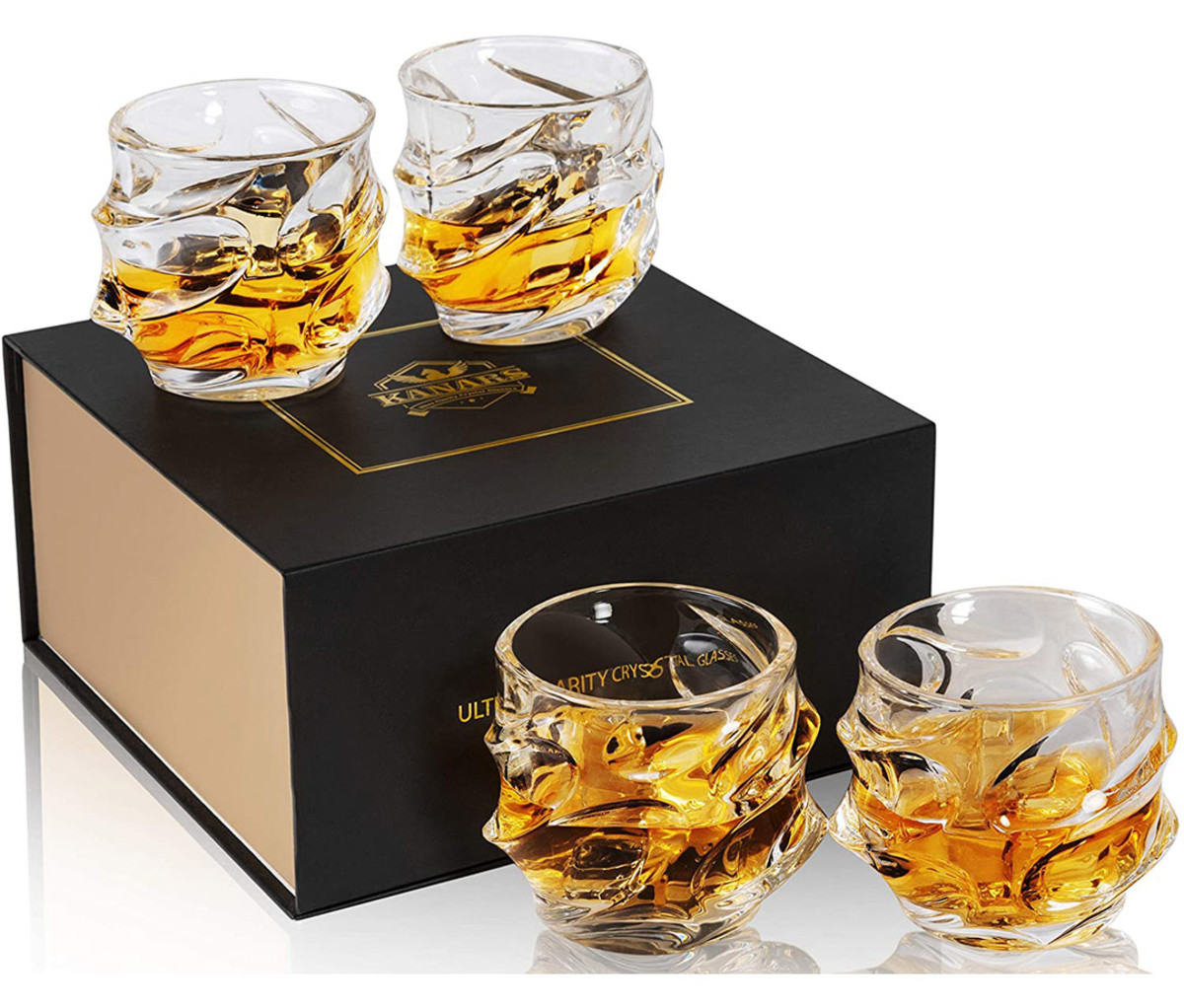 They're funky and fun, but these aren't novelty glasses. These lead-free crystal, wide-diameter glasses are great for appreciating the nose of the whiskey—and the contoured shape and heavyweight make them ideal for handing out at parties thanks to their strong grip. Adding 4 of these into your home bar is a smart move.
Recommended For: Parties
Get It: Pick up the Kanars Everest Whiskey Glasses ($34; was $37) at Amazon
Get it!
Best Unique Glass: Original BenShot Bullet Glass with Real 0.308 Bullet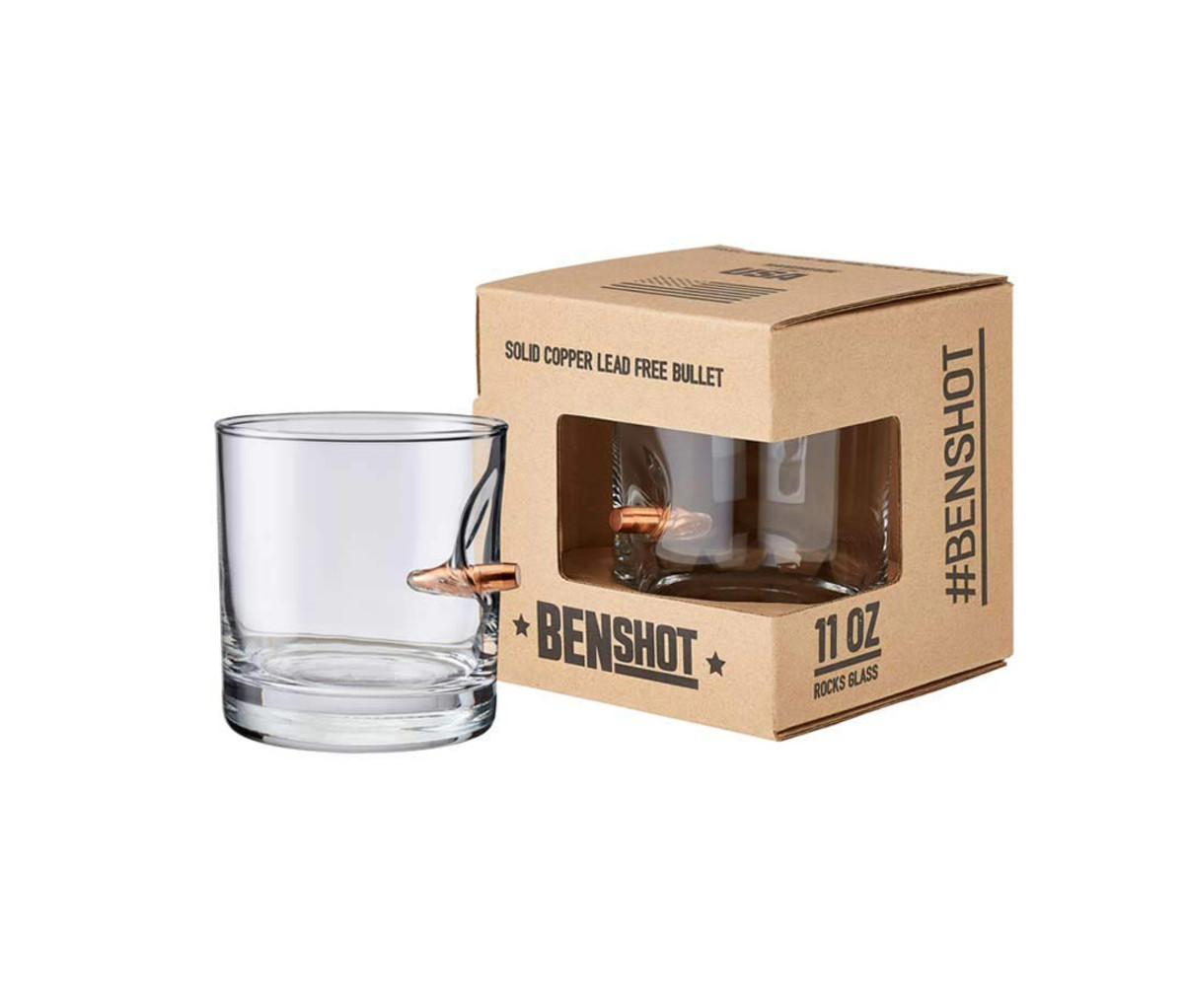 Okay, this is admittedly a novelty glass, perfect for hunters or gun lovers. While there are plenty of knock-offs on Amazon that get lousy reviews—bullets falling out, corny graphics washing off—Original BenShot has nearly 200 customer reviews, and all but one are rated the full five stars. 2 of these in your life will make for quite the conversation starter.
Recommended For: Gun Lovers
Get It: Pick up the Original BenShot Bullet Glass with Real 0.308 Bullet ($35) at Amazon
Get it!
Best For Bourbon Glass: Dragon Glassware Diamond Whiskey Glasses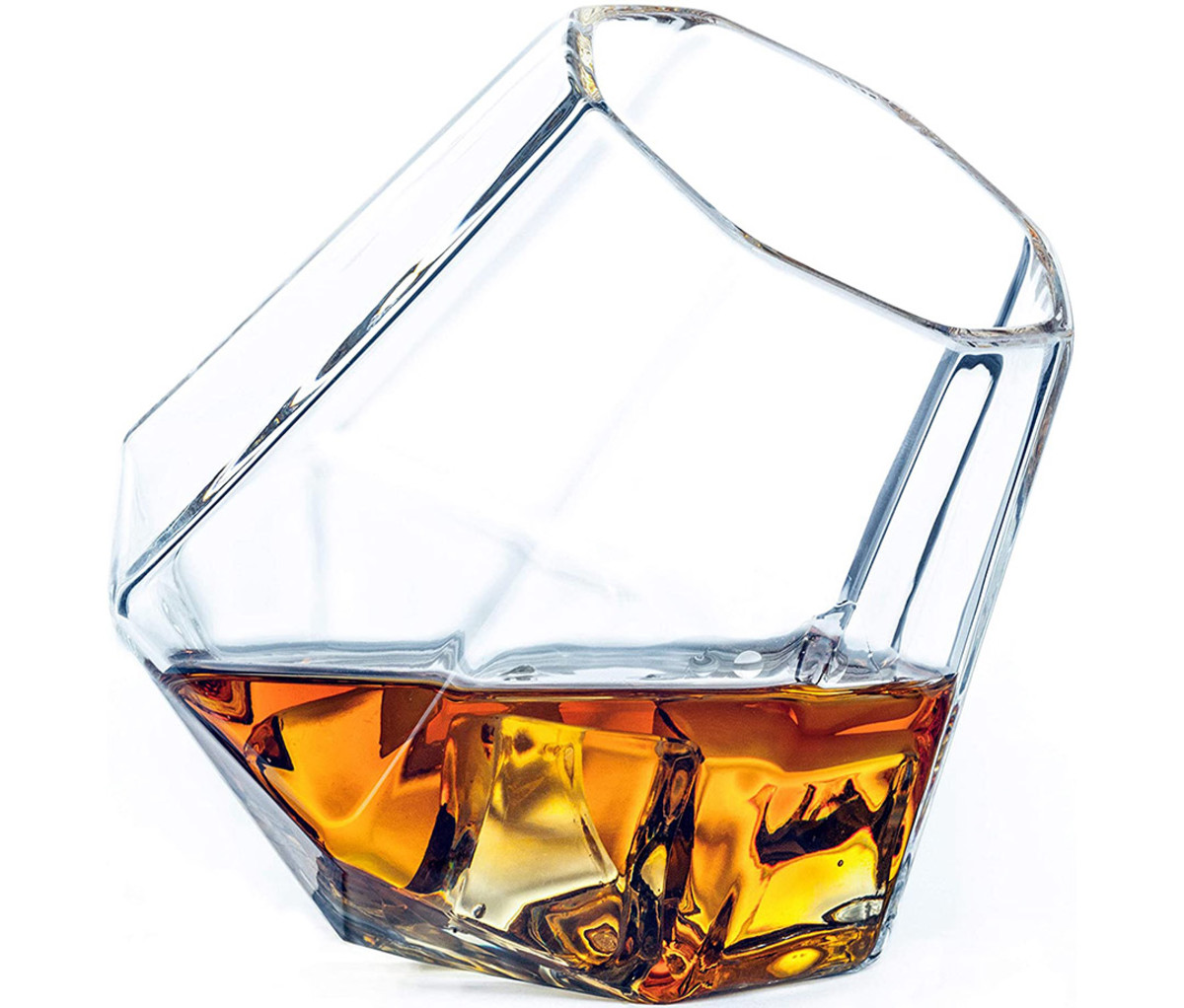 The tilted glass allows your drink to aerate as it is poured and swirled. Comfortable to hold and elegant to display, the 2-inch mouth may be limiting for those who prefer block ice. It works great as a wine or cordial glass, too. It's got a unique shape that will look great in any social setting. This 2 pack will make for a great purchase.
Recommended For: Hot Drinks
Get It: Pick up the Dragon Glassware Diamond Whiskey Glasses ($35; was $40) at Amazon
Get it!
Best Thick Base Glass: Right Place Old Fashioned Whiskey Glass
For the connoisseur who takes their whiskey straight, this glass doesn't need any gimmicks or fancy designs. Classically simple, these 10-ounce heavy base glasses are dishwasher safe and guaranteed not to etch, cloud, or discolor. Plus, the box set of four glasses comes with six granite chilling stones. And you'll improve your drinking selection with 4 of these in your life.
Recommended For: Whiskey Connoisseurs
Get It: Pick up the Right Place Old Fashioned Whiskey Glass ($27; was $49) at Amazon
Get it!
Best For Scotch Glass: Venero Twisted Whiskey Tumblers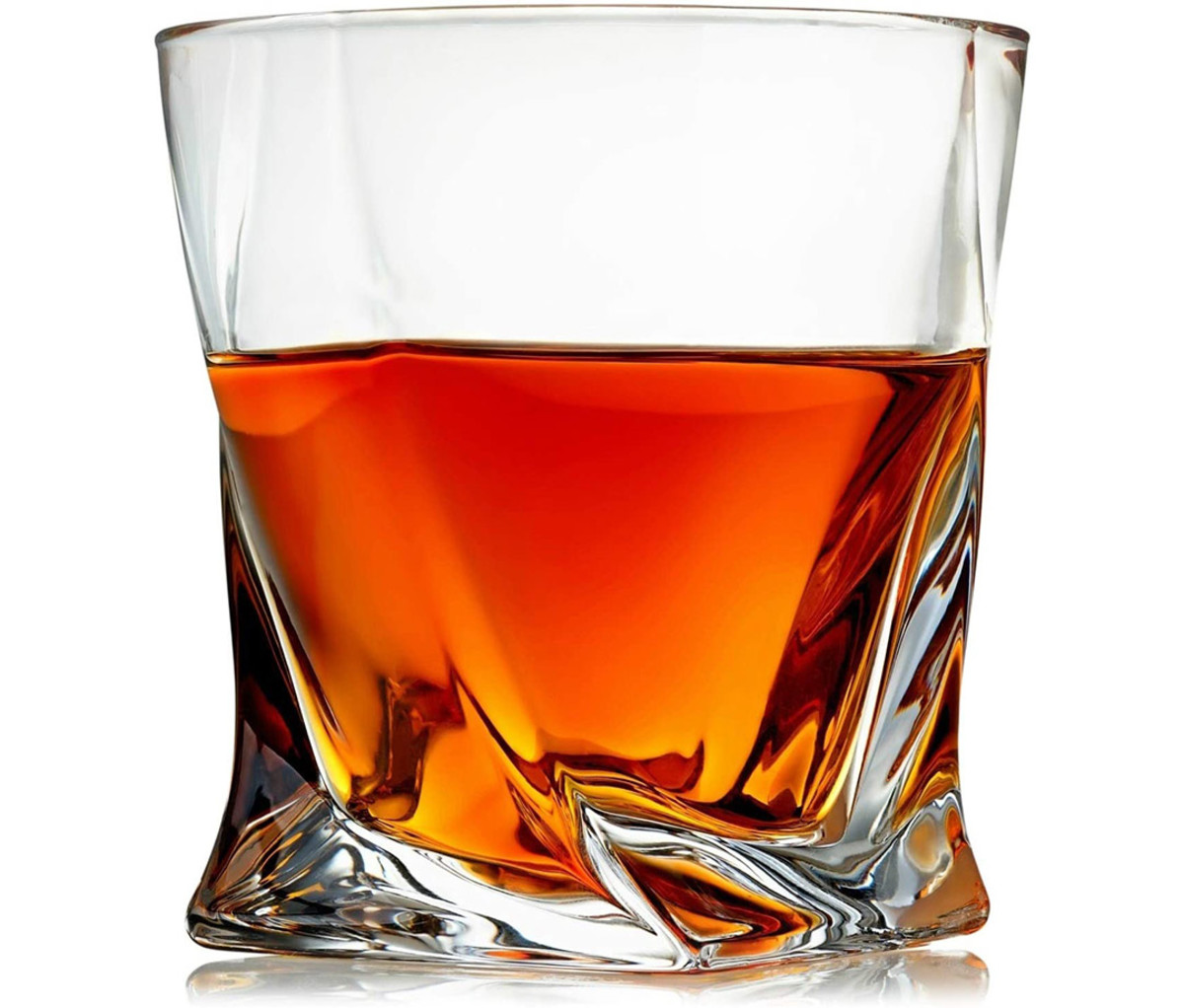 The high style and heavy base of these 10-ounce whiskey glasses makes them ideal for everything from a quiet dram after a fine meal to having the gang over on poker night. It's versatile and thick so you don't have to worry too much about it cracking on you.
Recommended For: Classy Home Bars
Get It: Pick up the Venero Twisted Whiskey Tumblers ($29; was $60) at Amazon
Get it!
Best For: Expensive Tastes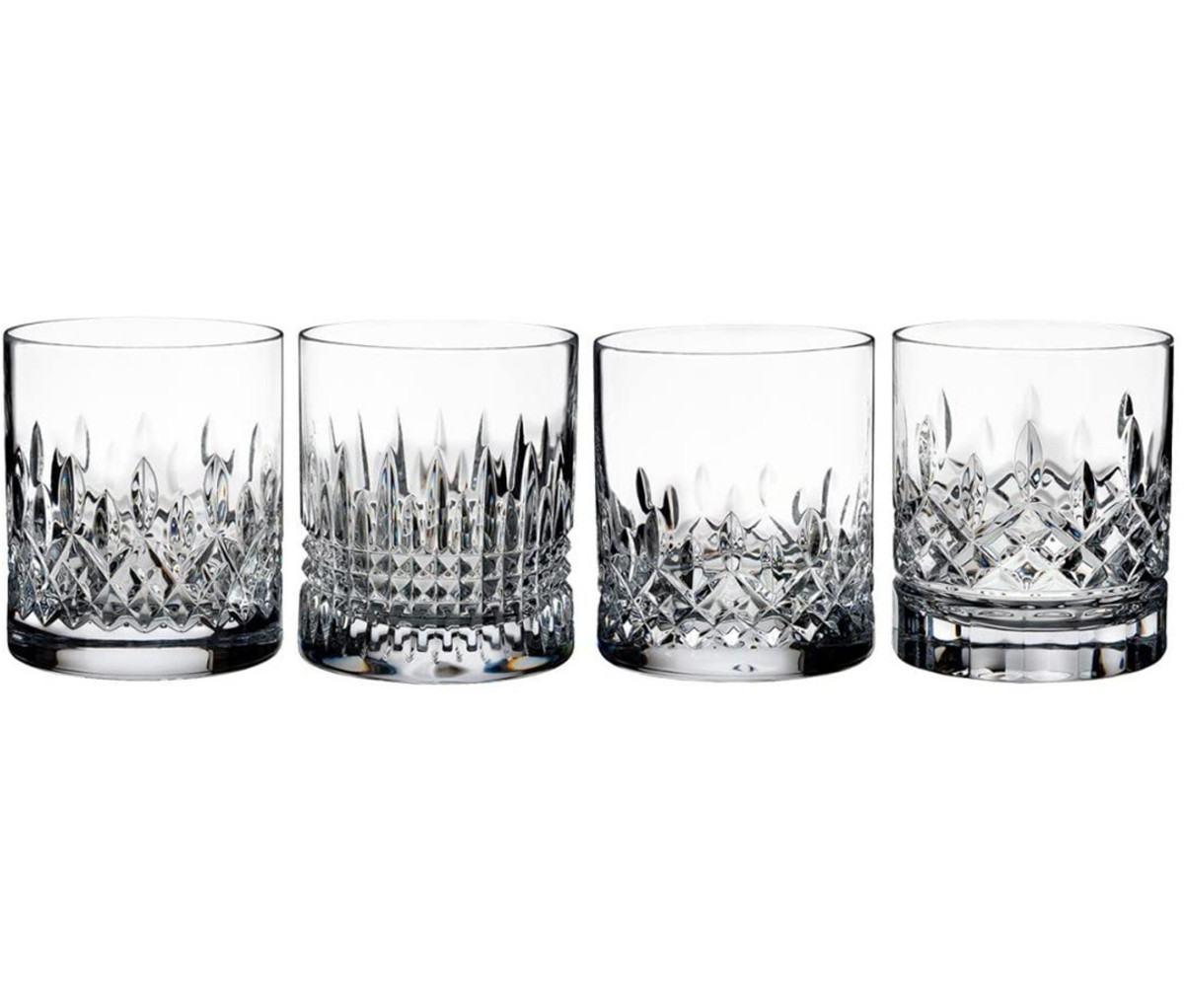 If you're really into your whiskeys, then you want glassware that is as elegant and rich as your favorite bottle. And that's where these gorgeous and well-crafted tumblers come into play. With this 4 pack of crystal tumblers, you get a different design for each glass. But each glass is similar in how durable it is and how comfortable it feels in your hand. Each sip of whiskey will go down much smoother when it's in tumblers as elegant as these.
Recommended For: High End Whiskey Drinkers
Get It: Pick up the Waterford Lismore Evolution Tumbler ($340) at Amazon
Get it!
Best For: Brandy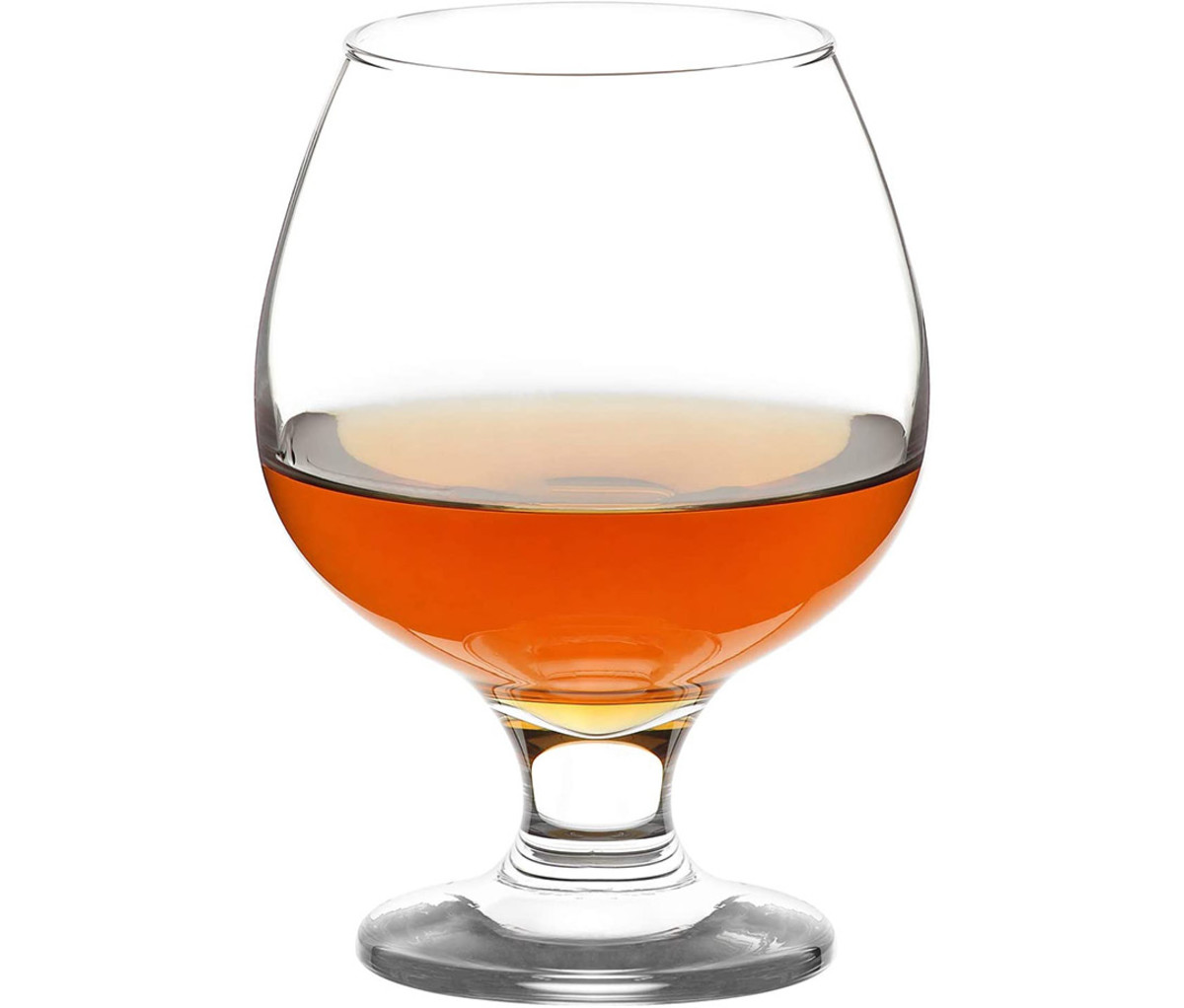 A snifter is a great glass to have if you like to take your time with a drink. Let it sit while you enjoy some company, allowing you to take a whiff of the strong aroma that emanates forth from it. This means it's good for Brandy, a drink that's all about how it affects your senses with its strong smell and taste. And you'll get 6 of these with this purchase so you'll be able to load up the whole party with a snifter. Swish that drink up in this snifter so you can enjoy your Brandy more than ever.
Recommended For: Brandy Drinkers
Get It: Pick up the LAV Brandy Snifter ($30) at Amazon
Get it!
Best For: Straight Whiskey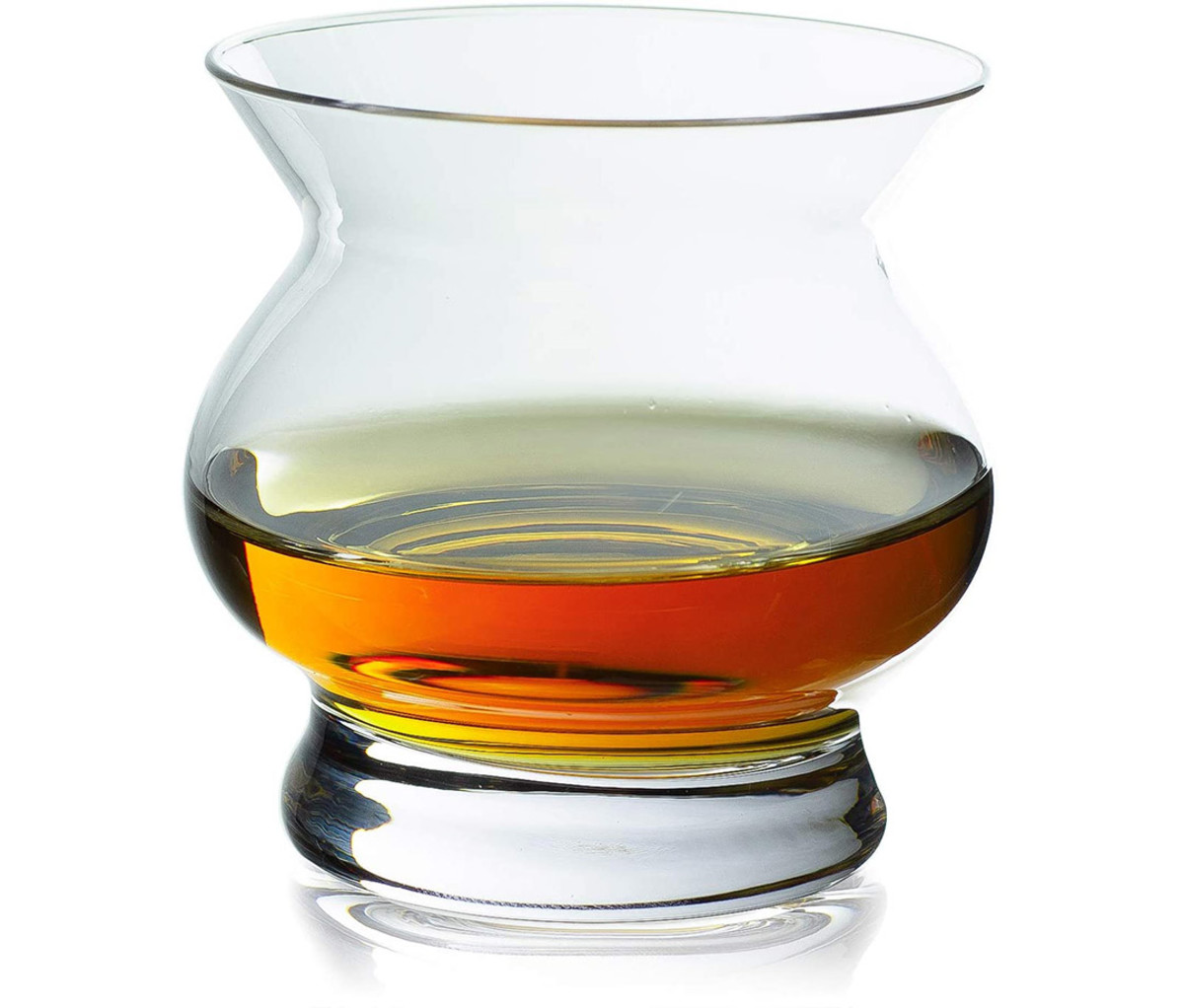 A lot of people like them some whiskey because of the scent. But for others, the scent is a little too overbearing. The drink is great but getting walloped in the face with every drink is no fun. That's why this relatively new style of glass is perfect for those with weaker noses. It's made to keep the aroma away while you drink. It's incredibly well crafted out of glass and while you may only get 1 of them with this purchase, it's a purchase you should definitely make.
Recommended For: Those With Weaker Noses
Get It: Pick up the Elite Spirits Glass by The NEAT Glass ($17) at Amazon
Get it!
Best For: Nuanced Whiskeys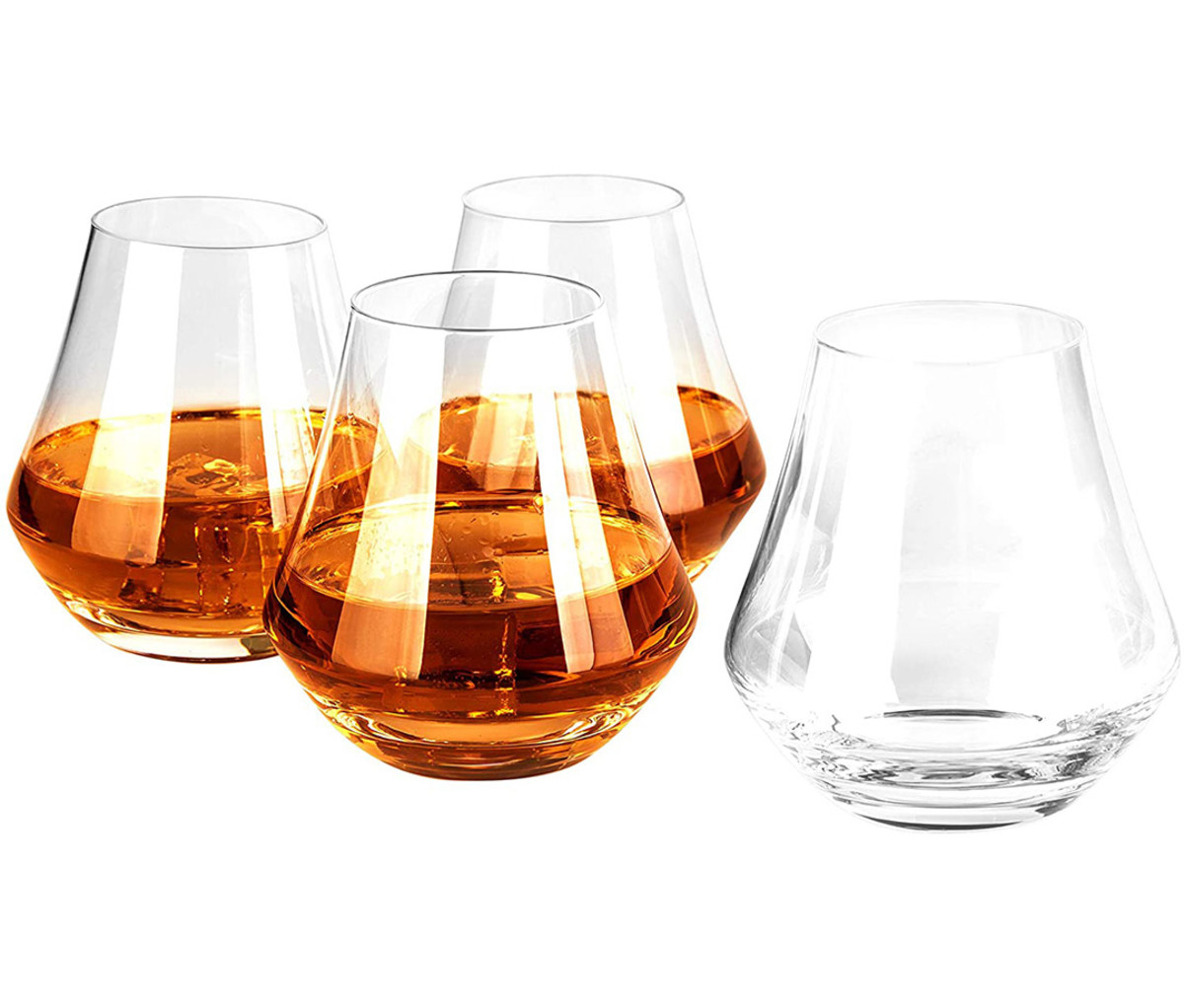 This is an interesting pack of 4 tulip glasses because it has the basic tulip shape but it doesn't have the stem. So while it may seem like it won't be as comfortable to hold, it's just as comfortable. You can hold it from underneath to have the same sensation while keeping your hands away from the lip of the glass so you can have a clean drink each time. And it's made from crystal so it's quite strong despite its thin appearance.
Recommended For: Those Who Love Whiskeys With Unique Flavors
Get It: Pick up the MyGift Clear Crystal Tulip Whiskey Glass ($35) at Amazon
Get it!
Check out the Daily Deals over at Amazon
Check out the great products and gear we recommend to Men's Journal readers