While the Super Bowl always brings a crowd, this year promises to be something else entirely with the big game kicking off this Sunday at University of Phoenix Stadium in Glendale, Arizona just a few days after the Pro Bowl and the Phoenix Open Phoenix Open wrap up. Add in a prime match-up Friday night between the Suns and the Chicago Bulls, and let's just say this is a dream sports week in the Southwest.
And those sports fans have to eat. "Scottsdale is a foodie town," says Lorenzo Alexander, a linebacker and special teams standout for the hometown Arizona Cardinals. "I was surprised by the different types of restaurants, the top chefs in the area. It's a great place to come out and try food in general. Healthy food, fast food, high end food, you get the whole spectrum."
But if there's one thing the Valley of the Sun excels in, it's steak. Possibly one of the best places to eat it in the entire Southwest, these five places stand out for their choice cuts, great drinks, and clientele that includes plenty of athletes and stars in town for the festivities. 
You may know Mastro's name from the steakhouses he and his family started in Arizona and then sold to a private equity firm which took the chain national. The Mastros launched this steakhouse–which veers from the classic style in favor of a more modern look–in April and it's already known as one of the top destinations in the area for both meat eaters and those looking for a little more variety (corn crème brulee and crispy shrimp, for example) than what's on the typical menu. "It's not just your scotch-drinking, dark wood kind of crowd," says Mastro.
Located: 5101 North 44th St., Phoenix
25 miles from University of Phoenix Stadium
RELATED: The New Old Scotsdale 
"My top pick is City Hall," says Lorenzo Alexander, who loves a rib-eye with a Cajun style rub and picks the Patriots as his Super Bowl winner. "It's kind of in the middle of everything. Old Scottsdale, the W Hotel, a lot of the parties and clubs and bars are right there. When teams come to play us, they say they're going to City Hall, so I imagine guys who are here for the game will shoot over there and there will be sightings of some guys at some point."
Located: Camelback Executive Park, 6991 East Camelback Rd., Scottsdale
27 miles from University of Phoenix Stadium
If you're looking for a classic steakhouse vibe, Durant's, in business for 65 years, is your place. Enter through the back door and through the kitchen to see the grillmasters in action and you'll find yourself in a dark dining room surrounded by red leather booths. Carol McElroy's family has been involved in Durant's since the start, and endorses the steak scene in Arizona: "This is the southwest, so steak is very popular. It's certainly not on the state flag with the Saguaro cactus, but it would be right up there." If you're feeling particularly adventurous, take a crack at the restaurant's 48-oz. porterhouse. If you can finish it off solo, you'll get your name on the wall for eternity, along with a complimentary slice of strawberry shortcake.
Located: 2611 North Central Ave., Phoenix
17 miles from University of Phoenix Stadium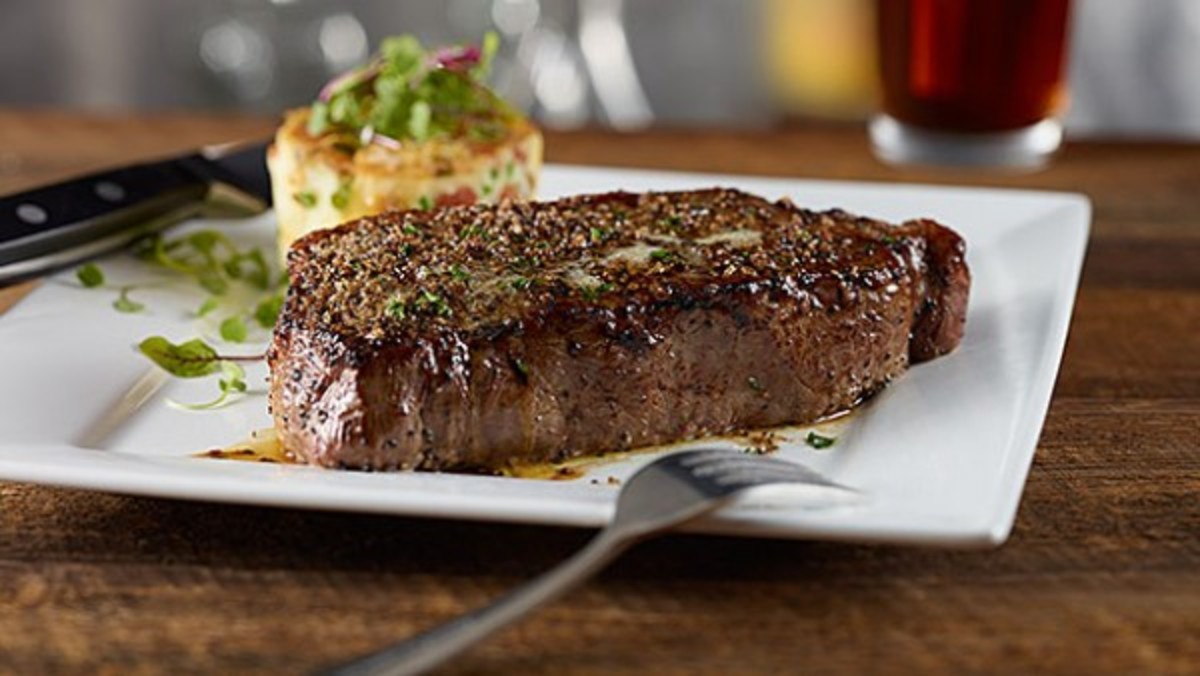 (Courtesy Del Frisco's Grille)
If you've ever come across a Del Frisco's Double Eagle, perhaps in Dallas, Denver or Las Vegas, and enjoy the "I'm definitely in a steakhouse atmosphere," but are looking for something a little lighter or less time-consuming, it's worth checking out the Del Frisco's Grille in Phoenix. There's plenty of meat here, no doubt — two sizes of filet, a New York strip and a ribeye – but you also get a nice selection of flatbreads, burgers and a kale and Brussels sprout salad.
Located: 2425 E Camelback Rd., Ste 110, Phoenix
22 miles from University of Phoenix Stadium
The Cardinals players consider this one of their favorite destinations for a team meal thanks to a list that includes a great bone-in filet or the broiled veal chop. This is also part of the Mastro's new group of restaurants, so if you find a favorite one night at Steak 44, you might see it on the menu here, too.
Located: Scottsdale Quarter, 15169 North Scottsdale Rd., Scottsdale
31 miles from University of Phoenix Stadium
For access to exclusive gear videos, celebrity interviews, and more, subscribe on YouTube!