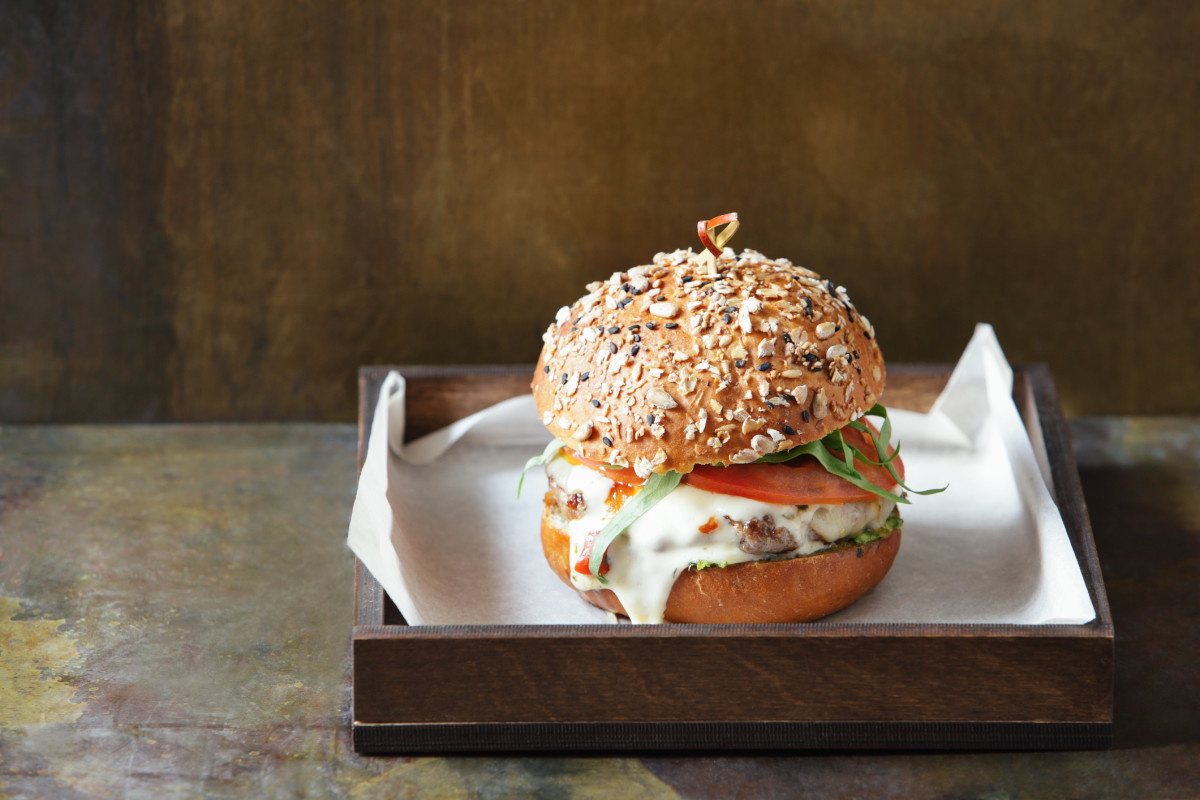 J. Kenji López-Alt may be best known for his column on Serious Eats, where he demystifies food one dish at a time, with methodical, detailed attention to techniques. His book, The Food Lab, takes on an encyclopedic array of cooking methods (think The Joy of Cooking rewritten by a mad scientist).
His chapter on burgers covers everything from grinding your own meat to a low-temperature sous-vide cooking method. For the home cook who's not quite that adventurous, here's a recipe for a classic spatula-smashed cheeseburger that will give Shake Shack a run for their money.
The Food Lab's Classic Diner-Style Smashed Cheeseburgers
Ingredients for 4 burgers
1 pound freshly ground beef (store-bought or home-ground)
4 soft hamburger buns, preferably Martin's Potato Sandwich Rolls
2 tablespoons unsalted butter, melted
Vegetable oil
Kosher salt and freshly ground black pepper
4 deli-cut slices American cheese
Sliced onions, pickles, tomatoes, and fry sauce for topping
Directions
Divide the meat into 4 even portions and form into pucks about 2 inches high and 2 ½ inches wide. Refrigerate until ready to use.
Open the buns but do not split the hinges. Brush lightly with the butter, then toast under a hot broiler or in toaster oven until golden brown, about 1 minute. Set aside.
Using a wadded-up paper towel, rub the inside of a 12-inch heavy-bottomed stainless steel or cast-iron skillet with vegetable oil, then heat over medium-high heat until just beginning to smoke. Season the beef pucks on the top with salt and pepper, then place seasoned side down in the skillet. Using a wide heavy spatula, press down on each one until it is roughly 4 to 4 1/2 inches in diameter and 1/2 inch thick; it helps to use a second spatula to apply pressure on the first one. Season the tops with salt and pepper. Cook, without moving the burgers, until a golden brown crust develops on the bottom, about 1 ½ minutes. Use the edge of the spatula to carefully scrape up the patties one at a time, making sure to get all the browned bits. If using onions, add to the tops of the burgers, then cover each with a cheese slice. Continue to cook until the patties are the desired doneness—about 30 seconds longer for medium-rare.
Top the buns and/or patties as desired, transfer the patties to the buns, close the burgers, and serve.
Ingredients for 2/3 cup of fry sauce
6 cup mayonnaise
2 tablespoons ketchup
1 tablespoon yellow mustard
1 tablespoon kosher dill pickle juice
1 teaspoon sugar
Pinch of cayenne pepper
Directions
Combine all the ingredients in a bowl and whisk until smooth. The sauce will keep in a covered container in the fridge for up to 2 weeks.
Excerpted from The Food Lab: Better Home Cooking Through Science by Kenji Lopez-Alt. Copyright © 2015 by J. Kenji López-Alt. With permission of the publisher, W. W. Norton & Company, Inc. All rights reserved.
For access to exclusive gear videos, celebrity interviews, and more, subscribe on YouTube!