In this week's installment of Neighborhood Heroes, we caught up with Bryan King, the co-owner of 12 Bones Smokehouse and 12 Bones Brewing, located in Asheville, North Carolina.
For years, King and his wife, Angela (plus their dedicated staff), have been dishing up "tender butts and sweet racks" for both locals and tourists alike in the western N.C. outdoor adventure hub. Locals will say that if you haven't been to 12 Bones, you haven't really been to Asheville. The made-from-scratch recipes and brews have helped establish that foothold in the community, but its other attributes—remaining humble, honest, hard-working, and willing to give back—have made the smokehouse-brewery more than a fixture. During the pandemic alone, 12 Bones has donated, prepared, and delivered a huge amount of food to keep those in need from going hungry. And, as those familiar with the Kings have come to expect, they are quick to deflect praise for their efforts and redirect it to members of their staff, pictured below.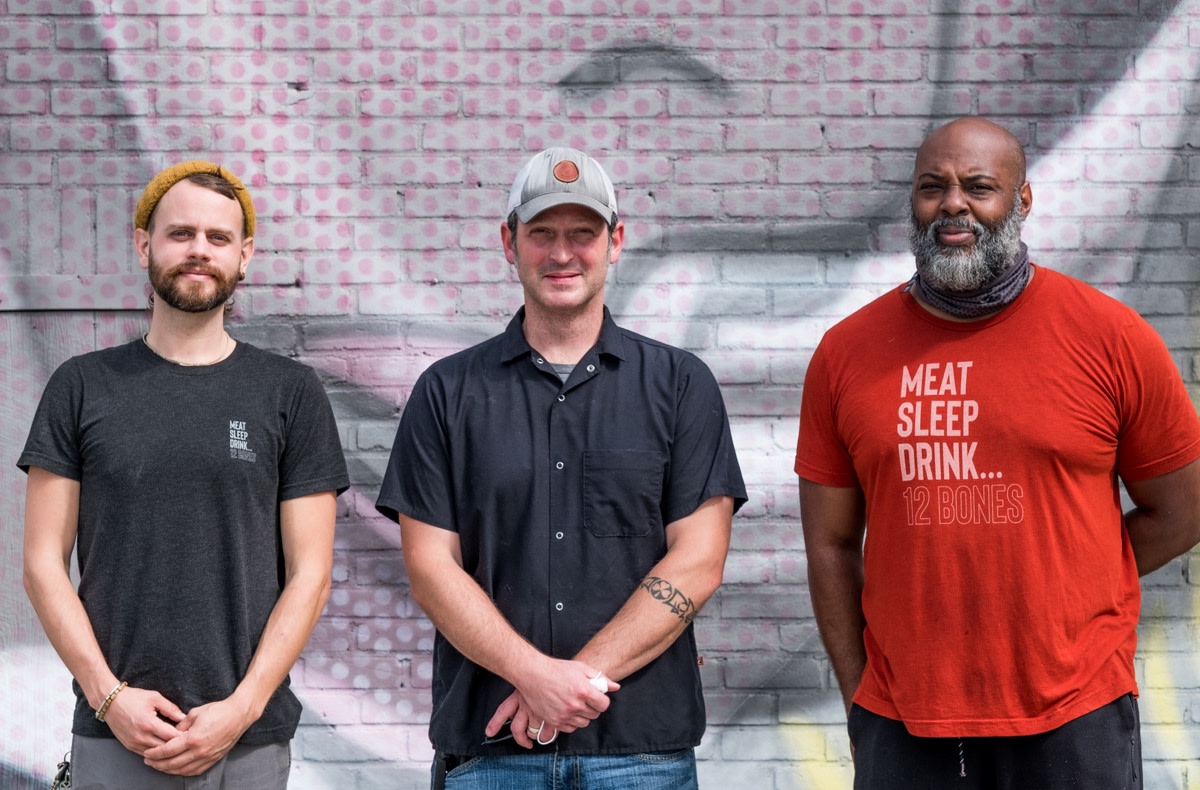 Name: Bryan King
Title: Full-time driver of 12 Bones supplies and owner of 12 Bones Smokehouse and Brewing
Location: Asheville, NC
Years on the job: 3,180 days (just under nine years)
MEN'S JOURNAL: How has your work changed in the pandemic?
BRYAN KING: On March 21, we completely shut down both restaurants and the brewery, tearfully laying off 45 employees and uncertain as to what lay ahead for us. We quickly pivoted, initially only making food for those in need. But then after a month or so, we reopened both restaurants for take-away and outdoor dining only. No indoor seating. We added large tents for covered seating (fortunately we have large outdoor areas and we are very accustomed to handling to-go orders). We are operating with a reduced crew since some team members opted to stay out of work. We also reduced and streamlined our menu. With the help of generous donations, we have also continued to cook for those in need since April. Retail has been severely cut since the entire customer interaction is now conducted outside under a tent. Catering is maybe 5-10 percent of what it used to be, and we have virtually no onsite rentals or events on the books, but I still feel like we are lucky because we do have those large outdoor spaces and we have been able to do a ton of to-go.
Assuming our numbers don't drop off any more, or the situation doesn't take a turn for the worse, we should be able to maintain this new normal for the foreseeable future. Of course, everything is contingent upon the fact that we do not have an outbreak, forcing us to shut down temporarily—because we no longer have adequate staff to operate effectively.
And has anything changed in the last couple weeks?
Early on we noticed a number of patrons who were very unhappy or simply refused to wear masks. On multiple occasions, our staff experienced unnecessary verbal abuse from customers in disagreement with our policies. However, more recently the general mood among our guests has changed for the better with most folks being much more accepting and cognizant that masks should be worn. Virtually every type of business now faces a daunting, ever-evolving list of concerns and decisions in an extremely fluid environment that must be addressed quickly and accurately—with little to no frame of reference. That being said, a few weeks ago we had a team member at our 12 Bones River Arts District location test positive for COVID-19. As part of our commitment to remain truthful and transparent with our entire staff as well as our beloved patrons, we posted this information on our social media channels. While most people were appreciative, there were some who chose to question or even berate us for the manner in which we handled the situation. I think it is important to know that from Day One, thorough cleaning and sanitizing has been at the forefront of our daily protocol at both restaurant locations and our brewery. The culture of 12 Bones has been safety-focused since this all began to take shape in February.
That's something that has come from employees as much as from management. We all have feared the day this might come to pass. So the short answer about why we waited two days to post on social media is that we needed time—time for everyone directly affected to make the decisions they needed to make. Asheville is our larger community but we all needed to share in our personal communities first. We all needed time to get tested. We all needed time to decide to continue to work or personally quarantine. Also making sure our staff felt safe continuing to work, while also providing options for those who did not: There were so many deeply personal decisions made, hidden behind the face of the business. We needed time for that to happen. It's not a perfect answer, but it's our answer. Like many businesses we simply do not have the luxury of being able to close until all of this completely passes. In order to keep 12 Bones going and our staff employed, we must do our best to remain open in as safe a manner as possible for our staff and customers.
What is the greatest challenge at hand?
Finding ways to pivot and generate revenue without encouraging people to gather in excess or in close proximity, and therefore compromising the safety of our staff and guests.
Do you feel at risk, or threatened?
Aside from opting to completely stay at home, I feel like we are managing the situation well and have gone above and beyond to diminish the risks. Make no mistake, no one wants to get COVID-19 but nothing is foolproof. We continue to reiterate to our staff the importance of staying vigilant, not only at work but perhaps more importantly outside of work where opportunities are plentiful to unnecessarily expand your circle.
Any signs of hope?
I'm an optimist and I've witnessed many selfless acts of kindness during these difficult months, from many of our staff offering to work for free so we could provide for those less fortunate, to customers near and far sending money with notes of love and support. I know everyone has COVID fatigue but we will most certainly get through this. Consider this, a person born in 1900 would've experienced World War I, a pandemic, the Great Depression, and World War II all before turning 50. We don't have to agree with each other, but if we work together with empathy and compassion for others while reserving judgment then we might even come out better on the other side.
Should people be working?
I think that is a personal decision that everyone needs to make on their terms given the circumstances they are affected by. There is no wrong answer.
How can folks help?
The best way for folks to help is by supporting all of the small businesses that you feel make your community special. Businesses know that their current models are not ideal and likely limiting or inconvenient in some way. Maybe you have to stand in the sun or rain to order or pick up your food. Maybe the phone lines are often tied up. Maybe your favorite place has reduced their hours, days, or even what they now offer. In most cases, we have already thought of those areas needing improvement and there is likely a very valid reason as to why we haven't been able to address them yet, most likely cost or staffing. Just take a moment to consider that your favorite place is doing its best to be around when all of this is over. 12 Bones is not perfect…life is not perfect, but we do work hard every day to improve our customer's experience as well as the working environment for our staff.
Kick back and enjoy some good barbecue and a tasty brew!
— See our full series of Neighborhood Heroes, profiling the good Samaritans doing thankless work next door. We raise our glasses to all the local heroes on the front lines—whether it's the hospital workers and grocery stockers providing essential services in this unique moment of dual health and economic crises, to community organizers leading our broader cultural reckoning and search for social justice. #weoweyoudrink
For access to exclusive gear videos, celebrity interviews, and more, subscribe on YouTube!