It's officially fall. And though we're still whipping up one last batch of 10-minute nachos on the grill, campfire season won't hold on for much longer. This week, befriend your oven with this easy-to-master vegetable roasting technique that can elevate any fall supper. Here, mildly nutty farro sets the base for a hearty farro salad packed with root vegetables, scallions, parsley, feta, and a tangy orange-maple vinaigrette.
"Farro salad is the perfect recipe for the fall season. It's a very light dish, but boasts high-protein and nuanced flavors," says Carlos Barroz, chef and owner of La Pulperia in New York City. "Roasting is the perfect way to cook a vegetable. It brings out the natural sweetness without extra ingredients or calories. Even better: Roasting takes little effort on the cooks' part, as the oven does most of the work."
Here's everything you'll need to make this delicious and easy salad recipe.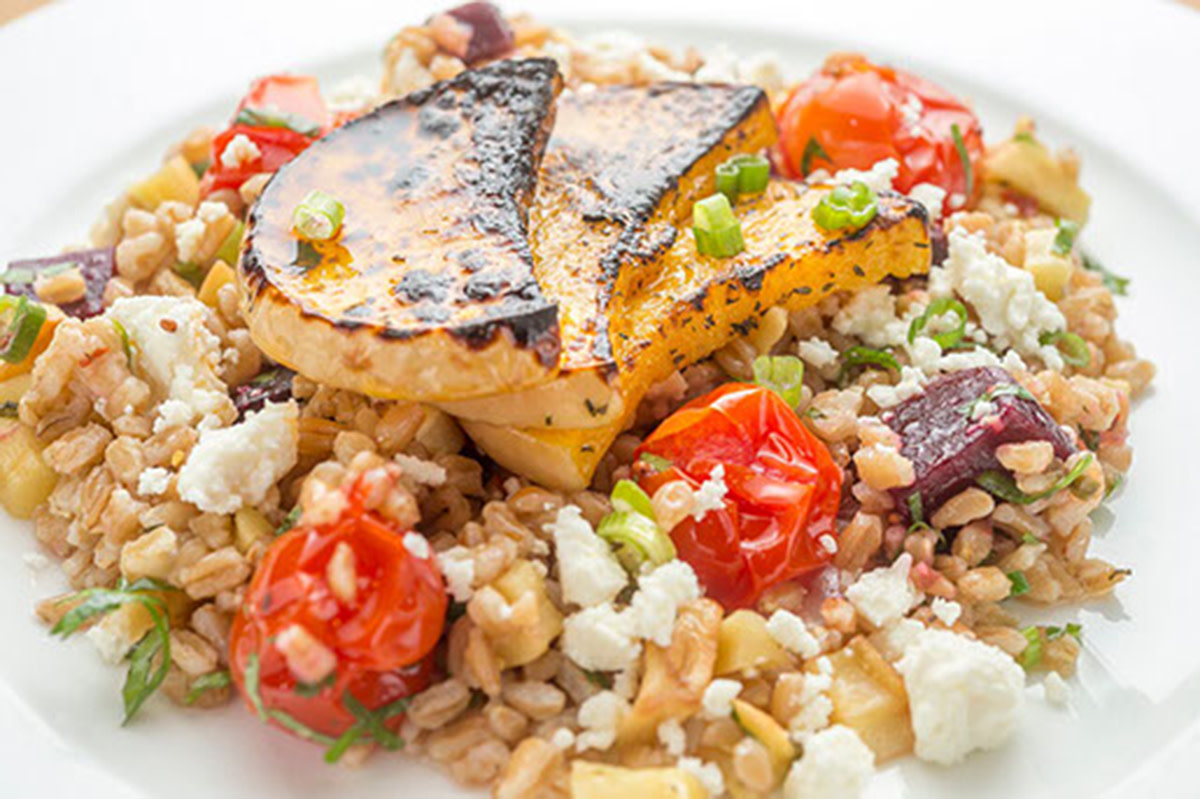 Chef Carlos Barroz's La Pulperia Warm Farro Salad
For access to exclusive gear videos, celebrity interviews, and more, subscribe on YouTube!
Makes 4 servings
Prep time
10 minutes min.
Cook time
30 minutes min.
Ingredients
For farro: 2 cups farro; ½-pound parsnip (peeled and diced); 1 piece butternut squash (sliced); ½-cup red beets; ½-cup cherry tomatoes; 4 oz. feta cheese; 1 bunch scallions (sliced); 1 bunch parsley; Olive oil, to taste
For orange and maple dressing: 1 cup olive oil; ½ cup orange juice; 2 tbsp maple syrup (your preference); 1 tbsp mustard; 1 tbsp chopped shallot; 1 tbsp chopped parsley; 1 tsp salt
How to make it
For dressing: Mix together all ingredients in a bowl; refrigerate.
Preheat the oven to 400°F. Meanwhile, boil the farro about 10-12 minutes and cool down for 10 minutes.
Boil the red beets for 30 minutes or until tender.
In one pan add parsnip and butternut squash. Toss with salt, pepper, and olive oil. Roast in oven for 15-20 minutes. In another pan, add the cherry tomatoes and toss with olive oil and cook for 5-7 minutes.
In a coated pan, sauté the scallions. Add the farro, parsnip, and butternut squash with the parsley cooking until warmed through. Add all of the orange and maple dressing and combine. Add the red beets and cherry tomatoes. Portion out on plates and top with feta cheese.