One February day in 2015, Mark Rutledge walked into his gym in Frankfort, Kentucky, looking for someone who knew how to get Pappy Van Winkle. It would not be easy. Only 7,000 cases of Pappy are filled each year; a bottle from the 23-year-old Pappy Van Winkle reserve retails for $249, if you can find one, and Rutledge knew that a couple of his gym buddies worked at the distillery where Pappy was made. Pappy rarely makes it to liquor-store shelves, set aside instead for VIP customers or sold by lottery. A bottle of the latest 23-year-old sells for as much as $4,000 on the resale market. Rutledge, who was a manager at Intel, had recently impressed his friends and co-workers by taking them to a bar in Louisville that offered Pappy at $100 a shot. He was heading to a conference in Texas and wanted to bring some along.
At least he was in the right place: Bourbon doesn't have to be distilled in Kentucky, but 95 percent of it is, and Frankfort sits along a string of distilleries including Woodford Reserve, Wild Turkey, and Buffalo Trace, which makes nine of the 10 most expensive bourbons, including Pappy Van Winkle.
One of the guys at Rutledge's gym was a stocky, barrel-chested 45-year-old named Gilbert "Toby" Curtsinger, who worked at Buffalo Trace and told Rutledge he knew of a bottle of 20-year-old Pappy that could be had for $1,000. Rutledge was interested in that and more, should Curtsinger come across any. About a week later, Curtsinger came back with nine bottles of different vintages. Rutledge bought the lot for $3,000, and on March 11, boarded a plane to his conference with most of them in his luggage.
The same morning a detective in Frankfort received an anonymous text message: "You might be interested in whiskey being stolen in full barrels from Wild Turkey." While 5.7 million barrels of bourbon are currently aging in warehouses throughout Kentucky, they aren't often found in suburban backyards. 
The detectives smelled the bourbon before they saw it. When they lifted a tarp behind a backyard shed, the officers discovered five oak barrels, each spray-painted to conceal identifying marks. The barrels turned out to be filled with premium bourbon distilled by Wild Turkey and had a combined value of about $30,000. The house belonged to Toby Curtsinger, who sat on his patio while detectives searched the house. They found 11 handguns, five rifles, three shotguns, a silencer, a half-dozen types of anabolic steroids, various drugs for erectile dysfunction, and a plastic bag of hypodermic needles. Curtsinger told the police he'd gotten the bourbon from a friend who worked at Wild Turkey. When they asked to see his phone, Curtsinger suggested they ignore any texts about selling Pappy. He assured them they were meant as jokes.
Curtsinger, his wife, Julie, and eight others were indicted on charges of operating a criminal syndicate that trafficked in bourbon and anabolic steroids. Both Curt­singers refused to comment on the case. (This account comes largely from court filings, including voluntary statements, evidence lists, police reports, and text messages.) Among those allegedly involved were truck drivers, cops, and security guards; they went by nicknames like Smoothie and Big Ticket. Three were distillery employees, and several had met playing softball. The Curtsinger Nine was sort of a bourbon country Ocean's Eleven.
Because Curtsinger worked at Buffalo Trace, people immediately wondered whether those indicted had been responsible for the infamous theft of some 200 bottles of Pappy 17 months earlier (Kentucky's Case of the Missing Bourbon ran a New York Times headline), but the barrels behind Curtsinger's home were from Wild Turkey, which hadn't reported anything missing, suggesting this was an even wider caper.
The police eventually recovered whiskey valued at more than $100,000, but they believed that was only the tip of the iceberg. The investigation rippled throughout greater Frankfort, revealing a web of theft that ensnared husbands and wives, fathers and sons, CrossFit instructors and jealous ex-girlfriends — and lots of locals with stolen whiskey on their shelves. Rutledge turned in his bottles to the police. (He was not charged with any crime.) One man burned his barrel, while another supposedly poured bottle after bottle after bottle down the sink. "Don't go light a match in the Kentucky River," one attorney told me. "It might light up on fire."
When Toby Curtsinger was born, in 1969, bourbon was in the dumps. The postwar gentleman's drink was giving way to booze that went better with cranberry juice and pink umbrellas. By 1976, vodka had become America's most popular liquor. Distilleries throughout Kentucky shut down or were sold. Business was so bad that the Van Winkle family resorted to hawking its whiskey reserves in porcelain decanters decorated with cheesy bird drawings.
When Julian Van Winkle III took over the company, in 1981, he was selling so little whiskey that he decided to try an experiment. Most bourbon spends between four and eight years inside a barrel. Van Winkle wanted to see what would happen if he let some of his sit in the barrel for, well, he wasn't quite sure how long.
Bourbon is, by legal requirement, distilled grain aged in new oak barrels. At least half of the grain must be corn, typically flavored with a kick of barley and rye. But Pappy, like Maker's Mark and others, also uses wheat, giving its bourbon a smoother taste with "a seemingly endless and evolving cascade that introduces notes of cigar box, sweet tobacco, leather, and dried tangerine."
That ode to the joys of Pappy came from the Beverage Testing Institute, which, in 1997, after Van Winkle had finally opened his barrels, handed his 20-year-old whiskey a 99 rating — the highest ever given to a bourbon. The timing of that rating couldn't have been better. The craft beer movement was reviving American tastes for alcohol with flavor, and bourbon presented itself as a sophisticated drink with a sheen of frontier authenticity. Today, distillers speak lovingly of the Mad Men effect. "When I was 21, if I went into a bar and said, '101 on the rocks,' people thought, 'He's a roughneck,' " says Eddie Russell, who recently joined his father as co–master distiller at Wild Turkey. "Nowadays a 25-year-old walks in and orders bourbon on the rocks? He's sophisticated."
No bourbon has become as cherished — and, in some opinions, overhyped — as Pappy. In 2002, to help keep up with demand, the Van Winkles contracted with Buffalo Trace to distill all six Pappy varieties: the 10, 12, 15, 20, and 23-year-old versions, plus a rye whiskey. But the demand still outpaces supply — after all, it takes 23 years to make 23-year-old bourbon. An app and a Twitter feed track Pappy sightings; even empty Pappy bottles can sell for $300. If you want the real thing, your best option just might be to steal some.
Toby Curtsinger grew up not far from Wild Turkey's distillery in Lawrenceburg, a town of 11,000 south of Frankfort and west of Versailles, which locals pronounce with a pair of hard l's. He started working at Buffalo Trace after high school, and moved to a house up the road from the distillery. With a shaved head and goatee, Curtsinger could strike an imposing figure, though he was well liked around Frankfort. He was an avid hunter who sent mass text messages urging friends to lobby against firearm restrictions — all the guns in his home had been purchased legally — but turned down hunting trips for his kids' baseball games and gymnastics meets. Curtsinger's modest house was decorated with a Welcome Friends sign on the porch, and the backyard had a swing set, a basketball hoop, and a trampoline with protective netting.
Curtsinger spent much of his free time at Capitol View Park, where he played on travel softball teams with names like Slidin' Dirty and Scared Hitless. He was a considerate teammate, sometimes bringing plastic jugs of whiskey for the team. Kevin Fox, a lawyer who played with Curtsinger, objected to the notion that every dugout had a Gatorade bottle of bourbon — "When you play softball, you drink beer" — but to others the idea didn't seem odd: One player had visited Buffalo Trace and watched as employees filled jugs with excess whiskey.
Curtsinger's job at Buffalo Trace was demanding — he often worked seven days a week, 10 hours a day — but distillery jobs are some of Kentucky's most desirable, with an average salary of $90,000. Yet most of those jobs are in the warehouse, and upward mobility can be difficult. "Guys start there and try to work their way up," Eddie Russell, Wild Turkey's master distiller, told me. "Once guys get here, they don't really leave." Over more than 20 years at Buffalo Trace, Curtsinger had worked his way to a senior position on the loading dock, but it wasn't necessarily clear where he might go from there.
Still, what might drive a man with a wife and two kids, who's worked some two decades for the same company, to start stealing from his employer? The simple explanation might be that bourbon prices were soaring and that stealing it was pretty easy. Buffalo Trace has 450 employees spread across 440 acres, and more bourbon aging in its 15 warehouses than at any time since the 1970s. On a recent visit, I wandered around unaccompanied, in and out of various buildings, without anyone asking me whether I should be there. One employee told the police he would sometimes walk off the job with a few bottles of Pappy, while another said the cage where bottled Pappy was kept had a faulty hinge that could be removed. A third employee said he'd loaded pallets with random bourbons surrounding a hidden case of Pappy, which he rode off with while another employee fudged the inventory numbers.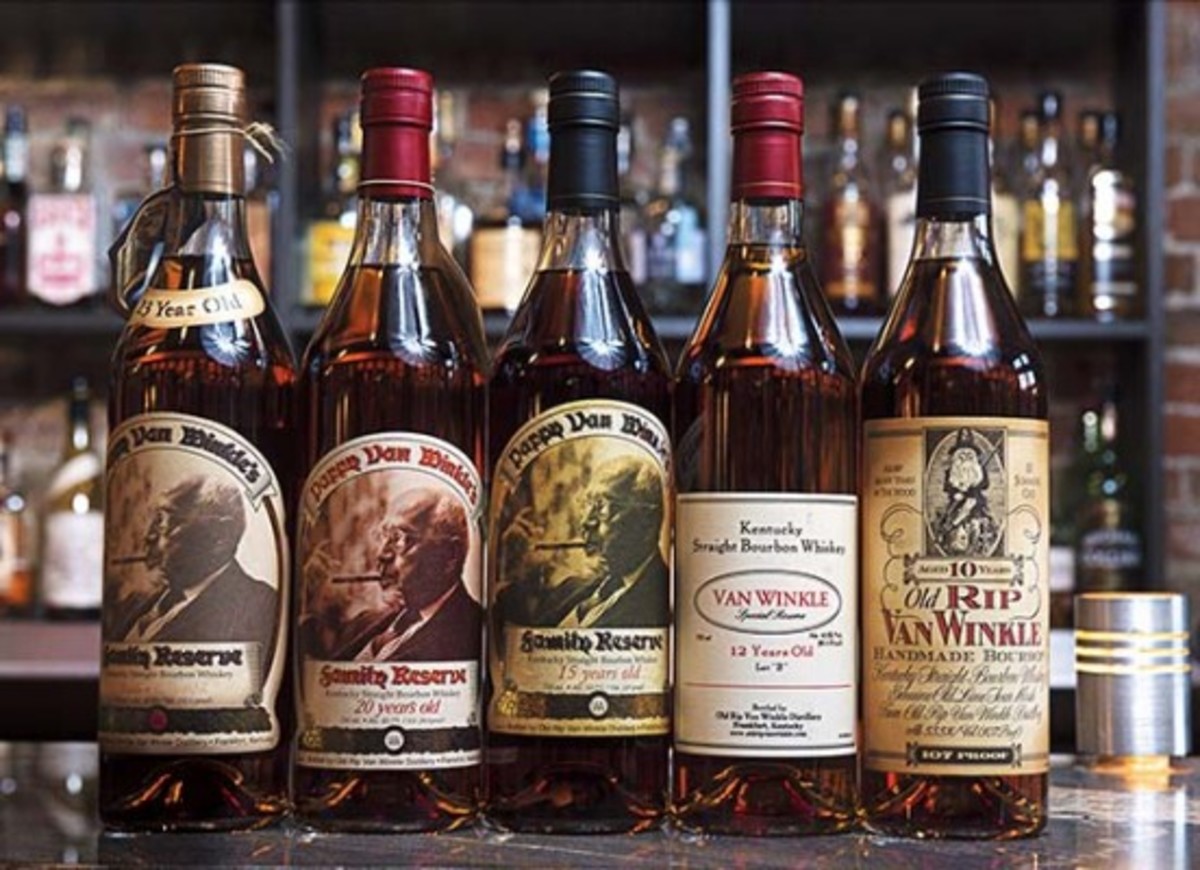 (Marvin Joseph / The Washington Post / Getty Images)
Curtsinger started small. According to the investigation, around 2008 he began lifting bottles from display cases at the distillery. As a precaution, he would casually ask co-workers about security cameras around the facility. Curt­singer could be a generous colleague, loaning cash to co-workers but then asking that they repay him in stolen bottles. Eventually he got bolder: One night Curtsinger loaded more than 50 cases of Eagle Rare onto a pickup truck that was so weighted down it bottomed out on his driveway when he got home.
Curtsinger had no trouble finding interested buyers. He sold some of the Eagle Rare for $27,000 and found other customers on the softball diamond. One paid him for a barrel by writing a check for "softball hitting lessons."
Curtsinger gave customers enough deniability to believe the bourbon they were buying was legitimate, telling them it was excess inventory, unfit for bottling or set to be discarded for tax purposes. He often made deliveries wearing a green Buffalo Trace shirt.
Business was brisk, but there were only so many bottles of Pappy to be found, and eventually Curtsinger started stealing entire barrels, each containing the equivalent of around a hundred bottles. Sometimes he filled plastic barrels with whiskey, marked them for destruction, and then drove them off the lot himself. Twice he loaded several stainless steel barrels — used to hold whiskey that's done aging but not yet ready for bottling — into the back of his black Silverado and drove past a security guard he'd paid to look the other way.
The barrel business was so good that Curtsinger soon enlisted several friends to help expand his sales reach. A softball buddy started making sales in Lexington and the tonier suburb of Georgetown. One barrel ended up at a home on the 18th hole of the Cherry Blossom golf course; another wound up near the Tennessee border, where it was later found, empty, serving as a lawn ornament. It was a Pappy barrel, which meant that, when full, it could have been worth more than $100,000.
"$$$$$$$ son!!!!" Curtsinger texted Mark Searcy one day in the fall of 2014. A customer had just placed an order for eight barrels, and it was Searcy's job to get them ready. Searcy was a friend of Curt­singer's, four years his senior with thin white hair and graying stubble, who worked as a driver at Wild Turkey. While Curtsinger's access to Buffalo Trace's barrel warehouses was limited, Searcy could get into all 18 of Wild Turkey's rickhouses, where more than 500,000 barrels were aging. Part of Searcy's job involved loading an 18-wheeler with barrels and shuttling them between the distillery and a cluster of warehouses 30 miles away. Once a barrel went into the warehouse, the distillery more or less ignored it for years.
Curtsinger would place orders for a specific number of barrels, and Searcy would simply pick them up. "It looks as if this other ol' boy just might go [for] the four barrels," Curtsinger texted Searcy. "If you get the opportunity to get'm, then get'm!" Whenever he could, Searcy would load his truck and make a detour to a relative's farm, where he'd roll several barrels along an aluminum ladder and into a barn.
Curtsinger occasionally helped with the heavy lifting, but his primary job was sales, which leaves a question: How the hell did one man make off with 500-pound barrels all by himself? Searcy offered a possible answer in a text to his girlfriend: "I have taken a lot of steroids that's for animals." (Searcy did not agree to be interviewed.)
One thing can be said of most every member of the Curtsinger Nine: They weren't scrawny. Most pushed or exceeded 200 pounds, and Julie Curtsinger, the smallest among them, is a competitive CrossFitter who owns a gym in town. Her husband worked out at a two-story strip-mall gym, where his workout buddies included Mike Wells, a Frankfort policeman with a shaved head and the body of a middle linebacker. (Wells was not one of the original nine suspects and has not been charged in this case.)
Wells and Curtsinger occasionally played softball together, and at some point they apparently decided their slugging percentages could use a boost. They started placing large orders for anabolic steroids from Hong Kong. Some of the steroids were for personal use — Wells, ironically, was the department's D.A.R.E. officer — but Curt­singer also started ordering them for others. In February, Curtsinger stepped out of dinner with his wife at a historic restaurant south of Frankfort to sell two bottles of steroids and two of testosterone — which is not to say he isn't a romantic. When Julie texted one day to say she was thinking of him, his response was "I'm ordering you some anavar and primobolan" — two anabolic steroids — "so I was thinking of u first."
By 2015, Curtsinger's criminal cool began to fray. At Buffalo Trace, he snapped at a co-worker who had moved a pallet of Pappy that Curtsinger had set aside. The tension was wearing on his relationship with Searcy as well. The previous fall, as the holidays approached, Curtsinger had been relentless in his quest for more barrels:
"Think you'll have any luck soon?"
"Checking on barrel situation."
"??????"
When Searcy didn't respond, Curtsinger sometimes forwarded the messages again. Two days before Thanksgiving, he prodded Searcy three times. "Maaaan got some fools biting."
Searcy was overwhelmed. He was helping to care for his ailing father, and working two jobs — shuttling barrels both over and under the table — seemed to be wearing on him. One day his girlfriend confronted him to ask why they hadn't been having sex. Searcy said he was too exhausted. To add to his full plate of complications, he had to deal with her soon-to-be ex-husband, to say nothing of his own jealous ex. On the same day that Curt­singer sent more barrel demands ("This dude wants 4 for sure and maybe 6"), Searcy's ex sent Searcy a string of explicit come-ons, all of which he ignored.
The next day, Curtsinger amended the order: "This fool wants a total of 8 now if you can get them!" Meanwhile, Searcy's ex continued to harass him, threatening to destroy his new relationship.
It was all too much. In February, Searcy told Curtsinger he wanted out. Curt­singer later told authorities that Searcy couldn't keep five recently acquired barrels at his house any longer, because Searcy feared that his girlfriend's estranged husband would alert the police. So Curtsinger moved the barrels to his backyard and started scrambling to find a buyer. As he waited to sell one of the barrels to a local real estate developer, the police showed up.
From one angle, Curtsinger, Searcy, and their crew were simply Robin Hoods, reclaiming America's native liquor from the faceless foreign conglomerates that now run many of Kentucky's most famous distilleries. Save perhaps Curtsinger, no one in the Great Bourbon Syndicate was getting rich. He gave his middle­men as little as $100 or $200 per sale and paid at least one accomplice in Percocet and Adderall. His barber, who had stored barrels for him in a barn he owned, said that he was supposed to be paid with a barrel of his own, but Curtsinger never gave him one.
It did not take long for Curtsinger's ad hoc syndicate to collapse. Several deputies spent hours searching his home while Curtsinger sat on the porch alerting his accomplices. (The trail of digital evidence later made connecting the dots even easier for the police.) Searcy's girlfriend called Mike Wells, the police officer, saying she thought Searcy might be suicidal. Both Searcy and Curtsinger had tried to delete incriminating messages from their phones, but the attorney general's Cyber Crimes Unit recovered enough data to link suppliers, sellers, and buyers. Four accomplices have already taken plea agreements and may testify at trial. The others, including Toby Curtsinger and Searcy, have pleaded not guilty and are still awaiting trial.
No one knows, or at least is saying, who texted the tip that brought down Curt­singer and Searcy — "Obviously Toby Curt­singer made somebody mad" is all Sheriff  Pat Melton will say — but most local speculation rests on one of the characters from Searcy's messy personal life. Wells resigned from the Frankfort police, and the mayor has called for an inquiry into the department's possible involvement. The original Pappygate theft remains an open investigation, and according to a person who had spoken with the Van Winkles, the family was so upset about the thefts that they were considering voiding their contract with Buffalo Trace.
"This is everything that's come in," Melton told me one afternoon as he walked proudly among more than a dozen barrels being stored in the basement of his office. The bottles of Pappy, which Melton, like many Kentuckians, had never tasted, were locked in evidence, protected by Bubble Wrap. Because no one can guarantee what is in the barrels the police have recovered, most of the bourbon is likely to be destroyed. But the joke around the courthouse is that a lawyer representing one individual has come up with a creative fee structure. If they manage to get any of the bourbon back from evidence, all the lawyer asks from his client is that he get to keep a couple of bottles.
For access to exclusive gear videos, celebrity interviews, and more, subscribe on YouTube!