Last December, the Chicago restaurant Next announced its rotating schedule for the upcoming year. Chef Grant Achatz's ambitious joint, which fully redesigns its menu three times a year, adopted Parisian bistro cuisine as the primary influence for his first 2015 menu. The menu is guided by inventive riffs on common themes, like a live performance of a blues standard. The bistro menu, for example, features skate wing lathered in brown butter, followed by a French onion soup­inspired caramelized onion tart. In a Facebook post announcing the year's menus, Next acknowledged both the founding mythology of the French bistro and its own, newer reincarnation of Parisian food culture: the restaurant's original tribute to fine dining patriarch Auguste Escoffier's restaurant at the Paris Ritz, in 2011. Four years later, Achatz seemed to say, the culinary past that animated his restaurant's first Ritz­inflected menu remains in vogue.
Achatz is hardly alone in his occasional reenactment of historical dining. His enthusiasm for the historical origins of cuisine is common at American restaurants inspired both by convention and by fusion, captained by gastronomy wizards and greasy­spoon cooks alike. These revivals underscore the central importance of food history to the contemporary culture of American cuisine.
The divisions that form American food culture often reveal as much about the contemporary meaning of history for the communities that participate in it as about the meaning of the food itself. Like much of American popular culture, this cuisine is contested territory. American food culture has long been an exercise in irreconcilable tensions, says Paula Johnson, curator of the National Museum of American History's ongoing exhibition on food in postwar America. "There is Julia Child," whose public television cooking shows did much to promote postwar popular interest in home cooking, "and there is the convenience of commercialized, industrialized food," Johnson explains in reference to the intentional contradictions of the exhibit.
In an Eater interview last year, chef Rick Bayless described his Chicago­-based Mexican restaurant Topolobampo as a curator might describe their museum: a living monument to Mexican culture, and a tangible revival of that culture's history. The restaurant's private dining suite doubles as a gastronomical research center: the Library Room, as the suite is called, boasts a catalogued collection of food histories, chef memoirs, and limited ­release recipe books, which the Bayless team revives in the room's open test kitchen. Early last year, Bayless announced a year­long rotation of experimental historical menus. The menus capture the agricultural history of critical moments in the evolution of Mexican civilization: the first, "Mexico City, 1491, " revives the restrained ingredients of the city's pre-Columbian cuisine. The contents of the Topolobampo library served as gastronomical inspiration for many of the menus' primordial dishes, like a circa-1491­ polenta­ and ­frog ­leg tamale, or a pineapple ceviche.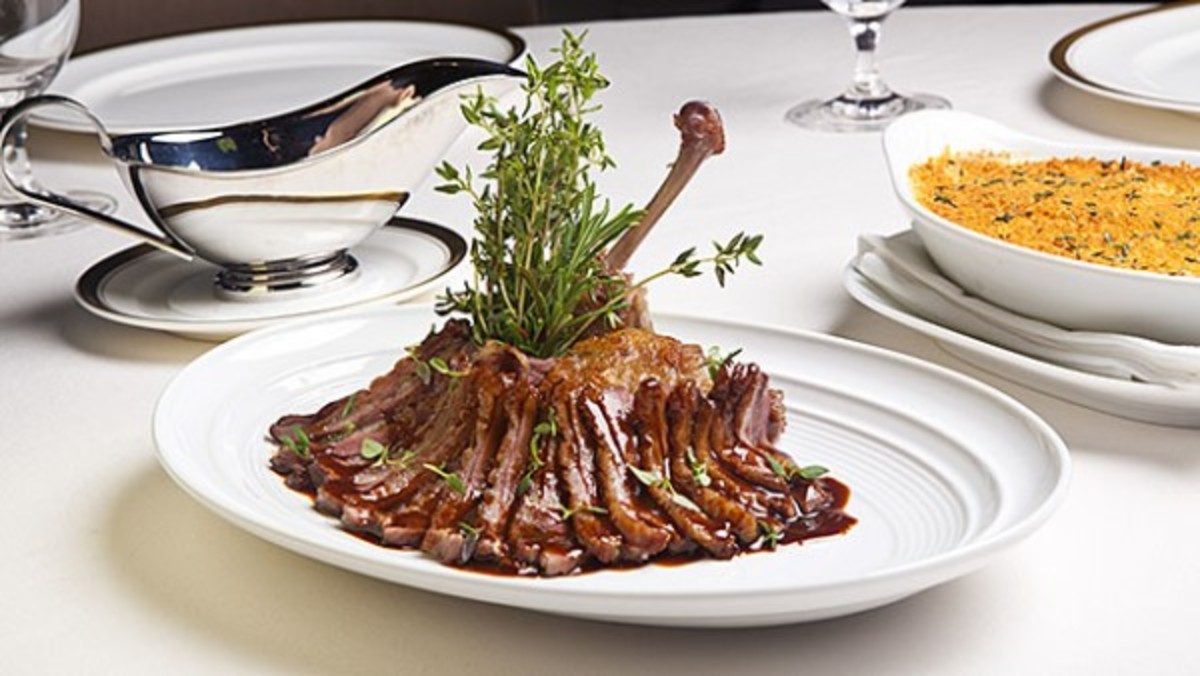 These meticulous culinary reenactments are a luxury good. Cooking half-millennium ­old Mexican cuisine requires substantial resources­­. Some, like hard ­to ­find cookware, are quantifiable, while others, like the historical knowledge of the Bayless team, are not. Many restaurants opt for less arduous avenues of commemoration, historical in brand if not in substance. Heritage branding, the term marketing professionals use to describe the commercial revival of the past, is not a new innovation. Its use spans industries, from fashion to food. For people buying Pendleton flannels, it is usually because they are warm and functional but also, in many cases, because the buyer is trying to recreate the look of loggers from the Pacific Northwest of yesteryear because it's fashionable; for Heritage Meats, a Brooklyn­-based meat distributor, rare­ breed pigs recall the provincial livestock of the American countryside. Where their counterparts offer convenience, heritage brands suggest an alternative that is both genuine and authentic. And it often is. Century-old Jewish delis like Katz's, in New York, or Schwartz's, in Montreal, owe their resilient success, in part, to a mournful remembrance of the Jewish "old country" in Eastern Europe.
This nostalgic kitsch is effective; heritage restaurants thrive on a local fascination with the authenticity of the present. But how long will it last? Two years ago, I spent the afternoon of New Year's Eve at a new Irish pub near Wall Street, in downtown Manhattan. The story of the pub's founding, a triumphal yarn about the trials of American Irish immigration, accompanied an impressive commitment to Ireland's old­ country mixology: punches, cocktails, the works. I ordered a ploughman's lunch — ­­a simple spread of soda bread, Irish cheddar, and chutney — and whiskey punch, two long-standing staples of Irish fare. The next New Year's Eve, I returned. The ploughman's lunch had disappeared from the menu, and the whiskey punches had been replaced by tequila cocktails, an apparent favorite among the pub's Wall Street regulars. But the pub's origin story remains proudly displayed on its website.
Contemporary experiments with the culinary past rest on questions of difference, of how cultures' distinct cuisines come together and move apart. Difference is the particular concern of Michael Twitty, a Maryland­-based food historian and chef who studies the history of the black American experience through a culinary lens. Twitty is a black Jew. He has pioneered the study and practice of "koshersoul," a novel synthesis of the two food cultures that define his personal heritage. Koshersoul, he insists, is about much more than just biblically ­compliant collard greens. Twitty's ethos embraces heritage foods­­ black-eyed peas, matzoh ball soup­­ as text, narrative devices that specific cultures use to describe and modify their historical experience. Black soul food, he says, is the "memory cuisine of the great­-grandchildren of enslaved people in America"; the thrust of the narrative memory associated with Jewish food, such as the story of the Passover seder, is much the same.
For Twitty, the contemporary fascination with culinary nostalgia walks a fine line between historical authenticity and well­-meaning misappropriation. Twitty's June 2013 "Open Letter to Paula Deen, "which increased the readership of his "Afroculinari" a blog by two factors of ten, implored the Southern cooking celebrity to acknowledge her place in an American history of cultural theft and racial injustice. "Some Southerners," he wrote, "take credit for things that enslaved Africans and their descendants played key roles in innovating." The problem of claiming undue credit for culinary innovations is widespread among American and European chefs, albeit in more subtle ways than Paula Deen's racial slurs, Twitty said. He referenced British chef Jamie Oliver's joloff recipe, which last October provoked a negative online response among West African food bloggers, as a wrong­headed example of navigating cultural difference. "We could be working together," Twitty says, but the artificial distinction between "formal" and "informal" cuisine, the latter sometimes seen as less legitimate, stymies opportunities for meaningful cultural exchange.
But those concerned with the cultural diversity of American cuisine can do better. Using food history in contemporary cuisine requires a conscious attempt at reciprocity, Twitty suggests. He cites the work of a chef friend in Houston who, on his restaurant's menus, acknowledges the culture, person, or supplier that inspired his dishes. Or Spike Gjerde, the Baltimore chef whose Woodberry Kitchen sources most of its ingredients locally, sometimes from growers only a few miles across town. Without that reciprocity, American food culture will remain as divisive as the history that precedes it.
For access to exclusive gear videos, celebrity interviews, and more, subscribe on YouTube!