When it comes to global cuisine, most home cooks can make Bolognese sauce, a red wine reduction, or fish tacos. But pad thai, wontons, or an authentic ramen soup . . . not so much. We are happy to devour it in takeout containers, but there's something about Asian cuisine that spooks even accomplished home cooks.
Dale Talde finds this preposterous. He's co-owner of Talde, a hugely popular restaurant in Brooklyn that specializes in what he calls Asian-American fare. Think "phot roast" (Vietnamese beef soup crossed with the American staple); wasabi salsa verde (chimichurri supercharged with a spicy Japanese kick); or sausage, egg, and cheese fried rice (Talde's take on the breakfast sandwich). None of these dishes, as it happens, are particularly difficult to make — a point Talde makes in his splashy new cookbook, Asian-American: Proudly Inauthentic Recipes From the Philippines to Brooklyn.
"It's crazy to me that people find this intimidating," Talde says. After all, he points out, once-exotic ingredients like fish sauce, lemongrass, fermented black beans, and dashi powder can increasingly be found at most Whole Foods, local Asian markets, or online. "This stuff is really accessible," Talde says. "You just have to look for it." And the technique could not be simpler: "Get a wok ripping hot, throw everything in, toss for four minutes, then onto the plate. With warm steamed rice."
The key, Talde says, is not to get hung up on the notion of authenticity. He certainly isn't. His pad thai, for example, is made with bacon; a ramen recipe calls for supermarket roast chicken. Those recipes reflect a uniquely schizophrenic culinary background. Raised by Filipino immigrants in Chicago, the 36-year-old chef would eat stewed oxtails, pig's blood soup with tripe, and pig ears at home. Then, out with friends, it was the city's legendary street food: hot dogs, gyros, pizza, cheese fries. "My parents' house could have been any house in Manila," Talde says. "But my world was made of two different worlds."
Talde trained at the Culinary Institute of America and went on to work for legendary chef Jean-Georges Vongerichten and Masaharu Morimoto, Japan's Iron Chef. Then came a memorable performance on season four of Top Chef in 2008. Talde was the show's enfant terrible — brash and hypercompetitive, the guy most likely to punch a wall or cuss out a colleague. Fortunately, he managed to back up the attitude with a series of victories, until an ill-advised attempt at miso-butterscotch scallops got him bounced. ("It looked like a melted candy bar," said a disgusted Anthony Bourdain, one of the judges.)
Post-defeat, Talde retreated to Manhattan, where he struck up a relationship with restaurateur David Massoni, a Top Chef fan who had recognized him on an East Village street. Massoni helped Talde open his Brooklyn restaurant in 2012 and remains his business partner. They recently opened a second Talde in Jersey City, New Jersey; in November, a third will open in Miami Beach; and talks are under way to bring the concept to more cities nationwide. And if you decide you like the Vietnamese garlic shrimp or the lemongrass pork shoulder, Talde says, give it a try at home. "It's not like you're fixing the transmission on your car," he says. "At the end of the day, it's just food."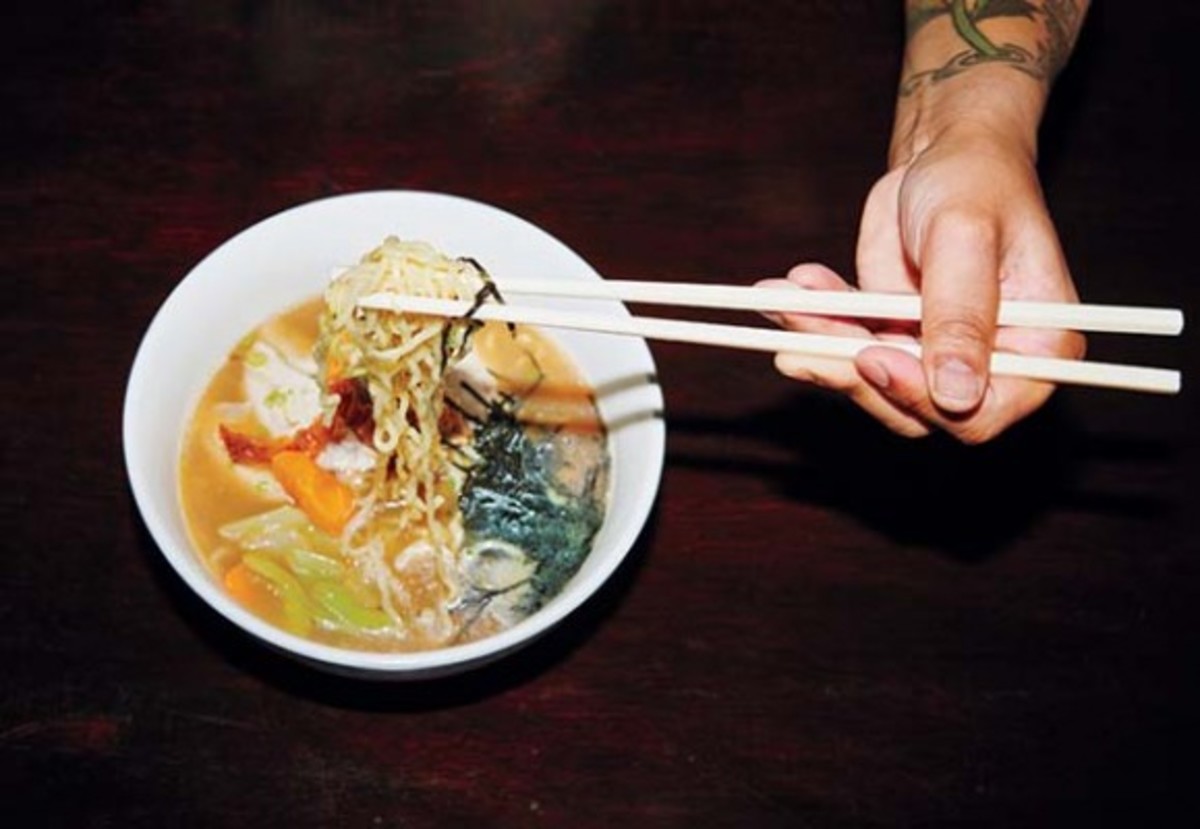 (Photograph by Meredith Jenks)
Roast-Chicken-Dinner Ramen (serves 4)
For the broth:
6 cups low-sodium chicken stock
3 tbsp low-sodium soy sauce
1½ tbsp kosher salt, plus more to taste
1 tbsp hon dashi powder (available at Asian markets, some Whole Foods, or online)
1½ tsp chicken bouillon
¾ tsp sugar
1 large sprig fresh thyme
3 sprigs fresh flat-leaf parsley
1 fresh sage leaf
For the dish:
¼ cup plus 2 tbsp vegetable oil
½ cup each diced Spanish onions, carrots, and celery
1 clove garlic, peeled and smashed
1 tsp each chopped fresh thyme leaves, flat-leaf parsley, sage, and rosemary
1 lb fresh or frozen ramen noodles or thin egg noodles
½ roast chicken (store-bought is fine), breast meat chopped, leg and thigh meat pulled
½ cup thinly sliced scallions
1 tbsp plus 1 tsp fresh lemon juice
1. Make the broth. Combine the first 6 ingredients in a large pot. Twist the herbs in your hands to bruise them slightly, add to pot, and turn heat to high. Bring to boil, then reduce heat and gently simmer for 10 minutes. Scoop out and discard the herbs. Keep broth hot over low heat. (It will last in the refrigerator for up to 2 days.)
2. Finish the dish. Heat 2 tbsp of the oil over high heat until it begins to smoke. Add the onions, carrots, and celery, and cook until the vegetables are browned at the edges and the carrots are tender with a slight crunch, 5 to 8 minutes. Transfer to a bowl and set aside.
3. Combine the remaining ¼ cup of oil and garlic in the same pan, set it over high heat, and cook, flipping the garlic once, until it's a deep golden brown on both sides, about 3 minutes. Discard the garlic and let the oil cool fully. Stir in the thyme, parsley, sage, and rosemary.
4. Bring a large pot of water to boil. Cook the noodles according to the package instructions until al dente. Drain, rinse under running water, then divide among 4 bowls with the chicken and scallions.
5. Increase the heat to bring the broth to a boil, then turn off heat. Stir in the carrot mixture, herb oil, lemon juice, and more salt to taste. Divide the broth among the bowls, gently agitate the noodles with a fork or chopsticks to prevent them from clumping, and eat.
Bonus recipe: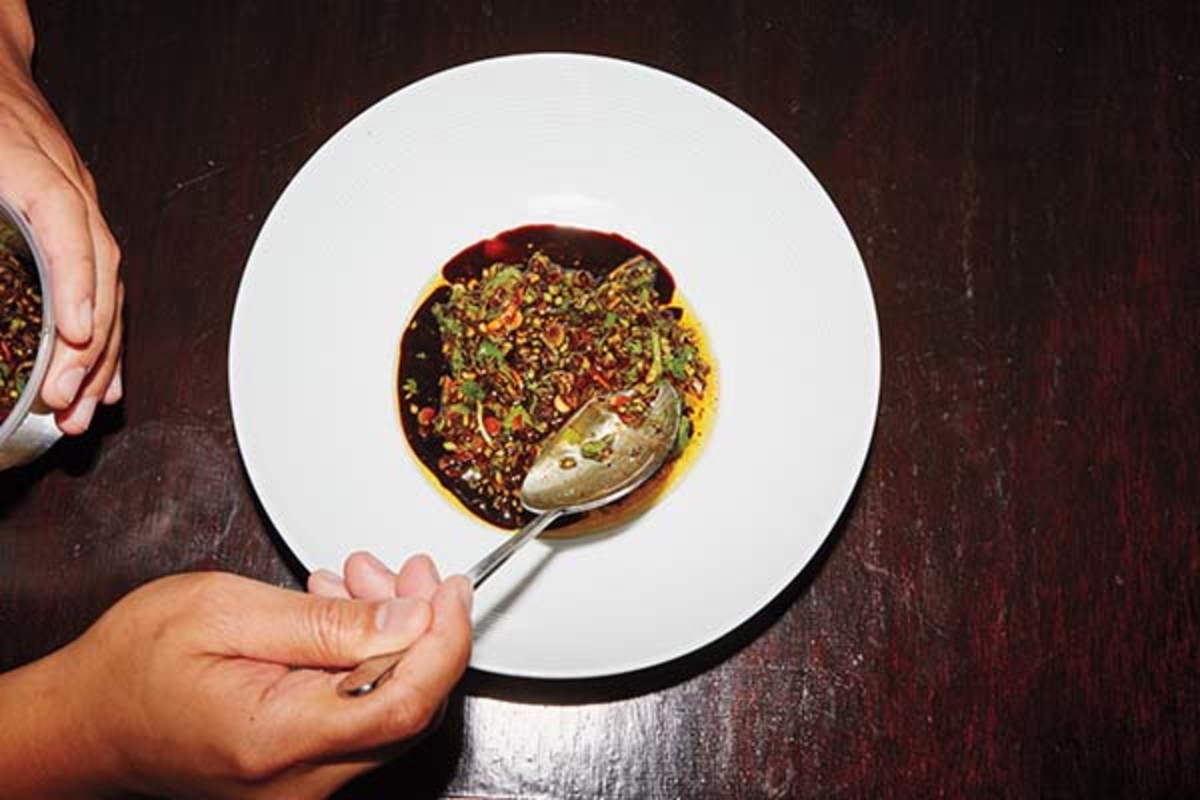 (Photograph by Meredith Jenks)
Wasabi Salsa Verde (makes about ½ cup)
2 tbsp sherry vinegar
1 ½ tbsp finely chopped shallots
½ tsp fish sauce
½ tsp low-sodium soy sauce
¼ tsp wasabi paste or oil (available at Asian markets and online), plus more to taste
¼ cup olive oil
2 tbsp finely chopped cilantro
Combine vinegar, shallots, fish sauce, soy sauce, and wasabi in a bowl and stir well. Drizzle in olive oil, whisking as you do. Right before serving, whisk well again and stir in cilantro. Taste and gradually add more wasabi for extra kick. Spoon over grilled meat, fish, or vegetables.
For access to exclusive gear videos, celebrity interviews, and more, subscribe on YouTube!