EVERY MORNING, Josh Wadley turns on a citizens band radio and rattles off a pitch: "Get to Exit 87 Barbecue. Breakfast, lunch, dinner; half rack, full rack, or pork plate; pocket change, loose change, no change, IOU—we'll feed you. I'm the Barbecue Man at Exit 87, here till I die with a smoker by my side. Have mercy."
The sun hasn't risen yet when Wadley, a convicted felon turned barbecue pitmaster, recites the spiel one January morning. He's the owner of the I-40 Exit 87 BBQ Stand in Jackson, Tennessee, a town of 66,600 people between Memphis and Nashville. Situated on an asphalt parking lot near Interstate 40, the stand looks primitive compared with the neon-lit truck stops and mega gas stations that surround it: It's just a retrofitted cargo trailer under a tin awning, with a fort of hickory logs and a smoker and grill out back. But over the past few years, the spot has become a favorite among travelers for its take on West Tennessee barbecue, not to mention for its big-as-your-head sausage and fried-bologna breakfast sandwiches.
After Wadley, sporting ripped overalls and a baseball cap, checks on some breakfast patties, he comes back inside the stand. A thick-chested guy of 45, he works here every day, no matter whether it's "pouring-ass rain or hot-as-hell humidity," he says. He doesn't mind, though. "I need routine." He wakes up at about midnight to put the pork butts and ribs on the smokers at his home in south Jackson, then gets to the stand at 3 a.m. to start cooking breakfast.
In this part of Tennessee, barbecue joints nearly outnumber churches, and there are a lot of churches. It takes more than good barbecue to stand out, and Exit 87 does so largely because of Wadley. He's been known to post videos on Facebook calling out food critics, saying once, "If they wanna hate on a motherfucker, I'ma let them hate." But he's also a lifelong Christian and devoted father of two children, and he offers to feed whoever is hungry, even if they can't pay. "We just do what we do, just like grandma taught us," he says into the CB mic.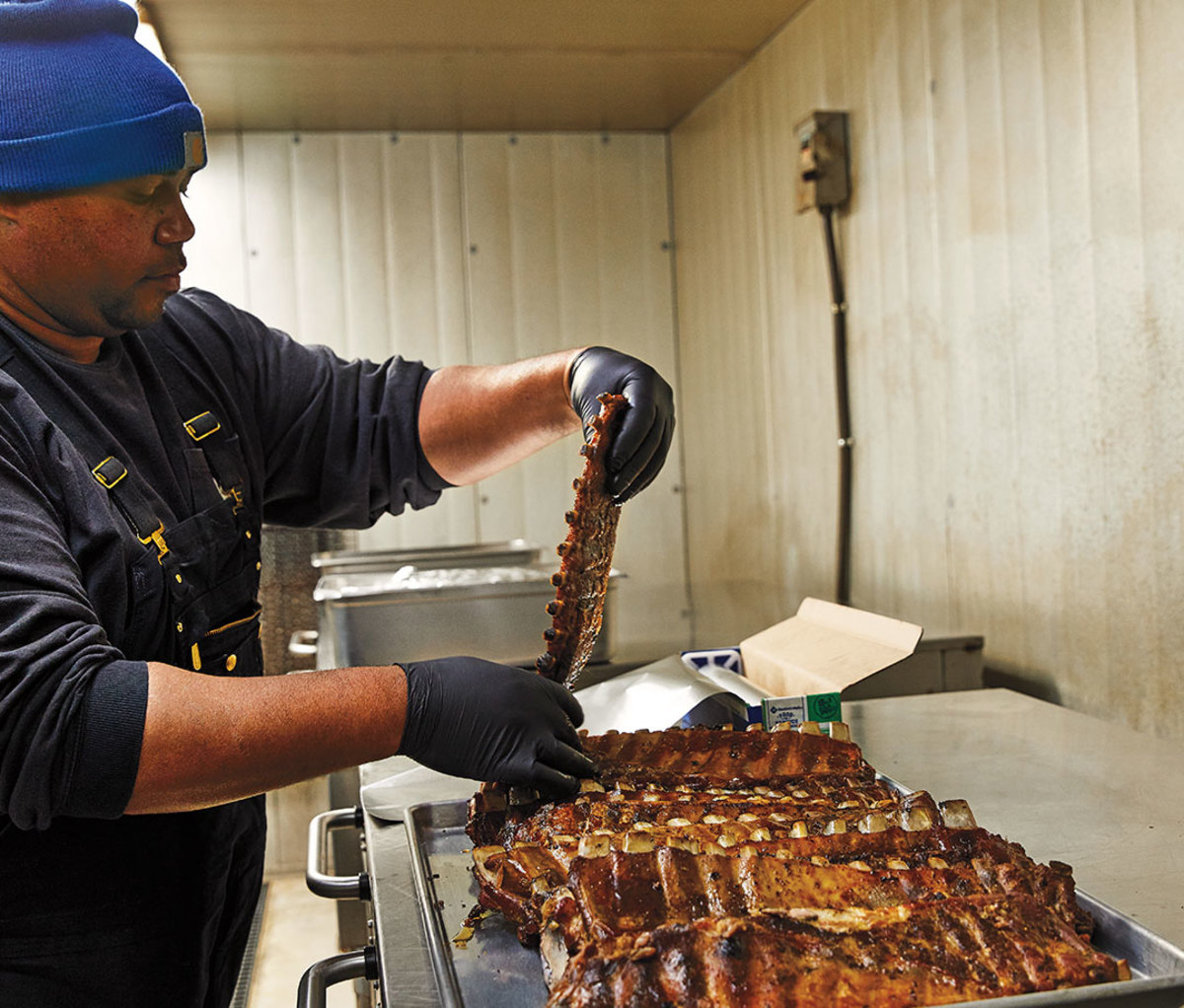 His antics on the radio have no doubt helped to bolster the stand's notoriety. As the breakfast patties cook, a voice squawks through the CB, hanging above an oven, and asks, "Exit 87, still got your head on?"
"Grills grilling," Wadley says. "What you need?"
"Fried-bologna sandwich," the guy says. "I'm five minutes away."
"Poor man's steak," Wadley says. "You got it."
When another trucker asks where the stand is located, Wadley tells him to "find the concrete pig with a wig and a pair of panties on." (Yes, it's real.) Later, after a guy makes a snarky comment, Wadley jokingly tells him to go eat his own shit.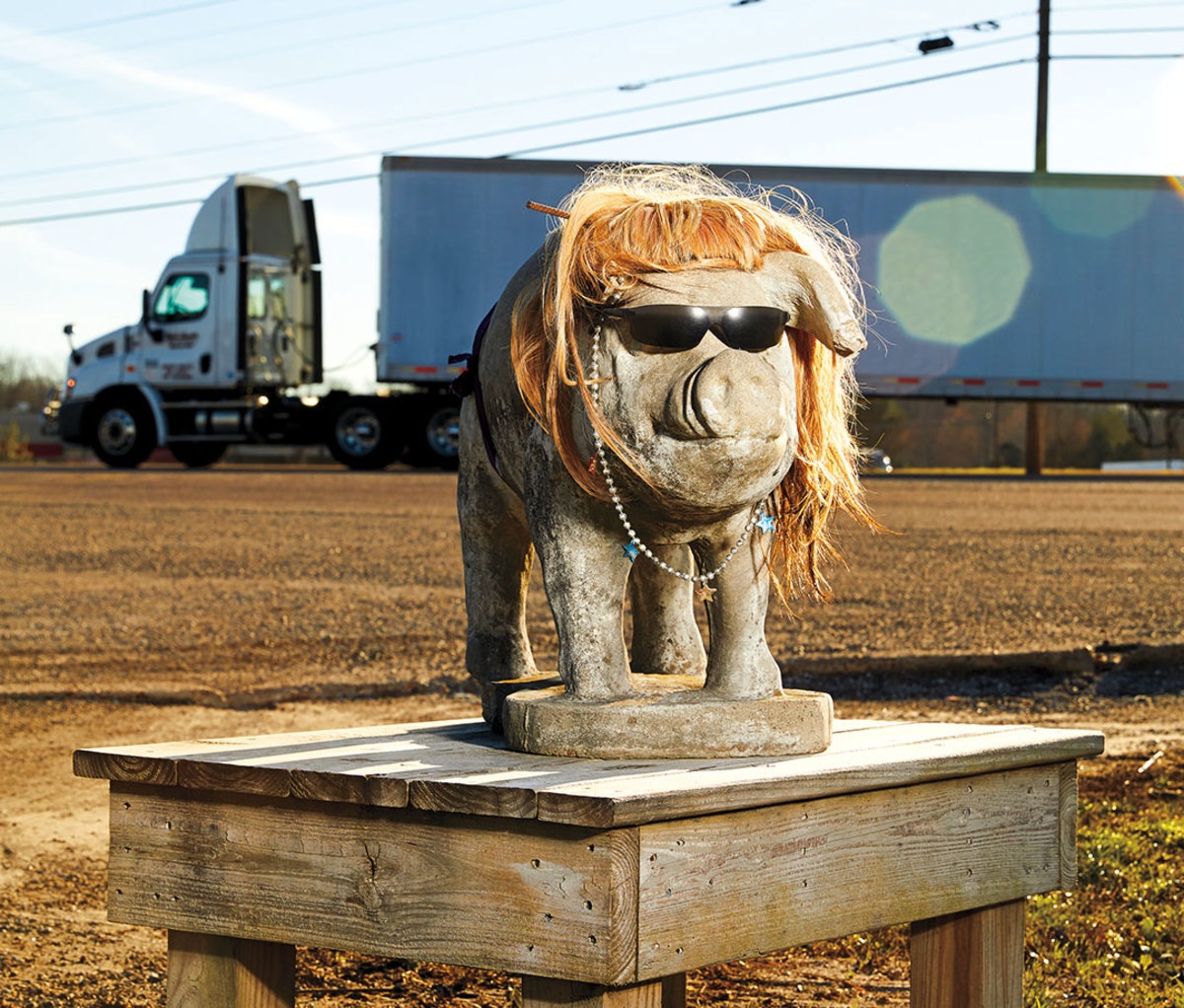 Wadley says that he tried advertising on local TV and on highway billboards, but he swears that the CB works best, especially in attracting truckers. "I'm addicted to this radio to be honest with you," he says. "I use it as therapy." After his first wife died of a heart attack, in 2014, "I'd come out here and spill my guts," he says. The truckers helped him through the loss. "I've built a relationship with them, and they've built a relationship with me. They trust me, and I trust them." And, sure, if you listen enough, "you'll hear some fucked-up-ass shit," he adds, but still.
He serves from 300 to 1,000 customers a day, depending on the season, and truckers now compose about 90 percent of his business. They often honk their horns as they pull out to leave. He's seen some fights in the parking lot, with pistols and knives pulled and punches thrown, but they are rare. At one point between orders, he takes a minute to pray for the drivers' safety over the weekend. "Amen, brother," a trucker says when he finishes. But Wadley gets a bigger response when he makes a crack about House speaker Nancy Pelosi: Bursts of laughter break through the static, and the whole channel starts chattering.
"I serve brass-tacks, hardworking people," he tells me, as he slaps together a pork sandwich that someone ordered for breakfast—the meat chopped, juicy, and topped with coleslaw. "This is America to me," he adds. "Real people."
BARBECUE HAS BEEN a staple of Southern cuisine since the early 1700s, if not before. But it wasn't until the masses got hold of the Model T, in 1908, that roadside stands started popping up across the South. Wadley is part of this legacy. He's steeped in the tradition of West Tennessee barbecue, a variety defined by wet rubs and tomato-based sauces, with Memphis dry rubs being the noted exception. He remembers, when he was no more than 8, eating at Hutch's Bar-B-Q, a famous homestead operation outside Jackson. Chickens, goats, and pigs ran around the yard as he ordered. But, as much as the experience left an impression on him, decades would pass before he considered becoming a pitmaster himself, and he'd take an unlikely path to finding success as one.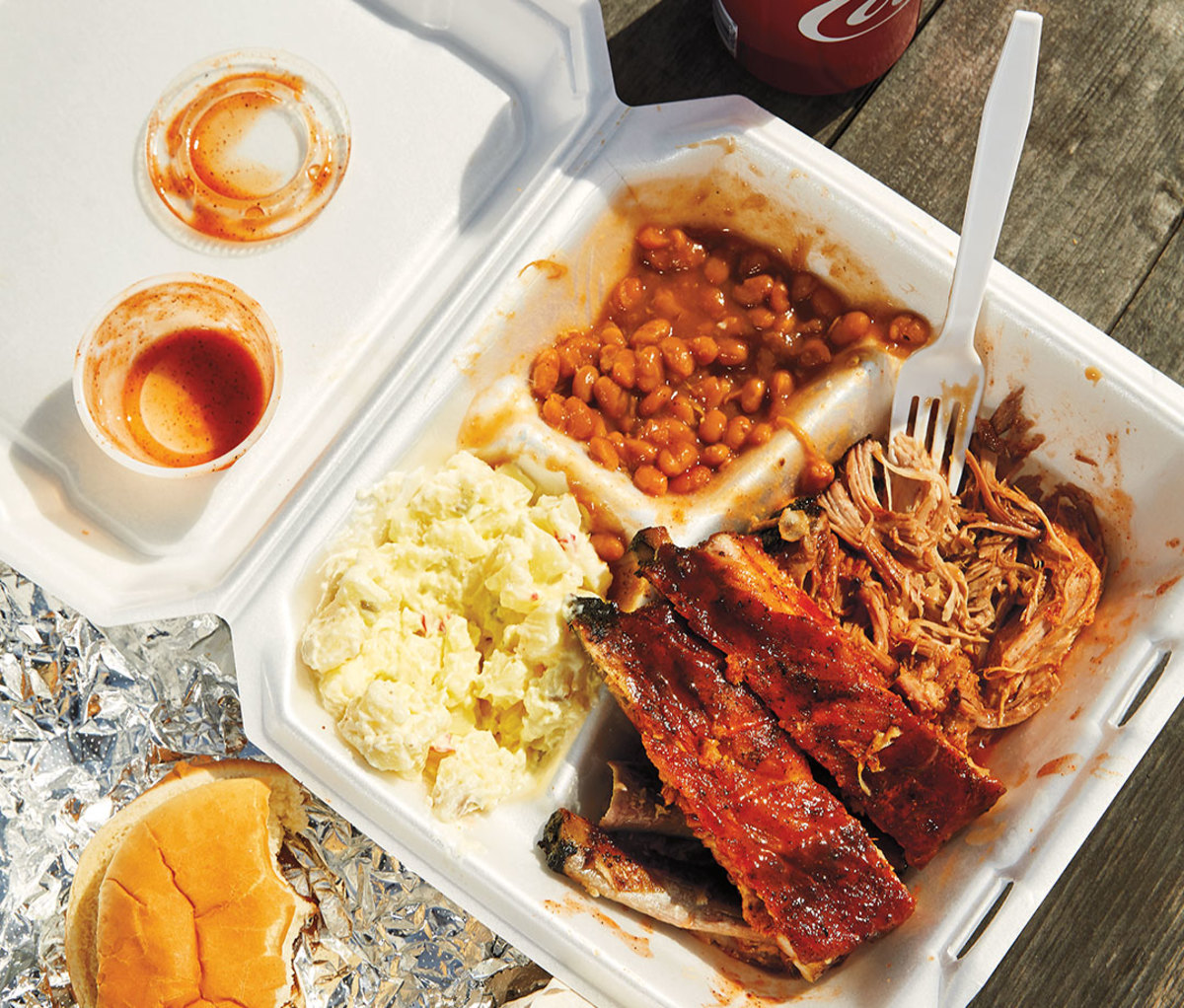 Wadley's troubles started young. When he was 12, he was effectively kidnapped by an aunt and taken from his home in Jackson to Detroit. He tried to hitchhike back. "I got tired of getting my ass whooped in that neighborhood," he says, "so I figured I'm going back to Tennessee one way or another." He got nearly to Ohio before the highway patrol picked him up. He ended up in juvenile detention until he was 18. Of it, he recalls, "You've got a bunch of young kids that don't have no raising whatsoever, full of testosterone, so it's just buck-ass wild." He was no exception. At one point, he stole a fire marshal's car and ran over a state trooper.
I WOULDN'T BE HERE IF IT WASN'T FOR PRISON. YOU'RE TALKING 5,000 INMATES. THAT'S FOOD SERVICE.
In 1992, Wadley was released and returned to Jackson. He took a construction job, but, after a tiff with his boss about money, Wadley decided to break into the guy's house and steal his checkbook. The stunt earned him an 11-year sentence. He was paroled in two, but then was busted for drugs, which added four more years to his original sentence.
This prison stint proved different from the others. In juvenile detention, Wadley had worked in the kitchen and had even passed a culinary course with high marks when he turned camel tongue, shipped in special, into a gourmet dish. But this time behind bars, he swiftly moved up from dishwasher to line server to cook. The kitchen became a way to orient his life. "I wouldn't be here if it wasn't for prison," he tells me. "You're talking industrial service: mass quantities, 5,000 inmates, over 100 guards. That's food service."
Mac Sutton was Wadley's kitchen manager at the West Tennessee State Penitentiary and is the owner of Fast Mac's BBQ, in Minnick, Tennessee. He taught Wadley much of what he knows about barbecue, and considers him one of his greatest successes. "Josh did a lot of time but asked a ton of questions," Sutton says. "He's come a long way."
All told, between juvenile detention and prison, Wadley spent nearly 17 years locked up. When he walked out for good, in 2006, he was determined not just to accept his past but also to leave it behind. In Jackson, he landed a job washing dishes at a barbecue joint, and was promoted to cook and then manager within six months. Over the next couple of years, he saved enough to buy a concession stand and go into business for himself. He leased a plot near the Interstate, where the Exit 87 Stand still sits, seeing potential in catering to truckers.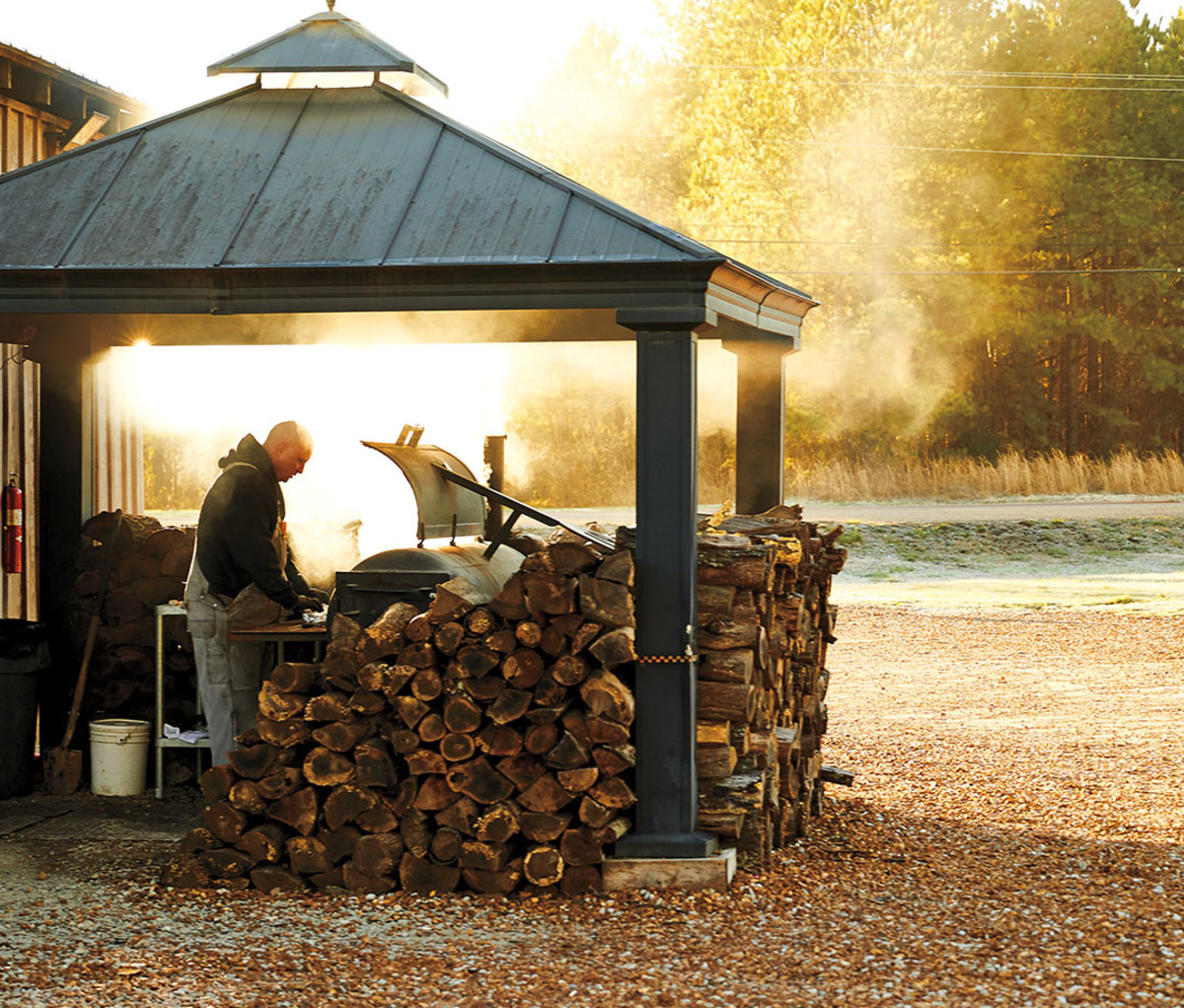 In those early years, he'd start cooking before midnight and finish by early morning, then drive the meat from his trailer to the Exit 87 Stand. "All I owned was the grill, a pan, and a water hose," Wadley says. Eighteen-hour days were common. One night in November 2008, exhaustion caught up with him. He decided to take a nap while his barbecue cooked. At 1:30 a.m., neighbors started banging on his door, screaming that his home was on fire. His trailer burned to the ground. But he made the best of the situation, by using scrap wood from his burned trailer to build a smoke shack on his 10-acre lot, which is the basis of his operation today.
WADLEY IS NEARLY 15 years sober, an accomplishment he attributes largely to running the stand. He's grown professionally, too. He now has a garage space on his property with an office, a kitchen, a walk-in cooler, and three smokers. He currently employs 12 people, including Jermaine March, an experienced cook, who has relieved Wadley of some smoking duties so that he can focus on evolving the business. To that end, Wadley recently bought an acre of land behind the Exit 87 Stand, the potential site for a brick-and-mortar restaurant.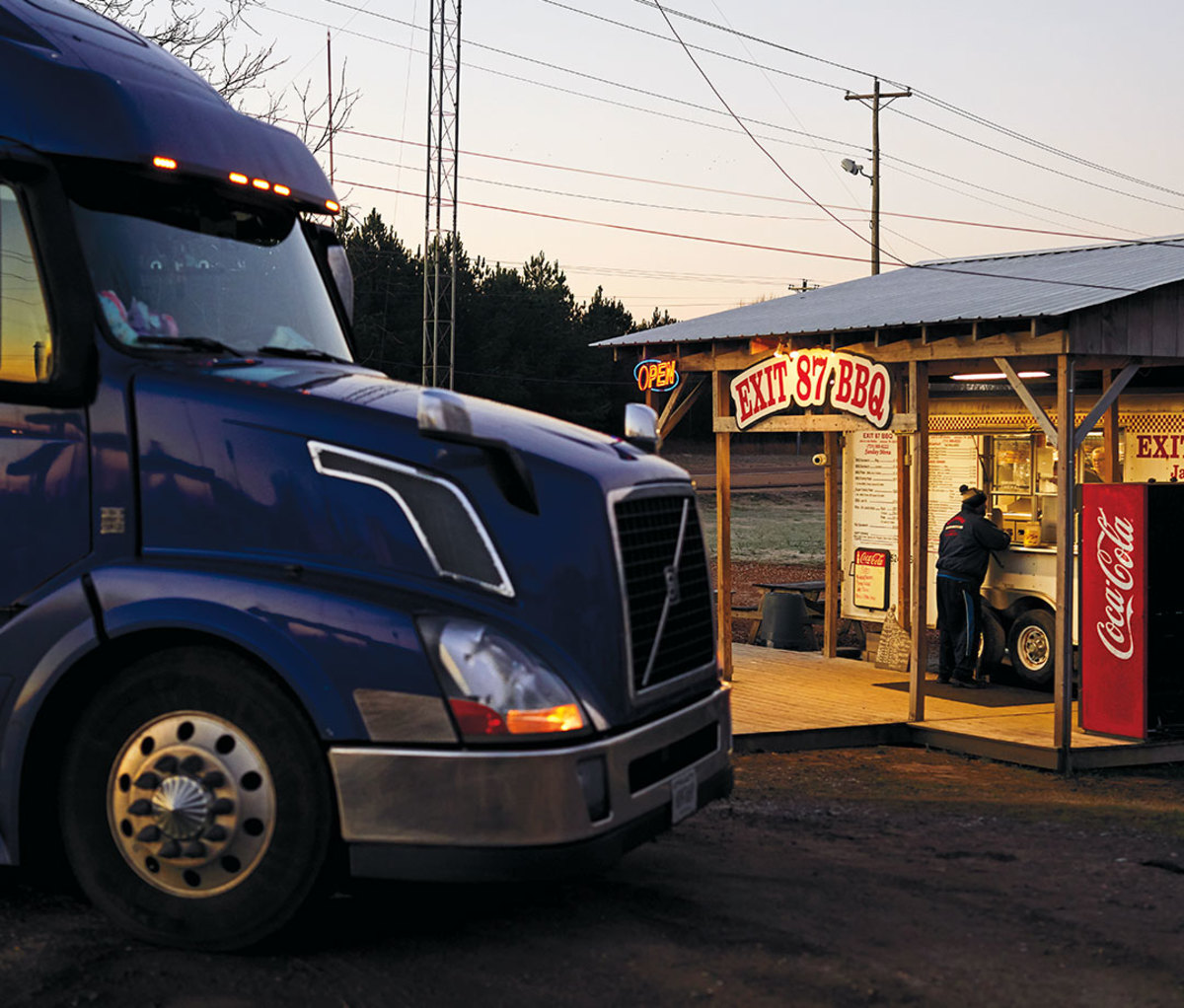 At 6 a.m, a dozen semi trucks are idling in the parking lot. "Good mornin', boss man," Wadley says to a driver with glasses and a mustache as he approaches the order window. "Doing all right?
"Doing good," the trucker says.
"You gonna be better when you get this bologna," Wadley says.
As the morning rush continues to pick up, Wadley says over the CB that he hopes his son will take over the stand one day, but adds, "Since I don't have a 401K or a retirement plan, you're stuck with me until the day I die with a spatula in my hand." But that beats the alternative. "I haven't figured it out, brother," he tells me. "All I know is I'm not making 17 cents an hour, and I don't have a cellmate with leg hair. I'm just smoking hogs; life ain't bad."
Then he grabs the CB mic and rattles off his morning pitch once again.
This story appears in the May 2019 issue, with the headline, "Trial by Fire."
For access to exclusive gear videos, celebrity interviews, and more, subscribe on YouTube!