New York chef Jimmy Bradley sports a deep tan, short-cropped silver hair, and a perpetual air of mischief. He's been dubbed a "master of the neighborhood restaurant" by Food & Wine, but today, in his late 40s, he looks like Martha's Vineyard gentry in his crisp polo and khaki shorts. His restaurateur pal 10 years his junior, Harold Dieterle, resembles a suburban Dad — shades on a cord, cargo shorts, bit of a belly.
The two men met in the early aughts at The Harrison, a beloved Tribeca mainstay ("The very definition of dependable." said The New York Times). Bradley was the restaurant's co-owner, Dieterle a promising young sous chef. They have succeeded and failed, together and separately, including the sudden shuttering of The Harrison in December after 14 years. Through it all, they have continued a twice-annual tradition of sport fishing in Galilee, Rhode Island as a way of blowing off steam, enjoying a private feast, keeping their friendship strong.
Many people would love to join them on these expeditions, but the guys keep their numbers tight. In addition to their high-impact day jobs, these guys are seasoned anglers — and best of buds. So it's perhaps surprising that they've invited me along. But before we go out on the water, ground rules are laid out: don't be boring, predictable, a drag. And when they're actually casting their lines in the water, they'd rather I didn't talk at all.
"I'm saying: Please, please, please do not ask us what we'd want for our last meal," Bradley begs. "Why do you people always ask that question?"
We start the day lounging in the living room of a rented farmhouse in Charleston, Rhode Island. Bradley typically hangs his apron in the East Village, but he grew up not far from here. He's rented this home for many years, from a friend of his dad's. The house provides his crew — Bradley, Dieterle, and Joey Campanaro, all restaurant owners in lower Manhattan — a sportfishing base camp. "They work hard, and they play hard" is likely on the list of cliches to avoid, but the shoe fits pretty snug here. 
Today we're fishing with a man down. By all accounts, last-minute bailing is classic Campanaro. "We lost Joey on I-95," Bradley deadpans. "He fell out the back." Actually, he might be in Cleveland; no one is certain. At least Campanaro lended the crew his wheels: The Bird, a Euro-style cargo van with cryptic, rune-like pictures detailed on the side. On the way to port, I perch on a wobbly cooler in back, shouting questions over Chrissie Hynde belting "Angel of the Morning."
Q: "What kind of fish do you go for?!"
A: "Fluke."
Q: "Who drives the boat?" 
A: "Captain Andy."
Q: "What's Campanaro like?!" 
A. "Mellow, unless you get him giggling."
Midway through the half-hour drive, Dieterle claps the steering wheel and demands some fresh tunes; he wants to "get wound up." Bradley considers old-school hip-hop and classic rock before settling on The Clash. "That should get you going, chiefy!"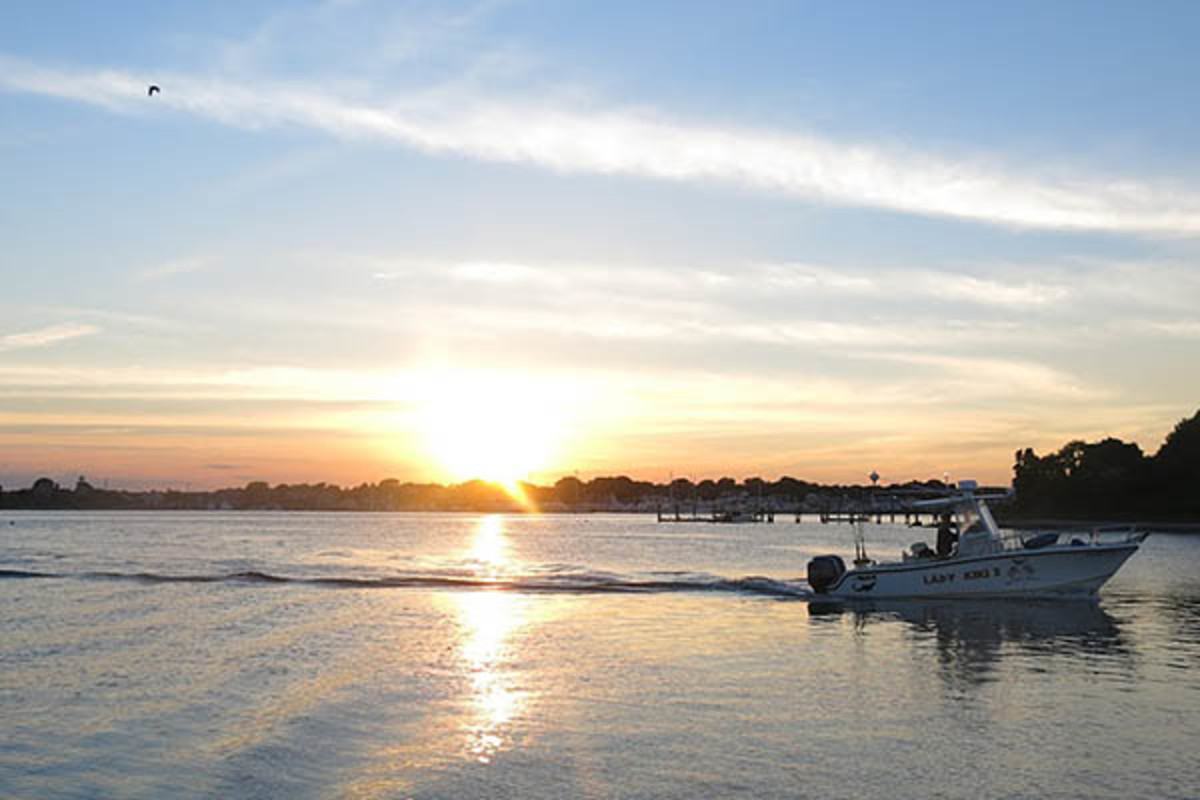 Over a decade ago, Campanaro saw Dieterle's potential — New York magazine called Dieterle the most talented winner ever to emerge from Top Chef — and wanted him as his sous chef at The Harrison. Bradley was dubious though. Young Dieterle needed Sundays off to attend church with his mom. "I thought: Who goes to church with their family anymore? Nobody," recalls Bradley. Sure enough, Dieterle was sneaking off every Sunday to play softball — he was outed after he broke his hand sliding into base.
"I nailed you, man! I got you good!" Bradley gloats, all these years later.
After his time at The Harrison, Dieterle opened two Asian-inflected West Village restaurants, Perilla and Kin Shop; both are still around. Campanaro, a dab hand in the kitchen, opened a wildly popular bistro called The Little Owl in 2006, later shoring up his empire with Market Table and The Clam. And after opening The Harrison and a couple of other places with partner Danny Abrams, The Red Cat is Bradley's remaining venture. It still packs in the locals — a full 16 years after it opened.
Bradley and Dieterle have an easy rapport, bred of many hours in The Harrison's trenches — late nights, close quarters, and hot stoves — and subsequent years of fishing. Their conversational tenor ranges from raunchy schtick to warm exchanges of affection. It's a masterclass in bromance.
Today the boys are line-fishing for fluke, using Dieterle's pricey gear. "We like jiggling," Bradley shares with ill-concealed pride. Typical charter trips — which it's made abundantly clear this is not — traverse a wide swath of water, with lines trailing off the back. It's a bluntly effective way to fish; if you've ever taken a "party boat" trip, you probably went home with a jackpot. But it lacks finesse, specificity. The pros like to drop their lines to the sea floor, then "jiggle" the bait around to seem lively. "Anybody can just drag a line behind a boat, pull in all kinds of fish," Dieterle says. "That's the easy way. Jiggling actually takes some skill."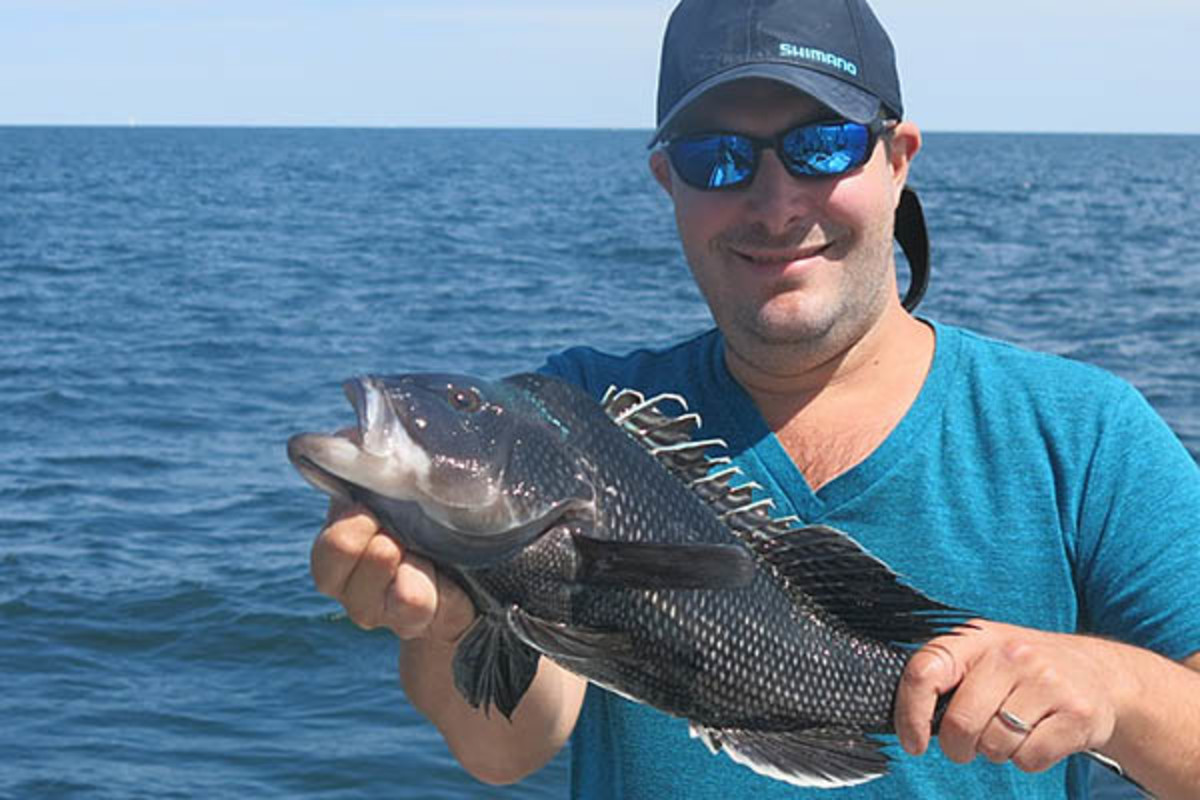 Bradley and Dieterle (and Campanaro, presumably) like fishing for fluke, a teardrop-shaped bottom dweller with a light, neutral flavor profile. Fluke's versatile taste appeals to the chefs, but it's also a tough fish to land — these guys like a challenge. They haul in loads of black sea bass through the day, each time met with disappointment. Sea bass is meaty and delicious — so why the dour faces? Because it's easier to land, and more strictly regulated. Captain Andy shuttles the guys to his favorite fluke spots; sometimes he even fishes alongside them (they take this as a point of pride).
The older Bradley puffs stogies and gazes out at the ocean like an elder statesman. But he also carries a not-insubstantial cache of wildness. There's a little bandage on Bradley's toe, which he says came from chasing some dame around the house. A joke? Tough to say. Bradley's penchant for chasing skirt made it into his New York Times wedding announcement ("He dated about a million girls," said one of his old friends.) Bradley was recently divorced.
Dieterle treads a quieter path. Not long ago he made the transition from Manhattan to Brooklyn, with his new wife and Giuseppe — a Shih Tzu with an Instagram account. Dieterle also has a dad-like penchant for bragging about his sandwiches: "You like the roll? I put some roast beef, horseradish mayo, Pepper jack, pickled jalapenos on there. Nice, right?"
To the untrained eye, the day's catch is quite lucky; minutes don't pass without something hauled in. But well more than half the fish are black sea bass, that cursed grouper with the tight catch limit. The fluke are biting, but less frequently, and many are too small to keep. Still, at day's end, there's nearly 30 fluke in the cooler. "This was probably our worst day fishing yet," says Bradley, and he means it. After six hours the group heads back to shore.
They arrive at Bradley's house a little before 9 p.m. Frankly this is the moment I've been waiting for all day — an end-of-day feast promising striped bass chowder, local oysters and clams, whole roasted porgy with veggies from Bradley's garden. Playing chef in Bradley's sizable kitchen, Dieterle slices raw fluke into thin, white filets, then splashes them with ponzu. Nothing fancy, just a tangy hit of ocean on the tongue. While I munch, Bradley gets reflective. He's had a long road in this business — it takes its toll.
When Bradley was served an astronomical rent increase on The Harrison last year — not the first — he probably could have weathered it. He just didn't seem to have any fight left. The Harrison shuttered two days before Christmas, for reasons Bradley can't (or won't) talk about. And its closing certainly left a wound. His was the first Tribeca restaurant to open after 9/11. This matters, to Bradley and to fans of the restaurant. "It was a big deal," Bradley say. "It really was. When we opened back up [after the attacks], people kind of took it as a symbol; maybe things would be okay again, eventually."
The Red Cat, Bradley's older restaurant,  continues to thrive. But when he talks about that one, it's like he's describing a relationship that's grown comfortable and unexciting. The restaurant's madcap early years — including a kerfuffle with Nathan Lane — have mellowed into a quiet, refined consistency. Bradley lets his head chef oversee most of the menu; he doesn't spend much time in the kitchen these days.
"Maybe I'll try something new when I hit 50," Bradley muses. "I've always had a really good eye for design. I could give that a try…" He trails off.
Dieterle still spends most of his time in the kitchen; he's the lead man on our dinner, cooking pasta, stacking asparagus, cutting herbs from the garden. In his own restaurants, he's content to work back of house — early morning fishing trips to Long Island soften his stress. Dieterle's now in discussions to make a TV show, a loose concept with chefs fishing and cooking (much like our day).
But right here, tonight, nobody's too stressed about future plans, about heartaches of the past. As the pasta water creeps to a slow boil, Manhattan seems a universe away. A little breeze wisps in through the screen door. Bradley sips from a tall gin and tonic. Dieterle furrows his brow, deep in chefly concentration. There's a rich, companionable quiet, the kind you earn through years of cooking — and fishing — together.
For access to exclusive gear videos, celebrity interviews, and more, subscribe on YouTube!