Zane Schweitzer might spend more time on water than land. Born and raised on Maui, Schweitzer grew up surfing, standup paddling, windsurfing, and kitesurfing at home.
At just 25 years old, Schweitzer's athletic resume is pretty stacked. Between windsurfing and standup paddling, Schweitzer has already collected 15 world championship event wins as well as an ISA gold in SUP surfing. He holds four Master of the Ocean titles, and is a two-time champ of the Ultimate Waterman challenge, a rigorous competition where the world's best compete in eight different ocean sports over a span of ten days.
Despite his impressive collection of podium finishes and gold medals, Schweitzer is most proud of his community-outreach projects. He founded Standup for the Cure alongside his family, and over the past eight years has lent a hand in raising over $1.3 million for uninsured breast cancer patients.
He also regularly hosts InZane SUPer Grom clinics, through which he helps youth connect to the ocean by introducing them to standup paddling. To top it off, Schweitzer is environmentally active, and tries to educate others on how they can lead a more environmentally friendly life.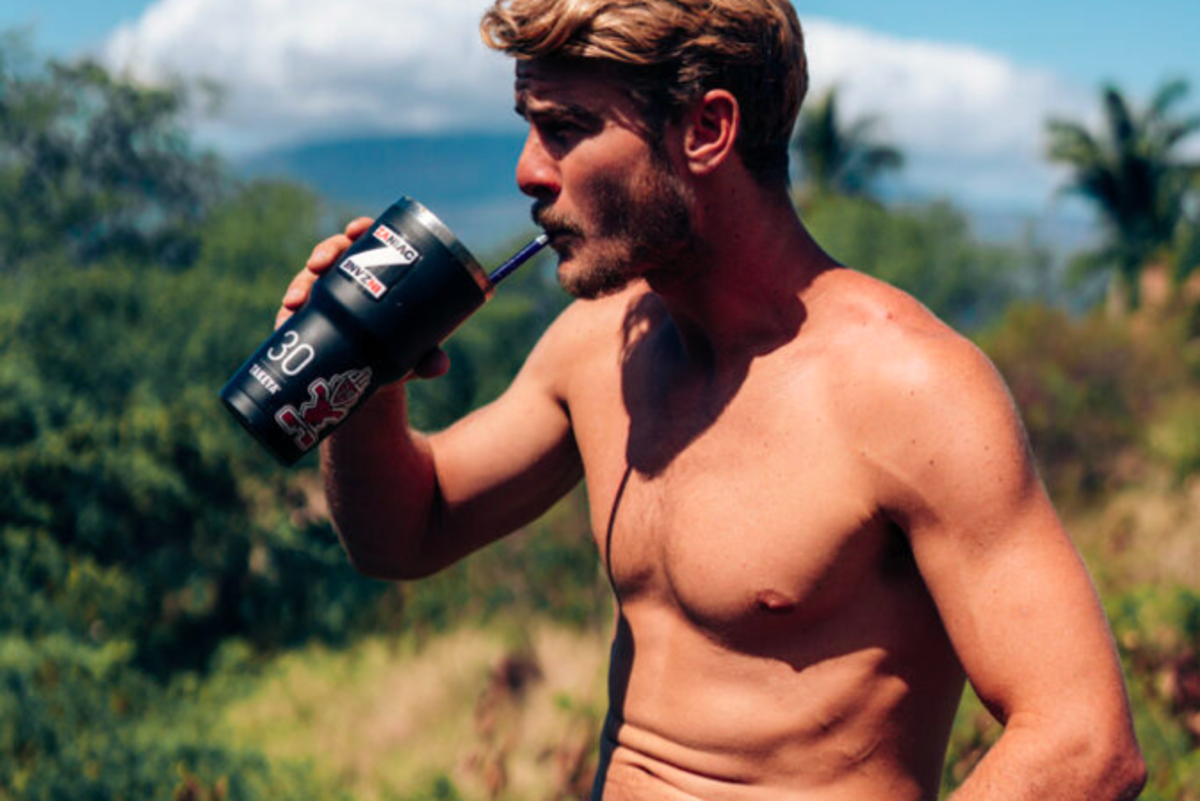 Between training, competing, travelling, and doing work in the community, Schweitzer is always on the go. Here, the waterman shares how he fuels his active lifestyle, his favorite pre-workout meal, and how his commitment to living a sustainable lifestyle translates to the foods he eats.
What's your food philosophy?
I've grown up in an environment in Hawaii that allowed for my family to follow a healthy diet. My father is a fisherman and farmer, and has passed on the importance of honoring our food. He's made me well aware of what it takes to put food on the table for a family. With all of my traveling, I quickly learned that not all food we have access to can be as fresh – or as honored – as it is back home.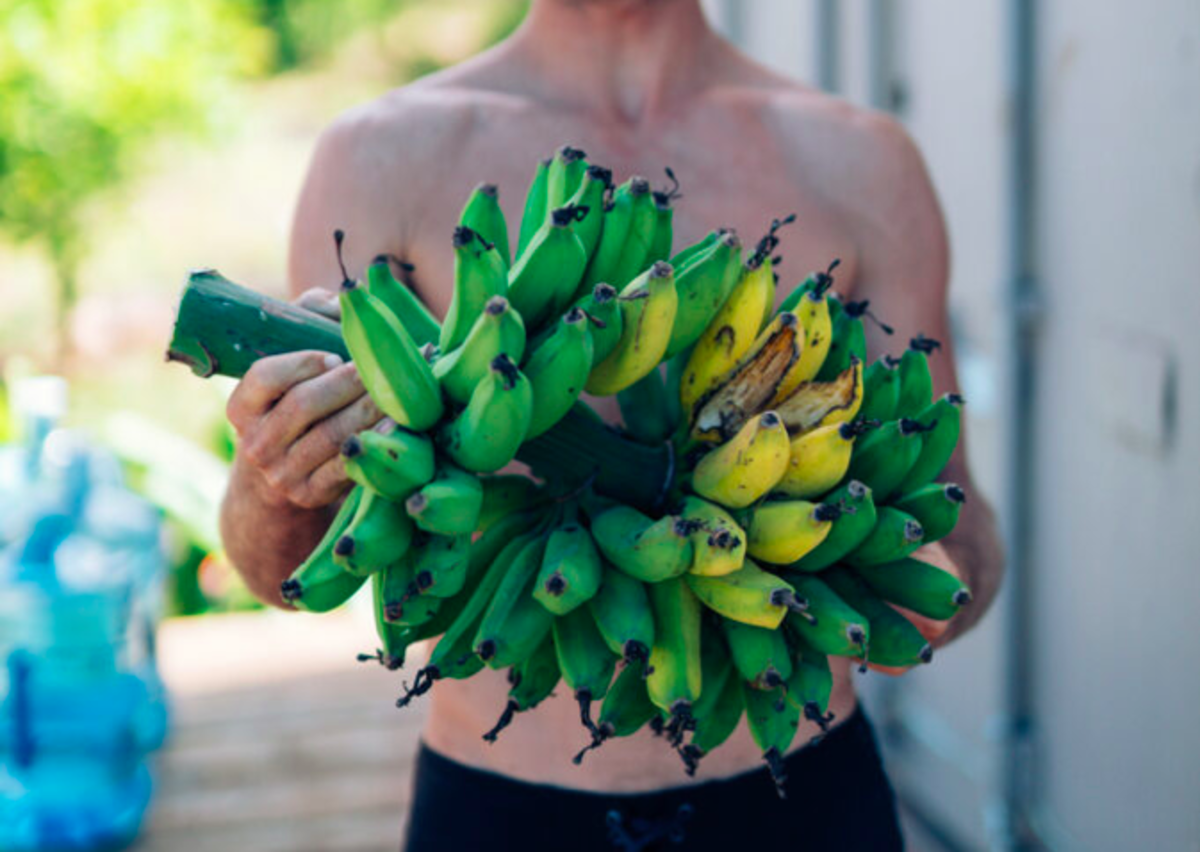 While traveling, I caught a bad amoeba or parasite that impacted my health to the point of hospitalization on multiple occasions over a period of three years. After I gave up on western medicine, I was forced to learn about my body, nutrition, and what is fuel and what is toxic. I worked with nutritionists and naturopaths who got me on a road to recovery after a miserable period of three years trying to hold my strength during travel, training, and competition.
I'm especially grateful to Spice Prince of Island Spice on Maui who pinpointed what I may have and how to treat it with diet and natural remedies. After three months of working with Spice on a mostly alkaline and vegetarian diet, along with multiple dosages of herbs and other natural remedies throughout my day, I saw major improvements in my energy, ability to gain weight, hold my food, and my overall health.
You're very conscientious about your impact on the environment. How does that translate to the foods you eat?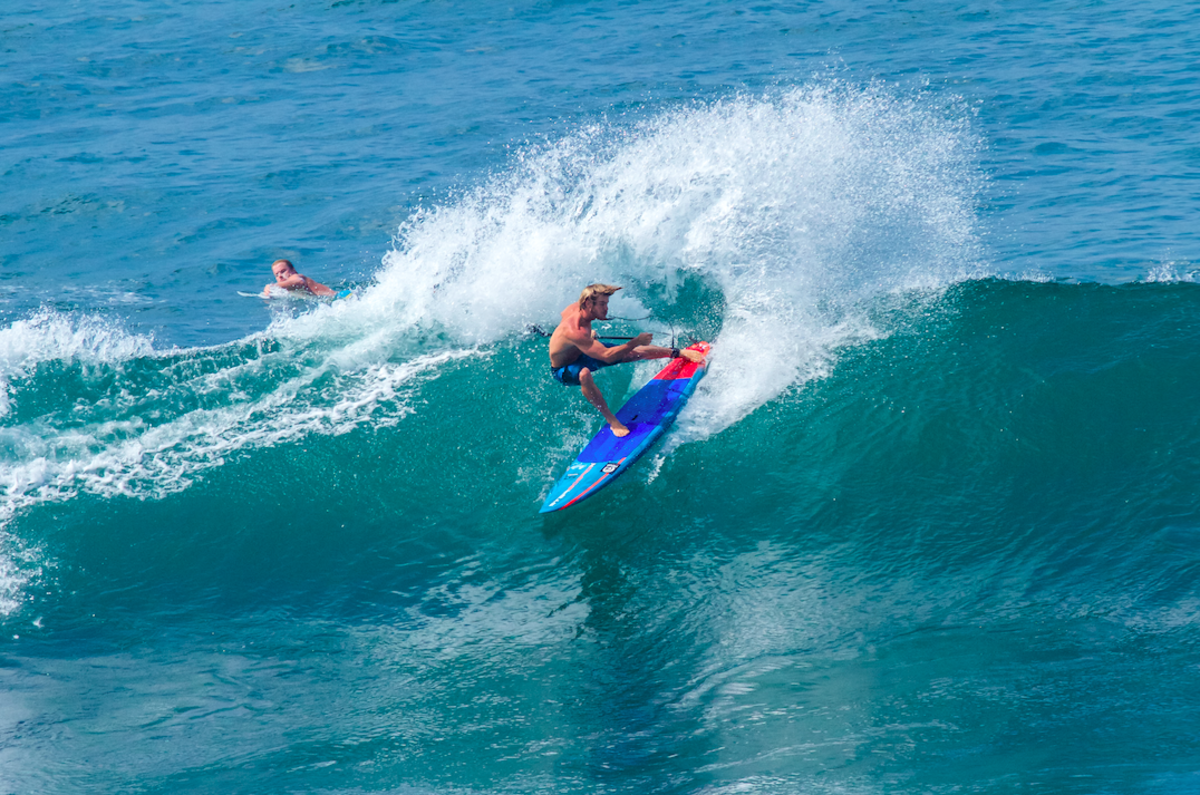 With my personal experience fighting for daily health, every day that I wake up feeling "normal" and not sick, I am so grateful. Even though I may have fought off my personal health issue, I've decided to continue following a whole-food and plant-based diet – not just for my own energy, longevity, and recovery, but for the power of choice to support an alternative food industry that does not have nearly as much of a negative impact on our environment.
When I'm traveling, it's more of a test and even challenge at times to make this choice, but at home it's easy for me to live mostly off the land and ocean. I still eat fish and meat occasionally, but only if I catch it, kill it, and bless it myself. I believe appreciating the process of our food preparation and presentation is important and honoring our food should be a reflection on our choice of diet.
As a professional waterman, why is it so important to be conscious about what you're eating?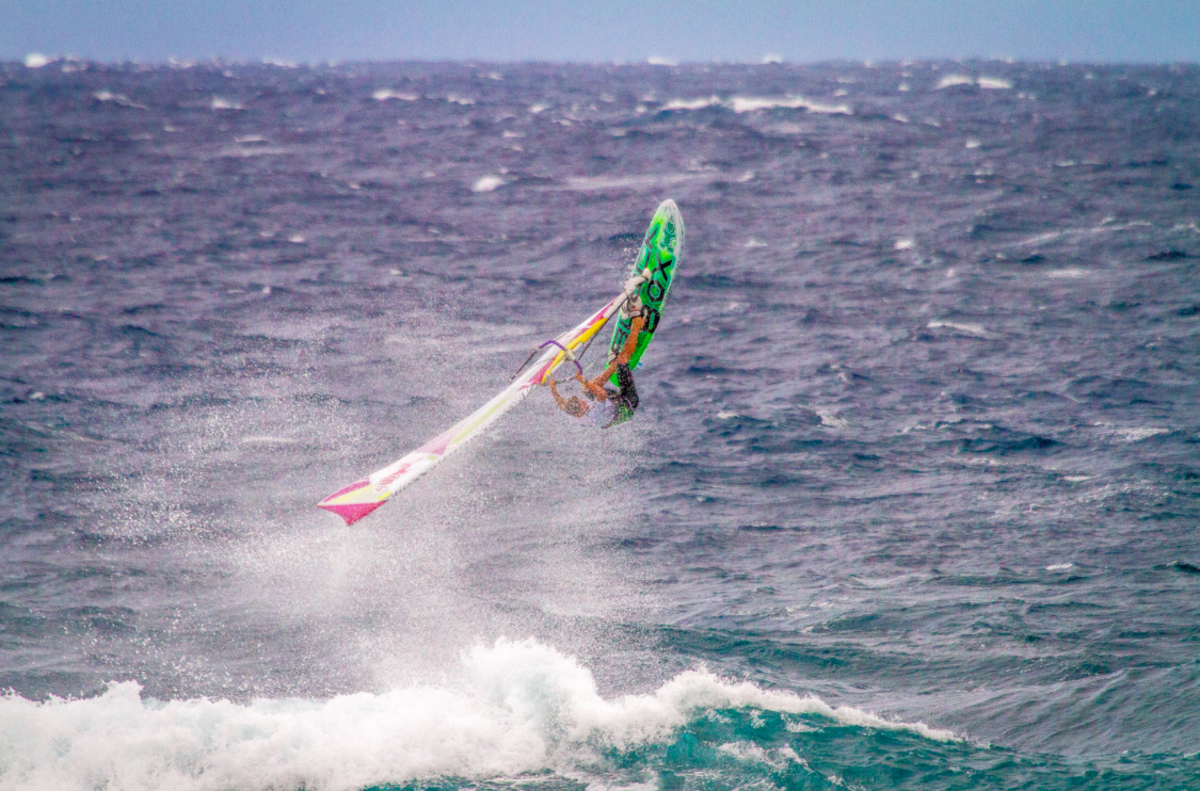 For me, it's about being able to be ready for action all the time – feeling healthy, strong, full of energy and having that confidence that we can go further, bigger, faster, and live longer. I want to be living this lifestyle for a lifetime, and that is a big motivation for diet consciousness!
You spend a lot of time on the water. How do you stay fueled?
I don't stress too much about when I eat day-to-day. I mostly understand the energy I'm feeling today is potentially from the food/fuel I took in yesterday and the past three days. If you want to feel good on game day, you've got to be fueling up good everyday.
I'm still exploring methods to better understand my ideal calorie intake and nutritional absorption. If I know I have an endurance race or surf event over the weekend, I make sure to hydrate well at least two days before game day, as well feed myself appropriately. I eat mostly whole-food and plant-based, so I mainly eat wild rice, beans, broccoli and tons of in-season varieties of veggies. In between three solid meals, I snack on nuts, seeds, dried fruit, and other good snacks.
How do you stay grounded through all of your travelling, training, and competing?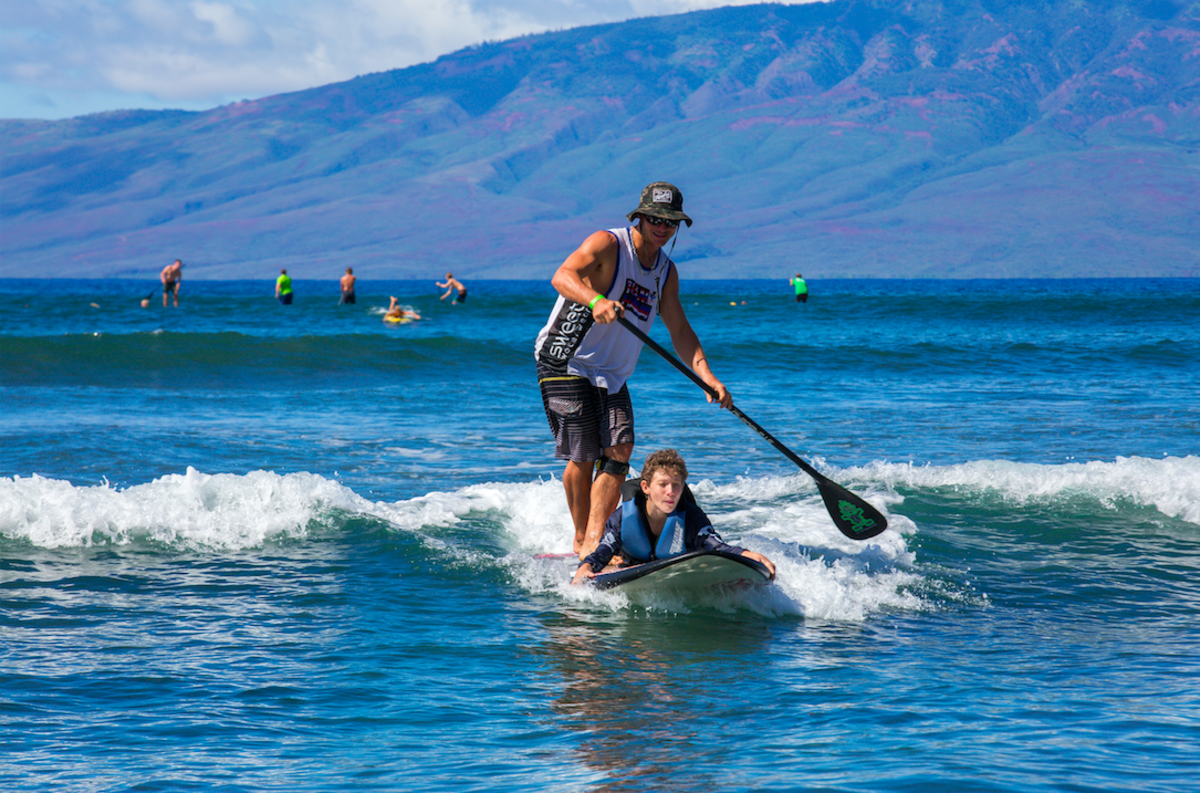 I find it very important to not only continue to grow physically but also mentally with meditation and manifestation/visualization exercises. I truly do owe credit for much of my success to journaling and practicing gratitude and mindfulness.
Zane's Pre-Workout Smoothie
"My favorite go-to pre-workout meal is a power smoothie," Schweitzer tells ASN. "This usually consists of whatever is available and in season, along with ingredients from the Dr. Greger's Daily Dozen checklist."
Ingredients:
– 3 handfuls of in-season fruit such as banana, coconut and papaya
– 1/2 cup oatmeal
– 3 dates
– Handful of almonds
– Handful of walnuts
– Small handful of goji berries
– 1 tbsp mix of chia seeds, ground flax seed, and moringa powder
– 1/2 tbsp maca powder
– 1/4 tbsp ground turmeric
– Pinch of black pepper and cinnamon
– 1/4 cup vegan protein powder (hemp, rice, or pea)
– 8-12 oz. almond milk
– Water (as needed)
– Ice (as needed)
– Handful of Brussels sprouts and arugula (optional)
Instructions:
– Harvest fruit and freeze it
– Prepare oatmeal, place in bag, and freeze
– Combine ingredients in a high-quality blender and blend, adding water and ice until the desired consistency is reached
"A lot of the time I'm not thinking of making a tasty smoothie, but I appreciate the taste and power from the fuel I mix in," says Zane. "These are all rough measurements as well, as normally I would eyeball it with a spoon."
More Nutrition Tips from Athletes on ASN
In Byron Bay, Lauren Hill and Dave Rastovich Reimagine Abundance
What's Cooking: How Sage Erickson Stays Fit and Well on the Championship Tour
What's Cooking: How Emily Harrington and Adrian Ballinger Fuel Their Mountain Life
The article was originally published on Standup Paddling
For access to exclusive gear videos, celebrity interviews, and more, subscribe on YouTube!